The best infant car seat reviews showcases our top choices for your family to consider. It presents a well-rounded look at all the features of various car seats and provides an honest assessment of what does and doesn't work on the leading models. For each product the key characteristics are analyzed to create a thoughtful review that helps you not only find the best car seat for your baby but also save time and money.
We ask the tough questions:
Which car seats provide the safest ride for infants?
Which are the most comfortable for babies to ride in?
Which car seats provide the most value for the money?
Which are the most user-friendly to install and use daily?
Which have the largest weight and height limits to allow for extended rear-facing?
Parenting is hard. You shouldn't have to worry if your child is safe and comfortable in the car. A car seat is one of the most important investments you'll make for your baby. But would you believe that you don't have to spend an arm and a leg for a great seat?
Take the Chicco KeyFit 30 for instance. It costs less than several designer models and is our highest rated seat. Discover why in our mini reviews below and for even more information on each model check out their detailed review pages.
---
Height and Weight Limits for Infant Car Seats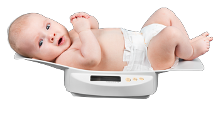 The height and weight limits for infant car seats vary by model with many of them topping out at about 25 – 30 pounds. Parents should remember that the AAP (American Academy of Pediatrics) recommends that children ride rear-facing for as long as possible (up to 4 years of age). As a result the car seat manufacturers are designing infant seats with higher weight limits up past 35 pounds. This allows extended rear-facing well past 2 years for most children but also complicates the fit for smaller newborns.
What other Car Seat Types Work with Newborns?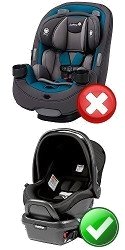 The most popular option is a convertible car seat. Your child will grow fast and these car seats grow right along with them. They easily convert from rear to forward-facing and some models, called 3-in-1, even convert to booster seats. Parents see convertible seats as a good bang for their buck since they'll only have to invest in one seat.
However, most convertible seats aren't recommended for infants. Before your child turns a year old, a specialized infant car seat is recommended. Many convertible seats don't provide a snug fit for preemies or small babies up to 8 pounds.
In the first few months, your baby's bones and muscles are very delicate, especially those in the neck and spine. Infant seats provide a snug fit that is designed specifically for protecting those vulnerable areas.
Even more, it's very handy to have a seat you can "grab and go" as an infant carrier. This is one of the best benefits of infant seats. With an infant carrier you can get your baby in and out of the car easily without waking her up or exposing her to the elements. Convertible car seats with their harness buckles don't work smoothly like that.
The other great car seat option for parents to consider is an infant car seat/stroller combo. In these models the seat can be attached to the stroller without removing the baby from the car seat. Also called travel systems, they're perfect for parents on the go that like to quickly snap the baby into a wheeled stroller for walks inside a store or around the neighborhood.
---
Car Seats for Infants: Our 2021 Ratings & Reviews
---
Chicco KeyFit Infant Car Seat​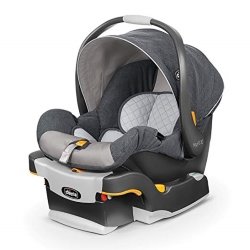 Price:
Average

Out of all the car seats on the market today, the Chicco KeyFit 30 is one of the most recommended car seats by neonatal nurses for its safety standards, personalization, and comfort. If you have a child that has special physical needs, consider giving this seat a try. It comes in 8 colors and is designed for infants 4 - 30 pounds.

Read Detailed Review of Chicco Keyfit
Advantages
The Chicco KeyFit 30 is one of the only car seats on the market that NICU nurses and other safety experts recommended for premature infants. This is because it adjusts to an extremely small size without cutting back on protection or comfort. A spring-loaded leveling foot works in tandem with two bubble levels on the base to ensure parents get a proper installation angle that helps keep baby's head from slumping over.
Parents love this seat because it's easy to install. The latch tightener is well designed and the instruction manual provides a lot of support and guidance. Many of the features are smaller, making this a more compact and easy to use seat perfect for smaller cars or side-by-side car seats. It's compatible with all Chicco strollers.
Disadvantages
One of the biggest disadvantages of this car seat is that the fabric, though available in eight colors and very easy to clean, does not breathe. If you live in a warmer climate and/or you don't have a good air conditioning system in your car, you may want to dress light or monitor your child for overheating. Also, the canopy doesn't provide great coverage, so keeping the sun off the baby can sometimes be a challenge.
It is long and takes up quite a bit of space front to back, so tall front passengers could lose some legroom. Some parents had trouble getting shoulder straps tight enough on smaller children. When placing the seat into the base be sure to pull up on it and make sure it's secure because hearing the click doesn't always mean it's locked in properly.
Compilation of customer opinions
By far, customers love the easy installation and say it's easier to use than other car seats they've tried. This is a very popular stroller and parents appreciate the fabric color and pattern options. They report that it's comfortable. If you are stuck on your search, this one's a real winner.
Not Quite Enough? Take a Look At These Extended Specialized Editions: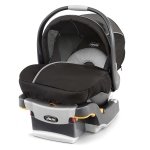 Chicco KeyFit Magic
The Chicco KeyFit Magic is indeed magic: for just a few dollars more this edition offers a better headrest, a bigger canopy with a zip-out mesh panel, reversible infant insert, and an all-weather removable boot for extra warmth and protection from the elements. This is a great upgrade option for parents in cold weather climates.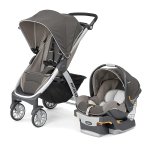 Chicco Bravo Trio Travel System
The Chicco Bravo Trio Travel System includes an improved stroller with a very large sun canopy, extra large storage basket with all-around access, an adjustable-height handle, and a storage console in the handlebar. If you imagine doing a lot of walking with your young baby then this is a fantastic choice.
Graco SnugRide 35​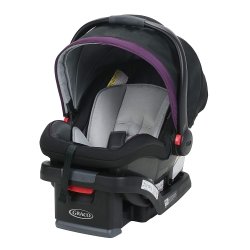 Graco is one of the best known names in the infant car seat industry, but they have a mixed reputation. Some models over perform while others lag behind. One of our absolute favorite seats in the SnugRide lineup is the SnugRide 35. It's designed for babies 4 – 35 pounds and up to 32 inches in height.
Available in several colors, the SnugRide 35 is fairly affordable, has some nice features, meets or exceeds all government crash safety standards, and has stood up to real-life crash experiences. However, there are some design flaws that parents need to look at before making their buying decisions.

Read Our Detailed Review of the Graco SnugRide Click Connect 35
Advantages
This is a lightweight seat, though parents noted it's a couple pounds heavier than the product specs list. A machine washable cover makes cleaning easier, but that's not hard to find in car seats these days.
The SnugRide 35 easily clicks onto the base and is compatible with any Graco Click Connect stroller. It's not too bulky so will easily fit into most compact and small cars. The color-coded, 4-position recline feature on the base helps to easily adjust the seat to the right angle.
Disadvantages
LATCH installation (with clip-style LATCH hooks) and removal can be a pain in the neck, especially if your vehicle has LATCH anchors that are tucked deep inside the backseat. Once the base is installed, it can be difficult to tighten the straps enough to keep it stable.
The one-click attach sound isn't always reliable when attaching carrier to base, so you'll have to pull up on the seat to make sure it's locked in. And once it's locked in, the carrier may get stuck and become hard to remove from the base.
The canopy, while large, can get in the way of the carrier handle when the handle is in the upright position. The fabric might not be breathable enough for very warm weather, plus the infant insert may not provide enough head support for preemies. Finally, the harness must be rethreaded when changing the harness height.
Compilation of customer opinions
Overall, this isn't the type of car seat people get too emotional or excited about - it simply does its job and doesn't do much more. However, for most parents, that's all you need.
While the Graco SnugRide Click Connect 35 isn't perfect, its safety record and affordability make it a good option for families on a budget, families who own small cars, and those who don't have preemies.
Not Quite Enough? Take a Look At These Extended Specialized Editions: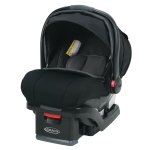 Graco SnugRide SnugLock 35 XT
This version is similar to the original SnugRide except for an all-weather fabric boot that you can pull over the baby's feet for added warmth. Another difference is the SnugLock installation system that makes installation easy with either LATCH or seatbelt in 3 simple steps. It's also offered in a few unique colors not available with the original.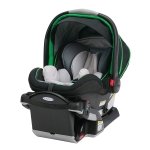 Graco SnugRide 40
The biggest difference with the Graco SnugRide 40 is that the seat allows for a max weight of 40 pounds and 35 inches in height. This is great for parents practicing safe extended rear facing. It has an 8-position adjustable base, a no-rethread harness and an easy-to-use InRight LATCH system with push-on connectors.
Maxi Cosi Mico Max Plus​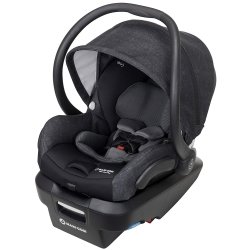 One of our favorite infant car seats is this great looking seat from Maxi-Cosi. It's offered in 2 colors - Nomad Black and Nomad Purple - and fully loaded with safety features. It provides a safe, comfortable ride for babies 4 - 30 pounds.
While it's not cheap, those looking for a quality infant car seat should highly consider this model. It scores high on all of our criteria except affordability. It comes with a 1-year manufacturer's warranty and has an 8-year expiration from the date of manufacture.

Read our Detailed Review of the Maxi-Cosi Mico Max Plus
Advantages
Market leading safety features include anti-rotation stability on the base to help minimize back and forth movement for greater head and neck protection. Air Protect side impact padding extends all around the head and down the sides. The plush fabric is moisture-wicking for good temp control. The MaxShade canopy has a zippered extension to offer better protection from the elements.
A level indicator on the base and integrated seat belt lockoff help make installation a breeze. This car seat is very versatile and compatible with over fifty premium stroller models, including Bugaboo, UPPAbaby, Baby Jogger, Cybex, Peg Perego and many more although some may require an additional adaptor.
Disadvantages
The base is somewhat large due to the added features, so it may not fit well in small vehicles. The canopy doesn't adjust as smoothly or evenly as one might expect. Adjusting the handle can be a challenge too, with buttons located on the back side of the handle that are hard to engage.
Unfortunately there's no audible click when you put the seat in the base, so you'll have to pull up on it to make sure it's secure. The shoulder straps can feel a little bulky, especially for larger babies, so they may feel too tight before they outgrow the seat.
Compilation of customer opinions
Parents love how comfortable and cushioned this seat is. They like the harness pockets that hold the straps out of the way for getting baby in and out easier. They love how lightweight the seat is and the stability leg feature. Some parents appreciated the smart balance between safety and comfort. Babies are happy in the seat over long drives.
Some parents felt the canopy and handle adjustments should have been easier. A few didn't think the buckle pockets held the straps out of the way very well. One parent noted that after removing the infant cushion the seat was less comfortable for their child.
Extended & Specialized Editions: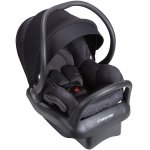 Maxi-Cosi Mico Max 30
This has many of the same great features but is a cheaper alternative that will save you around $60 - $70. Some parents find it to be a great tradeoff. It's very close in size and has the same weight range of 4 - 30 pounds. The base does not have a stability leg, but does have an anti-rebound bar. Unlike the Mico Max Plus, this seat has a reversible infant cushion. This one comes in 5 colors including - black, red, purple, and a nice blue.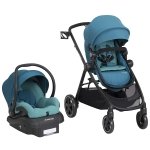 Maxi-Cosi Zelia 5-in-1
This travel system comes in 4 fashionable colors and features the Mico 30 car seat. It has 5 modes of use that allow both rear and forward-facing riding in the stroller, including a bassinet mode. Everything adjusts easily with the push of a button. The stroller is super light at 21 pounds, with an extra-large expandable canopy and large storage basket. It gives parents a lot of freedom to travel comfortably.
Chicco Fit2​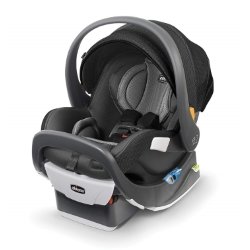 The Chicco Fit2 infant car seat actually scores a step above the top-rated KeyFit in its dual-mode design and top safety features. The unique 2-stage adjustable base allows for a better fit for rear-facing toddlers. For those worried about lack of legroom for extended rear-facing toddlers, this could be a great option. It comes in 3 colors and is designed for babies 4 – 35 pounds.
There are a few drawbacks to this seat that you may want to consider, specifically the weight of the carrier and limited stroller compatibility. The Fit2 does have several other features the original KeyFit lacks, which may sway your decision in its favor.

Read our Detailed Review of the Chicco Fit2
Advantages
The main advantage is it allows for extended rear-facing. The two-stage adjustable base allows you to easily switch from infant mode (Stage 1) to toddler mode (Stage 2) with a simple one-handed lever adjustment. Two bubble levels and an adjustable recline foot on the base helps the seat remain at the proper angle at all times.
Extra safety features such as an anti-rebound bar and large padded head wings make this great seat even better. Parents really love how easy the seat is to install. The SuperCinch LATCH system with push on connectors means no more back strain to get a tight fit.
Disadvantages
The biggest complaint is that the Fit2 is heavy as a carrier. At 12 pounds, it's a good 2 pounds heavier than the KeyFit 30, so it's not ideal for extended carrying. It's also not compatible with every Chicco stroller, so an adapter may be needed. It's also rather expensive compared to the KeyFit and other similar seats.
Some children high on the growth charts may outgrow the seat before 2 years old. Babies with long torsos and very round heads could experience head slumping with the infant insert. The Fit2 may not fit well in the center position of some vehicles such as Ram 1500 trucks.
Compilation of customer opinions
Overall, parents are satisfied with this seat, mostly for the easy installation and easy adjustments. It may not be a great fit for some newborns or kids that are high on the growth charts. It should fit in most vehicles that the KeyFit 30 can fit in, however, since it is the same width and depth.
Some parents thought the carrier was just too heavy. Some kids that were used to riding in regular infant seats were not comfortable with the different way it fit in the upright toddler mode. It's pricey too, but most parents felt that the seat was a good investment if it meant their kids could remain rear-facing for longer.
Britax B Safe 35 Infant Safety Seat​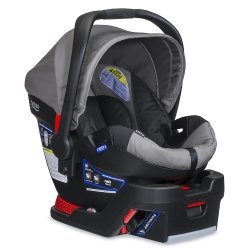 Britax is one of the most well known and respected names in baby travel gear, so it shouldn't come as a surprise that they have one of the best seats you can purchase in this price range. Read our research below to see if it is really what you want - but for most parents, this will be a solid choice. It's designed for infants 4 - 35 pounds and comes in 5 colors.

Read Exclusive Review of Britax B-Safe 35
Advantages
The Britax B Safe 35 Infant Safety Seat has a comfortable, easy-to-use 5 point harness and a SafeCenter Latch to make installing the seat base easier. The carrier itself has a deep cradle, which also adds to its comfort. The seat comes standard with a large sun canopy and side protection with impact-resistant foam.
For parents, the one-year-warranty is great if you have any issues, and the lightweight carrier makes it easier for you to come and go as you please. Plus, it's made in the USA, which many parents appreciate.
Disadvantages
As your child gets bigger, he or she may have some problems getting comfortable in the deeper, narrower cradle, forcing you to switch carriers early. Another problem that some parents noted is that there aren't any cup holders or extra little features. A few parents thought the seat was too heavy. Others said the crotch strap dug into their baby's thighs. Some parents had issues with the chest clip breaking and had difficulty getting it replaced.
Compilation of customer opinions
Overall this is a solid car seat that parents find easy to install. Some customers have reported problems with chest clip breakage, but most parents who reached out to the customer service team reported having a great experience. A few parents have complained about the need for an adaptor when using the travel system.
Extended & Specialized Editions: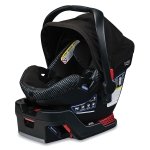 Britax B-Safe Ultra
This mesh fabric version has the same weight range and basic features. It comes in 6 colors, including a unique "Cowmooflage" pattern. The only real differences are the addition of Cool Flow ventilated mesh fabric and a European Belt Guide that makes rideshare installing easier. It's about $50-$60 more than the original.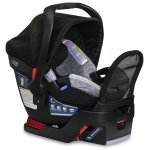 Britax Endeavours
This extended safety version also has the same weight range, comes in 4 colors, and uses a European Belt Guide for easier rideshare installation. The only big difference is an anti-rebound bar in the base. There's also a unique mesh overlay on the anti-rebound bar that helps keep footprints off the back of the vehicle seat and could add some protection from projectiles.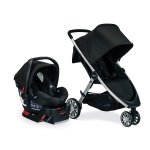 Britax B-Lively & B-Safe 35
This versatile travel system comes in 3 colors (red, gray, & black). The stroller is 3-wheeled and includes car seat adapters for the B-Safe 35 Infant Car Seat (included). The ventilated peek-a-boo canopy has UV 50+ sun protection. Parents love the infinite recline that allows your child to sit all the way up, nearly flat, or anywhere in between. The generous 55-pound weight limit means you'll get a lot of use out of this stroller.
---
Get Out and About With These Travel Essentials

Car Seat and Stroller Combos
If you're always on the go, do it in style with these travel systems. Explore the world together while keeping your hands free and your necessities close. From newborn to toddler, your child will enjoy a safe, comfortable ride.

Infant Car Seat Covers
Protect your baby from the elements all year long with top-rated infant car seat covers. Sun, rain, mosquitoes and germs don't stand a chance with the quality fabrics and designs in this collection.
---
Peg Perego Primo Viaggio​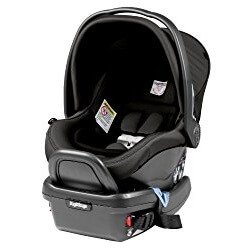 All Peg Perego seats are known to combine safety, luxury, and beautiful features that you just cannot find in any other car seat. These are high end seats that score well on our testing but fall behind on affordability. The Peg Perego Primo Viaggio is no exception - this is a superb seat you will love to use. It comes in 11 fashionable colors and is designed for babies 4 - 35 pounds.

Read Our Detailed Review of the Peg Perego Primo Viaggio 4-35
Advantages
The Peg Perego Primo Viaggio has long been one of the most popular options among families for quite a few reasons. It is an exceptional seat constructed in Italy.
Two anti-rebound bars on both the base and carrier are unique features that provide extra protection in a front or a rear collision and help stabilize the baby during sudden stops and starts.
Parents appreciate that the seat is comfortable and attractive with some of the highest rated safety options. Color coded belt paths help ensure proper strap adjustment, and the side impact protection has 6 adjustment levels to protect baby's head and shoulders, no matter their size.
Disadvantages
Some parents have complained that the seat is uncomfortable to carry when the canopy is fully extended. Several noted that the material is a bit more difficult to clean, so if you plan on feeding your child in the car, this might not be a great option. (But feeding them in the car isn't recommended anyway!) It may also not leave a lot of legroom for taller front seat passengers.
A few parents noted some small quality control issues, including cracks in the foam and plastic, torn canopy fabric, and an occasional broken chest clip. Others found that an audible click didn't always mean the seat was securely in the base.
Compilation of customer opinions
For parents who can afford to spend a little bit more for peace of mind, this car seat has almost always left customers feeling satisfied. If you do plan on frequent car trips, the Peg Perego Primo Viaggio is an option you will certainly want to think about. It is safe and comfortable.
Extended & Specialized Editions: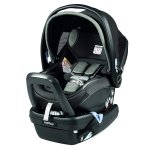 Peg Perego Primo Viaggio Nido
This extended safety version has the same weight range and basic features as the original. There's an added 10-position load leg on the base for extra energy absorption in a crash. It also has an extendable UPF 50+ pagoda hood that completely covers the baby for better protection from the elements. The headrest adjusts to ensure comfort and safety. It's about $50 more than the original Viaggio in stores.
Evenflo LiteMax DLX​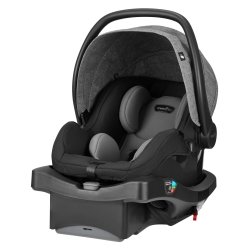 This popular model from Evenflo has a few unique safety features that are quickly becoming more popular within the car seat industry. It comes in two color combos (gray/black & green/black) and fits babies 4-35 pounds and up to 32 inches.

Read our Detailed Review of the Evenflo LiteMax DLX
Advantages
The DLX includes a SafeZone Load Leg, which is an adjustable support leg that extends from the base down to the floorboard. It stabilizes the seat and offers up to 50% reduction in crash forces. A no-rethread harness and adjustable headrest grows easily with your baby.
Installation is easy with the SureSafe installation system which includes simple connectors and a set of LATCH guides. The base includes a pendulum level to make sure parents get the proper angle during installation.
Disadvantages
This is a very popular seat and the criticisms are few and far between. The load leg may take some time to figure out, but once you do, it is simple. It can feel a bit heavy, despite the name, which you'll feel when carrying an older child in the seat. The buttons on the handle and the chest clip can be a bit difficult to use.
Compilation of customer opinions
Most parents love this car seat. They like the added stability of the load leg and how it adds stability to the car seat. They're impressed with the colors of the fabric and the comfort of the padding. Very few have had any issues with installation.
Extended & Specialized Editions: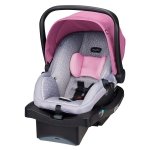 Evenflo LiteMax
This version has been around a little longer than the DLX. It has the same weight and height ranges and basic features. It does NOT include a load leg but is just as lightweight and easy to install. This version is also more affordable, at about $80 less than the DLX. This seat is a great budget option for parents looking to save a little money without sacrificing safety.
2018 UPPAbaby MESA​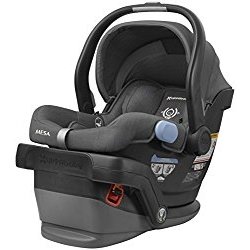 The 2018 UPPAbaby MESA infant car seat is a new and updated version of the previous model. Functionally, it's the same seat. It comes in five colors – the original blue, black, and navy blue plus new red and charcoal colors. The blue and charcoal colors are merino wool fabric that's naturally fire-resistant, meaning no added chemical flame retardants. The gray color has been discontinued.
The MESA's innovative red to green tension indicator is a first in the car seat market. Designed for babies 4 – 35 pounds, it can be paired with the UPPAbaby Vista or Cruz stroller for a convenient travel system.

Read our Detailed Review of the Uppa Baby Mesa
Advantages
The MESA is designed with preemies in mind. The harness and crotch straps adjust easily, providing a secure fit for babies as small as 4 pounds. An infant insert for babies 4-8 pounds includes a pillow that gives extra support for the head and neck, while a built-in wedge positions the body for a safer riding angle.
Parents love how easy it is to install with or without a base, and also appreciated the easy strap adjustments with the no-rethread harness as their child grew. They also loved how well it fit onto UPPAbaby strollers and how easy the seat cover was to remove and wash.
Disadvantages
While some parents thought the MESA was lightweight, many felt it was too heavy and bulky. Some had difficulty fitting it into the back seat and had to push the front passenger seat too far forward to be comfortable.
Some parents reported quality control issues such as broken parts, torn fabric, and a flimsy canopy. A few noted that their babies got too hot in it. Recent updates to a moisture-wicking Merino wool fabric may have helped that issue, but there is still a warning sticker right on the fabric that may make babies sweat on their backs.
For what it is, this seat is pricey, and several parents thought it wasn't worth the money. The Merino wool fabric ones cost about $50 more than the others. If you're on a tight budget, you may want to look at cheaper, comparable options.
Compilation of customer opinions
For the most part, the MESA does its job well. It's sleek, modern-looking, and stroller-friendly. While most parents are happy with the seat, it's a considerable investment that may not have the quality of other premium priced seats. Keep an eye out for free shipping and other deals.
Safety 1st onBoard 35 Air 360​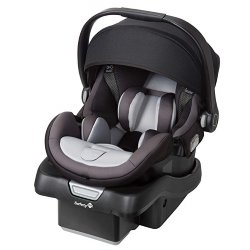 The Safety 1st onBoard 35 Air 360 is aptly named for the 360 degrees of safety it provides. Crash tested from every angle – front impact, rear impact, side impact and rollover – this car seat not only meets but also exceeds U.S. federal safety standards and the European rollover standard due to air protect cushioning and energy absorbing foam. All this, plus it's very budget-friendly.
This car seat accommodates babies from 4-35 pounds. It can be installed using a LATCH system or the vehicle's seat belt. It's easy to install and does a great job providing extended safety features without compromising functionality. It comes in 3 color choices - gray, black, and pink - and has a machine washable seat pad.

Read our Detailed Review of the Safety 1st onBoard 35 Air 360
Advantages
This is the only car seat with 5 layers of proven safety. Its patented foam protects the child's torso and is the same type used in race cars for absorbing energy in a crash.
The 5-point harness adjusts from the front for quick and easy access and the 4 harness heights and 3 crotch buckle locations help accommodate a child's growth for extended rear-facing.
A nice addition is the storage compartment on the base of the car seat to keep the LATCH straps out of the way. The carrier itself is easy to grip and carry thanks to its handle design, which has been reinforced for stability and features a comfort grip.
The onboard 35 Air 360 can be used with some stroller models that are compatible with the car seat's Quick Click technology.
The seat pad is machine washable and dryer safe.
Disadvantages
The car seat might not be a good fit for smaller cars with limited space. It's a bit longer and heavier than other seats on the market due to its safety features. In some small cars, the front passenger seat may need to be pushed all the way forward for the rear-facing car seat to fit behind it in the back seat.
The car seat is designed with j-loop attachments to hook to the LATCH, rather than the easier clips. Likewise, the rethread harness is more challenging than those seats requiring no rethread. Some buyers reported that the safety padding tends to trap heat, so their child becomes sweaty when riding in the seat. The canopy has had some issues with staying up.
Compilation of customer opinions
Customers agree that this is a high quality car seat with a strong focus on safety. It's sturdy and user-friendly enough for daily use and installs easily. Many parents were happy that it fit their newborns well and offered good head support.
Several parents commented on the canopy not staying up. One mom discovered that one of the canopy panels was folded under and by unfolding it was able to fix the problem. Other parents were frustrated that it wasn't compatible with more strollers.
CYBEX Aton 2 Infant Car Seat​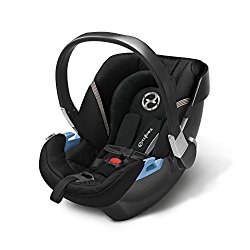 The CYBEX Aton 2 Infant Car Seat has almost everything that you could want in a car seat. Parents and safety agencies have praised it for progressive safety features like its height-adjustable load leg. There are a few things to consider before purchasing it - primarily whether the safety features, bright colors and the sleek design outweigh the steep price tag. It comes in 8 colors and is designed for babies 4 - 35 pounds.

Read our Detailed Review of the Cybex Aton 2
Advantages
This seat leads with safety including an energy absorbing shell with side impact protection. This seat keeps your child comfortable while keeping him or her safe in many situations. The side impact device, situated on the handle, adds extra protection as does the adjustable load bearing leg on the base. The leg prevents forward rotation in case of sudden stops and is virtually a standard feature in Europe.
LATCH installation is quite easy for this model with simple push-on connectors and is explained well in the manual and with online instructional videos. Some customers have commented that it is easier to put the child into this seat than in other seats. It is compatible with CYBEX strollers and can safely be used with or without the base.
Disadvantages
Parents have noted the chest clip is overly wide, which can be uncomfortable for some babies. Also the canopy is too small to offer much sun/weather protection. While the size range is 4-35 pounds, it is too roomy to comfortably support a preemie.
A few parents felt the three position handle was much too loose while carrying and feared it would malfunction.
Compilation of customer opinions
Most customers were happy to find that the seat delivered more safety and protection compared to other seats, especially those in the same price range. They also love the colors and that it's easy to use. Parents appreciate the light weight of the carrier (9 pounds) and that it's compact enough to fit in many small cars.
However, due to some quality control issues with the handle and canopy, it's not been a favorite for some parents. If you are a CYBEX fan or already have a CYBEX stroller, it makes sense to get this seat. If not, you may want to look elsewhere or watch for sales or free shipping deals.
---
How to Find the Best Infant Car Seats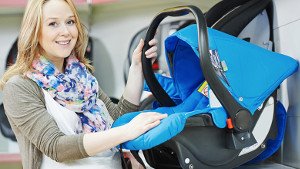 Take a moment to imagine this scenario:
It's here! The day you've all been waiting for – the day you get to meet your new baby face-to-face. Everyone is excited to hold her. At home you have got all her clothes washed and ready, her crib's all set up. The changing table is fully stocked with diapers, sweet-smelling baby wipes and baby lotion. All that is left to do is install the car seat you got at your baby shower so you can bring your baby home.
Except, when you try to install it, you discover it barely fits. The LATCH straps won't reach the hooks in the rear seat. It's impossible to get the car seat angled properly so the baby's head doesn't slump forward or to the side. And no matter how hard you and your husband yank, you cannot get it strapped tightly enough to stop the seat from flopping around on the backseat. There's no way you can bring your baby home in this car seat! That just won't work.
Now you have to rush out and buy a new car seat so the hospital will let you take her home. Chances are, in your haste, you'll spend way too much on a seat with bells and whistles you don't need. The one good thing in this scenario? The first seat was a gift, so at least you're not out the money twice.
Your best bet: start shopping well before the baby arrives so you save yourself a lot of time, money, and frustration.
Pro-tip: Pick out the car seat you want now that you know will fit and then add it to your baby registry!
The Basics – Four Top Things to Look For In an Infant Car Seat
Okay, so where do you start? With all the products on the car seat market today, it's difficult to find one that will work for your family's specific needs. Rest assured, however, that there is more than one seat out there that will provide a safe and comfy ride. Here's what you need to consider to help you make a smart choice.
What's your budget? You can find a great seat no matter what your price range, so don't assume more $$$ means better quality. Yes, your baby deserves the very best, but she needs a lot more than just a car seat. All those little necessities can add up quickly.
How big is your vehicle? Just like people, car seats come in all sizes. Some are just too bulky to fit in compact and other small cars. If you need multiple seats, it's even more important to know if they'll fit in the backseat. If you have a small car then be sure to measure the backseat and compare it to the car seat dimensions.
How safe is it? Every car seat on our list has passed tough standard federal safety regulations. Seats will often boast about added safety features like crash foam or anti-rebound bars. Remember that these features aren't federally regulated, so there isn't any government testing to show if they actually enhance safety.
How easy is it to use and install? Did you know that an estimated 95% of parents make at least one mistake while installing and using infant safety seats? Seats that are super simple to install and intuitive to use are much less likely to be used incorrectly. Not all latch is created equally and some seats are a lot easier to install than others.
In regards to safety, sure, crash test results are important, but remember this: Car seats are only safe if they are installed and used correctly. This is why we think that ease of use is a huge factor in determining which car seat to buy. The easier a seat is to use, the more likely it will be used correctly and the safer your baby will be.
Other Things to Look For in an Infant Car Seat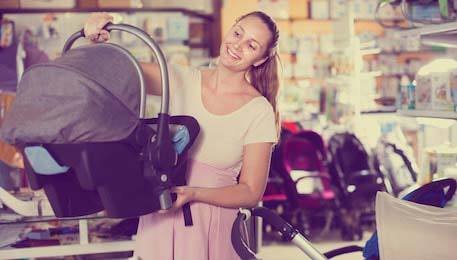 What, there's more? If you only follow the 4 basic considerations, you'll still find a great seat. But there are some other things to look for that will ensure you're getting the cream of the crop when it comes to infant car seats.
Easy to use buckles, clips and LATCH system

Every time you put your infant in a car seat, you'll be using a harness and chest clip. You'll have to tighten the straps enough to secure the baby. Look for clips, buckles and straps that are simple to use and tighten. They should be intuitive enough to use without having to consult a manual. No-rethread harnesses are wonderful for adjusting the harness height as baby grows.

Tightening the harness should be a smooth and easy process that you can preferably do one-handed. You don't want to dig around for a strap tightening handle that's hidden somewhere behind or under the seat. A one-strap, front-adjust tightener like the one on the Graco SungRide35 lets you tighten the harness quickly and easily with one hand.

Installing the car seat LATCH straps to your car's built-in LATCH system shouldn't require a superhuman feat of strength. Look for push-on connectors rather than clip-style LATCH. Push-on connectors like those on the Peg Perego Primo Viaggio 4/35 will save you a lot of sweat and tears.

Seamless transition from base to carrier to stroller

"Let sleeping babies lie." If you've ever had a sleepy, grumpy baby on your hands, you'll understand why this old adage applies. One of the main benefits of an infant car seat is that it can be used as an infant carrier so that you can put baby in and out of the car without waking her.

The seat should be easy to remove and it should attach to the base with just a click. It should be lightweight so that the added weight of the baby doesn't make your arm fall off. If you need to carry it for long distances or switch cars often, this is super important.

It should also be easy to snap onto a compatible stroller securely. Infant car seats with release handles on the seat itself instead of on the base are usually a lot easier to manage.

Practical, easy-to-clean fabrics

Babies are messy little creatures. At a minimum, you'll want to clean your car seat every 2-3 months to remove drool, sweat, and any diaper leaks. Most car seat covers are machine washable. Not all are machine dryable, but so long as you're not in a rush, hanging to dry isn't a big deal.

The big thing to look out for: How easy is the car seat cover to remove and replace? Check out reviews to see what parents say about their experience. You'll be thankful to have the most fuss-free car seat cover you can buy.

Black fabric will hide stains better, but there are a wide variety of colors and patterns depending on the brand of car seat. Even the budget-friendly seats have a nice selection. The premium-priced seats usually have the best quality fabric and padding. High quality fabric is likely to tear, pill and fade. However, we've found that breathability doesn't depend much on price.
What To Avoid In A Car Seat for Infants
Secondhand Seats

Try to avoid secondhand seats at all costs. Even if you know the person they belonged to, you can't guarantee there isn't some invisible damage. Over time, small tears and breaks happen that render the seat less safe than it was before.

Never use a car seat that has been in an accident. Even if it looks okay, toss it out. There could easily be unseen damage that would render it ineffective in another accident.

Toxic flame retardants

Everyone wants to keep their babies away from toxins. All car seats must be treated with flame retardants, but some are safer than others. It's hard to find this information, but if you can, try to avoid flame retardants that are brominated. Car seats such as the UPPAbaby MESA (Henry version) are naturally flame retardant without harsh chemical additives.

Turning forward-facing too soon

Children are 70% safer riding rear-facing than forward-facing. Do your best to keep your baby rear-facing beyond her 2nd birthday and up to 4 years of age, as the AAP now recommends. Why? Because young children's growing bones (especially in the neck and spine) are delicate and prone to severe injury in forward-facing crash forces. A rear-facing seat better surrounds the head, neck and spinal column and absorbs more crash forces.

One option: Buy an infant seat with a higher weight limit such as the Britax B Safe 35, then when your baby grows out of it, buy a convertible seat that has even higher rear-facing weight limits such as the Diono Rainier 3-in-1.

Car seats are not cribs

The AAP recommends not using car seats for sleeping in general. Sure, it's fine to let baby sleep in the car or while you're shopping. But for regular naps and bedtime, a crib is the safest place for your baby. Baby's airway can be more restricted in a car seat. They can also overheat, and their heads could develop flat spots if left lying too long. Car seats become a hazard when babies sleep in them unclipped or at awkward angles.
Types of Infant Car Seats
You'll see many types of infant car seats listed on our site and in stores. What you buy will depend on your preferences, budget and child. In some cases, people who have smaller or larger infants can't use just any seat. For instance, a preemie of 4 or 5 pounds will fit best in a seat that fits small babies well like the Chicco KeyFit.
Here are some of the terms you'll see on various models so you can better tell what you're looking at when shopping. There are four main types of seats.
1. Rear Facing Only

Rear-facing only seats (or infant car seats) are designed for infants weighing as little as 4 pounds up to 30-40 pounds, depending on the model. These seats are smaller, typically attach to a base and have handles for carrying. This base can be moved from car to car, but the carrier is the selling point – it allows you to carry your child around without disturbing her.

Infants sit in the "cradle" of the seat and are secured using a five-point harness. Almost every model of infant seat includes a head support pillow or system to keep baby's head from slumping. Infant seats can recline and can be adjusted for comfort.

2. Convertible seats

Convertible seats are just what they sound like – seats that can be converted. In most instances, they go from rear facing to forward facing and sometimes even convert into a booster seat.

They tend to be bigger and cost more than rear-facing only seats. They don't have a detachable base or carrying handle. Many people decide to start with an infant rear-facing seat and then switch to a convertible. However, starting off with a convertible seat can save money in the long run since you'll be using it much longer.

It is important to note that using a convertible seat means you have to pay particular attention to strap placement and recline. These will need to be adjusted in each different mode. You'll have to check the settings regularly and consult your user manual to ensure everything is in the right position.

3. All-in-One seats (sometimes called 3-in-1 or 4-in-1)

All in one seats can be used as a rear-facing seat, a forward facing seat, and as a belt-positioning high-back booster with the harness removed. Sometimes, you will be able to find an all in one that also converts to a backless booster with weight limits up to 120 pounds. Occasionally, you'll see one with a booster mode that uses a harness, but they are pretty rare. These seats pass all necessary safety ratings but sacrifice some comfort for the increased versatility.

4. Travel Systems

Also called car seat / stroller combos. Several of the infant car seats you'll see here can either be bought alone or as part of a travel system. As a travel system the seat will simply click onto the stroller. You may already have a stroller and find this redundant but many parents like the convenience. However, keep in mind that not all infant seats are compatible with all strollers, as is the case with the UPPAbaby MESA, which only fits the Vista and Cruz UPPAbaby strollers. There are different stroller models depending on your lifestyle, including 3-wheeled, 4-wheeled, jogging and double strollers.

There are different stroller models depending on your lifestyle, including 3-wheeled, 4-wheeled, jogging and double strollers.
How to Install An Infant Car Seat
There is no one set way to install a car seat. You should always thoroughly read the manual before doing anything. Good manuals will have clear directions in many different languages as well as models and diagrams that you can use. If you're still having trouble installing the seat, look for tips and installation videos on YouTube or the manufacturer's website.
If you still have issues, try asking someone at the local police station, a pediatrician, a hospital, or even a baby store to help. Often, they will have staff who specialize in installation. You can always call the manufacturer's customer service line if you have any questions as well.
Where
The best place for a child's car seat is actually in the middle of the back seat. This will prevent many injuries if your car is hit on the side. It will also prevent your child from playing with the window buttons and door locks. If you cannot put your child in the middle, it is better to put him or her behind the passenger's seat if you drive the car alone.
If there are always two people in the car, then you can put them behind the driver. However, the passenger's seat side allows the driver to check back occasionally without taking his or her eyes off the road for too long. In an emergency, it also allows the driver to check on the baby as soon as he or she can. City drivers might prefer children behind the passenger seat so that they can load and unload without being in traffic.
When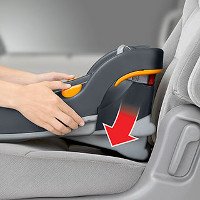 Ideally, you want to install your infant car seat well before your child is born. You will need it to take your baby home from the hospital. The hospital will not let you leave until they know you have a car seat safely installed. You don't want to be fiddling with installation when it is time to go home.
Installing early will also give you time to drive around to ensure the base and the seat are attached securely. If you can find a doll that's the same size and weight of a newborn to use as a test subject, even better. Go around a few corners to see how the seat moves. If it tips, slides around or rattles too much, you may have to make some adjustments. Tighten your car seat to give it a snug fit.
For extra security, go to your local car seat technician, pediatrician or police station to have the seat checked by someone who can confirm if you've installed the seat correctly.
More Than One Car Seat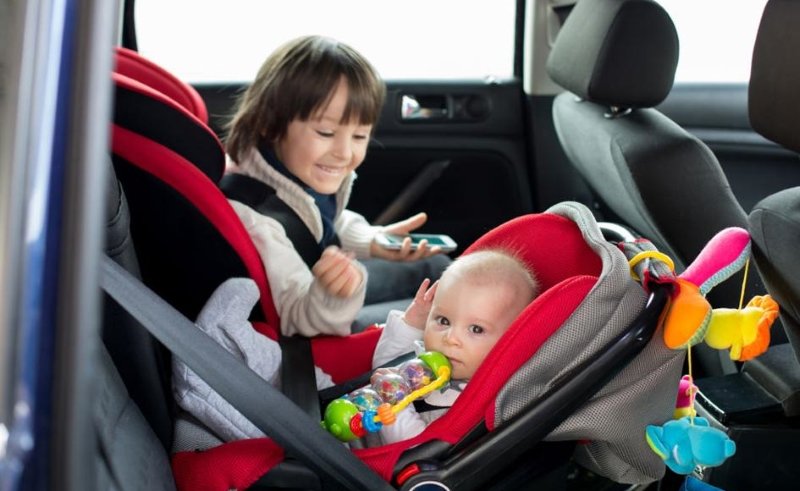 A big challenge for lots of parents is when the second car seat arrives in the back of the car. Parents shopping for an infant car seat that already have older children must take space into consideration.
If you need to install more than one car seat and have an older child in a forward-facing or booster seat, try to put the older child in the middle instead. Forward-facing and booster seats don't protect as well as a rear-facing infant seat, so the older children will be safer in the middle.
It can be difficult to install more than one seat in the same car, especially side by side. If you leave an open seat between two car seats it will make installation a lot easier. Manufacturers will place latch anchors at every seat but often times they will be so close together that you cannot use adjacent anchors to install seats next to each other.
Find the dimensions of your car interior and the car seats before buying so you know if they'll fit. Some car seats, particularly convertible models, are bulkier than infant seats. Look for compact seats with a narrower profile, such as the Chicco Keyfit 30.
You can find specific vehicle dimensions and read more about fitting multiple car seats in the back of a car in our recent blog post on narrow car seat options. In that post you can also find information on captains chairs, third row seating, and vehicles that can fit three car seats across the back seat.
This post is also available in: Español (Spanish)