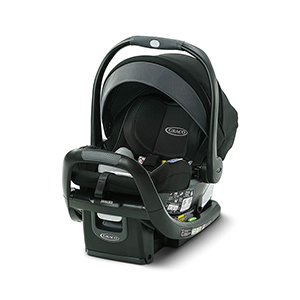 Graco has been iterating the SnugRide lineup for several years and the SnugRide SnugLock 35 DLX is one of our all time favorites. The Graco SnugRide 35 is a proven commodity that parents have reviewed highly for years and it frequently appears on our updated lists of top infant car seats. The DLX version perfectly balances price and features.
Every parent is looking for a car seat that's safe, reliable, durable, and suitable for their newborn baby. After all, you are investing a lot of money in the first car seat your child will ride in. Graco brands have been a solution for new parents for over 60 years, and the SnugRide 35 DLX Infant Car Seat can be a great solution for you.
The Graco SnugRide 35 DLX Infant Car Seat is a great choice for any newborn baby. Our ratings and reviews have compared it extensively to other products on the market, and while it has a few drawbacks it is overall one of our highest rated infant car seats. If you are getting ready to leave the hospital with a newborn or if you are just looking to add an extra car seat to your other car, here are some key reasons to consider this car seat.
Key Features of the Graco SnugRide 35 DLX
Adjustable base with 5 position recline and anti-rebound bar.
Easy-to-read level indicator.
Suitable for babies weighing 4-35 lbs.
Carry handle with 1-hand adjustment button.
SafetyCore frontal crash absorption zone.
Simply Safe Adjustable Harness System.
Quiet canopy adjusts without disturbing baby.
Easy installation with SnugFit or SnugLock Technology.
7 Year useful life.
Parents often compare the DLX to other models of the Graco SnugRide 35 lineup and the key features that differentiate it are the easy adjustable handle and the SafetyCore impact zone on the base. The DLX model also has a nicer canopy that is easier to adjust. All of these added features and more came at a price that is often just a few dollars extra than the standard version.
What's the Child Age and Size Limit for Graco SnugRide 35 DLX Infant Car Seat?
As an infant car seat everything on the DLX is designed with your newborn in mind and children always ride in it rear-facing. It's suitable for children ages one-month-old to up to approximately 28 months old as it can hold children up to 35 lbs. Children can comfortably fit in the car seat up to 32 inches in height.
Weight Range: 4 lbs-35 lbs
Height Range: Up to 32-inches tall
Again, this car seat is only rear-facing and if you are interested in getting something forward-facing you should invest in a convertible or the all-in-one car seats. Parents should always ride with children rear-facing for as long as possible and check your State's regulations as it might be against the law to ride forward-facing with younger kids.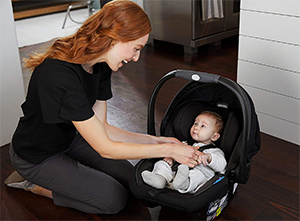 Parents do note that as babies get older, the headrest cushion on the DLX can start to get tighter. As the head support is not removable, a growing child who becomes uncomfortably tight in it might need to get a new seat sooner than parents plan for.
Since this car seat has a long seven year useful life, parents are frequently able to use it as a hand-me-down car seat for newborn siblings with the older sibling getting the new car seat.
What makes the Graco SnugRide 35 DLX Infant Car Seat Suitable For Your Child?
The lightweight design makes this car seat especially portable and parents can easily carry it along with them. Since there is a 1-hand adjustable handle, you can easily use the other hand when getting your baby in and out of the car. The best thing about this car seat is the fact that it's designed for infants. When you have a newborn baby this is one of the best car seats to own.
The SafetyCore impact zone is built into the base of the Graco 35 DLX. It can absorb the frontal crash forces exerted onto the car seat in case of an accident. Using a safe and reliable car seat gives a lot of parents a feeling of comfort and a sense of relief. This car seat is designed for the safety of newborn children so that you can drive with peace of mind while your baby is sitting safely in the back.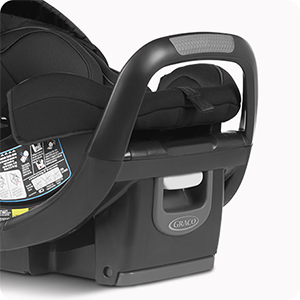 The base on this car seat also has an anti-rebound bar. This safety feature is required in other countries because of how helpful it can be in case of a collision. In impact a car seat will usually drive forward towards the front of the car but afterwards it will rebound back towards the rear. The anti-rebound bar acts to keep this rebound from toppling the car seat backwards into the rear seat. It is a great safety feature that parents feel secure having in place.
Parents also really like how quickly, quietly, and easily they can adjust the Silent Shade canopy on the DLX. It is the perfect solution for when your baby is asleep but the canopy is in need of adjustment to protect them from sunlight.
This car seat also has the great, standard Graco features that parents have come to rely upon over the years. For instance, the Click Connect technology leletsst parents easily use it with their strollers and that makes it the perfect car seat for traveling. It also fits with all Graco bases or you can easily use it with a car seat.
How Big Is The Graco SnugRide 35 DLX Infant Car Seat And Will It Fit In Your Car?
The Graco SnugRide 35 DLX Infant Car Seat has a functional design that packs a lot of features into reasonable dimensions. In order to know whether the car seat can be a suitable fit for your vehicle, consider the following measurements:
Car Seat Dimensions: 30.67 inches x 18.66 inches x 15.59 inches
Weight of car seat: 17.5 lbs
Weight without base: 10.5 lbs
The Graco SnugRide 3 DLX comes with either SnugLock and/or SnugFit installation technology. Graco uses the SnugFit name to indicate that an anti-rebound bar has been added to the base, and subsequently that model does take up a bit more space in the back seat.
Is the Graco SnugRide SnugLock 35 DLX Infant Car Seat Easy to Install?
Yes! Installing this car seat into your vehicle only takes a few steps. The hassle-free installation is possible with a vehicle seat belt or the latch system. Graco has sturdy SnugLock technology that helps parents install the seat securely using the seat belt in just a minute.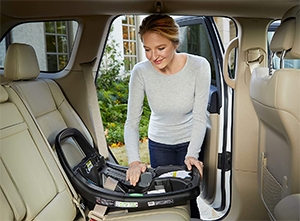 A 4-position recline helps parents avoid one of the more common car seat installation hassles and an easy-to-read level indicator assures proper placement. Moving the car seat in and out of the base is quick and easy. Hearing the click sound means a secure install, but parents should still always check by giving it a wiggle. The base is compatible with any Graco click connect car seat.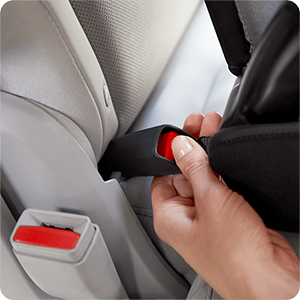 Is Graco SnugRide 35 DLX Infant Car Seat Safe for Your Baby?
Yes! The first thing that you ever look for when selecting a car seat for your baby is safety. Whether you are driving your car or using a car seat with a stroller, you just want your baby to be safe while seated.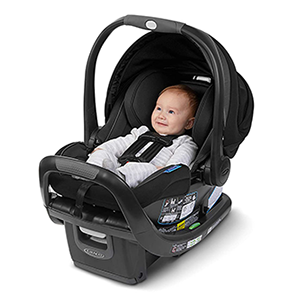 The leading safety features on this car seat include the anti-rebound bar on the base and the Graco ProtectPlus engineering. The anti-rebound bar keeps your infant car seat from rotating in case of collision. The key to keeping a car seat safe is making installation easy and Graco does that with InRight Latch connectors for securing with Latch or SnugLock technology when using a seat belt. Graco also helps minimize any chance of user error by having a no-rethread harness that moves the backrest up higher without requiring parents to mess with the buckles.
Parents looking for additional safety features can upgrade to the SnugFit model to add an anti-rebound bar to the car seat base for additional protection.
Real-Life Experience
Graco uses the most rigorous available safety testing to help in building a car seat that provides a safe ride to your child. According to a customer review, the car seat helped in saving the life of a 9-month old baby girl. Overall, most parents seem satisfied with the purchase and feel that it is a good investment.
Cleaning the Graco SnugRide 35 DLX is Easy
Everyone is a lot more germ conscious since COVID and parents want to be sure they buy baby products that are reasonably easy to clean. Cleaning this car seat is easy since the covers are removable and machine washable.
Consider the following when cleaning:
Using gentle cycle and cold water, you can machine wash the seat pad and canopy. It's recommended not to use bleach. Let it drip dry to avoid shrinking it.
Clean the buckle with warm water. Don't use soap or lubricants and also avoid submerging the buckle straps.
Clean the harness with a damp cloth and mild soap. You can also use wipes. Cool water and mild soap can help you clean the plastic and metal parts of the car seat.
Accessories
This is a full featured car seat with everything that parent's need for their newborn babies. Still, there are a handful of popular accessories that are often purchased alongside this car seat.
Baby Car Mirror for Back Seat – Keep an eye on your rear-facing baby with a handy mirror that can mount right on your headrest. Straps keep it snug and secure. A quick glance at your child lets you know if they're in need.
Final Verdict
Let's review a few of the key pros and cons that emerged while rating this Graco infant car seat against the competition and see why it is one of our highest overall rated car seats.
BestCarSeatHubs Final Verdict

Design – With a focus on newborns this car seat is sized just right for your baby and provides them with a snug fit.
Strong Safety Features – Solid engineering and a base with sn anti-rebound bar help keep baby safe.
Quick Installation – Built in and easy to use installation features like level indicators and 5 position recline help make installing it a snap.
Durable – Made by a strong company focused on quality products so parents know it will last.
Lightweight – Easy to carry around with a low profile, lightweight and comfortable handle.
Travel Friendly – Take it on trips with lots of stroller options and FAA approval for use on planes.
Long life – Seven year useful life means that it's likely you can use this car seat again in the future for a little brother or sister.

Rear facing – Non convertible car seat means that you might be buying a new seat sooner than with other options.
Accessories – More frills like a removable headrest pillow and harness covers would make cleaning this car seat even easier.
Seat Belt Installation – It installs quickly with a car seat belt but some parents complain that they couldn't get the installation tight enough and the seat didn't feel secure.
Fabric – A more breathable fabric would help the baby stay cooler.
Final Thoughts
Keeping your child safe in the car is predicated upon parents having a quality car seat that is installed correctly. Graco delivers just that with the SnugRide 35 DLX Infant Car Seat. This is an easy to install car seat that keeps your child safe and comfortable in the car over short or long drives. Parents consistently rate this as one of the best infant car seat options available.
The entire family of Graco SnugRide SnugFit and SnugLock car seats provide parents with great performance and provide the baby with superior protection. These car seats are priced right and many of the options present quite a bit of value. Our favorite option is the DLX, which adds an anti-rebound bar and additional frontal impact protection to the base along with easier to use canopy and handle features. These features raise the cost of the car seat just a few dollars more than the base model and pay off quickly for parents.
Parents looking for a sturdy car seat that is heavy on safety features should consider this great offering from Graco.