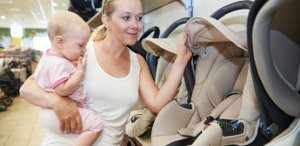 It doesn't matter what your child wears, what color scheme you use in the nursery, or even what his or her name is really. When you buy items for your child, you need to focus on the ones that will keep him or her safe.
The most important of this is the car seat!
It's so important, in fact, that hospitals pay special attention to your car seat and won't let you leave if you don't have one that meets all of their standards. So why is it that 80% of car seats are installed incorrectly and another 40% of people are using car seats that are too big for their child?
Simply put – we see the wrong things, we think they are right, so we repeat them.
Our car seat buying guide will help you to better understand how to choose a car seat, which car seat the best for your family, and how long you can use a car seat for. To do this, we looked at the pros and cons of each car seat, the customer reviews, and the specs.
Of course, you also have to ensure that you install the car seat properly, or all of the research in the world isn't going to keep your child safe. You don't have to spend a ton of money. You don't have to travel far and wide. You don't have to get something that doesn't fit your car or buy a new car just so you can keep your child safe. Instead, you just need to use your head.
---
Find the Car Seat Model That Works for You and Your Baby
When your baby is born, he or she might need something special. Some babies are born really small. Some are born very light. Some have special requirements because of health conditions. While you can't really wait until your baby is born, you should be proactive in determining if you will have any of these issues. Not all car seat models work for extremely small babies.
Then, you have to think about transitioning. Do you want to have a car seat that lasts for years but you have to transition it or do you want to get a few car seats?
Infant (rear-facing) Car Seats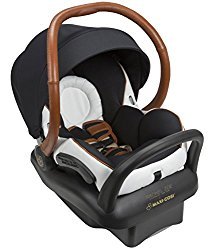 For most new parents, they will start their car seat journey with an infant car seat. An infant car seat can run you anywhere from $80 for the most basic model to nearly $500 for extremely luxurious models. Unless you are a movie star, you are find with a less expensive model. These are short-term use seats that are convenient because they come with a safe (and sometimes ergonomic) carrier. However, they can only be used in a rear-facing mode, meaning your child will grow out of them quickly.
For smaller babies and newborns, this is where you have to start. Most still start at about 6 pounds, but some go down to 4 pounds, which is important to note if you have a preemie baby. While the seats can hold up to forty pounds, it is likely that your child will outgrow the seat in one way before that point.
When you child's head is less than one inch from the top of the carrier or their legs are uncomfortable near the seat, it is time to upgrade.
Convertible Seat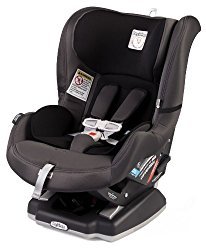 Once your child grows out of the infant seat, most parents will move to a convertible seat. Some people will start with a convertible seat, but there are very few that provide enough support for smaller infants. By your child's first birthday, a convertible seat is likely what you will have, installed either forward-facing or rear-facing. Some parents prefer to keep their child rear-facing for as long as possible, but it really depends on your car, your seat, and your child.
If your child is younger than a year old and weighs less than twenty pounds, you should keep him or her in rear facing mode. Some of the tougher convertible seats allow you to go up to 50 pounds in the rear facing mode, but you would need to get a special system that accounts for the length of your child's legs, especially if you plan on taking longer trips. For short trips, they could be fine. However, if you are in an accident and your child's legs are squished, it could be a huge problem.
Your child will let you know if he or she is uncomfortable. Better yet, you should pay attention to when it looks like you can safely move your child from a rear-facing car seat to a forward facing mode.
Most convertible seats will have a convertible harness system, but the weight limit is higher, meaning that the system is tougher.
There are quite a few convertible car seats on the market today, ranging in price from $40 to upwards of $500. Once again, you don't have to pay a ton of money to keep your child safe. Instead, you should read reviews and see which ones will work with your family.
Booster Seat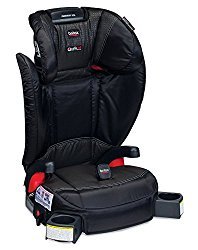 As your child starts to grow (much more quickly than you'd think possible), you will start to notice that the front-facing harness starts to pull and pinch and your child can no longer get comfortable. These are clear signs that your child has outgrown the convertible car seat and you should now look into booster seats. Booster seats adjust your child so that he or she can use the car's seat belt system.
A booster seat will lift your child so that the seat belt hits all of the proper points to keep your child safe – over the sternum, through the center of the collarbone, and then across the upper thighs. You can get either a high back seat or a backless model, which is the most popular.
Booster seats are a necessity for all children at some point – up to nine years old and 80 pounds. Just because you think your child is okay, that doesn't mean he or she is. It is better to spend a few dollars and keep him or her safe. Booster seats start at $13, so you really don't have an excuse.
Toddler Booster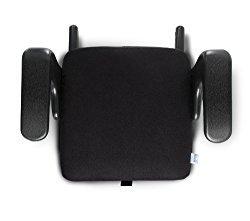 Toddler boosters are slightly different than a traditional booster. They are to be used only by toddlers who meet all of the weight, height, and age limits in order to use it. These seats are designed to be used forward-facing and they have a harness system that can be removed once your child hits the appropriate milestones.
All-In-One Car Seats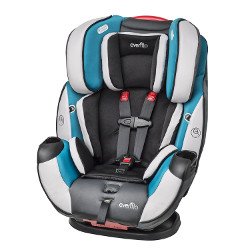 If you don't want to keep shopping for new seats every time your child grows (and they grow very quickly), you can get an all-in-one seat. Note that they do save money and they are easier, but they aren't typically as safe and effective at each stage like the individual seats are. Since these seats work with infants starting at 5 pounds going all the way up to 120 pounds, that is too wide of a margin to really support every stage equally.
Another reason many people don't go for the all-in-on car seats? They are extremely bulky and lack the convenience in the different stages.
Still, they can be a great option for grandparents or people who won't transport your child all that often.
---
---
Car Seat Buyer's Guide Glossary

Here is a quick guide to some of the most common terms you will see when talking about car seats. These terms are used to describe safety systems, accessories, and other confusing things that new parents might not understand.
Us this to ensure that you understand each word used in a guide:
Adjustable Foot: This is a system that makes it easier to adjust a rear-facing car seat so that it can be customized for the right angle.
Aftermarket: These are replacement pieces sold for a used car seat or one that has been broken. Avoid these products at all costs.
Automated Locking: This locks the seat belt into the set position so that your child cannot adjust it and so that the seat will stay in place.
Best Positioning Booster Seat: Longer name for a traditional booster seat.
Belt Path: This is how the seat belt goes from the lower anchor attachment to wherever it goes in the vehicle.
Car Bed: This is a restraint used for babies who are too small for a traditional infant car seat or medically need something that allows them to stay lying down when the car is in movement. This is a complicated system.
Chest Clip: This is the plastic buckle that goes over a child's chest and is positioned at level with the armpit. Make sure to pay special that it is adjusted properly.
Detachable Base: This is a separate base for a rear-facing car seat that can be installed to keep the car seat secure.
Emergency Locking Retractor: This is a retractor that locks the seat belt when the vehicle slows or stops.
Level Indicator: This helps you to identify whether or not you have your seat adjusted correctly. Make sure to pay special attention to the recline angle to keep your child safe.
Lower Anchors: Horizontal bars that help to provide more support for your car. The seat itself connects to the lower attachments.
Lower Anchor Attachments: These are attachments that are used in place of a seat belt to help secure the car seat system to the lower anchors. You can sometimes have flexibility to see where you want to adjust it to.
Recalls: Pay attention to see if your car seat is the victim of any recalls. The NHTSA and manufacturers work together to repair any problems of deficiencies after the product has been distributed or sold. All repairs or replacements must be free, so it is well worth your time to get them.
Registration: A car that comes in the kit with every car seat that should be returned so that you can get prompt notification of any recalls.
Retractors: A mechanism that gathers and stores extra seat belt webbing so that the system stays compact.
Seat Belt Syndrome: If you get into a crash or suddenly brake, your child may get this, though it can present itself as a range of symptoms. Children have to be buckled into the seat to provide upper body protection. There is really no way to avoid this syndrome, and it is better to have this syndrome than some of the other repercussions.
Smart Air Bag System: This is an air bag system that detects whether you have a child in the car and enables or disables them so that they can deploy safely. Not all cars will have this and you have to be smart about when you use it.
Tether: This is a tether strap and hook system that anchors the top of the car seat to the tether anchor in the vehicle. It keeps the seat from tipping forward on impact and provides safety and extra protection.