Trying to find the best car seat stroller combo can be a real pain in the tush – there are so many on the market, from ultra posh to super cheap. And many of them have few discernable differences beyond price.

However, if you're shopping for a car seat, it's a good idea to shop for both seat and stroller at the same time. Not all strollers are compatible with all car seats. So while Aunt Edna's nice shower gift of a luxury $500 stroller may be awesome, you may have to purchase a separate adaptor to make it work with your $200 car seat. If it will work at all, that is.

Before you panic and rush out to buy a travel system, there are a few things to think about. We'll help you sort it all out, including reviews of some of the best car seat stroller combos on the market for 2021.
---
Types of Baby Strollers with Car Seats
There are a few different types of car seat & stroller combos on the market today. You can certainly mix and match different models of car seats and strollers for a custom combo. But a travel system is already designed to play nicely together with no additional equipment needed, which can save you a lot of time, money and peace of mind.
Of those on the market, there are 4 main types of travel systems. What you need depends on your lifestyle, family size and budget.
Jump to Ratings & Reviews of the best infant car seat and stroller combos 2021
---
Do I Need a Travel System?
That's the $64,000 question. Picture this: you're carrying your baby through the zoo in your arms, in an infant carrier or in a sling or baby backpack. None of these are bad ways for baby to travel by any means. He'll sleep just fine either way.
It's your back, arms and shoulders that will suffer after five miles walking past hippos and naked mole rats. And what about the diaper bag? And your water bottle? And the soft pretzel you bought because you missed lunch? Unless you're an octopus with amazing stamina, you're going to be worn out before you reach the gorillas.
Travel systems were designed for these scenarios. Whether you're going to the zoo, the mall, or just a walk around the neighborhood, a car seat stroller combo can be a real lifesaver. It frees up your hands so you can handle other kids or drink your coffee. It provides storage for diaper bags, shopping bags, drinks and snacks. It keeps baby protected from the elements. And it won't put extra strain on your already tired body.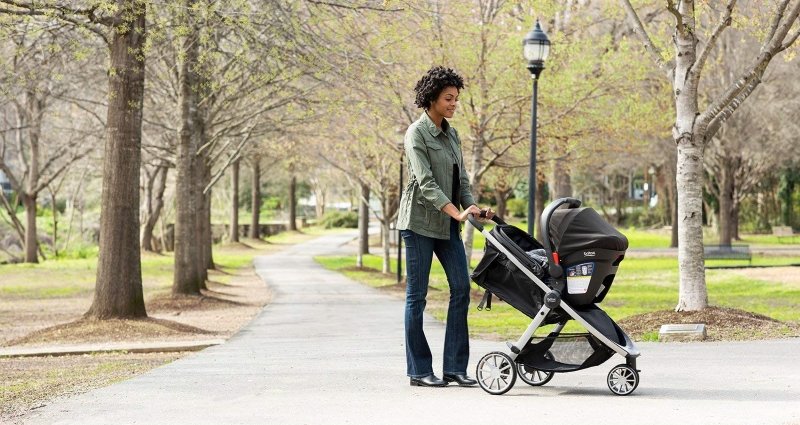 Even better, a combination travel system allows parents to move the baby around without disturbing her. Just pop the car seat from the base in your car and click it onto the stroller, and voila! You can enjoy a nice walk while baby gets her nap in. No grumpy babies, frustrated parents, and annoyed passersby.
For parents with younger babies, traditional strollers alone cannot be used until the baby is about 6 months of age and can sit without assistance. So a travel system allows you to use a stroller from birth until she outgrows the stroller itself at 50 + pounds. By then, she'll be dragging you along by the hand so you don't miss the sea lion show.
Ideally, try to purchase a travel system before your offspring arrives on the scene. One of the greatest advantages of a car seat/stroller combo is that it can save you from spending more for a separate car seat and a stroller. So start shopping early!
---
3-Wheel Stroller and Car Seat Combo
The 3-wheel car seat and stroller combo is a great option for people who want something that is easy to maneuver through tight spaces and doesn't take up as much room. They're perfect for attending outdoor events or for everyday use in running errands, especially if you live in a city and often walk or take public transit.
The sleek look and slim design make it perfect for walking down streets, in parks, or even throughout buildings. The only downsides are that they don't offer as much stability or storage space as some 4-wheeled models and can be a bit more expensive.
Another thing to note is that you are going to get basic colors and designs here – very few character-themed travel sets come with 3-wheeled car seat and stroller combos. In the end, the 3-wheeled models are rather utilitarian, but they get the job done.
Best 3-wheel infant car seat and stroller combos of 2021
We've collected all the nitty gritty details on current popular 3-wheeled models
---
---
4-Wheel Car Seat and Stroller Combo
Four wheel car seat and stroller combos are the most popular option for families that are looking for a heavy-duty stroller that can navigate over a wide variety of terrain. They often have more accessories than the other types, including more storage space. These are best used in spacious areas like zoos, parks, easy hikes, malls and quiet neighborhoods.
However, these tend to be a bulkier and can take up more room in your car or closet. Four wheels also make it a little harder to move "on a dime," so they aren't always the best for navigating through crowds or within tight quarters. They'll also be more challenging to store on a plane or on public transit because of their bulk.
Here are our top picks for the best 4-wheel travel systems of 2021
---
Jogger stroller and car seat combo
For parents who are looking to get back into shape after having a baby, a jogger stroller and car seat combo helps you burn calories while taking your baby along. These are usually very sturdy, lightweight strollers that can move quickly and maneuver well over bumpy terrain. They can be more expensive than other models, which is something to think about. Be aware that not all "jogger" strollers are made for jogging. For instance, there's a brand called Baby Jogger with several strollers, but there's only ONE of their strollers actually approved for jogging.

Note: Most manufacturers recommend NOT running with your baby until they're at least 8 months old and can hold their head up without help.
Jogging strollers are designed for one specific purpose and aren't meant for long outings. For jogging, you may not be able to use it like a travel system (with the car seat) in some models. You'll probably want to invest in either a 3 or 4-wheeled system as well, so you'll have a more heavy-duty, roomier ride and more storage space for trips to the zoo and park. However, many parents use these as their sole stroller simply because they're better on rough terrain.
A jogging travel system isn't a necessary thing to have for child-rearing. As such, there are more single jogging strollers on the market than the car seat/jogging stroller combos. However, it is a good investment, especially if you are the type of person who works out by jogging or running outside. They are definitely a lifestyle-driven purchase. But they have great suspension and security to keep your child safe, asleep, and calm.
Top-rated jogger stroller car seat combos of 2021
We've combed through the best models to determine which ones will get you the most bang for your buck so you can get fit while keeping your little one safe.
---
Double stroller with infant car seats
Double travel systems (also called tandem travel systems) usually mean double trouble, but it doesn't have to be that way if you make a smart purchase. They're not just for twins. You can personalize them to fit your family as it grows. Thanks to the independent sections, you could have an infant in a rear-facing car seat on one side and another child in a forward-sitting position.
The great thing about double strollers is that it's easy for one person to push them, but they can also be pushed by two people comfortably. One obvious downside to a double stroller is that they can be heavy and wide (depending on design) and aren't the easiest to push through busy areas. They're much better suited for wide outdoor spaces like paved zoo paths where you won't be on crowded sidewalks or having to go through narrow doorways.
They're also bulkier than single strollers, so they will take up a considerable amount of trunk space.
There aren't a lot of these combos on the market, but we'll show you a couple of options that fit our top-rated infant seats as well.
Top-rated double travel systems of 2021
We've researched the best models to determine which ones will get you the most bang for your buck so you can take two littles for a ride.
---
F

requently

A

sked

Q

uestions
What do I look for in a travel system?
Purchasing a travel system means that you will also be purchasing an infant car seat. Unless you have another dedicated seat for the car, the car seat part of your travel system is the most important part to consider. Your child will most likely spend more time in the car than the stroller, so look for a travel system with a car seat that has a higher weight limit (35 + pounds). The seat should be highly rated and really easy to install in the car.
Push-on LATCH connectors are a real lifesaver. So are no-rethread harnesses. Car seats with a good canopy and breathable fabric will keep your baby comfortable when you attach them to the stroller. We have a lot more tips for buying a great infant seat here: https://bestcarseathub.com/safest-infant-car-seats/
In just a few short months, your baby will be sitting up on her own and ready to ride in her stroller without the car seat. Since the usual stroller should last until your child is 50 or more pounds, you'll want one with good suspension and easy maneuverability. A sleeping 3-year-old can often feel like they weigh a ton, so you want something you can push around easily without breaking your back and waking her up. The stroller should also be easy for your toddler to climb in and out of without having to be picked up.
Snack trays and parent trays with decently sized cup holders are a real lifesaver for long outings. You don't want to be stuck in the zoo on a hot summer day with no good place to store water for both of you. Having it right at hand will be very convenient. Of course, there's always the chance she'll play the "drop the sippy" game, but that's where a second parent cup holder and extra storage baskets on the stroller can save the day.
Besides your budget, one of the most important aspects of knowing which travel system to buy is your lifestyle. Do you rarely leave the house? Do you live in a city or in a suburb or way out in the country? Do you enjoy hiking or jogging or just simple strolls around the neighborhood? Do you fly or use public transit or ride shares a lot? Do you have twins? Look for a system that fits your lifestyle, whatever that may be.
Other factors to consider:
Design
Tires
Compactness
Weight
Storage space
Easy folding/unfolding
Warmth, shade, and breathability.
Will buying a travel system save a lot of money?
When you are doing research to find the perfect carseat-stroller combo, of course the most important thing is safety. You'll want to pay particular attention to the car seat portion of the combo, as your baby will spend more time in the car than the stroller. Car accidents are still a leading cause of injury and fatalities in young children, so it's vital to ensure they're in a good safety seat.
But money is still an important factor for most families. If you buy your car seat along with a stroller in a travel system, it can save you some money. For instance, a Peg Perego Primo Viaggio 4/35 car seat is about $300 alone. The Peg Perego Booklet stroller is about $350. Buying them together in the Peg Perego Booklet Travel System is about $600, so you're saving at least $50. That might not seem like much, but every dollar saved can really help when you need to buy essentials like diapers, baby food, etc.
When shopping, these 4 tips will help you make the most of your money:
Price. How much do you want to pay? A car seat stroller combo is going to cost you more than buying one of those items individually, but that might not always be the case. Compare the price of each item individually to the the price of the combo to see which will save you money.
Type of seat. There are two types of seats for infants: convertible seats and rear-facing seats. Convertible seats can often last through the time your child no longer needs a safety seat, which can save you money. But they don't work as infant carriers and therefore will not attach to a stroller. Think about getting a convertible to stay in the car and a separate travel system so you'll have an infant seat for the stroller. Then you'll also have an extra seat for grandma, babysitters, etc.
Ease of use. Read reviews to see which car seats are easiest to use. This, in our opinion, is the most important factor for safety. A car seat that is difficult to install or use increases the chance of a malfunction. Look for a travel system that includes that seat. The stroller should ideally be easy to unfold/fold, easy to push, and easy to attach/unattach a car seat.
Custom combos. Sometimes a custom combo is the way to go, especially if you already have a car seat you love but need a stroller to go with it. Many brands like Graco and Britax have strollers that are compatible with several of their seats. Or you can often purchase a car seat adapter so your car seat will fit on a wide variety of strollers. Example: the Joovy Zoom 360 Ultralight Jogging Stroller can be used with a LOT of different car seats if you buy a specific car seat adapter.
Can I reuse the stroller portion?
In general, you can reuse the stroller portion of your travel system. While most people don't suggest that you reuse the car seat portion because the quality of it degrades over time, there is generally less wear and tear on a stroller.
Most of the support, comfort, and safety features are actually included in the car seat itself. The stroller is just more of a base, but ALWAYS check all parts, wheels, etc. regularly to make sure none of them need replacing. For parents who are truly on a budget, they will just buy a system from a brand name that they trust and then keep buying compatible car seats as each child comes along.
Bigger name car seats and stroller combos are more likely to have several compatible seats and available replacement parts. But don't overlook smaller brands, as they may also have better customer service.
To inspect the stroller, look for any wear and tear first on these parts:
Wheels
Joints
Axles
Harnesses
Seat fabric
Handles
Note that just like other pieces of equipment, the stroller does have an expiration date. Try to replace strollers a few months before they expire in order to give yourself time to search.
Types of infant safety seats and strollers
When choosing your baby travel system, you should look for the type of auto seat that you want first. Some will work with strollers. Others won't.
There are three main types of car seats:
Infant: These are for newborns up to at least 2 years. They have a harness and seat that cradles your child, protecting the spinal cord and neck. You must use this seat in a rear facing mode. Most infant seats can be used with strollers.
Convertible: These seats can be used from birth as a rear-facing seat, then converts to a forward facing seat when they've outgrown rear-facing. Some even convert to boosters and last until your child is too large for any safety seat. This is usually a costlier investment, but can save money down the road. **Note: They cannot be used with strollers.**
Booster: These position your child so that he or she can use the lap belt and shoulder belt more effectively. **Note: They cannot be used with strollers.**
Now, once you've chosen the type of seat that you want, you have to choose the type of stroller you want.
The most popular ones include:
Travel systems: Travel systems combine the car seat and stroller for a smoother ride but a shorter lifetime as your child outgrows it.
Prams: This is a trendy style today that was the only style years ago. It has oversized wheels and a larger, covered bed for your baby. This is only meant to be used for newborns.
Seat carriers: Probably the easiest of all strollers, this is a metal or plastic frame that holds the baby car seat. There are many models available under this category.
Jogger strollers: For parents who love to work out, this one allows you to run without jostling your child.
What are the alternatives to an infant car seat stroller combo?
There are alternatives to a travel system, like a baby carrier. However, the carrier is not as stable nor comfortable for the baby and quickly gets heavy for parents beyond short distances.
Another option would be a stroller with a bassinet (pram), but these tend to be bulky and too big for everyday use and aren't good for toddlers.
For small infants, there are slings and wearable carriers and backpacks that will keep the little ones close. Slings can pull double duty as a nursing cover as well. Babies will feel secure tucked up next to mom or dad. But mom or dad may suffer back pain after some time.
Have you found a travel system you love that's not on our list? Comment below and let us know about it so we can check it out and possibly add it to future listings.
This post is also available in: Español (Spanish)