Before you know it, your baby will need a toddler car seat. It'll seem like it was only yesterday when you brought him home from the hospital in an infant seat. Those first few years pass quickly! Soon it's time for your little guy or gal to get a whole new view of the world.
The switch from rear-facing to forward-facing is a big milestone in your child's life. But like every milestone, it brings about a slew of new questions for you. When should you make the switch? Which toddler seats are safest, and which will fit in your car best? Which ones best fit your budget?
We'll answer those questions and more to help make your choice as simple as possible.
What Types of Toddler Car Seats are Available?
There are two main types of toddler car seats. Before shopping try to think about what will work best for your lifestyle.
Convertible car seats: This is a very popular option that can even be used from the time your child is a newborn. These seats start out rear-facing, then convert around to a forward-facing seat and very often even into a booster seat. There are a few drawbacks to convertible seats, the main one being that they're heavy. Also, they can't be used as an infant carrier and don't have a static base you can install like an infant seat, so switching from car to car means installing and uninstalling each time. However, these seats can save you money in the long run since you won't need to buy multiple car seats as your child grows.

Forward-facing car seats: These seats will keep your child safe in a 5-point harness but will allow her to sit more naturally and interact with you easier. You can also see her better in the rearview mirror. Many forward-facing seats are simply one mode of a convertible seat, while others do double duty as forward-facing and booster modes. Very few seats are only a forward-facing harness.
When should we make the switch from rear-facing to a toddler seat?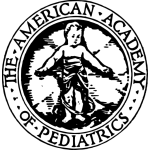 The official definition of a toddler is a child who is 12 to 36 months old (1-3 years), but when it comes to toddler seats, this definition has a wider range. The AAP recommends keeping your child rear-facing as long as possible up to the 4th birthday. Car seat manufacturers are making this possible with new, larger weight limits, up to 50 – 55 pounds. So, it's now possible for you to keep a 3-5 year old child rear-facing for an extended period of time depending on their size.
We'll talk more about the AAP recommendations, and consider which car seats are most appropriate for specific age groups below.
---
Click to choose your child's age group


If your toddler is 12-24 months:
In this age range, ideally, your child should remain rear-facing. However, height and weight can vary greatly from child to child. So, the best seat choice in this range is a convertible seat. If your child is on the high side of the growth chart, you can easily switch them to forward-facing when they reach the max weight and/or height limit for rear-facing (at least 24 months and 40+ pounds for most seats).
Check out our list of some of the top-rated best convertible car seats.
You may think that this is a bit long to keep your child rear-facing, but recently the AAP changed its recommendation to say that kids should be rear-facing for as long as possible up to age 4. Here is a snippet of that, and you can read the whole article here.
November 2018 issue of Pediatrics (published online Aug. 30), the AAP recommends children remain in a rear-facing car safety seat as long as possible, until they reach the highest weight or height allowed by their seat. Previously, the AAP specified children should remain rear-facing at least to age 2; the new recommendation removes the specific age milestone.

"Fortunately, car seat manufacturers have created seats that allow children to remain rear-facing until they weigh 40 pounds or more, which means most children can remain rear-facing past their second birthday," said Benjamin Hoffman, MD, FAAP, lead author of the policy statement and chair of the AAP Council on Injury, Violence and Poison Prevention. "It's best to keep your child rear-facing as long as possible. This is still the safest way for children to ride."
Best Convertible Toddler Car Seat for Kids 12-24 months
For maximum safety and comfort: extended rear-facing (up to 50+ pounds), then converts to harnessed forward-facing. You will need to purchase a booster when the child reaches maximum weight (65+ pounds).
Graco Extend2Fit​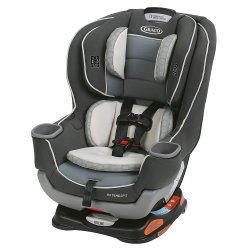 The Graco Extend2Fit is a winner for those who want extended rear-facing for their toddlers. It's very affordable. The 50 pound rear-facing weight limit is one of the highest for the Graco line. It comes with a 4-position leg extension, adding 5" of legroom for your child. You can convert it to a forward-facing seat when your child reaches a minimum of 40 pounds.
Even better, the 10-position headrest allows for a great fit as your child grows. The seat itself has a 6-position recline as well. Included with this seat are Fuss Free Harness Storage Pockets, 2 crotch strap positions, a steel reinforced frame, InRight LATCH system, two cup holders, and a machine washable cover.
This seat also has a 10 year lifespan and comes in 6 different colors. NOTE: It does NOT convert into a booster, though there are other versions that do (Extend2Fit 3-in-1 & Forever Extend2Fit All-in-One).

Read Our Full Review of the Graco Extend2Fit
Advantages
Parents love this seat for its versatility. The compact size means that front seat passengers have good legroom, even in rear-facing mode. Also, the push-on LATCH system is really easy to use.
As far as safety goes, the performance is excellent, as parents have reported from real-life crash experiences. The Simply Safe Adjust harness moves the harness and headrest height in one motion, so no rethreading of straps is required. It also has a strong steel frame that makes it sturdy but still comfortable.
Disadvantages
The Extend2Fit is a bit wider than some other seats. This might not be the best choice if you need to fit three children in the back seat of your car. Also, the fit probably won't be snug enough for preemies or newborns under 7 pounds. The seat cover can be hard to remove and replace for cleaning as well.
Some parents had trouble getting the harness straps tight while others found seat belt installation in rear-facing to be difficult. There are some rules about weight, recline, and use of some features that differ when using the seat rear-facing vs. forward-facing. These can be confusing at times, so keeping the manual on hand is wise.
Compilation of customer opinions
Overall, customers have been very satisfied with this product and highly recommend it, especially for extended rear-facing. It does lack an easy-to-remove cover, which is a big downside, but the affordable price makes up for it.
Full list of the best convertible car seats of 2021

→
---
Best All-in-One Toddler Car Seat for Kids 12-24 months
4-in-1 best seller: rear-facing seat, harnessed forward-facing seat, high back belt-positioning booster, backless booster seat.
Graco 4ever ​All-in-One​

The Graco 4ever All-in-One is a tried and true favorite for many families that have used these convertible car seats. Though it's not perfect, it's absolutely the closest we've seen among convertible seats that are often inevitably lacking in one area or another.
This is a meant-to-last car seat as it fully transitions from rear facing (4-40 pounds) to forward facing (20-65 pounds) to both high back belt-positioning booster (30-100 pounds) and backless booster seat (40-120 pounds) easily while retaining its reliability. It has a premium LATCH system and double cup holders.
The seat comes in a wide variety of color options and at an affordable price.

Read Our Full Review of the Graco 4ever All-in-One
Advantages
Simply put, this is one of the top rated car seats on the market today. A steel frame, impact-absorbing padding, 6 recline positions 10 position headrest, a 5-point safety harness, and a 1-second LATCH system have made it a favorite among parents for ease-of-use, comfort, and safety.
It comes in 8 colors to suit your taste. Switching between modes is easy, and each mode is truer to size than many other convertibles. According to the New Car Assessment Program (NCAP), it has a peak crash force that is approximately two times the Car Seat Standard.
The cup holders make it easy to travel long distances (just add a drink and some snacks), and the seat pad (comes in 3 parts) is machine washable for those inevitable accidents. The seat is also FAA approved for air travel.
Disadvantages
In some cars, the rear-facing and booster positions proved to be a bad fit due to the larger size of this car seat. You may not be able to fit it in a sports car with bucket seats, for instance. Also, legroom for front passengers may be an issue when this car seat is fully reclined in rear-facing mode.
One complaint involved a rattling sound in the adjustable headrest. Other smaller issues involved straps that can't be removed for machine washing and some difficulty tightening the safety harness in rear-facing mode.
Compilation of customer opinions
At the end of the day, this is one of the best convertibles on the market. Parents love how simple it is to both install and use, its durability, proven crash safety record, and how well it grows with their children. This is truly a forever seat that can become a regular fixture in your car.
Browse more convertible car seats

→
---
If your toddler is 24+ months (and ~40+ pounds):
At this size and age, a convertible car seat wouldn't be practical. Instead, you should invest in a front-facing, harnessed seat. The best option is a forward-facing/booster combo. Some of these are 3 -in- 1 seats that can convert from a harnessed seat to a belt-positioning highback booster and then into a backless booster seat. Those will often give you the most value for the money.
Here's a little rundown of the different seat types & combos available:
Harnessed forward-facing seats: Your child should ride in a 5-point harness seat until she's outgrown that seat or mode and is ready for a booster seat. Parents shouldn't be in a rush to switch to a booster. Most 3 and even 4 year olds aren't behaviorally ready to sit in a booster seat with only the vehicle seat belt to contain them. You know your child best. If he or she is about to outgrow their harnessed seat AND is mature enough to sit still with the seat belt alone, then you can safely make the switch to a booster.
Belt-positioning (high back) boosters: These are often the best boosters to transition to after a harnessed seat. They keep kids positioned correctly when they're asleep and help position the seat belt better on the shoulders of smaller children.
Backless boosters: These seats boost your child higher up so that the vehicle seat belt fits better. Backless booster seats don't provide any back or head support. Your child must have some head support from the vehicle behind them in order to ride in a backless booster. They're best for kids that don't often fall asleep in the car since they don't keep them from slumping over. Backless boosters, however, are usually the cheapest type and they are very light and easy to move from car to car.
Many of these come in combinations of harnessed forward-facing seat and a high back booster or in a combo of all 3. The combos grow with your child and can easily last for several siblings. Check out our list of the best forward-facing car seats.
Best Toddler Car Seat for Kids 24+ months
Made in USA; safest car seat for 40+ pound toddlers; harnessed forward-facing car seat and high back belt-positioning booster in one.
Britax Highpoint Booster​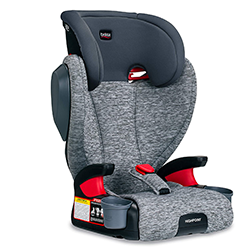 Overall, the Britax Highpoint is a fantastic seat and like all the Britax products, it is Made in the USA at their South Carolina facility. This high back booster seat appropriately positions the seat belt to keep your child safe and then easily converts to a backless booster as they get older. It is safe for kids 40 - 120 lbs and up to 63" inches tall. Dimensions (with back) are: 16" D x 19.5" W x 27.5" H and the headrest outer width is 14.5 inches so it can fit 3-across in the rear seat of most vehicles.
It comes in 4 fashionable color patterns. There is a 1-year limited warranty and an expiration of 6 years from the date of manufacture.
Advantages
Safety is the name of the game with this booster seat as it offers market leading safety features like 3 layers of side impact protection surrounding the head, neck, and torso. Children stay comfortable in the booster thanks to ample seat cushioning, plush fabric, and a 10-position headrest. Parents appreciate how easy this car seat is to clean thanks to a removable cover and two dishwasher safe cupholders. Installation is also fast with quick-push LATCH connectors and for the lap belt a SecureGuard clip.
The backrest is cozy and easy for kids to snuggle into while also keeping them safe. Underneath is an energy absorbing shell and a foam-lined headrest all covered by external cushioning.
Disadvantages
This booster seat is pretty big and heavy, which wouldn't make it the best choice for frequent vehicle switches or long car trips. Another issue is that the seat belt can sometimes get stuck in the seat belt guide. Some parents find that the seat has a little wiggle after installing it in certain vehicles because it doesn't sit flush against bucket seats.
The Highpoint is not cheap. Some found the seat to be a bit wide, and that made it hard for their children to buckle themselves. Other minor complaints involved the color fading over time, and fixed armrests that can make it difficult to get the child in and out at times.
Compilation of customer opinions
Overall, customers have been extraordinarily happy with the purchase of this car seat. If you don't need to switch vehicles often and are ready to invest a bit of money in it, then the Highpoint is a good option that can keep your child safe for several years.
Extended & Specialized Editions: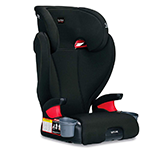 Britax Skyline
Parents that like the Highpoint but are looking to save money can consider the Britax Skyline. It offers almost all of the same comfort, convenience and safety features as the more expensive Highpoint except for the SecureGuard clip and a layer of external cushioning around the back and neck. Subsequently it also weighs about 1.5 pounds less so is a bit more maneuverable.
Full list of the best booster seats of 2021

→
---
Best Belt-positioning 2-in-1 Booster for Toddlers 4 and up
Best long-lasting booster for children who hate 5 point harnesses; starts as high back and then transforms to backless booster.
Chicco KidFit 2-in-1​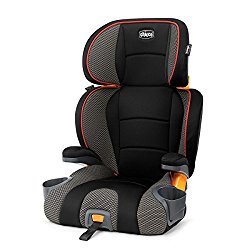 The Chicco KidFit 2-in-1 Booster is a long-lasting booster seat that will grow well with your child for quite some time. It can be used as either a high-back (weight limit 100 pounds) or backless (weight limit 110 pounds) booster seat. It can accomodate up to 110 pounds in the backless version and 100 pounds in the backed version.
It's not very expensive, comes in 4 color choices, and is one of the easiest booster seats to install.

Read our Detailed Review of the Chicco KidFit
Advantages
One of the advantages is that parents can use this as both a backed and a backless version. It is easy for parents to install and adjust with 10 height positions for the headrest. It's easy for kids to buckle themselves into this booster as well. Machine washable seat pad and armrest covers make cleaning easy. The cup holders are collapsible, removable and dishwasher safe.
You can use both the LATCH system and vehicle belt to install this seat, which is rather unusual. However the LATCH connection keeps the seat in place when your child isn't riding in it, preventing it from being a projectile in a crash.
Disadvantages
This seat is a bit heavier and wider than the competition, so it may take up more backseat real estate. When in high-back mode, the seat rattles when the child is not riding in it, so you have to secure it with the seatbelt. The visual appeal is rather lacking compared to other Chicco products. It's also a bit heavier and wider so it may take up more backseat real estate than the competition. The seat is made in China, which can increase the chances of quality control issues.
Compilation of customer opinions
Not many parents have major complaints about this booster seat. Most families are very happy with this seat and find it offers a safe and secure ride. Besides not fitting well in some smaller cars and vehicles with bucket seats, the Chicco KidFit 2-in-1 is a really good option for most families.
Best high back boosters

→
---
Toddler Car Seat Safety Guide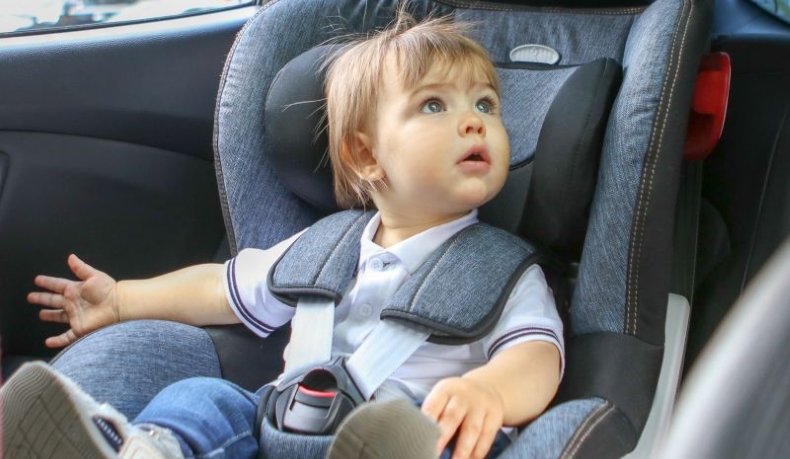 Avoid these common mistakes
Buying a car seat without doing your research. That's why we're here. It's hard to figure out what's what when shopping around, so we have all the info you need in one place.
Putting the car seat in the wrong spot. The safest place for a car seat is ALWAYS the back seat, away from airbags. Where you put it back there depends on several things, which we'll discuss below.
Incorrectly installing your car seat. First time parents should look for easy-to-install seats that take the guesswork out and make you less prone to make mistakes. A car seat is only effective if it is installed correctly.
Incorrect recline angle. Small babies must be at the proper recline so their airways are kept open. Always follow the car seat manufacturer's instructions on how to properly recline the seat.
Switching to forward-facing too soon. The AAP recommends keeping your child rear-facing for as long as possible up to age 4. Many car seats now have higher weight limits to allow for extended rear-facing.
Too much clothing on your child. Always remove your child's bulky coats and blankets before buckling them in the car seat, or the straps won't provide a snug enough fit. Buckle them in, THEN cover them up.
Switching to a booster seat too soon. If your child is under 4 years old, under 40 pounds, and still needs help buckling in, they are NOT ready for a belt-positioning booster. Wait until he's mature enough to buckle himself and sit still for the entire ride.
Using a booster seat incorrectly. Booster seats need both a lap and shoulder belt. The lap belt should lie across the thighs and not the abdomen. The shoulder belt should lie diagonally across the chest and shoulder and not against the neck.
Switching to a vehicle seat belt too soon. Keep your child in a booster until they are at least 8-12 years old and until they reach 4 feet, 9 inches in height. When they can sit up straight with legs bent comfortably over the edge of the back seat and when the seat belt fits them correctly without a booster, then they're ready.
Remember – the safest place for kids age 13 and under is always the BACK SEAT!
What is the most comfortable car seat for toddlers?
That really depends on your child's size and preferences, along with how long they'll be riding. If you take extended road trips, opting for a more plush, padded seat might be best. But if you have a toddler who hates feeling closed in, a less-padded seat might help them feel less constrained.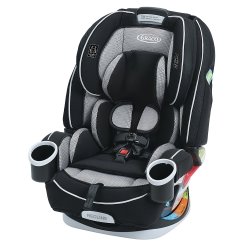 Car seats with wide wings for good head and neck support are popular choices with parents. Some toddlers fall asleep within minutes after you start driving, so it's important to keep them from slumping over, especially if they'll be in a belt-positioning booster. Avoid switching to a booster seat for as long as possible, as a five-point harness will help to hold them up much better.
One of the most comfortable car seats we reviewed was the Graco 4Ever All-in-One. Many parents reported how comfortable this seat was for their child. Some babies who previously cried in other seats didn't when they switched to this one.
Where is the safest place for a toddler car seat?
Studies have shown that putting a car seat in the center rear seat is 43% safer than a side position. Most parents, however, put their children in the rear passenger side since this helps the driver keep an eye on the child easier with just a quick glance. It also makes loading and unloading easier.
Also, some older cars only have LATCH on the two side seating positions. Keep in mind, though, that it's perfectly safe to install your car seat in the center rear position with a seat belt installation. Car seats can only be installed with one or the other, and LATCH is not shown to be any safer than a seat belt installation.
The most important thing to remember is to get a CORRECT installation, no matter where or how you install your car seat. If a car seat is installed incorrectly, it won't protect your child in any position.
What if you have more than one child in a car seat? Where should you place them?
If you're expecting or already have a second child, where you place them in the back seat depends on a few different things. Namely, the age and weight of your child. Some experts recommend putting the youngest child in the center seating position. It is the safest position and at a young age they are the most vulnerable to injury due to their more fragile spinal column.
Others recommend putting an older, forward-facing child in the center position with a rear-facing child on the side since rear-facing seats better protect the child's spinal column. In fact, a rear-facing car seat is shown to be 5 times safer in a front impact crash.
For side-impact crashes, the center seating position is the safest, but these crashes are more rare than front impact crashes. Also, a rear-facing seat isn't that much safer than a forward-facing seat in the event of a side impact crash.
So, generally, we would recommend putting the youngest child in the center seat. But again, there is no unsafe spot in the backseat so long as the car seat is installed properly. These decisions can all be impacted by different factors beyond a child's age. If mom had a c-section, for instance, she may have a hard time getting the baby in and out of a car seat that's in the center position. Parents in the city like the car seat behind the passenger seat so that they don't have to go into the busy street.
What if you have more than two children who need to ride in car seats?
If you're expecting a THIRD child, and all three will be in car seats, the biggest challenge is simply whether you can actually fit 3 car seats in your vehicle. If you have a smaller car, look for car seats with narrow profiles that customers have successfully used in a 3-across configuration.
One good example of a popular, narrow profile seat is the Diono Rainier 3-in-1. It's a 3-in-1 combination seat that switches from rear-facing to forward-facing and then to a booster. It's one of the most narrow seats on the market so will usually do well in a multi-car seat configuration. The best thing is, it can fold up and be carried like a backpack, which makes it super nice for traveling.
What car seat is suitable for a 2 year old?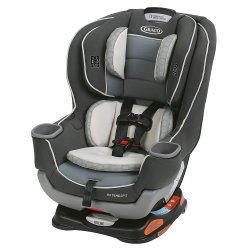 Depending on your child's size, it's safest for a 2-year-old to ride rear-facing for as long as possible. Seats such as the Graco Extend2Fit are perfect for this. It has a 50-pound weight limit and a leg extension to keep legs from getting cramped. You can also turn it to forward-facing when the child is at least 40 pounds.
Any rear-facing or combination car seat that allows for extended rear-facing is great for this age since the AAP recommends keeping them rear-facing for as long as possible beyond 2 years old. Also, 2-year-olds should always be in a harnessed seat at this age and never in a seat belt positioning booster. They simply aren't old enough to be trusted with a regular seat belt.
What car seat is suitable for a 3 year old?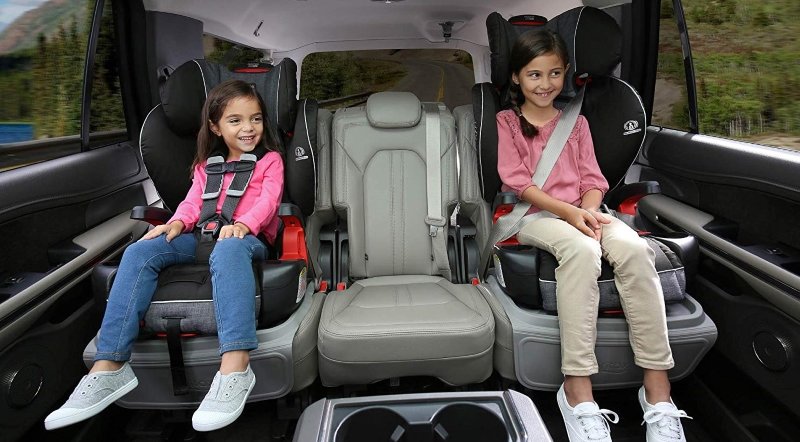 Many 3-year-olds are eager for a forward-facing seat but they maybe don't meet the minimum weight and height requirements. It is safest for children to stay rear facing for as long as possible, up to age 4. You can start with a combination seat when they're newborns and switch to forward-facing when they've reached the right size range. Or you can get them a combo forward-facing and booster seat after they've outgrown an infant seat.
Again, keep them in a harnessed seat for as long as possible. It is safer for your 3-year-olds to travel in a rear facing car seat. As they grow bigger, car seats like the Britax Highpoint are great for older age groups since they start as a forward-facing harnessed seat with a weight limit of 90 pounds. They can then be converted to a seat-belt positioning booster when you feel your child is mature enough.
This post is also available in: Español (Spanish)