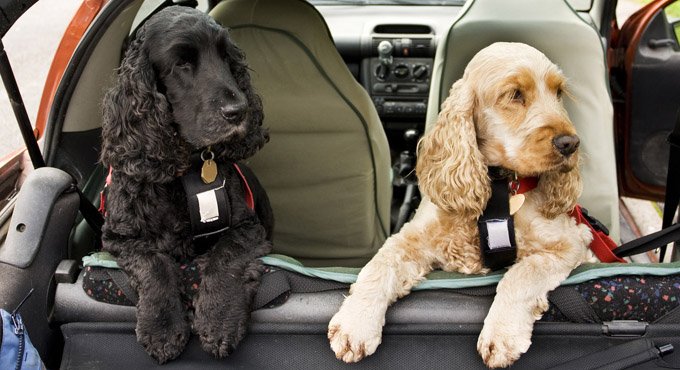 Many dogs love to go on car rides, whether they're in a dog car seat or not. Most people are careful to make sure they and their children are secured in safety seats and seat belts. But many owners don't realize dogs should also be properly restrained while riding. Why?
Dog safety coach Melanie Monteiro, author of "The Safe Dog Handbook: A Complete Guide to Protecting Your Pooch Indoors & Out", says:
In the event of a crash at 50 mph, a 10-pound, unrestrained dog generates 500 pounds of projectile force. In a 30-mph crash, an 80-pound dog would become a 2,400-pound flying projectile!
Obviously, this means an unrestrained dog of any size can be a danger to both you and themselves in the car. When transporting your dog, however, restraining them can present a challenge. Cars are designed and crash-tested to transport humans (not animals) safely. Letting your dog run loose in the car is never a good idea. Any form of restraint, whether it's a dog booster seat, safety harness, or crate, is better than none, but they must be used correctly.
In the event that you do have an accident, even a small one, a loose dog may panic and flee or bite. The best way to ensure pet safety is to purchase the best dog car seat, harness or carrier you can afford.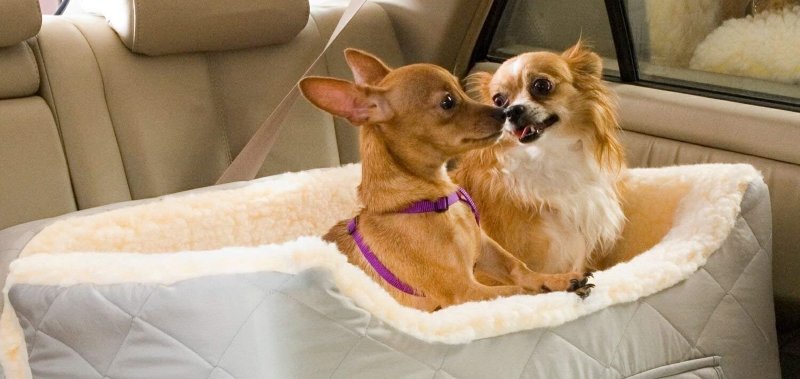 To do this, you must:
Look at the reviews
Checks the

pros

and

cons

Research accessories
Decide on the best pet safety seat
A loose or improperly restrained dog can not only be a dangerous projectile. They can also ruin your seats from chewing or getting carsick. They can get into your belongings and get hold of potential choking or poisoning hazards. Dog car seat covers protect your seats from messes and can be personalized for a more stylish look. For smaller pets, a booster seat for your vehicle can help them to see out of the window and stay comfortable during the ride.
---
Jump to reviews of safety products for transporting dogs and puppies of all sizes
Dog Booster Seats

for puppies, small, and medium-sized​ dogs
Small and medium sized dogs require an extra layer of protection against hazards in the car. These doggie auto seats help to keep our smallest dogs safe.
Dog Car Harness

for strapping medium-sized and​ big dogs to car seat belts
For bigger dogs, car harnesses and seat belt restraints are the best option to keep them comfortable and safe when commuting. They won't take up any extra room and work just as well as a seat.
Dog Car Seat Covers

protection for vehicle seats
Helps to protect the upholstery from your dog's toenails, dirty paws, teeth, urine and car sickness. It can also keep your dog safely on your seats.
---
There are several models of these products on the market, including different types of harnesses for car belts, dog car seats, and even puppy seats. Each one is designed specifically for dogs of specific weight ranges and sizes, so be sure to pay attention to that.
Picking a doggie auto seat can be difficult, which is why we have broken it down into individual reviews so that you can choose which models will work best for your pet. Since your pet is such a valuable member of your family, you should take the time to choose a dog car seat just like you would any other type of car seat.
---
How to Choose the Right Dog Car Seat Among Dozens of Models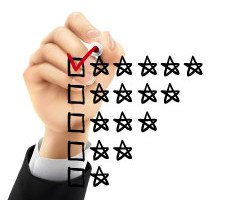 When choosing a car seat for your dog, finding the right model amongst many others can be difficult, but it isn't impossible if you follow these guidelines:
Size: Make sure that the size is big enough for your dog, for both length and weight. Focus more on the weight unless you take longer trips, because weight is a more important safety factor.
Ease of Use: How often will you be moving the seat around? Check to see how hard it is to uninstall and reinstall, how easily it stores, and if the covers/accessories are easy to remove and replace.
Cleaning: Depending on use, your seat may have to be cleaned often. If your dog often gets dirty on your excursions, ideally you want a model with removable covers that are machine washable and easy to put back on.
Your Car: Some cars don't have headrests, but some seats require headrests to install the car seat. Sometimes back seats don't have shoulder belts, but you may need those for some booster seats. Make sure that the model you purchase works with your car.
Materials & padding: Some fabrics could irritate sensitive skin. Some seats have less padding than others and may not feel comfortable for older dogs. You may need to add hypoallergenic materials or thicker padding depending on your dog's needs.
Use: What will you use your doggie car seat for? You might order a cheaper model for shorter trips and one that is a little more luxurious for long road trips.
Breed: Dogs come in all shapes and sizes. Longer dogs such as dachshunds may need a longer seat with more room to stretch out. Bulkier dogs like pugs may need more width. Pay attention to dimensions and always measure your dog before you buy a seat.
---
Top 9 Dog Car Seats of 2021 for maximum safety and comfort
We have tested the Best Booster Seats for Dogs and collected consumer reviews for your use.
---
Snoozer Lookout I​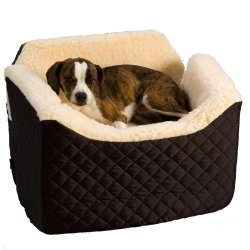 The Snoozer Lookout I is a highly-rated dog car seat that will allow your pet to look out the car window as you drive. This dog car seat comes in two sizes: small for dogs (or other pets) up to 18 pounds and medium for dogs up to 25 pounds. The faux wool lining keeps your pet warm in winter, but is breathable enough for summer travel.
Product dimensions:
Size
LWH (outside)
LW (inside)
Product Weight
Small
17″x15″x19″
14″x12″
4.2 pounds
Medium
17″x22″x19″
14″x18″
5.4 pounds

Read Our Review of the Snoozer Lookout I
Pros

and

Cons
Several pet owners have reported this seat has alleviated their pet's carsickness. The faux wool lining and foam frame make this a super comfortable sleeping spot for both home and car. The cover is removable and is machine washable/dryable. It comes in 7 color/pattern varieties on the exterior, each with an off-white faux wool lining.
If you have a dog under 20 pounds that is long and tall, the small size may be too cramped, so the medium may be the better choice. The material is not waterproof, so any spills will leak through. Some people weren't able to keep the seat from moving around with the seat belt attached, and others felt the safety tether was too loose and allowed their pet to jump out. A few customers felt that it set too high in the back seat for lower profile cars such as BMW 5 series.
Compilation of customer opinions
The Snoozer Lookout I is a very comfortable seat for smaller dogs and other pets which allows them to look out the window. It's a good option to try if your pet gets carsick. Long, tall dogs will be more comfortable in the medium seat. As long as you can secure the seat enough with the seatbelt and keep your dog from jumping out, this can work for you.
Alternative Models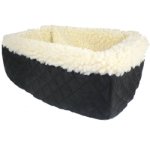 Snoozer - Console
For little dogs and other pets who love to sit right beside you when you're driving, this car seat fits right onto your front seat console (depending on your vehicle's interior design). Small fits pets up to 7 pounds, while Large fits pets up to 12 pounds. It's made of the same materials as the Lookout.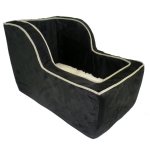 Snoozer - Luxury High Back Console
The Snoozer Luxury High Back Console car seat comes in large (for pets up to 12 pounds) and x-large (for pets up to 20 pounds). It fits on larger consoles, has a non-skid bottom and a removable, washable microsuede cover. The high-back helps to prevent the pet from jumping out into the back seat.
K&H – Bucket Booster​

The K&H Bucket Booster seat is a super comfy seat that boosts your little dog and other pets up so she can see outside the window. It's rounded shape better fits the shape of vehicle seats. It comes in 2 colors (gray or tan) and 2 sizes. There are no weight limits listed for this product, so knowing your dog's size is important for this one. However, the small size is recommended for one small dog. The large can hold 2 small dogs or 1 medium sized dog.
Product dimensions:
Size
LWH
Product Weight
Small
14.5"x16.5"x19.5"
6 lbs
Large
14.5"x22"x19.5"
7 lbs
Pros

and

Cons
Quilted fleece lining & 3 inches of padding make this seat nice and soft. Two security leashes are included that adjust from 10 - 18 inches so it's easy to secure two small pets. The seat is secured with the seatbelt threaded through 3 loops under the removable cushion. The cover is removable and washable.
It's a rather bulky seat so it may be too large for your vehicle seats if you have a smaller car or a car with bucket seats. Threading the seatbelt through the loops to install can be tricky, especially in a smaller car. The cloth is not waterproof, so urine and other liquid stains can seep through and soak into the foam.
Compilation of customer opinions
At least one customer reported that the seat performed well during a crash in which the car was totaled. Another customer, however, said the tether broke when they had to brake suddenly. The tether is attached to the fabric of the seat, which isn't as sturdy as it could be. For extra protection, we recommend a separate seat belt restraint to use with your dog's harness while riding in this seat.
Petsfit – Booster Seat​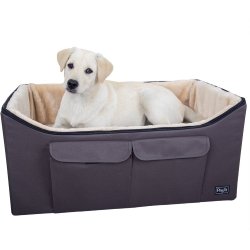 This booster seat comes in one size for dogs and small pets up to 45 pounds and has two storage pockets. The liner is removable and machine washable. It's also reversible - smooth side for warm days, plush side for cold days. It comes in 2 colors - grey or light grey.
Product dimensions:
Size
LWH
Product Weight
Large
29.5"x16"x14"
9.7 pounds
Pros

and

Cons
The vehicle seat belt loops through the back, while a strap goes over the head rest to keep the car seat in place. There's also a storage bag to make storing and carrying easier. Pet parents loved that their dogs could lie down or sit up to enjoy looking out the window. Several people reported that their once-carsick pet was no longer sick while riding in this seat.
Other pet parents said the leash on the seat was very thin and flimsy, easily broken by larger dogs. There were no written instructions, just bad pictures, and the information was also not on the manufacturer's website. Some dogs didn't like the feel, and the seat didn't attach well onto some vehicle seats, such as a 60/40 seat. Some also didn't realize that the seat takes up two passenger spots in the back seat.
Compilation of customer opinions
Customers loved how easy it is to clean and that their pets enjoyed it as a bed in the house as well as the car. The biggest complaint was about the attached leash. Some people reported that it was very thin like ribbon and broke easily when their dogs pulled on it. You may want to also secure your pet with a seat belt harness for backup, especially if they tend to jump out.
Snoozer – Lookout II​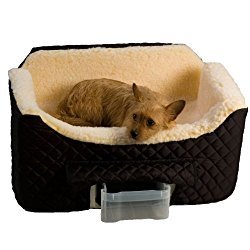 Price:
High

Built for pets up to 35 pounds, the Snoozer Lookout II is a fantastic dog car seat with some extras that the Lookout I doesn't have. This dog car seat comes in 3 sizes: small for dogs (or other pets) up to 18 pounds, medium for pets up to 25 pounds and large for pets up to 34 pounds. The faux wool lining is warm in winter, but breathable enough for hot summer days. It comes in 7 color & fabric options.
Product dimensions:
Size
LWH (outside)
LW ((inside)
Product Weight
Small
17"x15"x19"
14"x12"
5.3 pounds
Medium
17"x22"x19"
14"x18"
6.1 pounds
Large
17"x30"x19"
14"x25"
7.5 pounds

Read Our Review of the Snoozer Lookout II
Pros

and

Cons
Unlike the Lookout I, the Lookout II has a built-in sliding storage drawer in the bottom front side of the seat. It's big enough to store toys, treats, and covered containers of extra food and water. The cover is machine washable with a faux wool lining and comes in several different colors & fabric options.
Some customers didn't like that the cover isn't waterproof. Any spills will soak into the foam frame, likely leading to mold and bad odors. The medium and large sizes may be too big for front seats of small cars. Some people couldn't keep the seat from moving around with the seat belt attached, and others felt the safety tether was too loose to secure their pet.
Compilation of customer opinions
The Snoozer Lookout II is a very comfortable car seat for dogs (or any pet) 34 pounds and under and helps them to see out the car window. It may also help carsick pets with motion sickness. Many customers say their pooches loved this as a pet bed as well as a car seat. So long as you are able to firmly secure the Lookout II with the seat belt and keep your pet latched in and unable to jump out, this pet seat should be a very safe option.
Alternative Models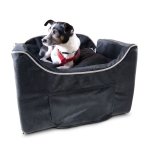 Snoozer - Luxury Lookout II
There's also a Luxury Lookout model that is quite expensive with a removable microsuede cover. Like the Lookout II, it has a storage drawer. It comes in small, medium, and large sizes, 12 fashionable colors, and has a removable pillow. Both the seat and pillow covers are washable. All other seat dimensions and weight limits are the same as the regular Lookout II.
Solvit – Pet Safety Seat​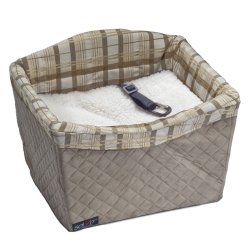 The Solvit Pet Safety Seat's Safe-T-Core frame secures the booster with your seat belt. The Deluxe version comes with a quilted plaid liner and micro-suede shell. The pillow and liner are both removable and washable. The Standard version is a little cheaper and comes with a polyester shell and faux sheepskin liner. It quickly installs in either the front or back seats. It's designed to hold dogs and other small pets up to 30 pounds and sits flush on the car seat, elevating the pet 9 inches so they can see out the window. It comes in only one size and color (beige/tan plaid).
Product dimensions:
LWH
LW interior
Product Weight
at top
at bottom
17"x22"x17"
14.5"x19.5"
14"x18"
7 pounds
Pros

and

Cons
The seat belt installation makes it easy to install this in either the front or back seat. It's roomy and padded well for naps while traveling. It has a safety tether that also attaches your dog's harness to the seat belt. The safety tether has been crash tested to 2,000 pounds. The elevation level is enough so that even small dogs can sit and look out the window comfortably.
The seat is rather wide and may not fit well in some seats, especially bucket seats. The safety tether could be too short to comfortably attach to some harnesses, depending on the harness style. Assembly can be a challenge with all the plastic panels you must put together for the frame. It may slope too far forward in seats with little to no backward incline.
Compilation of customer opinions
Most customers said their pets enjoyed this seat. At least one customer reported that her 9 month old pug was fine after their car was hit while going through an intersection. A few customers stated their dogs loved this as a bed at home as well as on the road.
Several customers had trouble assembling the frame, saying the pieces did not align properly and were missing connection points, etc. so there may be some quality control issues there. Others said it didn't have enough padding and that the pillow is too thin.
Kurgo – Skybox Booster Seat​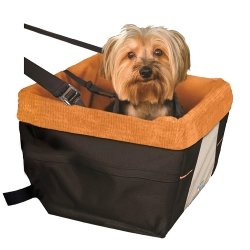 The Kurgo Skybox Dog Booster Seat is a hanging-style seat that is designed to hold dogs up to 30 pounds, though the manufacturer says it fits best for dogs up to 20 pounds. This seat comes with a seat belt tether so you can attach your dog's harness to the vehicle belt rather than the booster seat. It comes in one size and 5 fashionable color and fabric combinations.
Product dimensions:
LWH
Product Weight
12"x16"x8"
3.79 pounds
Pros

and

Cons
The exterior fabric is waterproof to avoid accidents on your vehicle seat. The interior lining and pad are removable and machine washable. Two zippered pockets are large enough to hold a leash, water bottle, treats and small toys, etc. The company also has a lifetime warranty on all their products.
The tether that attaches to the dog's harness can become too tight if the dog twists and turns a lot. Though recommended for dogs up to 20 pounds, your dog may be cramped while riding if they are a longer breed. You must have a headrest to attach this seat, so it may not work in all vehicle seats.
Compilation of customer opinions
Most customers said their pets loved this seat. Some said they felt more secure knowing it had the seat belt tether to attach to the harness. Others said it helped a lot with car sickness and nervous pets.
Some thought the sides were too high so their pooches couldn't rest their head on the side while lying down. Others said the tether was too long, so their pooch could jump out. Some had issues keeping the booster at a flat angle.
Devoted Doggy – Deluxe Dog Booster​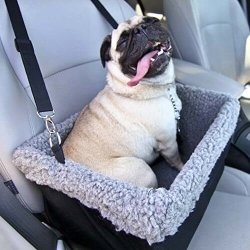 The Devoted Doggy Deluxe is another hanging style of seat that allows your pooch to enjoy the view. It comes in one size and two color choices (black/grey and blue/beige). It's designed for dogs up to 15 pounds and has a hard bottom for sturdiness. The exterior is a sturdy canvas fabric while the interior is a thick fleece.
Product dimensions:
LWH
Product Weight
14"x12"x7"
3 pounds
Pros

and

Cons
The collapsible metal frame makes this seat easy to fold up and store. The plush inner lining is removable and machine washable. A safety tether attached to the seat clips onto your dog's harness for extra security. There's a zippered pocket on the side to hold treats, toys, etc. Installation is easy, with one strap that hooks around the headrest and another that fits around the seat back. The company offers a 100% lifetime warranty.
Like similar models, this one doesn't fit flush to the bottom of the seat, so you may have to pick up your pooch to put them in it, especially if they're older or have other health conditions. While the manufacturer claims the seat will hold most dogs up to 20 pounds, several customers said their dogs were too cramped in the seat, even though they weighed less than 20 pounds.
Compilation of customer opinions
Some owners liked that their dog's hair didn't wind up all over the car. One owner cautioned that the nylon straps that hook around the car seat could scratch leather upholstery. He suggested felt seat belt shoulder pads to wrap around the straps where they make contact with the leather. Know that if your dog is toward the high end of the weight range or has long legs, he may not be able to lie down comfortably in this seat, depending on his size.
Stella and Bear – Cozy Boost​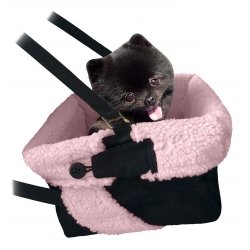 This cute little booster seat is another hanging style that is good for pets up to 20 - 25 pounds, depending on the size of your dog. It has a metal frame with a thick fleece lining and comes in 2 color combos - black with pink lining or black with blue lining. It straps over the seat back so it's elevated and not touching the bottom of the vehicle seat. The manufacturer offers a 100% lifetime warranty.
Product dimensions:
LWH
Product Weight
16.5"x13.5"x8"
3.2 pounds
Pros

and

Cons
This seat comes with a collapsible silicone dish and a clip-on leash that attaches the seat to your pet's harness. It can be used in either the front or back seat (including the 40 portion of a 60/40 rear split fold down seat). The exterior is water resistant, and the liner is machine washable. The metal frame keeps the seat from collapsing when it's installed.
Since it hangs from the vehicle seat back, you'll most likely have to pick up your pet to get him in and out. Depending on your car's design, the straps may not fit well around the headrest/seat. If they are loose, your dog may tip the seat over and fall out. Also, it's important to use BOTH straps. If you use only one, the seat can collapse.
Compilation of customer opinions
Most customers found this seat easy to install and said it felt sturdy. Some reported an improvement in carsick pets. There were mixed opinions about the tether. Some felt it was too long and allowed their dogs to jump out. Others felt it was too short. Same goes for the straps that attach to the vehicle seat. The straps may be too long or too short on different seat styles.
---
History of Pet Transportation Systems Coose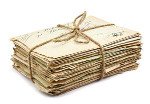 Dogs and humans were traveling together long before cars were invented. Humans have been providing special transport for their dogs for centuries.In fact, there were even dog car seats in buggies and trains.
However, 1932 saw the first dog car seat with the invention of the Bird-Dog's Palace, a crate style device that held pets of all sizes. This was slightly better than the version from 1936, when a sack came on the market that held the dog. It was comfortable, but did nothing to protect them in an accident.
In 1957 Marie French created a pet trailer which hooked on the back of the car and had food and water bowls. It was comfortable for the dog and allowed them to roam freely. Today's seats have come a long way and have once again allowed the dog to ride inside the car with his or her owners.
A note on safety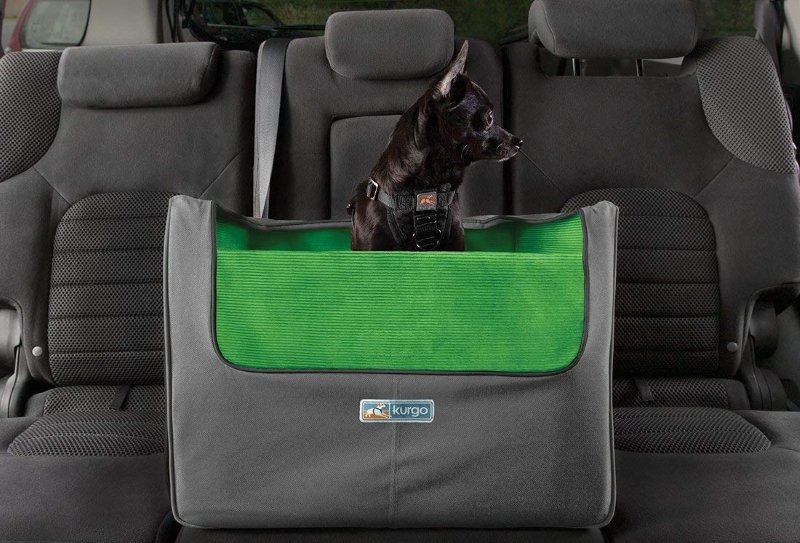 Dog booster seats and other car pet restraints, unlike child safety seats, do not have standard, federal safety tests that they must pass in order to be legally sold. Any crash testing claims and scores are from independent tests either from manufacturers or from organizations such as the Center for Pet Safety. Those tests can have varied results due to the different testing methods and conclusions. Therefore, it's up to you to decide which products you feel would be safest for your dog. Keep in mind, however, that any car restraint is better than none at all.
We list our own observations and recommendations based on research and customer experiences. From that, we've gleaned some good safety tips that you should follow.
Never attach a car seat tether to a dog's leash. It can choke them or cause severe neck injury in a crash. Attach it to a safety harness only.
Always secure your dog to the seat tether or preferably the vehicle seat belt while riding in a booster seat. They can easily fly out of the seat in a crash or run around in the car or jump out of an open window if they're not secured.
Never leave your dog alone in the car, even with windows cracked. Car interiors can heat up over 40 degrees in just under an hour. Just like with children,dogs can easily become overheated with sometimes deadly consequences.
Keep your eyes on the road, not your dog. If your dog is nervous and tries to jump out of his booster seat, this can be a real distraction. Introduce a new booster seat slowly by letting the dog sit in it at home, then in a parked car, then very short trips, until he's able to sit quietly and enjoy the ride.
Avoid mold and bacteria growing in foam framed booster seats by placing a waterproof diaper changing pad between the cover and foam frame. If your pet has an accident, it will keep the liquid from soaking into the foam while you wash and replace the cover.
Why it's better to install a pet booster seat in the backseat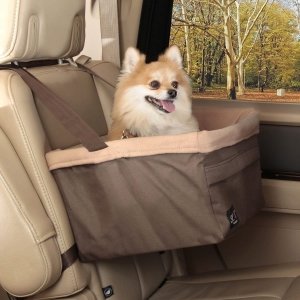 Just as with child safety seats, it's best to put your dog in the back seat of your car because the air bags can do serious harm if you are in an accident. The best place is in the back passenger's side of the car because you can check on your pup in the mirror, and he will be able to see you and know he is safe.
If you have a middle rear seat that you can attach the seat to (which is rare because in many seats you need a headrest), this is actually the best place for your dog. In cars that have three rows, keep your dog in the row closest to you.
If you do put your dog in the front of your car, make sure to put the seat back as far as possible so that your pet won't be hit by the air bags if they do go off. If your car has the option, turn OFF the passenger airbag while with your dog.
Not just for dogs
Dog safety seats aren't exclusive to dogs. Any pet of equivalent size can ride in them. Owners often use these products for cats, rabbits, baby pot-bellied pigs or any other pets that fit within the size and weight range. So long as your pet is a good traveler and restrained well, you can enjoy a trip with a cat or rabbit just as much as a trip with a dog.
Why buying a dog booster seat is smart for traveling with your pet
Did you know that only 16% of dog owners use a restraint system when traveling
The best car seats for dogs help to keep your dog in place while you are traveling and keeps him or her safe so that you can get from one place to another. According to the National Highway Traffic Safety Administration (NHTSA), nearly 10​% of all​ fatal crashes and 18​% of injury crashes involve some type of distraction.
Even worse, nearly 25​% of pet owners have used their hands or arms to hold the pet in place while applying​ brakes and 19​% have used their hands or arms to keep their pet from climbing into the front​ seat. These behaviors may require both hands being taken off the wheel which can allow your car to drift into other lanes or run off the road. Booster seats for pets keep that distraction to a minimum.

The rate of motor vehicle collisions for older drivers who always drive with their pet was nearly double​ that of drivers who never drove with their pet.​ They are also among the least likely to use a pet restraint system.

In a recent survey of drivers, interaction with pets was one of the top three​ most frequently​ reported distracting behaviors that resulted in an accident or near-miss. Dogs may start barking at something that you cannot see, want to climb in your lap, try to jump out the window or an open door, or divert your attention in many other ways. Keeping them secured in a pet restraint will prevent many of these distractions.
Other options for pet transportation
To transport big dogs, using travel crates will keep them in place so they're not a distraction. In an accident, it will keep them from panicking and fleeing the scene. Crated dogs have been shown to have a higher likelihood of surviving a high-speed crash, but they can still bang into the crate and be injured.
Dog harnesses are another good option for dogs of all sizes. They attach to your vehicle seat belt but small dogs won't be able to see out the window very well which could increase anxiety and carsickness. You'll also want to put a seat protector beneath them to prevent scratches and shedding on your upholstery.
Smaller dogs (up to 40 pounds) prefer a doggie booster seat or a small pet carrier (soft or rigid). Most models allow your dog to comfortably sit or lie down. The booster has the advantage of allowing them to see out the window and can decrease carsickness.
This post is also available in: Español (Spanish)