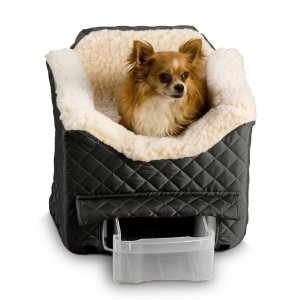 The Snoozer Lookout II dog car seat is a little step up from the Lookout I. While the differences aren't many, they're significant enough to make this an upgrade option, particularly if you travel a lot with your pet.
Like the Lookout I, the Lookout II is a highly rated seat that comes in 3 sizes and a variety of color/pattern options. It's faux wool lining and boosted height makes for a good sleeping spot or a perch to see the world go by from the car window.
Snoozer Lookout II Features:
Soft foam frame
Faux wool interior lining
Several color and pattern options
3 sizes – S, M, and L
Plastic slide-out storage drawer
Removable cover – machine washable and dryable
Quilted nylon exterior repels pet hair
Connection strap for seat belt to hook onto pet harness
As with the Lookout I, the product description suggests that a Lookout Travel Rack for food and water is included. However, this product is sold separately. Many pet owners use the built-in storage drawer on the Lookout II to keep small covered bowls of food and water (or bottled water) on hand.
Customers love that the cover is easily removed for machine washing and drying on the gentle cycle. A few people expressed wanting a waterproof cover since pet accidents or water from a wet dog can soak through onto the foam frame.
Helpful tip: Remove the cover, place a waterproof diaper changing mat or garbage bag over the foam, and then replace the cover. This will help keep the foam from soaking up spills that can lead to mold and bad odors.
Note that there is an option called the "Luxury Lookout II" which has a removable/washable microsuede cover and a pillow with a separate removable/washable cover. The price is up to $60 higher than the Snoozer Lookout II.
Snoozer Lookout II dimensions
Small LWH
17″x15″x19″
Small Product Weight
4.3 pounds
Medium LWH
22″x15″x19″
Medium Product Weight
6.4 pounds
Large LWH
30″x18″x18″
Large Product Weight
7.5 pounds
The Lookout II can be used in both front and back seats, depending on the size of your car interior. Many people found that the medium and large sizes did not fit well in the front seat, but had no issues putting it in the back seat.
Safety tip: If you want your dog to ride in the front seat, you should disengage the passenger air bag. Pets, like children under 13, can be hurt or killed by an airbag.
Will the Snoozer Lookout II fit my dog?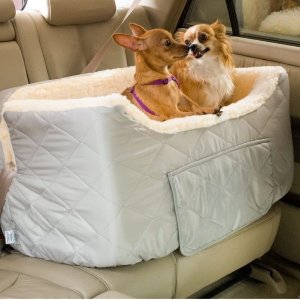 With 3 sizes to choose from, you'd think there'd be a bigger weight range, but it maxes out at 35 pounds. So, if you have a large breed, you'll need to look at other options like crates and car harnesses that fit directly on the seat.
| | |
| --- | --- |
| Small | up to 18 pounds |
| Medium | up to 25 pounds |
| Large | up to 35 pounds |
One pet owner has a pig that's about 30 pounds, so the large size fit her pet well. However, the owner thought the pillow wasn't thick enough. Also, her pig nibbled on the foam when the cover was off for washing and ate some of it.
The pig is fine, but if you have any pets who like to chew, be sure to keep the seat out of reach while the cover is removed.
Is the Snoozer Lookout II safe for your pet?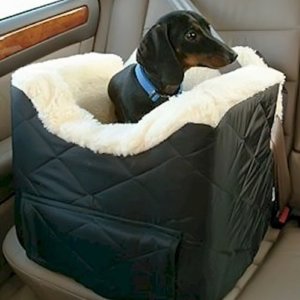 Like the Lookout I, several customers felt the front edge of the Lookout II was too low and were afraid their dogs would fall out. They also shared the complaint about the safety tether sliding freely on the seatbelt, which allowed their pets to easily jump out.
Safety Tip: If you have a dog that won't stay put, instead of using the attached safety tether, use a car harness that attaches to the car headrest.
Several customers have seen an improvement in pets that suffer from carsickness with this seat (as well as the Lookout I). This might be the result of stabilizing the pet's movement or allowing them to see out the window.
Others felt the seat belt didn't hold the car seat in place very well, so that it slid around too much. Using a car harness attached to the headrest would be a good backup plan if you have the same experience.
Best Car Seat Hub's Final Verdict

The Snoozer Lookout II is a very comfortable car seat for dogs (or any pet) 35 pounds and under that need to be boosted up in order to safely look out the car window. It may also help carsick pets with motion sickness.
Those with small car interiors will probably find the medium and large sizes way too big for the front seat, but those sizes should work well in a backseat, provided you don't have bucket seats.
So long as you are able to firmly secure the Lookout II with the seat belt and keep your pet latched in and unable to jump out, this pet seat should be a very safe option.

Boosts pet up to look out the window
May help with carsickness
Removable, washable cover
Soft faux wool lining
Pull-out storage drawer
Outer lining repels pet hair
Lightweight
Can also be used as a pet bed

May be difficult to firmly secure the seat with the seatbelt
Safety tether may allow pet to jump out easily
Front side may be too low for some pets
Cover is not waterproof
Does not come with travel rack as product description implies
Pets may chew on the foam if exposed
Optional Accessories
Flush Puppies Doodie Bags
PetBonus 4-pack Silicone Collapsible Dog Bowls
Snoozer Pet Car Seat Lookout Travel Rack
Why should you even bother traveling with your pet?
While many people would rather leave their pets at home or at a kennel, traveling with them can be beneficial to you both. Of course, there are pets who do not enjoy traveling at all or situations in which traveling with a pet would be hazardous for both of you.
But for many pets, they will love spending time with you as you explore your world, whether it's just a short trip to the dog park or a big camping trip to a national park. Pets benefit from the enrichment of different activities, both physically and mentally. They get exercise and the chance to socialize with your family, other pets and people.
If you practice the following travel tips, you'll be better able to enjoy a vacation with your pet.
Proper training – Make sure your pet is well-trained in the basics: sit, stay, heel. If you have a pet who darts out the door like a rocket, that can spell disaster. Just make sure you're in control at all times.
Pet-friendly places – Always plan ahead so you'll be able to stay in a pet-friendly hotel or camping spot.
Leaving your pet alone – If you'll be visiting any places pets can't enter like restaurants and museums, be sure you can leave your pet alone in a safe hotel room or RV. Dogs who incessantly bark or have severe separation anxiety should not be left alone.
Frequent breaks – Long car trips can be hard on pets. Plan frequent stops for potty breaks and to stretch their legs (and yours). Be sure to pack extra food, fresh water and treats. If you have time and space, you might even be able to play a short game of fetch or tug of war.
Have shot records and nearby vet addresses handy – You can take pictures of immunization records with your mobile phone and find apps that will direct you to local vets.
Clean up after your pet – Stepping in dog doo can ruin someone's nice vacation, so don't leave your pet's mess lying around. Be considerate and bring along biodegradable or flushable doggie doo bags.