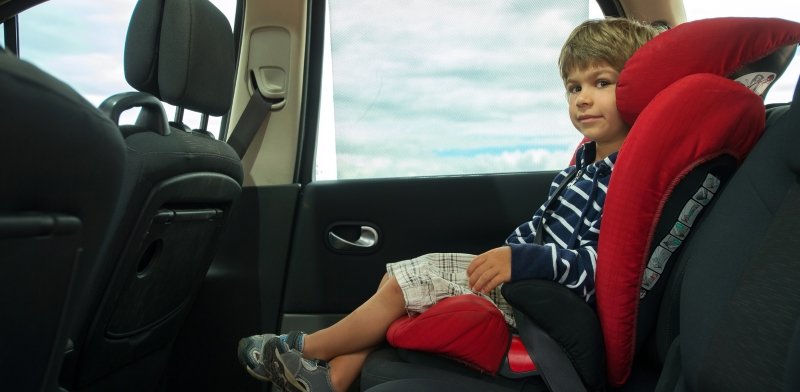 At some point, your child is going to ask you: Do I still have to sit in a baby seat? It's usually around elementary school age when your child sees other classmates riding in a booster seat.
Although your child may be pressuring you to sit in a booster, there are four key requirements your child needs to meet before transitioning from a forward-facing 5-point harness car seat to a booster seat.
1. The Height and Weight of Your Child
The U.S. Department of Transportation's National Highway Traffic Safety Administration (NHTSA) recommends that parents follow these switch recommendations: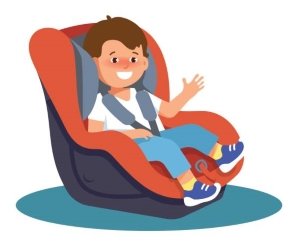 Your child should remain in this type of car seat secured with a harness and tether until he or she reaches the maximum weight or height limits of the car seat. All car seats have different age and/or height and weight limits. The manufacturer of the car seat provides this information in the product's manual and/or displays it on the car seat.
Depending on your child's size, he or she may outgrow a forward-facing car seat around age seven. Three signs to look for are:
Your child's shoulders are above the slots for the top harness;
Your child is at the height and weight for the forward-facing car seat and harness;
The top of your child's ears are even with the top of the car seat.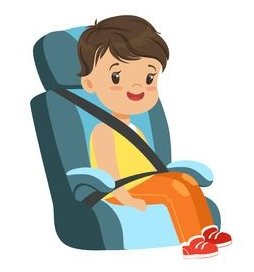 Once your child exceeds either the weight or height of a forward-facing seat, it's time to transition to a belt positioning booster seat.
Making the switch typically occurs between the ages of eight and 12, but again, it all depends on the height and weight of your child. The height is right when your child can sit against the back of the booster or vehicle' seat and his or her knees bend over the edge of the booster seat. The weight is right if it is in the maximum range of the car seat manufacturer's guidelines.
Some all-in-one car seats or convertible car seats transition to a booster seat. With these models, you simply remove the 5 point harness and use your vehicle's seat belt system.
Important Note: Whether in a harness or a booster, your child should continue to ride in the back seat of a vehicle until age 13.
2. Your Vehicle's Seat Belt System
Rather than a 5 point harness, a booster seat works in conjunction with your vehicle's seat belts. In order for your child to ride in a booster seat, the back seat of your vehicle must be equipped with a complete seat belt system. This is defined as both shoulder belts and lap belts.
The booster seat is not secured with the belt system, but rather held in place by the child's weight and the fastened lap and shoulder seat belts. If your vehicle is equipped with a top tether or lower anchors, they can be used to secure the booster to the back seat on some booster seat models.
A booster seat cannot be used in vehicles without shoulder belts in the back seat. If this is the only vehicle available to you, then check with your automotive service center to see if shoulder seat belts can be installed in your vehicle.
Important Note: There are some products on the market that promote giving seat belts a better fit. These should never be used with a booster seat. Only accessories that were included with the booster or have been approved by the car seat manufacturer should be used.
3. The Fit of the Seat Belt System
In order for your child to transition to a standard booster, your vehicle's regular seat belt needs to fit properly. A booster seat is designed to boost your child up on your vehicle's back seat so the seat belt system can provide a safe and secure fit.
According to the NHTSA, a proper seat belt fit means:
The lap belt fits tightly across your child's upper thighs.
The shoulder belt rests securely across your child's shoulder and chest.
Your child is not ready for a booster seat if:
The lap belt rests across your child's stomach.
The shoulder belt is touching your child's face or neck.
Depending on your type of booster seat, it may have a belt guide. This will help you better fit the seat belts across your child.
Important Note: If your vehicle's back seat has no headrests or a low seat back, you should use a high back booster seat to ensure a safe ride for your child. If you have a combination car seat, then simply remove the harness and it becomes a booster with a back.
4. The Laws in Your State or Country

Every country is different when it comes to child passenger safety laws. In some countries, like the United States, each state or territory has its own separate passenger restraint laws.
It's important to know the car seat laws in your state and country where you live, as well as those in bordering states or countries you frequently travel into or visit.
Often times, you might find conflicting information between what safety experts say about car seat safety and what the law dictates. Car seat laws reflect a compromise between recommendations from safety experts and what lawmakers think will be enforceable and practical for their constituents.
Therefore, you would be well within the law to install a car seat that exceeds the requirements of the law where you live.
Why Timing Matters When Switching from a Harness to a Seat Belt
The whole purpose of child restraint systems is to provide the utmost protection to youngsters in the event of a crash. The different types of car seats, such as rear-facing, forward-facing, and booster, are designed to protect those areas of the body that are still developing at different stages of a child's growth, from newborn to school-age.
If you switch from a 5-point harness car seat to a belt-positioning booster seat before your child's body is strong and properly developed, he or she could suffer more harm in an accident.
Let's take a look at the 5-point harness in a forward-facing car seat.
Design: It has five straps: two at the hips, two at the shoulders and one at the crotch. It is designed to restrict movement and ensure the child sits in the proper position.
Functionality: It holds the child's body securely in the seat. If a crash occurs, its forces are distributed over a larger area of the child's body, thus reducing major injuries.
Crash Protection: It protects a child's entire body from injury, including the shoulders, sternum, hips and pelvic, all areas where the bones are still soft and at risk for injury in the event of a crash.
Now, let's take a look at a booster seat.
Design: It has no harness, relying instead on the vehicle's shoulder and lap belts. Its design raises the child up high enough so the seat belt system rests properly across the child's body.
Functionality: Keeps the child securely in place with a shoulder belt across the chest and a lap belt low across the child's hips and thighs.
Crash Protection: As long as the seat belt system is fitted properly, statistics show the risk of serious injury for children ages four to eight riding in a booster seat versus just the vehicle's back seat is reduced by 45 percent.
Some things to keep in mind when deciding whether it's time to switch your child to a booster seat:
If the child is slouching in the booster seat rather than sitting upright, there is a greater risk for the child to suffer serious spinal cord, kidney, liver and abdominal injuries in the event of a crash.
If the back seat of your vehicle is not tall enough or your child's head does not reach the head restraint when sitting in the booster, the risk of whiplash increases.
Try both a high back booster and a backless booster. One might work better than the other with your child. For example, a high back booster seat can help your child sit correctly (especially when napping) or you can obtain the correct seat belt positioning with it.
If the child moves around a lot in the booster, he or she may not be at the level of maturity to understand the importance of sitting upright with minimal movement while riding in a vehicle.
As you can see, timing is everything when switching your child from a forward-facing car seat to a booster seat. Although parents may want to make the switch once their child reaches the car seat's minimum age or height and weight requirements, it's much safer for the child to wait until the maximum requirements are met.
In other words, for safety's sake and your peace of mind, wait as long as possible before making the switch.