For families with a tight budget, finding quality baby products can be a real challenge. Often, you get what you pay for, and end up with a product that's recalled the moment you purchase it. With vital baby items such as infant car seats, you can't afford to skimp on safety.

So, how do you find a car seat for your baby that will keep her safe and snug, but won't empty your wallet? It takes a good bit of research to find a safe car seat you can afford.
Before you end up cross-eyed and frustrated, relax and browse our site. We've already done the detective work for you by comparing hundreds of affordable seats for every age and stage of your baby's life.
---
Jump to Ratings

Cheap Infant Car Seat Ratings
→
Rear-facing position only, provides more support for the child's head.
Age Limit: ~1 year

Cheap Convertible Car Seat Ratings
→
Rear-facing that converts to a Front-facing position.
Rear-facing position: 0-2 years Front-facing position: 2+ years
---
Here's what to look for when shopping for a cheap infant car seat:
Consider a convertible car seat. It saves money because it will grow with your child, so you can use it rear-facing, then forward-facing, and many even convert to a booster seat. The downside of a convertible is that it can't serve as a portable infant carrier, which most parents know is a godsend so they won't disturb a sleeping baby.
Consider a travel system. Often, infant seats are sold along with a stroller as part of a travel system. These can save you some money if you still need a stroller.
Never buy a used car seat. It may be tempting, but car seat safety regulations change often, so that seat you got from your sister may not fit today's safety standards.
Choose ease-of-use over bells and whistles. All the little extras such as a toy bar add to the cost. Instead, look for straps that will be easy to buckle, adjust and tighten one-handed and don't have to be rethreaded.
Installation is everything. Even the most expensive, high-quality car seat is useless if it's not installed correctly. Be sure to read the owner's manual thoroughly, watch installation videos, and have a car seat technician check to confirm you've installed it correctly.
---
Cheap Infant Car Seat Ratings for 2021
---
Evenflo LiteMax​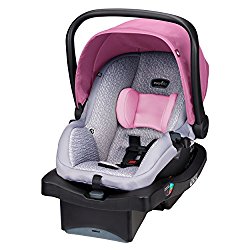 Price:
Low

The LiteMax lives up to its name as a lightweight infant seat that makes carrying your baby a bit easier. It meets or exceeds all federal safety standards. For babies 4 - 35 pounds, this is a simple seat that comes in 3 colors to choose from.
Advantages
An easy-to-install base is included and uses a 2-step seat belt lockoff to secure it. There are 4 recline positions to ensure your baby has the right angle she needs to ride comfortably. Parents like the cheap price, the easy-to-grasp handle, soft fabric, and easy-to-remove washable seat cover.
They also like the big, sturdy canopy to keep the sun and elements off the baby. The seat also easy to install and easy to remove.
Disadvantages
The biggest complaint was that the seat seemed too narrow for some babies. If your baby is on the high side of the growth chart, you may find that to be the case.
A few parents noted that it didn't fit on their stroller or on shopping carts. Note: it's safer to put your baby's car seat in the basket of a shopping cart.
Compilation of customer opinions
The Evenflo LiteMax is a simple infant seat that does what it's supposed to. It's popular with busy parents because of its ease-of-use and weight. For larger babies, it could be too narrow, however.
Cosco Light N Comfy DX​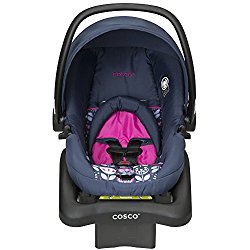 The Light N Comfy DX fits babies from 4 - 22 pounds and comes in 2 colors. It's FAA certified(as are most infant car seats) and meets or exceeds all federal safety standards. While not part of a travel system, it is compatible with several Cosco strollers that accept the Quick Click feature.
Advantages
Parents found this affordable seat to be lightweight with easy installation instructions. They love the cute designs (elephants and poppies) of the washable cushions. Most parents appreciated the easy-in, easy-out infant carrier.
They also liked that it didn't take up a lot of room in the back seat. So this would be a good option for parents with multiple children and more than one car seat.
Disadvantages
One parent noted that there was a hard plastic seam on the handle, which made it uncomfortable to carry. Others felt the handle and overall seat looked and felt a bit cheap. Some parents felt the cushioning wasn't thick enough to be comfortable for their babies.
With a weight limit of 22 pounds, you'll be looking for a new seat sooner than you would other models.
Compilation of customer opinions
Cute, light, easy to use and clean, the Light N Comfy DX is a good option for most families. While perhaps not as polished and plush as more expensive models, it's safe and does its job well.
Evenflo Embrace LX​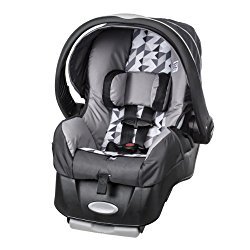 Many safety experts recommend the Embrace LX for low birth weight babies. It has a 4 - 35 pound weight range and is designed to be lightweight for busy moms.
Advantages
The five-position handle is great for adjusting the seat to wherever you are. Three cute colors and patterns make this one an eye-catcher. The base has a level indicator so you can get the perfect recline angle for your baby.
Parents love that it's lightweight and fits well alongside other car seats. They like the comfortable headrest that worked for fussy babies and liked that the straps didn't twist. There are also customer testimonials and photographs showing how this low-cost seat protected their babies in crashes.
Disadvantages
Despite an Evenflo promotional video that suggests this seat is made in the USA, it's actually made in China, which disappointed several parents. The biggest complaint was that it didn't provide a good angle for newborn babies who can't hold their heads up. It could be due to bad installation or vehicle seat design, but test it first before traveling to be on the safe side.
A couple of parents reported that the handle broke while carrying it. Others received the wrong color. Some parents noted that the canopy was too short and didn't cover their baby well when outside.
Compilation of customer opinions
While this car seat is a good bargain with a proven safety record, it has a few flaws that might be worth some consideration. If you have a newborn, be careful to see if your baby's head stays up well while in the seat. Adjust as necessary or call Evenflo if you have any issues.
Disney Light 'n Comfy Minnie​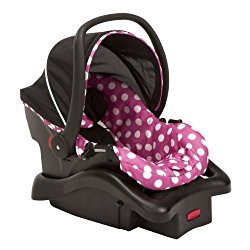 An extremely well priced seat, the Disney Light 'n Comfy Minnie Mouse seat is a favorite for parents who want something cute but do not want to spend an arm and a leg without sacrificing quality. Disney is a well known name that provides the quality and the safety that parents expect out of an infant car seat. This one works for babies 4 - 22 pounds.
Advantages
The best part about the Disney Light 'n Comfy Minnie Mouse seat is that it is extremely easy to use, both when attaching it to the car seat base and when detaching it, something parents don't always find in a seat. The LATCH system tucks away in a storage compartment when not in use.
It is also designed for travel, is FAA approved and is small enough to fit into most compact cars. Parents love the Minnie Mouse theme. At the same time, it is lightweight but doesn't cut back on safety with some of the best side impact protection on the market today.
Disadvantages
While the disadvantages aren't enough to really raise a red flag when it comes to this seat, there are a few things to keep in mind. The head cover material is a bit on the flimsy side, according to some parents, and the seat could use more padding in the cradle area. Most parents were able to make it more comfortable by using an infant pillow.
The maximum weight limit is 22 pounds, so it may not last as long as other car seats.
Compilation of customer opinions
Overall, parents were extremely happy with this car seat - a few even said that the cuteness of the design and the customer service they received was enough to overlook some small issues, like the fact that the handle is a bit awkward. Most said these issues weren't a problem once they got used to it.
Extended & Specialized Editions:

Disney Light 'n Comfy Mickey Mouse
In general, the biggest difference about this seat is that it is the Mickey Mouse version, and it comes in colors more suited for a boy. It is also a bit harder to stain!
Baby Trend Flex-Loc​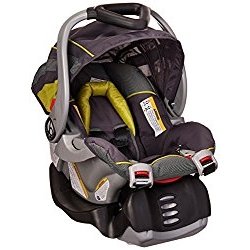 Compatible with other Baby Trend stroller systems and extremely easy to use, the Baby Trend Flex-Loc Infant Seat is a good option, especially for those on a budget. Note that you aren't going to get many bells and whistles with this seat, but it is certainly safe and made for babies from 5 - 30 pounds.
Advantages
The Baby Trend Flex-Loc uses flexible LATCH locks, which made the installation process that much easier for most parents. Its compact size helps with cars that tend to have smaller interiors, namely sport cars and compact models.The seat, while not the most luxurious, is comfortable for your baby and provides a lot of support, especially in the midsection.
At least one parent reported her baby was safe and sound after a terrible car accident. Several parents have bought this a second or third time for their subsequent babies.
Disadvantages
Some parents noted that the quality seems a little "cheaper" when compared to some of the other models on the market. Parents reported that the handle release buttons were too stiff and hard to press at first, which made it difficult to lift and lower the handle, though with time, these buttons became easier to use.
Others reported difficulty attaching the LATCH system and needed two people to get the job done. Also, the small size of the seat could be less comfortable for larger babies.
Compilation of customer opinions
Most parents stated the deciding factor in buying this seat was the affordable price. Several said it was a good seat, but wasn't easier to use than other seats, so they weren't blown away by it.
Still, they were able to afford a safe, reliable seat which protected their child. Many found that the seat took some time to break in, but it was far better once they got used to it.
Extended & Specialized Editions:

Baby Trend Expedition Travel System
This is a car seat and stroller combination that fits up to 55 pounds helps you travel easily with your baby while remaining affordable like the solo car seat.
Evenflo Nurture​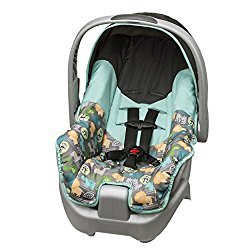 The Nurture is definitely a great value pricewise. It's a pretty basic-looking seat but does come in 5 different colors and patterns. The seat holds babies from 5 - 22 pounds.
Advantages
Besides the price, parents love that it's lightweight and can be carried for a long time without hurting their arms. Moms of multiple children love how easy it is to put in and take out of the base. Thick padding and a one-hand release buckle also made parents happy.
One mom testified to having hit a tree head on. She reported the seat kept her 4-month old in place, and left her unscathed.
Disadvantages
The biggest complaint came from parents who reported that the canopy was too short and would fall down under the seat while carrying. Others didn't like the adjustment straps being on the back of the car seat.
Some parents thought the seat felt cheap overall. A few noted that the click from putting the seat in the base was too loud and woke their baby.
Compilation of customer opinions
If you have a really tight budget and don't mind a very basic seat, this one is a good option for you. You may be disappointed in the canopy and overall feel of it, but it certainly won't break the bank.
---
FAQs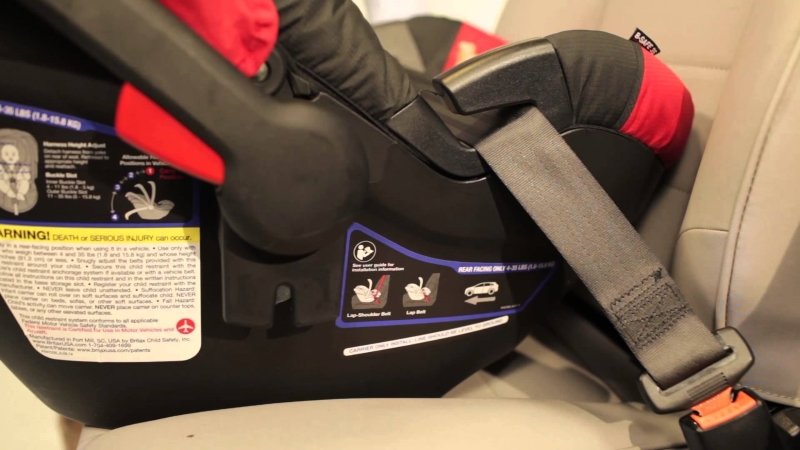 When some people hear cheap infant car seats, they might assume it means unsafe and bad quality. That's not necessarily true. The only thing lacking may be extra accessories, visual appeal and padding. Here are some FAQs:
How safe is a cheap car seat? A $300 car seat isn't usually any safer than a $60 one. Do your research in looking for real parent reviews, the materials used, installation, etc. Make it a habit to check the NHTSA for any current recalls for your particular seat.
Can you find cheap car seats for every stage of your child's life? You can! From rear-facing to forward-facing and booster seats, there are many safe, affordable ones on the market. The most important thing is to make sure they're installed correctly and that you closely watch the size and age limits so your child is always in the best seat for his/her height and weight.
How long should a baby ride rear-facing? While many infant car seats have a 22 pound max weight, many experts recommend keeping them rear-facing for as long as possible, up to 30 or 40 pounds. So consider buying a car seat with a bigger size range.
Will a convertible seat be the only one we need? Maybe. It depends on the model. Some convertibles will not convert into a booster seat, while others (usually the all-in-one models) will convert to a booster that lasts up until the time your child can wear the vehicle seat belt alone. Just be sure to check size ranges carefully if you're leaning toward a convertible.
Are cheap infant car seats difficult to install? Most of them are easy to install, just like the more expensive brands. The biggest challenges are usually getting it installed right plus making sure the seat will fit well in your particular vehicle. Some car seats fit well in more compact cars, while others don't. Read through reviews or call the manufacturer if you aren't sure yours will fit.
Safety is your number one concern, of course, but there are lots of other factors to consider when shopping for a car seat. Be sure to look for and compare:
Price – all the seats on this list are under $100, but there are seats that run as much as $300 or more.
Parent ratings – reviews aren't always trustworthy or reliable, so look for detailed reviews with specific info and testimonials about how the seat performed during a crash.
Reputation of the manufacturer – some brands such as Graco and Evenflo have been trusted names for a long time, but there are lesser-known ones to consider as well, including Britax, Cosco, Chicco, and Safety 1st.
Ease of use – look for seats with easy-to-follow manuals, videos, seat belt guides, buckle pockets and LATCH storage to make travel a little easier and quicker.
Family lifestyle – frequent fliers will need an FAA approved seat, frequent commuters will want a stay-in-car base and lightweight infant carrier, while families who take long road trips will want more padding and breathable material.
This post is also available in: Español (Spanish)