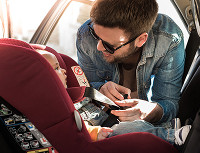 Buying an infant car seat is going to be one of the most nerve-wracking things that you do as a parent. This is going to be one of the only things that separate your child from a car weighing over a ton in the case of an accident – it is serious stuff.
What do you know about infant car seats? There are many different options out there, and you have to know about them all to make an informed decision.
So, let's break some things down, starting with the age-old question: what are the differences between an infant safety seat, a convertible car seat, and a 3-in-1 seat?