Cheap baby car seats won't break your budget, but they also won't come with all of the bells and whistles you might find in a luxury model. They may not have a leather handle or a toy bar, for instance. Instead, these baby safety seats will run almost half of the price of some of the more expensive ones.

But you don't have to sacrifice quality or safety to find the best convertible car seat that fits your budget. We have chosen these models because, despite the low prices, they meet or exceed the required safety standards and have received the best consumer ratings. Your child won't be any less safe in one of these cheaper convertible car seats.

Budget Convertible car seats are among the most popular items that parents buy when first choosing a child restraint.
---
Jump to Ratings

Cheap Convertible Car Seat Ratings
→
Rear-facing that converts to a Front-facing position.
Rear-facing position: 0-2 years Front-facing position: 2+ years

Cheap Infant Car Seat Ratings
→
Rear-facing position only, provides more support for the child's head.
Age Limit: ~1 year
---
Check out some of our top picks for 2021 for a more comprehensive comparison of convertible car seats for every budget.
Some things to keep in mind:
Convertible car seats are often more expensive than regular car seats because they last longer.
They start out as an infant car seat that is rear facing.
Once your child has hit the weight limit, the seat can be converted into a forward facing seat.
Some convertible seats can also transition into a booster or backless booster seat.
Affordable convertible seats are everywhere – but not all are created equally. Some models are cheap because they have low safety ratings. Others are cheap because they lack aesthetic appeal.
In the seats on this page, you will find a healthy combination of safety, security, and style while still remaining budget-friendly.
---
Cheap Convertible Car Seat Reviews & Ratings of 2021
---
Graco My Ride 65 LX​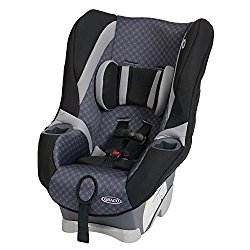 One of the cheapest options on our list, the Graco My Ride 65 LX, is a good, lightweight convertible seat. It has options common to most of the seats on our list and comes in a variety of colors.
Advantages
The Graco My Ride 65 LX has a good weight range (5-40 pounds rear-facing and 20-65 pounds forward-facing). It also provides good legroom for taller children. The top harness slot falls at 17 inches, making it one of the tallest available seats. This means that your child will be able to stay in this convertible seat longer than other models.
The seat is well labelled, and the manual can be confusing at first, but according to some parents, they figured it out after a little more reading. You should be able to adjust and install it easily and without having to watch online videos. The seat leveler makes adjusting the angles easier. The seat cover can be machine washed in cold water with mild detergent, and must be hung to dry.
Of course, the biggest selling point is the price.
Disadvantages
In some vehicles, it may be more difficult to secure the seat tightly enough. Some parents had issues getting the straps tight enough on their child. Others had problems with the base sliding around, but slick upholstery could be the culprit. Putting a skid-proof seat pad under the base could help with this issue.
The seat is wider than many other seats due to the built-in cup holders. If you have a small vehicle or are trying to get two or more seats in the back of your car, you might want to look elsewhere.
Compilation of customer opinions
Overall, most customers who purchased this seat had no issues and were happy with it. The price played a big factor for many who bought it, so if you're on a really tight budget and can't afford some of the pricier brands, this could be a good option for you. As you should with any car seat, be sure to check for recalls and thoroughly inspect all parts before installing.
Evenflo Tribute Sport​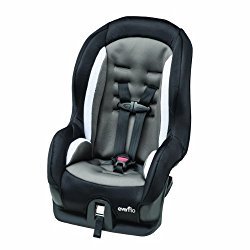 This affordable model from Evenflo is compact enough to fit most vehicles. It's been tested at approximately 2X federal crash standards. While it's pretty bare bones, The Tribute Sport is made in the USA, which adds a little more peace of mind.
Advantages
If you're looking for a pretty car seat, this one isn't it. But what it lacks in style, it makes up for in functionality. The up-front 5-point harness is super easy to adjust. Four shoulder positions and two buckle accommodate your growing child well. It fits babies from 5 - 40 pounds rear facing and 22 - 40 pounds forward facing.
The seat cover is easy to remove and machine washable. Foam lining, harness and buckle covers, and a plush head pillow provide plenty of comfort for long rides.
Disadvantages
Some parents had difficulty getting the seat level, so their child couldn't sit at a comfortable angle. Others had a hard time installing the LATCH strap. A few noted that the harness straps irritated their child's neck. However, harness covers could help with that.
One parent noted that the weight limit for rear-facing on the seat label is 5 - 35 pounds, whereas the listing states 5 - 40 pounds. Graco may have changed the weight range recently, so consult your seat labels and call customer service to double check.
Compilation of customer opinions
Most parents really liked this seat and felt the quality was just as good as more expensive brands. They also love the compact size, which makes it great for taxis, UBER and airplane travel. They agree it's pretty bare bones and doesn't have as much padding as the luxury models.
Safety 1st Alpha Omega Elite​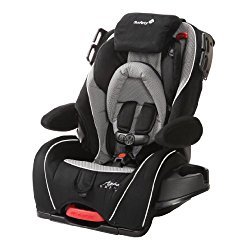 This convertible seat has a big weight range. It's a 3 -in- 1 model that can be used rear-facing (5-35 pounds), forward-facing (22-50 pounds) and as a belt-positioning booster from 40 - 100 pounds.
Advantages
The Alpha Omega lives up to its name as the first and last car seat you will need. Rotating arm rests make getting in and out of the seat easy. An easy-to-clean detachable cup holder makes it handy when you need a couple of extra inches of room.
At least two parents related their experiences with this seat in rollover crashes. Both children were completely uninjured, even in a totaled car.
Disadvantages
Some parents disliked the cup holder, saying it was flimsy and only fit on one side, which limited where they could place the car seat. Others thought the seat was too bulky in smaller cars and took up a lot of front passenger leg room.
A few parents had defective reclining bars, but a call to Safety 1st customer service got them a full refund and seat inspection.
Compilation of customer opinions
Overall, the Alpha Omega is a good convertible car seat for the price. Real life crash experiences have shown that it does what it's designed for. It looks and feels like a more expensive seat and comes in a few color/pattern options.
Disney APT​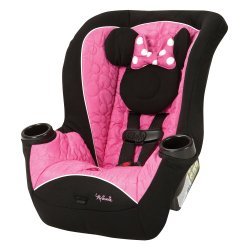 The Disney APT convertible car seat is consistently one of the most popular options on the market. It grows well with your child in rear-facing mode from 5-40 pounds while the forward-facing range is 22-40 pounds. Of course, the low price is the first thing first grabs everyone's attention, but it is also high quality, which is something that customers have come to expect from Disney branded items.
It's also easily the prettiest convertible seat on our list and a real eye-pleaser. The pink and black Minnie Mouse and red and black Mickey Mouse options are both brightly colored and cheerful.
Advantages
This seat holds up well to wear and tear and is made of extremely high-quality materials. It can easily be used again for younger siblings as they come along. Two cup holders hold bottles or sippy cups well. The 3-position buckle and 5-position harness easily accommodate your growing child.
Of course, the decor and the Disney theme is a huge reason that people choose these seats. You can be confident knowing that with Disney products, you are getting something that is extremely well put together and safe. Finally, the seat is very lightweight (12 pounds) compared to others.
We especially liked that this seat provides great quality while being very affordable. You'd be hard pressed to NOT be able to afford it.
Disadvantages
No seats are perfect, including this one. We really didn't like the lack of a booster mode for this seat, but its smaller weight range is comparable to others on our listParents with babies higher on the growth charts found that it was often too small, even when well within the recommended height and weight range.
Some parents had no issues with machine washing the seat pad, but the manufacturer recommends hand washing and air drying, so this might be a sticking point if you're worried about wear and tear. The cushioning is lacking compared to some other seats, and proved to be uncomfortable for some children. Some parents have complained that the fabric on the seat tends to fade with time, especially if you park in a sunny location.
Compilation of customer opinions
Parents love this seat for the cheerful Disney theme and the high quality materials. The fabric may require more care than other models, however, which could be a time-drainer.
Evenflo SureRide 65 DLX​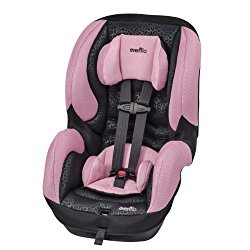 The Evenflo SureRide 65 DLX is a big seat with a big weight range. It has a rear-facing range of 5 - 40 pounds and a forward-facing range of 22 - 65 pounds. Quick install options and easy-to-clean components make this seat a good choice for most families.
Advantages
Buckle pockets allow you to tuck the buckle tongues away for safe and easy seating and unseating. And upfront harness adjuster, 6-position shoulder strap and removable body pillow accommodate your growing child well.
A detachable cup holder and washable pillows and seat pads make cleanup a breeze. It's plush and comfy for longer rides with an easy-to-adjust rear-facing recline bar.
Disadvantages
Some parents felt the seat was too bulky for their smaller vehicles. Others had trouble getting it tight enough in either the LATCH or seat belt attachments. A few parents thought it felt very flimsy with thin plastic that could easily break.
Grandparents with arthritic hands had a hard time with the buckles. One person noted that the user manual doesn't thoroughly explain how to switch from rear to forward-facing, so you may need to look up a video or call Evenflo for assistance.
Compilation of customer opinions
For weight range, easy cleaning and several adjustment levels, this is a winner. But for installation, size and sturdiness, the SureRide 65 DLX is a bit lacking. The tie-breaker may be the affordable price, along with a few bright color options.
---
Raising children is expensive. Things like car seats are required by law for every child in a motor vehicle, but many of them are cost prohibitive, and can strain an already tight budget. There are cheaper options to save money, but you should never sacrifice safety to do so.
Car crashes are still a leading cause of death and injury for children, so your car seat purchase is one of the most important investments you'll ever make. But how can you be sure you're getting the safest seat for your budget and, most importantly, that you're installing it correctly?
The National Highway Traffic Safety Administration (NHTSA) offers these tips to help you make a wise choice.
Finding the right car seat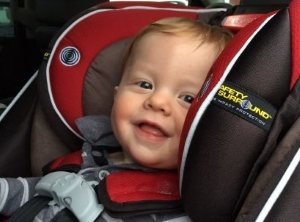 There are four car seat types:
Infant car seats – always rear-facing; usually for newborn to 1-2 years
Convertible seats – begin as rear-facing and convert to a forward-facing seat; for newborn to children from 50-65 pounds
All-in-one seats – converts from rear-facing to forward-facing to a booster seat; for newborn to children from 65-120 pounds
Booster seats – positions the vehicle belt so it fits your child properly; can be either backless or high-backed
What you choose depends on your child's age, size, your family's activity level (whether you travel often or must switch vehicles often), your vehicle size and your budget. The NHTSA website has recommendations that can help you determine what's best. You can also browse through our site to find the top-rated car seats for children of all ages.
Install your seat correctly
Finding the right seat is important, but if you're not installing it right, it doesn't matter what kind of seat you have. An improperly installed car seat can be just as dangerous as no car seat at all.
To make sure you're getting it right:
Understand all the parts and steps needed for installation. There's a user manual that comes with every car seat. Read it thoroughly.
Watch car seat installation videos from the manufacturer, the NHTSA, and on YouTube to see live demos of how to install your specific seat. Sometimes seeing it in action helps when instruction manuals may not be clear.
Have your car seat inspected. Your local car seat safety tech, fire station, police station and even hospital have experts that know a properly installed seat (or vice versa) when they see one. They also know the specific local regulations that may apply to installation.
Keep your baby safe for every ride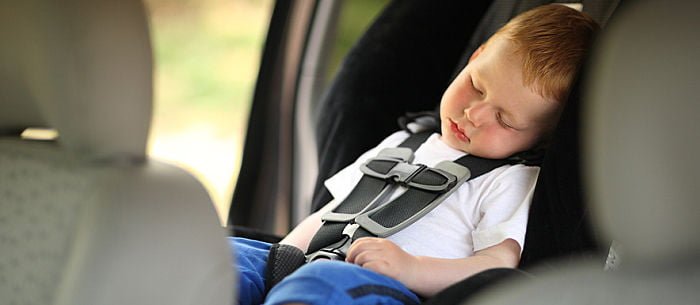 Your baby will grow faster than a weed, so it's important to be sure she's not outgrown her seat before you put her in it. Keep an eye on the size limits on the seat label and know your child's weight and height.
Watch for a proper fit with the harness. If it's too tight at the highest adjustment levels or if her head's above the top of the seat, she's outgrown it. Try to get ahead of that growth spurt by purchasing an upgrade ahead of time so she'll never ride in a seat that's too small.
Never use any accessories that don't come with your seat or are not labeled as an approved accessory for your seat. While toys, harness covers, and extra padding can make for a more comfortable ride, they could also interfere with the proper operation of the seat and aren't worth that risk.
In winter, never leave your child in a bulky coat or snowsuit when buckling them into the car seat. These can interfere with the harness fit, even if it feels tight.
Try a test before you drive – buckle your child in with their coat, then take them out of the seat without adjusting the straps. Take off the coat, put them back in the seat and test the fit – more than likely, the straps are now too loose.
Harness straps are made to fit tight against your child's body, not a puffy coat. Instead, buckle her in with a light jacket, then cover her with a blanket for extra warmth.
Stay updated on any manufacturer recalls
Car seats from virtually every manufacturer experience recalls – some more than others. Register your seat with the NHTSA to receive updates on any recalls that could affect your model. Some recalls are simply due to updates in federal regulations rather than imminent safety threats, but it's always best to be safe than sorry and make sure your child's seat is always up to current standards.
This post is also available in: Español (Spanish)