Cheap car seats won't break your budget, but they also won't come with all of the shiny and fancy things that other people have – like perhaps it won't have a leather handle or a full-blown toy bar. Instead, these baby safety seats will run almost half of the price of some of the others.
But you won't be compromising on quality. We have chosen these models because, despite the low prices, they still comply with the required safety standards and have received the best assessment of consumers. Your child won't be any less safe if a cheaper infant car seat, nor will you have to worry about any of the levels in an affordable convertible seat.
The next seats will be:
Cheap convertible car seats
Affordable infant seats
Other cost-effective seats that you can use without having to worry
---
Cheap Convertible Car Seats under $140
Cheap convertible seats are among the most popular items that parents buy when they start out on their journey.
Convertible carseats are often more expensive than regular car seats because they will last the longest amount of time.
They start out as an infant car seat that is rear facing.
Once your child has hit the weight limit, they can then move into a forward facing seat.
Some convertible seats will then transition into a booster or backless booster seat as well.
Affordable convertible seats are everywhere – but not all are created equally. Some models are cheap because they put your child's safety on the line. Others are cheap because they compromise design aesthetic.
In the seats on this page, you will get a health combination of safety, security, and style while still remaining on the low end of the budget.
Cosco Apt 50​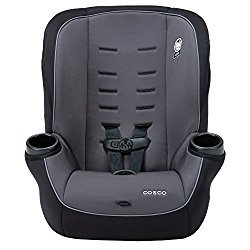 Price:
Low

The Cosco Apt 50 is an extremely affordable convertible car seat that has quite a wide weight limit range. The rear facing mode spans 5-40 pounds, the forward facing mode goes from 22-50 pounds, and an overall height of 43".
The seat itself is fairly light and will fit babies who are a bit more robust.
Advantages
One of the biggest advantages of this affordable seat is that it fits babies that are small. With a lower weight limit of 5 pounds, you can fit most preemies in this seat, eliminating the need to buy an infant car seat.
The seat itself is also extremely light, weighing in at only about seven pounds. Of course, for most people the price is the biggest advantage.
Disadvantages
The biggest problem with this seat is that it is extremely wide. If you have a smaller car or you like to fit 3 people/children into the back of your car, you are going to run into problems. It should be fine for two people, however.
Finally, the harness and crotch straps are a bit twisty.
Compilation of customer opinions
Parents love the versatility of this seat. It is easy to use and has an 8-year expiration date, meaning that you will be able to use it with more than one child. Many parents also like that it feels substantial and it is safe.
Disney APT​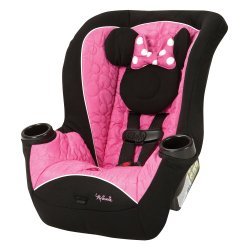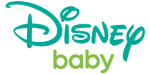 For parents who want something cheaper but still fun and kitschy, the Disney APT affordable car seat is a great option.
It falls right in line with the other seats, including a rear-facing car seat that goes up to 40 pounds and a forward-facing car seat that goes up into the 60-pound range.
Advantages
This seat is made up of really high-quality materials and will stand up against the test of time. While many cheap convertible car seats forgo the high quality materials and fabrics, this one embraces them.
Of course, everything is up to Disney standards and it will last quite a long time. Even better, the customer service is great. Another great thing is that the seat is very lightweight.
Disadvantages
Unfortunately, this one doesn't have a booster seat. The cushioning and EPS foam isn't quite as thick as when compared to other seats in the same price range.
It also stays a little bit on the small side, meaning you'll have to move on more quickly.
Compilation of customer opinions
The Disney theme is a highlight for many parents who love the feel of it. However, some have felt that it was too small, especially for parents who are going to have a taller/longer baby.
Evenflo Tribute Sport​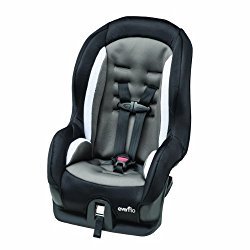 One of the safest rear- and forward- facing car seats, the Evenflo Tribute Sport gives you so much protection for such a little price tag.
In the rear position, your child can go up to 40 pounds, which can have him facing rear for longer. The front facing mode has a slightly smaller max weight, going up to 65 pounds.
Advantages
The biggest advantage of this affordable convertible car seat is that it is extremely safe in all modes thanks to a fantastic safety harness and EPS foam that will absorb any impact.
It is so safe that it has been approved for use with even the most fragile of preemies. Another standout is the manual, which is extremely user friendly and has a lot of nice tips and tricks.
Disadvantages
The Evenflo doesn't come with a stroller option, which will raise your costs in the end. The seat and base are also heavier, meaning that they aren't great for travelling. It lacks a booster as well, which could be a problem for some people. Overall, the versatility is an issue.
Compilation of customer opinions
Parents are overwhelmed with the safety of this seat – you can see it and feel it in the seat. It is also extremely easy to clean and take care of, another plus.
Finally, some parents did lament the fact that it did not seem as versatile as some of the other Evenflo products, especially because there are so many on the market.
Cosco Apt 40 RF​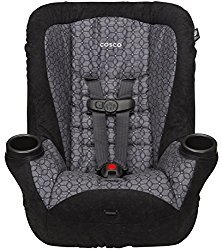 Passing all federal crash safety test, the Cosco Apt 40 RF is an affordable and bare bones convertible car seat.
It has the great ability to keep your child rear facing for 5-40 pounds, though the front-facing weight limit is only 22 to 40 pounds.
Advantages
Approved for air flight usage, this seat is one of the lighter models on the market today. It is also quite easy to clean and maneuver, making it great for people who have to change cars frequently. Finally, you can get some great accessories for it.
Disadvantages
The lack of an adjustable headrest is a bit of a downer for this seat. There is also a lack of recline, making it difficult for longer rides.
Compilation of customer opinions
Parents who use the Cosco Apt 40 RF love the low weight and the extremely affordable price for a convertible car seat. It is fantastic for people who aren't going to have the child in the car all the time, like a grandparent. Many parents do suggest getting some of the accessories you can buy, however.
Evenflo Tribute LX​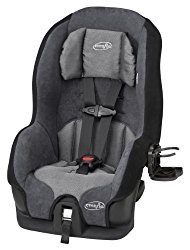 This one is among the safest and most affordable car seats for both the rear- and front- facing modes.
The rear mode goes to a standard 40 pounds, but the front-facing mode goes up to an industry high 65-pounds.
Advantages
The safety of this seat cannot be overstated. The manufacturing team has paid attention in the safety market, adding EPS foam and a security harness that outperform more expensive models.
Even better, the seat comes along with tips and tricks to give you the safest model possible.
Disadvantages
Unfortunately, the seat doesn't have a lot of stroller or accessory options, which is a downside for many people. The seat itself is also heavier, meaning that it won't be a great option for people who have to move the seat from car to car.
Overall, the biggest issue is that the versatility makes it a car seat just for the car, whereas others have more options.
Compilation of customer opinions
Parents absolutely love how safe and comfortable this seat feels. However, they also love the fact that it is one of the easiest seats to clean on the market, great for parents who have messy babies (or other children). Still, the versatility was a sticking point for many families.
Safety 1st Guide 65​


One of the most affordable convertible car seats you can find, this one has an extremely ride range of weights – 5-40 pounds for rear, 22-65 for forward facing – and a lot of safety features that parents love.
You do trade a bit here – this isn't the best looking car seat on the market. The seats do have a wide expiration date margin, so you will be able to use it for a few children.
Advantages
If you have a lot of children, the narrow seat is a great fit for smaller cars or more people. The seat itself is inexpensive, probably one of the cheapest seats on the market.
The material used on the seats is dark, so you don't have to worry about cleaning as much.
Disadvantages
Getting the tilt right on these seats is quite difficult, sometimes you even have to use a towel or a pool noodle for smaller babies. The headrest is also difficult to adjust, so you'll have to spend time doing that before usage.
Compilation of customer opinions
For customers that really need something on the lower end of the car seat budget, this has been a winner. It is safe and effective without being ostentatious. Of course people wished they could have all of the luxuries, but this is just about the basics.
Safety 1st Alpha Omega Elite​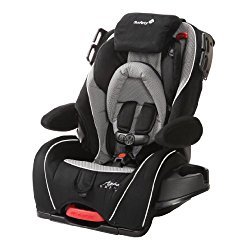 Sitting firmly in the middle of the pack is the Safety 1st Alpha Omega Elite car seat. It has a great weight range, 5-35 pounds for rear facing and 22-40 pounds for forward facing, and offers a lot of customization options for parents who want that fit.
It also has an expiration date of 10 years, making it great for people who want to have a few children.
Advantages
With a great deal of side impact protection and cushioning, if you do happen to be in an accident, your child will be safe. The harness is high tech and gives you that customized fit. It is easy to tighten and loosen, making it great for growing children.
Finally, the LATCH installation is an added bonus that you might not always find on an affordable seat. Unlike many of the other seats on the list, this one comes with a third stage as well, a booster seat.
Disadvantages
There are some limits to the recline feature on the seat. The height and weight limits are really a bit wonky here too, so you'll have to pay attention.
Compilation of customer opinions
This seat has a lot of fans. It is simple to use, cheap, and is extremely versatile. Parents love that it is a 3-in-one affordable car seat instead of just the two stage seat.
---
Cheap Infant Car Seats under $140
Buying an infant car seat can be tough. You need to have it prepared and ready to go before your baby is born, so you have to make some leaps and guesses. You have to know that your child won't be too small for the seat, or too tall from the start, or even what kind of style you want. For some parents, this can cause arguments and frustration.
One thing not to fight over is price. Affordable and cheap infant car seats are on the market and they are just as good as the higher priced seats in many cases. You have to make sure that they meet all of the safety guidelines and the federal standards in order to keep your baby safe for the first year or his or her life.
Still, your child will only be in the seat for a short time, so you don't want to spend too much money.
Evenflo Embrace LX​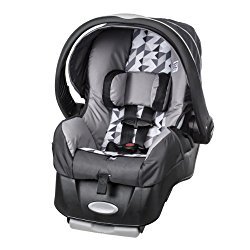 Price:
Low

Some of the most features on a cheaper infant car seat comes from the Evenflo Embrace LX. It is the perfect budget option that doesn't feel like it is a budget. It has a reclining base for comfort and EPS foam for safety.
Advantages
Probably the biggest advantage of the Evenflo Embra LX is the amount of head support offered.
It is far more than you will find in other seats, making it perfect for families that live in rural areas that might not get as much support on their roads. The seat itself is also easy to clean and assemble.
Disadvantages
Some people have found that the material used on this seat can be irritating to a baby's skin. If you have really sensitive skin or you think your baby will, you might be better off lining the seat before you use it. A lot of people also had some trouble with the canopy.
Compilation of customer opinions
Parents had the biggest problem with the skin reactions, but that seems to lessen over time, so they likely used another type of fabric in newer models.
Parents do love that you can use it with any of the Evenflo products, making shopping for things like strollers and activity bars easier.
Graco SnugRide Click Connect 35​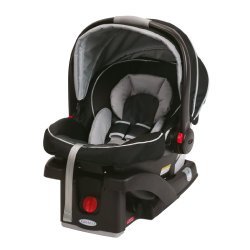 Price:
Average

This cheap infant car seat holds one of the higher weights, going all the way up to 35 pounds.
It has a lot of customization options as well, having 15 height positions and 2 crotch strap options.
The model comes with a 6-position base, 10-pound carrier, and all of the EPS foam on the market. Even better, you can use it in an aircraft.
Advantages
One of the easier seats to use, the Graco SnugRide Click Connect 35 is the best option for people who are on the move. It is easy to install, easier to position while you are driving, and fits into a large number of cars.
It even has one of the largest canopies on the market so that your baby can be protected from the elements.
Disadvantages
The seat does have a few options that are a big "basic." The lower LATCH connectors seem to be poor quality and the harness is a no-rethread, so it is a bit more difficult to work with, especially if you are using the seat with multiple children.
Compilation of customer opinions
Parents of preemies and small babies have long lauded this seat as one of the only options they have. Still, parents who have average sized babies didn't like that it went lower instead of going higher. Parents also loved the customer service team at Graco.
Disney Light 'n Comfy Luxe​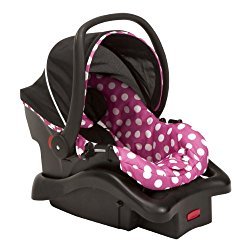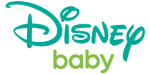 Covered in Mickey Mouse, this is a kitschy car seat that your little one will love. As per the Disney standard, everything is well-built and easy to clean for parents. Sincerely, Disney is a company that doesn't make anything "cheap" or poor quality, so you can always trust the mouse.
The seats are comfortable and the harness is extremely easy to use. This one will accommodate an infant up to 22 pounds. While it doesn't come with that many accessories, they are available online. Truly, you don't need many accessories when you have a seat like this anyway.
Advantages
Neat little compartments that fit wipes or a binky will make travelling a lot easier. The 5-point harness system offers extreme protection and safety in the case of an accident. Adjusting the seat is easy and takes only one hand once you know what you are doing. The instruction manual explains everything in great detail, so you won't have to wonder and struggle.
Finally, the entire seat is light and compact so that it fits into just about any vehicle and it won't hurt your arms when you are carrying your baby around in the carrier.
Disadvantages
There could be a bit more padding within this option. The canopy gets the job done, but it might not be the most exciting canopy on the market today. If you are on gravel, there have been reports that the seat vibrates a bit.
Compilation of customer opinions
Some parents complained about the warning label, which is quite prominent on the seat but truly doesn't impact any of the functionality of the seat at all. Overall, most really liked it and loved the accessories and customer service that they received.
Baby Trend Flex Loc​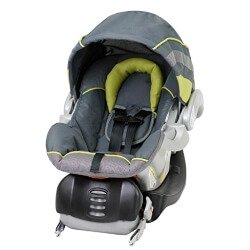 One of the best cheap infant seats on the market for new parents, everything about this seat is easy. The installation is quite simple using flexible LATCH connectors.
The reclining base comes standard and it passes all of the appropriate tests. Finally, it is approved for children between 5-30 pounds, quite a range.
Advantages
The flexible LATCH locks are universally loved, making it very easy to install this seat. If you have a small car, a big car, or you are consistently moving your seat, this is a fantastic option.
The seat is user friendly as well, showing you where and how to put things. Finally, it goes along with the Baby Trend line, meaning that you can buy accessories pretty quickly and easily.
Disadvantages
The handle is a big problem on this one. It seems that many parents have a hard time adjusting. If you are going to use the carrier frequently, it could be an issue.
The weight limit is still a bit low, so you'll have to buy a seat sooner. However, going all the way down to 5 pounds does make it easier if you have preemie.
Compilation of customer opinions
Many parents have had success with this seat, especially if they don't want to use the carrier. The seat portion itself is highly rated and universally loved. You'll have to weigh the pros and cons of what you want to do with the seat.
---
What is better: a used or an inexpensive​ car seat?​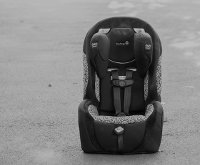 When it comes to buying a car seat, so many people are looking for the low-cost model and don't take care to figure out what is actually best for their babies. You absolutely should buy a brand new safety seat for your child, even if you have to shop around for the best deal, buy a budget car seat, or wait until the one you want is on sale.
Used car seats can be extremely dangerous because you don't always know their history. Even if you know for sure that the seat in question wasn't involved in an accident, wear and tear on the seat and the mechanisms can render them ineffective or weaker against protecting your child if you are in an accident.
You also have to note that used baby automobile seats harbor tons of bacteria and even mold, something you don't want to expose your child to. Look around, do some shopping, and you'll find a cheap auto seat that will fit your needs and keep your child safe.
In fact, when it is time to rid yourself of the car seat, you should absolutely destroy it so that no one can take your seat. Make sure to cut off all of the zips and tethers, throw the padding in another trash can, and destroy the plastic as much as you can.
How do you find best price​ car seat model?​
Finding the best price for a car seat isn't that difficult if you are willing to put the work into it. There are many companies and stores that sell it at a discount, you just have to know when to look.
Do your research to see when stores are having sales – typically in the spring and fall. You can easily find these sales at the "end caps" of stores like Target or Walmart. Online, it is even easier – all you have to do is "sort by price" and you will see the lowest priced car seats.
You will have to do your research to see why certain brands or models are on discount. More than likely, it is because they have moved to a newer look or feel for their car seat. Sometimes the "older" models won't have some technological feature or the accessories that are popular right now. This doesn't mean they don't work or are outdated! In fact, stores are not allowed to sell models that are expired.
Sometimes the best priced car seat won't have a cool pattern or something that is cosmetic – and if you are looking for a deal, that shouldn't matter to you. What you do need to look at are the specifications and details about the product.
You should also note that this is going to be one of the most important purchases you make, so going for the cheapest child seat might not be the best – you have to think about keeping your child safe.
Are cheap seats​ safe? What should pay attention when choosing these seats?​
Just like with other things, you can't always gauge the effectiveness or the safety of something by the price. Typically, the higher priced car seats are from brands with high-end names, come from collaborations, use branded images, or just have more "stuff" that does along with them. Some seats that are more expensive will come with more safety features, so you should read the fine print carefully. Look up your state standards, especially if you are buying your child seat online.
When looking for car seats, you want to first look at the specifications. You want to see how heavy your baby can be to use the seat, how long your baby can be, and what age your child can use the car seat up to. You also want to look at the reviews from other parents – did they like it? What gave them problems? What didn't?
Pay attention to things like the amount of padding in the car seat, how easy it was the transport and install, and whether or not the car seat stood up to the wear and tear of use. At the end of the day, you have to do what is right for you, your budget, and your baby. Don't cut corners where you don't have to, but know that the most expensive car seat isn't necessarily that much safer than one that is more affordable.