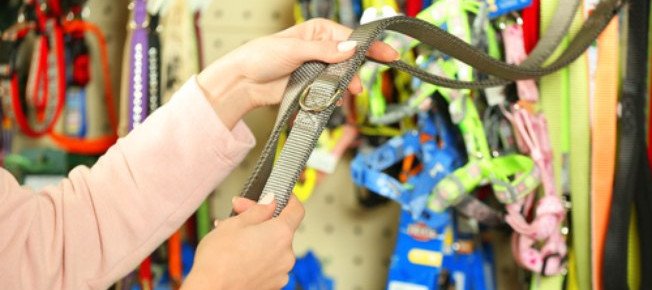 What's the first thing you do when you get in the car? If you said, "I put on my seat belt", good job! But what about your dog? Just like you, your dog needs to be securely restrained any time he's in the car. There are several pet safety restraints on the market. To find the best dog car harness and seat belts, you need to find one that properly fits your dog's body type and personality.

If you are in an accident, a dog harness or dog seat belt should keep your dog safely restrained. When a travel restraint is used correctly, you don't have to fear taking your dog on long distance trips on the highway. In fact, good restraints can keep both you and your dog calmer by lessening distractions.
Keeping your dog restrained in the car means that:
Your children will be safe
Your passengers won't be distracted
You can put all of your focus on the road in front of you
The best dog harnesses have passed all of the tests and reviews in two areas: protecting the inside of your car and keeping your dog safe at the same time.
The right harness will be comfortable enough that the dog won't mind wearing it and will be made of materials that won't irritate your dog's skin or pull his hair. However, they should also be strong, able to withstand the pulling and torque of a dog who wants to break free and able to withstand tremendous crash forces.
---
Jump to reviews of the best devices for safely tethering a dog to the car
Dog Car Harness

for strapping medium and​ large dogs to car seat belts
For bigger dogs, a car harness is the perfect option to keep them comfortable and safe when commuting. They won't take up any extra room unlike a dog crate or dog booster seat.
Dog Car Seat Belts

for attaching a harness to car seat belts
A dog car seat belt helps to attach the harness to your car using the seat belts. This gives you an added layer of protection for some dogs or can be used alone when transporting smaller dogs.
---
Why is it dangerous if a large dog is not fixed in the car with a special harness
Larger dogs are extremely strong, something you probably already know when you walk the dog, but he ends up walking you! They can easily snap or chew through leashes, belts, and even seat belts.
Even worse, it's difficult (and costly) to find booster seats that will hold them. Crates are another option, but they can take up a huge amount of room. Therefore, one of the best options is to buy a special harness that is built specifically for large dogs.
All dogs can be a distraction for the driver, which could cause an accident. Large dogs can cause even more damage. Their size alone can be a danger to passengers and your car's interior.
Keeping your dog fixed in place will keep your
Passengers safe
Driver safe
Dog safe
Car safe
Even if your dog is easy going and doesn't jump around, the weight of the dog and the movement of the car can be enough to snap harnesses. Typically, big dog harnesses are made out of more heavyweight materials. Fixing your dog with a special harness will keep everyone safe.
IMPORTANT: Before you buy any dog car harness
Child car seats and vehicle seat belts are easier to design in that humans have basically the same build depending on age. Therefore, they're easier to consistently test for safety. The challenge is that dogs come in many different breeds, sizes, weights and shapes. That makes it difficult to make pet safety restraints that are universally safe for every dog.
That's why it's important to accurately measure your dog before you purchase any restraint. They are made specifically for dogs of different sizes.
Unsure how to measure your dog? First you need to measure your dog's chest, which is the girth right behind the armpits. Then measure the lower neck.
Once you have accurate measurements, you're ready to shop!
---
Best Dog Car Harnesses – 2019 Independent Reviews & Safety Tests
We have tested each car harness from systematized customer reviews from the US.
---
EzyDog – Travel Dog Car Harness​​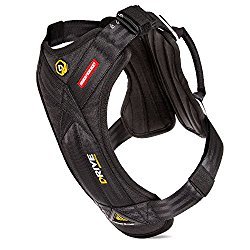 Price:
High

The EzyDog DRIVE Dog Car Harness is a premium dog car harness at a premium price. Made in three sizes, the fit will depend on the girth of your dog, which is the circumference of the body behind the front legs.
One of the few car harnesses with crash safety results on video, the EzyDog Drive is a real contender as a safe and reliable harness, especially for large dogs. It was crash tested at Automotive Safety Engineering in Australia.
| Size | Girth (behind front legs) |
| --- | --- |
| Small | 11-25 in |
| Medium | 15-34 in |
| Large | 19-42 in |

Read Our Review of the EzyDog DRIVE
Pros

and

Cons
Owners love the fact that it has a "Mag Lok" closure system that allows them to fit the harness once and not have to readjust it with every car trip. The moldable, ergonomic chest plate provides a good fit for most dogs.
The harness can also be used as a walking harness. Strong high-quality fabric and stitching in the straps make this a very sturdy and safe harness.
The wide straps, long neck cuff, and overall stiffness of the harness could be uncomfortable for small dogs and dogs with short necks. Dogs that like to lie down a lot may find the stiffness to be uncomfortable as well. It may also be too stiff for some dogs as a walking harness.
Dogs that are habitual chewers may be able to chew into the shoulder straps. Hair may accumulate in the Velcro, so frequent inspections and handwashing may be necessary.
Compilation of customer opinions
Customers loved that the size was so easily adjustable. They liked the Velcro tabs that concealed excess sizing fabric.
Some customers thought the harness was better for large dogs but too stiff and bulky for small and medium dogs and those that like to lie down while traveling.
Different Models

EzyDog Convert Trail-Ready Dog Harness
The EzyDog Convert Trail-Ready Dog Harness is a rugged harness built for very active lifestyles and for service dogs. It comes with reflective strips, an LED light mount, and a padded handle. It comes in 7 sizes (XXSmall to XXLarge) for dogs from 15" to 45.5" in girth. Can be used in the car with a separate seat belt attachment.

EzyDog Chest Plate Harness
The EzyDog Chest Plate Harness features a soft EVA panel that conforms to your dog's chest over time to provide a perfect fit and keeps them from backing out of it. It comes with a seat belt restraint for use in a vehicle. It comes in 10 colors and 6 sizes (XSmall to XXLarge) for dogs between 7 and 77 + pounds and girth of 12" - 53".
Ruffwear – Load Up Vehicle Restraint​​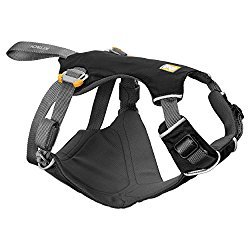 This harness was tested at the MGA Research Corp (a NHTSA contracted test facility). It has a universal attachment that fits most vehicle seat belts and is great for long car trips. The fabric is comfortable enough to keep on during potty breaks but the all-metal hardware makes it strong and secure.
| Size | Girth (behind front legs) |
| --- | --- |
| XXSmall | 13-17 in |
| XSmall | 17-22 in |
| Small | 22-27 in |
| Medium | 27-32 in |
| Large | 32-42 in |

Read Our Review of the Ruffwear Load Up
Pros

and

Cons
If you're already a Ruffwear brand fan, you'll probably like this harness. Many loyal Ruffwear customers have been satisfied with this one. It seemed to fit barrel-chested dogs like whippets really well. The 5 sizes offered make this harness good for a wide range of dogs. Most dogs were able to lie down, sit or stand easily.
While the harness can allow more freedom of movement, if your dog is super wiggly, he may get tangled in the seat belt. The clips to close the harness take a little getting used to, which can be more difficult with a wiggly dog. We recommend you watch videos like this to get a good feel for putting it on. Some owners put it on upside down and didn't realize it until later.
Compilation of customer opinions
Some customers bought this Ruffwear harness as a size upgrade for the SleepyPod Clickit Sport as they seemed to fit their large dogs much better. The sturdiness made the harness better for longer trips, but a few customers felt it was too difficult to adjust for everyday drives. Also, some people reported that the harness was too long for their dogs and covered their privates, so they couldn't wear it when going potty.
Different Models

Ruffwear Front Range
Good for everyday use. Webbing loop on chest, aluminum ring on back. Comes with ID tag pocket. Comes in 5 sizes (XX Small to Large/XLarge) for dogs between 13" - 42" in girth.

Ruffwear Web Master
Designed for extended hikes and working dogs. Has padded handle to help dogs over obstacles. Comes in 5 sizes (XX Small to Large/XLarge) for dogs between 13" - 42" in girth.
Kurgo Tru-Fit Crash Tested Dog Harness​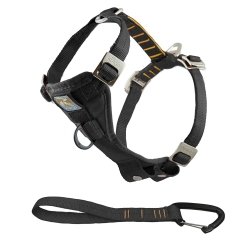 Made in 5 sizes, the Kurgo Tru-Fit fits dogs from 5 - 110 pounds. It has 5 adjustment points to more easily fit dogs with varying body shapes and comes in black and red.
Made with steel and natural fibers, this is a good option for people who plan to travel further distances with their dogs. These harnesses were crash tested at the University of Michigan Transportation Research Institute.
| Size | Neck | Chest | Dog Weight |
| --- | --- | --- | --- |
| X-Small | 9-13 in | 12-18 in | 5-10 lbs |
| Small | 12-20 in | 16-22 in | 10-25 lbs |
| Medium | 16-25 in | 18-28 in | 25-50 lbs |
| Large | 18-30 in | 24-34 in | 50-80 lbs |
| X-Large | 24-35 in | 28-44 in | 80-110 lbs |
Pros

and

Cons
After a short learning curve, buckling this harness on your dog should come easily. The many adjustment points is something that many dog owners appreciated, particularly those who owned a few different types/sizes of dogs. The metal buckles feel sturdier than plastic ones on other harnesses. You can also comfortably walk your dog in this harness.
These harnesses may not fit snugly enough and may be too heavy on very small dogs such as Chihuahuas. There is no swivel attachment, so dogs that like to circle in their seat may twist the tether strap. There is a heavy-duty swivel attachment you can purchase separately. Several people had a hard time buckling the harness, so be sure to watch videos on the Kurgo website to help if you're having a hard time.
Compilation of customer opinions
One thing that impressed customers is that Kurgo will replace any harness that's been worn during an accident at no charge. They'll also replace chewed harnesses for a small fee.
Different Models

Kurgo Journey Harness
Multi-use harness for running, walking and hiking. Comes with lift-assist handle. Not for use as a car restraint. Comes in 4 sizes (Small to XLarge) for dogs between 10 and 110 pounds.

Kurgo Go Tech Adventure Harness
Lightweight with all-steel buckles and v-neck for freedom of movement. Back and front leash rings. Not for use as a car restraint. Comes in 5 sizes (XSmall to XLarge) for dogs between 5 - 100 pounds.
Mighty Paw – Vehicle Safety Harness​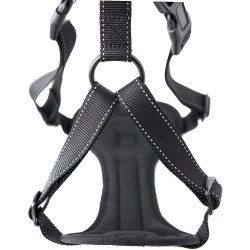 The Mighty Paw Vehicle Safety Harness is one of the few vehicle harnesses that does double duty as a good walking harness. It comes in 4 sizes for dogs from 16" - 44" in girth. For the car, you also need the Mighty Paw Safety Belt, which must be bought separately.
According to Mighty Paw, their harness was not crash tested by a third party, but was privately tested and passed. Legally, since it was only privately tested, they aren't allowed to share those results publically. If this bothers you, then this harness would probably be best used as a walking/hiking harness instead.
| | S | M | L | XL |
| --- | --- | --- | --- | --- |
| Neck | 12-20" | 16-25" | 18-30" | 24-35" |
| Chest | 16-22" | 18-28" | 24-34" | 28-44" |
Pros

and

Cons
This harness is affordable. It has 4 tri-glide adjusters for a more secure fit. There are two leash attachments for multi-purpose uses in vehicles, walks, runs or hikes. The separate safety belt attaches to the car's LATCH system which prevents the problem of your dog getting loose from accidentally stepping on the seat-belt release.
Mighty Paw has a 90 day 100% satisfaction guaranteed policy. They seem pretty responsive so call CS if you find any defects.
You have to buy the seat belt separately, which is rather inconvenient. Luckily, they're not expensive, but it would be nice if they were sold together. Sizing may be off, as some customers reported that the harnesses could be too loose on very small dogs.
Compilation of customer opinions
People loved that it worked so well as a walking harness and had lots of adjustment points. Most found it easy to put on and take off, but some customers wished there were more pictures or a video to help. For some customers, their dogs chewed through it pretty easily, and for others, some didn't like the plastic buckles and felt they weren't sturdy.
Solvit – PetSafe Deluxe Car Dog Harness​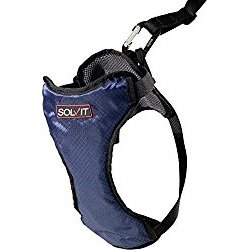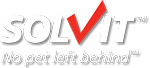 The Solvit Deluxe Car Safety Harness is good for those that make shorter trips with their dogs. It comes in 4 sizes for dogs from 6 - 120 pounds. It also comes with a tether that attaches to the vehicle seat belt.
According to PetSafe, the harness was crash-tested in a DOT-approved facility and stress-tested to 3,000 pounds plus. From what we gather, it performed much better when used with an optional 3-point attachment which doesn't seem to be available now. For maximum safety in the car, we recommend purchasing a separate safety tether (or two) that can hook the car's LATCH anchors, such as the Mighty Paw Safety Belt.
| Size | Chest | Neck | Weight |
| --- | --- | --- | --- |
| Small | 12-21 in | 12-18 in | 6-25 lbs |
| Medium | 15-24 in | 16-24 in | 20-55 lbs |
| Large | 18-33 in | 18-28 in | 45-85 lbs |
| X-Large | 23-40 in | 24-32 in | 60-120 lbs |
Pros

and

Cons
The price point is an obvious pro here for many people, who feel this is one of the best values that you can get. It is also extremely easy to clean and adjust, making it the perfect option if you have more than one dog. Pet owners liked that it offered their dogs enough wiggle room to lie down and sit.
Since this is a bit thinner and less padded than heavier-duty harnesses, your dog likely won't be as comfortable for longer trips. It may not hold together well in high-velocity crashes as is, unless you purchase extra LATCH attachments or another heavier-duty brand.
Compilation of customer opinions
Here is one interesting use from a customer whose dog constantly dug under their fence. She attached a bright orange pool noodle to one of the loops on the harness. It kept her dog from getting under the fence and made him easier to spot as well.
---
Secure Seat Belt Restraints for Dogs
The most affordable restraints for fixing your dog or puppy in the car.
The best dog seat belts are sturdy enough to hold your dog in place by attaching to the dog's harness and to the vehicle seat belt and/or LATCH anchors.
Seat belt restraints may come with your dog harness, or they may have to be purchased separately. In any case, it's the one part of the harness that will get the most torque and abuse, which means that it needs to be replaced from time to time.
A seat belt harness also allows you to save some money here – you can buy a cheaper harness but pay a little more for a seat belt restraint. Some people will even use two at a time for bigger dogs that like to move around a lot.
Make sure that the model you purchase works with your particular car and the harness that you have. A dog seat belt is a travel essential, whether you're driving across the country or just to the vet.
Important safety tip: NEVER use a dog seat belt with a dog collar. Use only with a dog car harness. Using it with a collar could lead to severe injury in the event of a crash, including strangulation, broken neck, or death.
Leash Boss – Dog Car Seat Belt​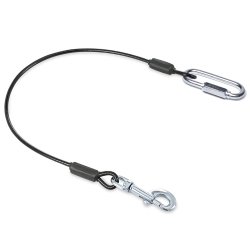 This chew-proof restraint is made with a heavy duty nylon-covered steel cable. It's the same material used for dog tie-outs. They are designed to attach your dog's existing harness to the car's LATCH anchors. The restraint comes in 5 sizes - 16", 21", 26", 31", and 36".
To get the right measurement, you measure from the dog's harness connection, down at a 45 degree angle to the floor. Round this number up to the nearest seat belt size to find the best fit. NOTE: The length includes the length of the clasps on the end.
Pros

and

Cons
Owners with chronic chewers were happy that the steel cable deterred their dog from destroying the seat belt. You can leave them hooked up in the car for easy attaching to your dog's harness for every trip. Customer service seems to be top notch, responds quickly, and sends replacements when needed.
Though the cord can't be easily chewed through, dogs may still damage the nylon coating. It should not interfere with the seat belt integrity, however. If the LATCH anchors in the seat are hard for you to reach easily, you may need to use the top tether anchors, so be sure to check that first. Then measure and purchase according to which anchors you'll need to use.
Compilation of customer opinions
According to a few owners, these can also be connected to the tie-down clips in your cargo area if you have them. Some people reported that the LATCH connectors broke. Other customers said their belts ended up being too short and that the dogs could barely move. Be sure to order UP to the next highest length in inches AFTER you measure properly.
Mighty Paw – Dog Seat Belt​​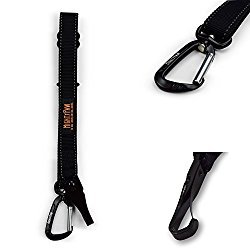 The Mighty Paw Safety Belt attaches to the LATCH anchors with a rock-climber's carabiner clip made from aviation aluminum. You can adjust the length from 16" - 26" to fit dogs of any size. It comes in two colors (black & gray) and also comes with a tangle-free attachment that allows your dog to turn easier without getting tangled.
Pros

and

Cons
Extremely easy to install and use, just attach it to your car's LATCH anchors and leave it there for quickly attaching your pup's harness for every trip. The swivel attachment has been especially popular with owners to keep their pups from getting tangled.
Some dogs still managed to get tangled, however, if the seat belt was too short. Dogs that are habitual chewers may chew through this seat belt, so keep that in mind.
Compilation of customer opinions
Owners of very large breeds loved that this offered their dog just enough room to comfortably lie down without getting carsick, but not so much room that they could climb into the front seat. Some dogs that tend to lean out windows, etc, may do better attached to the top tether anchors.
Blueberry Pet – Seatbelt​​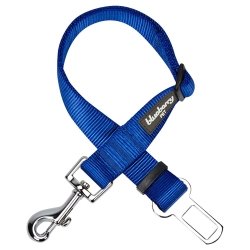 The most colorful option, Blueberry Pet Dog Seat Belts are great for dogs of any size and many different cars. It comes in several bright colors and can even be personalized. The seat belt is 1" wide and adjusts from 16.5" - 25.5". It hooks into your regular seat belt buckle.
NOTE: This seat belt is NOT compatible with Volvo cars.
Pros

and

Cons
A basic seat belt, the colors and the variety make this very customizable. You can purchase matching collars, leashes and harnesses separately. There's also an option to customize the collars with embroidering your pet's name, your phone # or address, etc. Owners love the bright colors and that they don't fade even after washing.
Since it only hooks into the regular seat belt buckle, you may want to buy some buckle guards like the Buckle Buddy along with this seat belt. Some owners reported that their dogs stepped on the button and got loose. A few people found it difficult to release from the seat belt buckle.
Compilation of customer opinions
By far, the biggest complaint was that dogs could step on the seat belt button and unbuckle themselves. A seat belt buckle guard is a great addition to help prevent this.
EzyDog Click – Dog Restraints Seatbelts​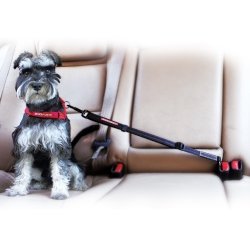 This simple design is made to click and go. It's adjustable from 17.5" - 26" to fit dogs of many sizes. It clips into your existing seat belt buckle and fits most vehicles, but may not fit all. It comes in black, gray and tan.
Pros

and

Cons
2400 pounds of breaking strength makes this belt super strong. It's made of nylon seat belt webbing and has a swivel style heavy-duty snap hook to handle the pull of large dogs. It's compatible with most dog harnesses, including the EzyDog Quick Fit, Chest Plate, and Convert harnesses.
Again if you have a dog that tends to step on the seat belt button, they could unbuckle themselves unless you use a seat belt buckle guard. Also, dogs who like to chew can chew through this one, so you may be better off with one of the steel-corded ones.
Compilation of customer opinions
Some pet owners with Hyundai and Toyota (Camry & Sequoia) vehicles said the belt clip didn't work in their cars. If you are concerned about compatibility, you may want to go with the EzyDog Universal Dog Car Restraint, which hooks onto your car's actual seat belt and doesn't clip into the buckle.
Kurgo Dog – Seat Belt​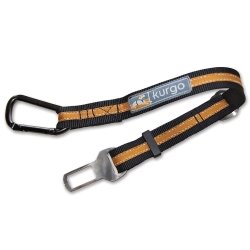 This seat belt from Kurgo comes in 4 different styles to accomodate dogs that behave differently. They are designed to work with most dog harnesses.
Pros

and

Cons
Carabiner Clip: Comes in black/orange and blue. Hooks into the vehicle seat belt buckle. Adjustable from 15" - 22". NOTE: Not compatible with Volvo & not recommended for Ford trucks.
Swivel Clip: For dogs who can't sit still, the swivel clip prevents them from getting tangled up. The locking carabiner clip provides stronger restraint for large dogs who may be escape artists. Comes in red. It's 10" long and tethers to the car seat belt strap.
Tether: A more basic seat belt that tethers to the car seat belt strap. Adjustable from 15" - 22". Comes in black/gray. NOTE: Not compatible with Volvo & not recommended for Ford trucks.
Zipline: Can be attached between any 2 fixed points (ex: 2 seatbelts, side ceiling handles, cargo area). Designed for hyperactive dogs who love to see out the window and keeps them from jumping out. Allows plenty of freedom of movement. Comes in black/orange.
Dogs may be able to press the seat belt button and release themselves from the carabiner clip style. All dogs that are chewers can chew through these pretty quickly. The seat belt clip may not work well in Toyota Tundras and other non-US made brands. If you try the zipline, be sure to test it first so you know how much room your dog has to move so he won't end up jumping out the window or into the front seat.
Compilation of customer opinions
Most pet parents love all of these styles for various reasons. The carabiner clip performed well in a customer-reported accident. However, from customer feedback, if you have a large or active dog, it would be best to go with the swivel clip, as it's less prone to twisting.
Leegoal – Nylon Seat Belt​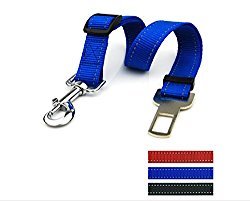 The Leegoal Nylon Harness is a no-muss, no fuss option which adjusts from 19.5" - 31". It's made of strong nylon material with reflective stitching so it's easier to see on nighttime drives. One end clips into your car's seat belt buckle, while the metal hook on the other end attaches to your dog's harness. It comes in plain black and 3 colors with reflective stitching - black, red, and blue. Weight capacity is 110 pounds.
Pros

and

Cons
Extremely easy to use and compact, this option fits right into your glove compartment or purse, or you could just leave it hooked into your seat belt buckle for quick connection. This is not a heavy duty seat belt, so it's best for quick trips that don't require high speeds.
With a weight capacity of 110 pounds, this isn't made for very large dogs. Since it's pretty basic nylon, it isn't a good option for dogs that like to chew.
Compilation of customer opinions
Customers are somewhat divided on this one. Most who use this for small to medium dogs for quick trips have no issues with it. Owners with large dogs who like to chew found it just wasn't strong enough.
---
The best car seats for dogs help to keep your dog in place while you are traveling and keeps him or her safe so that you can get from one place to another. According to the National Highway Traffic Safety Administration (NHTSA), nearly 10​% of all​ fatal crashes and 18​% of injury crashes involve some type of distraction.
To avoid that dangerous situation, keep your dog fixed to the car with a special harness that fits within the weight and size limits of your dog. Do your research to secure the best one. Make sure to test the integrity of the harness after some use as well, as the wear and tear can degrade them.
Only YOU know what's best for your dog
Dog booster seats and other car pet restraints, unlike child safety seats, do not have standard, federal safety tests that they must pass in order to be legally sold. Any crash testing comes from independent tests either from manufacturers or from organizations such as the Center for Pet Safety. Those tests can have varied results due to different testing methods and conclusions. Since there is currently no federal standard for pet restraints, we list a wide variety of products tested in different facilities.
Therefore, it's up to you to decide which products you feel would be safest for your dog. Keep in mind, however, that any car restraint is better than none at all. If you're doubtful about any of them, it's best to keep looking until you find one that you can feel good about.
What to look for when buying a good dog car harness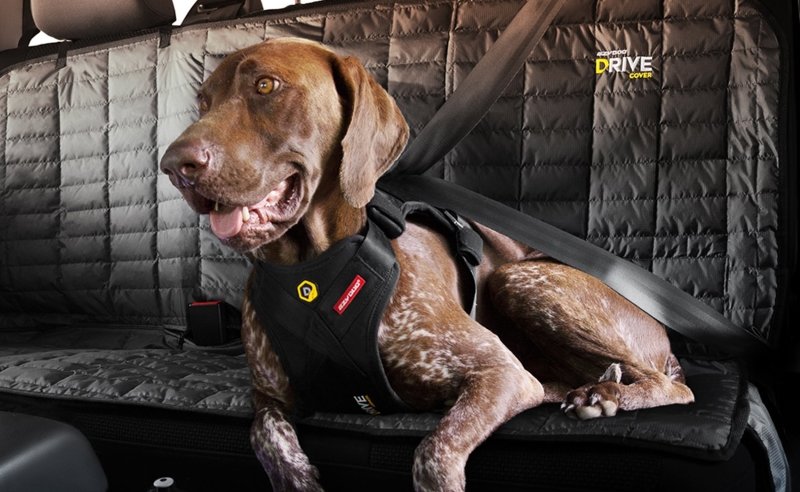 Dogs vary widely in size, shape and temperament. Some dogs are big and laid back, others are small and hyper or vice versa, and anywhere in between! Always measure your dog's girth and any other measurements that are listed in sizing charts when shopping for harnesses.
Know whether your dog is hyper or calm in the car. Does he like to turn in circles when riding? Does he chew a lot? These things are important factors when buying dog car restraints.
When you're ready to shop, look for:
Easy adjusting – It's essential to have the right fit so the harness is snug enough. The best fitting harnesses will have a few different points of adjustment. This can be even more important for long, barrel-chested breeds like greyhounds. But, look for one with sturdy buckles that are easy for you to hook and unhook.
Multi-functioning – Harnesses that can be used for BOTH car and walking are hard to come by, but they can be very convenient, especially if you're making several stops on the same trip.
Comfy, wide straps – Safety is most important, but you want straps that are comfy too, especially on longer trips. Wider straps help to spread out the friction forces better than narrow straps.
Sized correctly – Some brands make harnesses that tend to fit small dogs better or vice versa. Read through reviews to get a feel of what owners thought about the fit.
The safest place for your dog to ride
Just like kids under 13, the safest place for pets is in the back seat. Sure, lots of dogs love to ride shotgun, but airbags can be deadly for dogs (especially small dogs) in a crash. If your dog must ride in the front seat, turn off the passenger air bag when he's riding with you if your car has that capability.
Many people put dogs in the cargo area of their SUVs. But cargo areas are often crumple zones, and just like the front crumple zone, it's designed to be crushed in an accident. This means your dog is more likely to be crushed as well. So, if you can, put your dog in the backseat with a good dog harness and seat belt.
Traditional walking harnesses and car harnesses are NOT the same!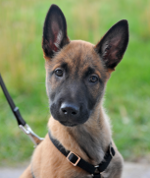 Traditional harnesses and car harnesses may look alike, but they certainly are not. In fact, using a walking harness in the car can be deadly for your dog.
They aren't made to withstand the pressure of a car crash, meaning they can break and send your dog flying, or they can choke your dog.
Using your dog's walking harness in the car can render it useless because you are putting unwanted force on the bearing, seams, and metals that make up the harness. It is likely that the O-ring on the back will rip out in an accident.
Remember this rule: If you're in the car with your dog, make sure he has a restraint made FOR riding in the car!
Never hook up to your dog's collar!
We came across several customers who mentioned hooking dog seat belts to their dog's collars. Please, NEVER do this. If you're in an accident, it will essentially become a noose. You dog could be strangled, his neck broken or worse. A dog car harness is designed to distribute crash forces evenly over the strongest parts of the dog's body. Most harnesses can also be worn with your dog's collar. But hook the seat belt to the harness only!