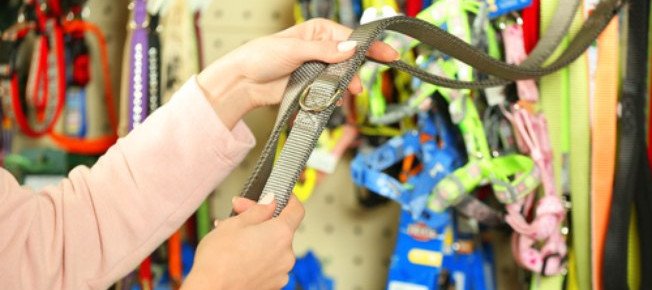 What's the first thing you do when you get in the car? If you said, "I put on my seat belt", good job! But what about your dog? Just like you, your dog needs to be securely restrained any time he's in the car. There are several pet safety restraints on the market. To find the best dog car harness and seat belts, you need to find one that properly fits your dog's body type and personality.

If you are in an accident, a dog harness or dog seat belt should keep your dog safely restrained. When a travel restraint is used correctly, you don't have to fear taking your dog on long distance trips on the highway. In fact, good restraints can keep both you and your dog calmer by lessening distractions.
Keeping your dog restrained in the car means that:
Your children will be safe
Your passengers won't be distracted
You can put all of your focus on the road in front of you
The best dog harnesses have passed all of the tests and reviews in two areas: protecting the inside of your car and keeping your dog safe at the same time.
The right harness will be comfortable enough that the dog won't mind wearing it and will be made of materials that won't irritate your dog's skin or pull his hair. However, they should also be strong, able to withstand the pulling and torque of a dog who wants to break free and able to withstand tremendous crash forces.
---
Jump to reviews of the best devices for safely tethering a dog to the car
---
Why is it dangerous if a large dog is not fixed in the car with a special harness
Larger dogs are extremely strong, something you probably already know when you walk the dog, but he ends up walking you! They can easily snap or chew through leashes, belts, and even seat belts.
Even worse, it's difficult (and costly) to find booster seats that will hold them. Crates are another option, but they can take up a huge amount of room. Therefore, one of the best options is to buy a special harness that is built specifically for large dogs.
All dogs can be a distraction for the driver, which could cause an accident. Large dogs can cause even more damage. Their size alone can be a danger to passengers and your car's interior.
Keeping your dog fixed in place will keep your
Passengers safe
Driver safe
Dog safe
Car safe
Even if your dog is easy going and doesn't jump around, the weight of the dog and the movement of the car can be enough to snap harnesses. Typically, big dog harnesses are made out of more heavyweight materials. Fixing your dog with a special harness will keep everyone safe.
IMPORTANT: Before you buy any dog car harness
Child car seats and vehicle seat belts are easier to design in that humans have basically the same build depending on age. Therefore, they're easier to consistently test for safety. The challenge is that dogs come in many different breeds, sizes, weights and shapes. That makes it difficult to make pet safety restraints that are universally safe for every dog.
That's why it's important to accurately measure your dog before you purchase any restraint. They are made specifically for dogs of different sizes.
Unsure how to measure your dog? First you need to measure your dog's chest, which is the girth right behind the armpits. Then measure the lower neck.
Once you have accurate measurements, you're ready to shop!
---
Best Dog Car Harnesses – 2021 Independent Reviews & Safety Tests
We have tested each car harness from systematized customer reviews from the US.
---
---
Secure Seat Belt Restraints for Dogs
The most affordable restraints for fixing your dog or puppy in the car.
The best dog seat belts are sturdy enough to hold your dog in place by attaching to the dog's harness and to the vehicle seat belt and/or LATCH anchors.
Seat belt restraints may come with your dog harness, or they may have to be purchased separately. In any case, it's the one part of the harness that will get the most torque and abuse, which means that it needs to be replaced from time to time.
A seat belt harness also allows you to save some money here – you can buy a cheaper harness but pay a little more for a seat belt restraint. Some people will even use two at a time for bigger dogs that like to move around a lot.
Make sure that the model you purchase works with your particular car and the harness that you have. A dog seat belt is a travel essential, whether you're driving across the country or just to the vet.
Important safety tip: NEVER use a dog seat belt with a dog collar. Use only with a dog car harness. Using it with a collar could lead to severe injury in the event of a crash, including strangulation, broken neck, or death.
---
The best car seats for dogs help to keep your dog in place while you are traveling and keeps him or her safe so that you can get from one place to another. According to the National Highway Traffic Safety Administration (NHTSA), nearly 10​% of all​ fatal crashes and 18​% of injury crashes involve some type of distraction.
To avoid that dangerous situation, keep your dog fixed to the car with a special harness that fits within the weight and size limits of your dog. Do your research to secure the best one. Make sure to test the integrity of the harness after some use as well, as the wear and tear can degrade them.
Only YOU know what's best for your dog
Dog booster seats and other car pet restraints, unlike child safety seats, do not have standard, federal safety tests that they must pass in order to be legally sold. Any crash testing comes from independent tests either from manufacturers or from organizations such as the Center for Pet Safety. Those tests can have varied results due to different testing methods and conclusions. Since there is currently no federal standard for pet restraints, we list a wide variety of products tested in different facilities.
Therefore, it's up to you to decide which products you feel would be safest for your dog. Keep in mind, however, that any car restraint is better than none at all. If you're doubtful about any of them, it's best to keep looking until you find one that you can feel good about.
What to look for when buying a good dog car harness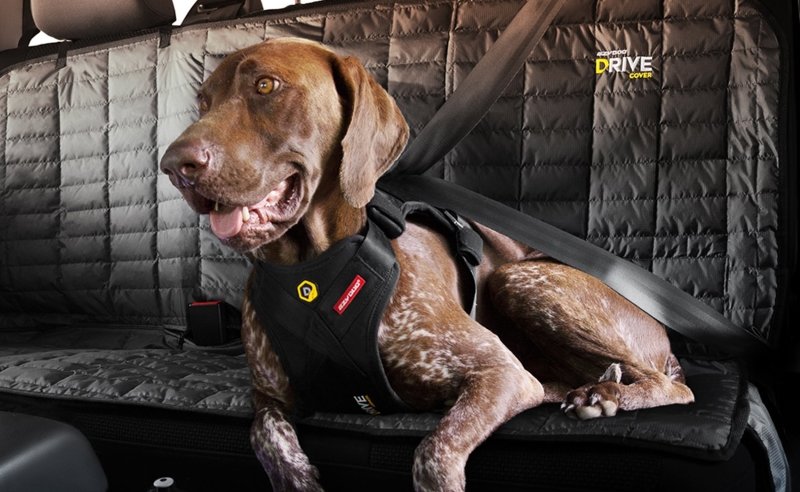 Dogs vary widely in size, shape and temperament. Some dogs are big and laid back, others are small and hyper or vice versa, and anywhere in between! Always measure your dog's girth and any other measurements that are listed in sizing charts when shopping for harnesses.
Know whether your dog is hyper or calm in the car. Does he like to turn in circles when riding? Does he chew a lot? These things are important factors when buying dog car restraints.
When you're ready to shop, look for:
Easy adjusting – It's essential to have the right fit so the harness is snug enough. The best fitting harnesses will have a few different points of adjustment. This can be even more important for long, barrel-chested breeds like greyhounds. But, look for one with sturdy buckles that are easy for you to hook and unhook.
Multi-functioning – Harnesses that can be used for BOTH car and walking are hard to come by, but they can be very convenient, especially if you're making several stops on the same trip.
Comfy, wide straps – Safety is most important, but you want straps that are comfy too, especially on longer trips. Wider straps help to spread out the friction forces better than narrow straps.
Sized correctly – Some brands make harnesses that tend to fit small dogs better or vice versa. Read through reviews to get a feel of what owners thought about the fit.
The safest place for your dog to ride
Just like kids under 13, the safest place for pets is in the back seat. Sure, lots of dogs love to ride shotgun, but airbags can be deadly for dogs (especially small dogs) in a crash. If your dog must ride in the front seat, turn off the passenger air bag when he's riding with you if your car has that capability.
Many people put dogs in the cargo area of their SUVs. But cargo areas are often crumple zones, and just like the front crumple zone, it's designed to be crushed in an accident. This means your dog is more likely to be crushed as well. So, if you can, put your dog in the backseat with a good dog harness and seat belt.
Traditional walking harnesses and car harnesses are NOT the same!
Traditional harnesses and car harnesses may look alike, but they certainly are not. In fact, using a walking harness in the car can be deadly for your dog.
They aren't made to withstand the pressure of a car crash, meaning they can break and send your dog flying, or they can choke your dog.
Using your dog's walking harness in the car can render it useless because you are putting unwanted force on the bearing, seams, and metals that make up the harness. It is likely that the O-ring on the back will rip out in an accident.
Remember this rule: If you're in the car with your dog, make sure he has a restraint made FOR riding in the car!
Never hook up to your dog's collar!
We came across several customers who mentioned hooking dog seat belts to their dog's collars. Please, NEVER do this. If you're in an accident, it will essentially become a noose. You dog could be strangled, his neck broken or worse. A dog car harness is designed to distribute crash forces evenly over the strongest parts of the dog's body. Most harnesses can also be worn with your dog's collar. But hook the seat belt to the harness only!
This post is also available in: Español (Spanish)