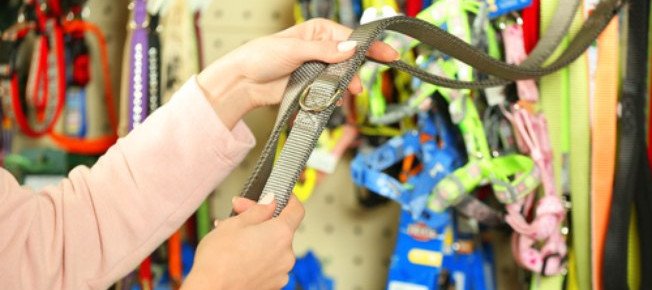 If you are transporting your dog in your car, his or her safety needs to be one of the first things you consider. The best dog car harness and seat belts are those that will keep your dog safe, no matter what life throws at you.

Even if you are in an accident, a dog harness for the car should keep your dog in place.

When used properly and correctly, you don't have to fear taking your dog on long distance road trips or onto the highways. In fact, it can calm both you and your dog.
Even more importantly, however, you need to consider how much safer a dog harness or dog seat belt will make you. Essentially, they tether your dog to the car, making it impossible for him or her to run around and wreak havoc on your car.
Keeping your dog in place means that
Your children will be safe
Your passengers won't be distracted
You can put all of your focus on the road in front of you
The best dog harnesses have passed all of the tests and reviews in both fronts: keeping the inside of your car safe and keeping your dog safe at the same time.
They are comfortable enough that the dog won't mind being in one, made of materials that won't irritate your dog's skin or catch on his hair. However, they are also strong, able to withstand the pulling and torque of a dog who wants to break free.
---
Jump to reviews of the best devices for safely tethering a dog to the car
Dog Car Harness

for strapping medium-sized and​ big dogs to car belts
For bigger dogs, a car harness is the perfect option to keep them comfortable and safe when commuting. They won't take up any extra room and work just as well as a seat.
Dog Car Seat Belts

for attaching a harness to car seat belts
A dog car seat belt helps to attach the harness to your car using the seat belts. This gives you an added layer of protection for some dogs or can be used alone when transporting smaller dogs.
---
Why is it dangerous if a large dog is not fixed in the car with a special harness
Larger dogs are extremely strong, something all owners should know just by walking the dog. They can easily snap leashes, belts, and even seat belts.
Even worse, it is difficult (and costly) to find booster seats that will hold them. Therefore, the only way to avoid a dangerous situation is to buy a special harness that is built specifically for large dogs.
Bigger dogs can cause a commotion that will distract the driver and can cause an accident. This can lead to some serious repercussions for everyone, including the dog.
Keeping your dog fixed will keep your
Passengers safe
Driver safe
Dog safe
Even better, it will keep your dog where you want him. Big dogs can seriously damage your car if they aren't tethered somewhere.
Even if your dog doesn't typically pull, the weight of the dog and the movement of the car is enough to snap harnesses. Typically, big dog harnesses are going to be made out of a heavyweight material that feels almost like a seatbelt used for humans – and that makes sense, considering some dogs are bigger than humans. Fixing your dog with a special harness will keep everyone safe.
The best car seats for dogs help to keep your dog in place while you are traveling and keeps him or her safe so that you can get from one place to another. According to the National Highway Traffic Safety Administration (NHTSA), nearly 10​% of all​ fatal crashes and 18​% of injury crashes involve some type of distraction.
To avoid that dangerous situation, keep your dog fixed to the car with a special harness that fits within the weight limits of your dog. Do your research to secure the best one. Make sure to test the integrity of the harness after some use as well, as the wear and tear can degrade them.
---
Best Dog Car Harnesses – Independent Review & Safety Tests 2017-2018
We have tested car harness for the safest ones from systematized customer reviews from the US.
---
EzyDog DRIVE Dog Car Harness – Crash Tested US​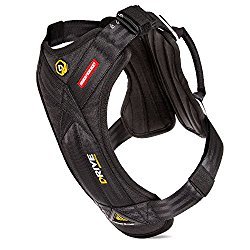 Price:
High

The EzyDog DRIVE Dog Car Harness is a premium dog car harness at a premium price. Made in three sizes, the fit will depend on the girth of your dog, which is the circumference of the body behind the front legs.
One of the few car harnesses with crash safety results on video, the EzyDog Drive is a real contender as a safe and reliable harness, especially for large dogs.
| Size | Girth (behind front legs) |
| --- | --- |
| Small | 11-25 in |
| Medium | 15-34 in |
| Large | 19-42 in |

Read Our Review of the EzyDog DRIVE
Pros
Owners love the fact that it has a "Mag Lok" closure system that allows them to fit the harness once and not have to readjust it with every car trip. The moldable, ergonomic chest plate provides a good fit for most dogs.
The harness can also be used as a walking harness. Strong high-quality fabric and stitching in the straps make this a very sturdy and safe harness.
Cons
The wide straps, long neck cuff, and overall stiffness of the harness could be uncomfortable for small dogs and dogs with short necks. Dogs that like to lie down a lot may find the stiffness to be uncomfortable as well. It may also be too stiff for some dogs as a walking harness.
Dogs that are habitual chewers may be able to chew into the shoulder straps. Hair may accumulate in the Velcro, so frequent inspections and handwashing may be necessary.
Different Models
The EzyDog CLICK seat belt attachment is a good option for smaller dogs and will attach to your dog's existing harness.
The EzyDog 2XL Chest Plate Harness is a good option for larger dogs up to 53 inches in girth.
Ruffwear – Load Up Vehicle Restraint Harness for Dogs​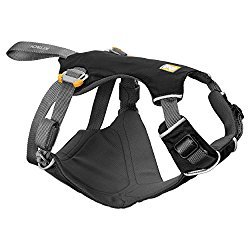 One of the most highly regarded dog harnesses on the market, the Ruffwear option is for those who are serious about protection for their pets. Made using premium materials and methods, this is an investment into your dog's safety.
| Size | Girth (behind front legs) |
| --- | --- |
| XXSmall | 13-17 in |
| XSmall | 17-22 in |
| Small | 22-27 in |
| Medium | 27-32 in |
| Large | 32-42 in |
Pros
This harness works with almost any other type of car, including sports cars. Users have said that it is extremely easy to install and even easier to move around your car.
Cons
There isn't a lot of wiggle room within the sizes, so order up if your dog seems to fall between the sizes.
Different Models
If you need a specific model for a dog, this is the best option for those who need something unique or want something really, really small or really, really large. This one is available in at least 5 different sizes. Make sure to pay attention to the size variants.
Solvit Deluxe Car Safety Harness​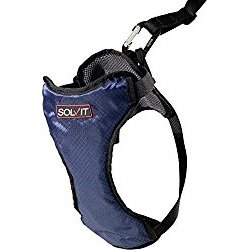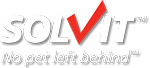 The Solvit Deluxe Car Safety Harness is another obvious choice for many people, especially those that make shorter trips with their dogs. It is a lightweight option that is easy to remove and put into your car.
| Size | Chest | Neck | Weight |
| --- | --- | --- | --- |
| Small | 12-21 in | 12-18 in | 6-25 lbs |
| Medium | 15-24 in | 16-24 in | 20-55 lbs |
| Large | 18-33 in | 18-28 in | 45-85 lbs |
| X-Large | 23-40 in | 24-32 in | 60-120 lbs |
Pros
The price point is an obvious pro here for many people, who feel this is one of the best values that you can get. It is also extremely easy to clean and adjust, making it the perfect option if you have more than one dog.
Cons
Since this is a bit thinner and "cheaper", your dog likely won't be as comfortable for longer trips. You also don't get many personalization options.
Different Models
The Solvit Deluxe Car Safety Harness is available in four sizes, small through extra large.
Kurgo Tru-Fit Crash Tested Dog Harness​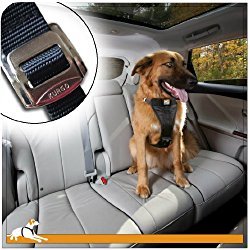 Made for medium sized dogs, the Kurgo Tru-Fit fits dogs up to 75 pounds. It is designed to be easily adjusted, which means that many different types of dogs can use this one, including dogs that have somewhat strange body construction (Greyhounds, for example).
Made with steel and natural fibers, this is the best option for people who plan to travel further distances with their dogs.
| | X-Small | Small | Medium | Large | X-Large |
| --- | --- | --- | --- | --- | --- |
| Neck | 9-13 in | 12-20 in | 16-25 in | 18-30 in | 24-35 in |
| Chest | 12-18 in | 16-22 in | 18-28 in | 24-34 in | 28-44 in |
| Dog Weight | 5-10 lbs | 10-25 lbs | 25-50 lbs | 50-80 lbs | 80-110 lbs |
Pros
The ability to personalize each aspect of this harness is something that many dog owners enjoy. That, and the fact that it cleans easily and installs even more easily.
Cons
People who have extremely small dogs may want to look elsewhere, as this doesn't go as small as some other models.
Different Models
The Kurgo Tru-Fit comes in different sizes, from extra small to extra large, and each has different sizing, so make sure to do some research there. You can also choose between red and black.
SOFI'S DOG CAR HARNESS + FREE Connector Strap​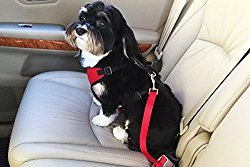 Sofi's Dog Car Harness is a fantastic option for people who have smaller dogs that may be older or have medical needs. It is a gentler approach to the dog harness.
| | XS | S | M | L |
| --- | --- | --- | --- | --- |
| Dog's Neck | 14 in | 14-18 in | 16-22 in | 20-28 in |
| Dog's Girth | 14-18 in | 18-26 in | 20-28 in | 30-44 in |
Pros
For small dogs, this harness is perfect because it takes into consideration their weaker points (necks) and takes the pressure off of them. When you stop, you won't have to worry about a collapsed trachea or discomfort.
Cons
Note that as the harness gets larger, the reviews seem to go down quite a bit. If you have a bigger dog, you may want to take some of the sizing into consideration.
Different Models
There are different sizes and a few color options for Sofi's Dog Car Harness and the free connector strap. Just note that the harness and strap will likely be the same color.
---
Secure Seat Belt Restraints for Dogs
The best cheap devices for fixing your dog or puppy.
The best dog seat belts do quite a few different things for you, they help you to ensure that your dog is safe, but even more, a seat belt restraint will keep you self.
Seat belt restraints may come with your dog harness, or they may not be part of the kit. In any case, it is also the part of the harness that will get the most torque and abuse, which means that it needs to be replaced from time to time.
A seat belt harness also allows you to save some money here – you can buy a cheaper harness but pay a little more for a seat belt restraint. Some people will even use them as a doubled-up option for bigger dogs that like to move around quite a bit.
Make sure that the model you purchase works with your particular car and the harness that you have. Still, it is something essential that you need if you plan on transporting your dog – whether across the country or just to the vet.
Mighty Paw Safety Belt​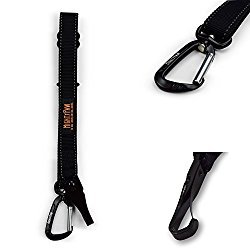 The Mighty Paw Safety Belt is one of the safest car seat restraints that you can find on the market. Made out of lightweight but strong materials, it is the perfect option for dogs of any size.
Pros
Extremely easy to install and use, this is made out of premium materials that will last for quite a long time.
Cons
The design of this is pretty boring and doesn't really add any aesthetic appeal to your car. It also isn't compatible with some harnesses, including European models.
Different Models
You can purchase this in either a black or a gray color.
Blueberry Pet Dog Collars & Seat Belts​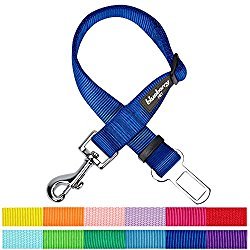 The most colorful and personalized option, the Blueberry Pet Dog Collars & Seat Belts are great for dogs of any size and many different cars.
Pros
A basic seat belt, the colors and the variety make this a premium choice. You can even match the collar to the seat belt.
Cons
For larger dogs, you might want to consider measuring the neck carefully because some owners discovered that these run a little bit smaller than anticipated. For small dogs, make sure it can go down that small.
Different Models
There are PLENTY of color options for this one.
Vastar 2 Packs Adjustable Pet Dog Cat Car Seat Belt​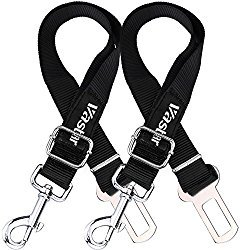 With two for the price of one, the Vastar 2 pack car seat belt for dogs AND cats is another option.
Pros
The price point for these car seat belts is a huge benefit. It is also a great option for homes that have a few different animals because you get two and they are easy to adjust.
Cons
Since you get two for a lower price, the quality isn't really the greatest. However, if you don't use them all that hard, they should be great.
Different Models
For people looking for different color options, you get them here: black, green, pink, blue, orange, and red.
Leegoal Nylon Harness​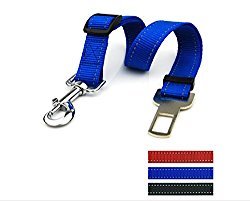 Extremely simple and easy to use, the Leegoal Nylon Harness is the perfect no-muss, no fuss option.
Pros
Extremely easy to use and compact, this option fits right into your glove compartment.
Cons
This is really designed for use in standard mid-sized cars because there is a lack of options when it comes to personalization. For larger cars, it is a bit too small.
Different Models
The Leegoal Nylon Harness is available in black, blue, and red.
---
A traditional dog walking harness is UNSAFE for transporting dogs in the car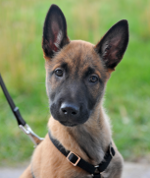 While many of us look at a traditional harness and a car harness and thing they look alike, they certainly are not. In fact, using a walking harness in the car can be deadly for your dog.
They aren't made to withstand the pressure put on them by the seatbelt, meaning they can break and send your dog flying or they can choke your dog.
Using your dog's walking harness in the car can render it uses less in both places because you are putting unwanted force on the bearing, seams, and metals that make up the harness. It is likely that the O-ring on the back will rip out.