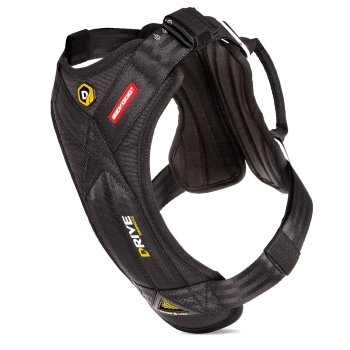 The EzyDog Drive Car Harness is a crash tested dog safety harness designed for dogs depending on girth (circumference of the area behind the front legs). It's a fairly innovative offering in the pet safety restraint market.
The Mag-Lok Instant Fit closure system and molded, ergonomic chest plate allows for an adjust it once and forget it fit. Aluminum alloy tri-glides and Crosslink Technology in the harness material makes this a strong restraint that should be reliable enough for nearly every dog.
It's also designed to be simple for dog owners to reduce risk of misuse. But how simple and safe is the EzyDog Drive Car Harness? We'll break down the stats for you.
EzyDog Drive features
Crash tested, passed & certified
One time fit to avoid having to adjust the size every time
Mag-Lok closure system
Can be used as a walking harness with double-D rings for the leash
Molded, ergonomic chest plate
Strong fabric and stitching
Three sizes – S, M, L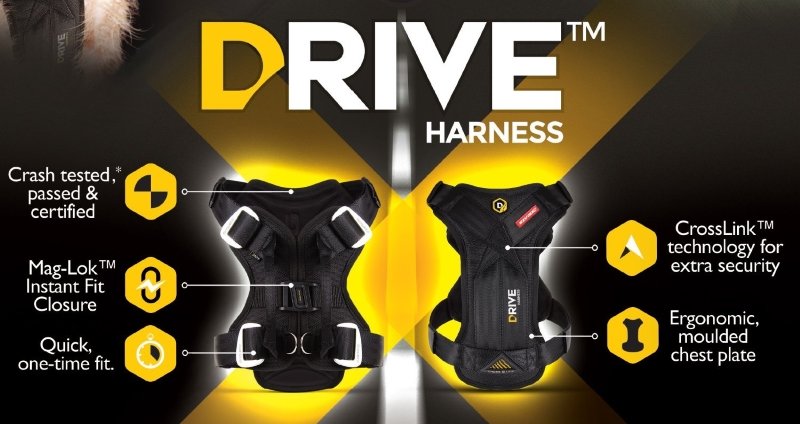 A dog harness is just that – only a harness. There is no seat cover or pillow, so you may want to protect your car seats with a towel, blanket or sturdy pet liner. It's also expensive at around $100, so if your dog isn't used to a tighter restraint in the car, it might be a risky investment.
However, several customers noted their dogs got used to it pretty quickly, even those that were used to a looser restraint. People really appreciated how easy it was to adjust the size. One owner noted she loved the Velcro tabs that concealed the excess sizing fabric.
The good thing about this harness is the sturdiness, but it's also a bad thing for several owners who felt the neck cuff and straps were too stiff for their dog's comfort. The fit will most likely depend on the build of your dog.
Shopping tip: If you know anyone who has one of these or can try one out in a retail store, that might be wise thing to do before purchasing.
Will the EzyDog Drive fit your dog?
This harness comes in three sizes – small, medium, and large, and depends on the girth of your dog. Here's the sizing chart:
| Size | Girth (behind front legs) |
| --- | --- |
| Small | 11-25 in |
| Medium | 15-34 in |
| Large | 19-42 in |
If you don't know your dog's girth, we wouldn't recommend just guessing the size you need, as sizing can run small or large in many products. To get an accurate measure of girth, use a tailor's measuring tape, wrap it right behind your dog's front legs and around his body.
If you discover that his girth is close to the max of the size range, you should probably order a size up. For dogs under 11″, or over 42″ in girth, look for other products from EzyDog like the EzyDog CLICK that will attach to your small dog's existing harness or the 2XL Chest Plate Harness which will fit dogs up to 53 inches in girth.
Several owners felt that the EzyDog Drive was too big and bulky for small and medium sized dogs. The neck cuff is a bit long so dogs with shorter necks may find it uncomfortable. The straps are also wide and may press into a small dog's groin and armpits. This could also be the case if you try to use it as a walking harness for a small dog.
If you have a large dog that likes to chew on things, it may be possible for them to get hold of the shoulder strap in their mouths while wearing. A few owners dogs' managed to chew it apart. A crate might be a better option in those cases.
Is the EzyDog Drive Safe?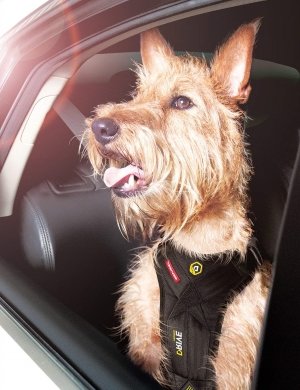 As far as pet restraints go, the US is just now starting to pass laws in various areas of the country. This harness was crash tested at the Automotive Safety Engineering facility in Australia, which is recognized for certifying child safety seats sold in the US, Europe and Australia.
There are actual video crash test results on the EzyDog website, which is something you can't always find with other pet restraints.
Most owners who liked the harness felt that their dogs were well-secured while riding. Though, some mentioned that the harness might be too stiff for dogs who like to lie down a lot while traveling.
Note: Pet hair can accumulate in the Velcro fasteners, which could prevent a secure fit. Check the harness regularly. Hand wash to remove hair and other debris. Dry in the shade.
Though not many people had issues setting up and fitting the harness, we've found that improper installation of any restraint will make the device unsafe. So it's always a good idea to read up and watch videos about safety seat installation before using them.
Here's a helpful video that shows you how to set up and fit the EzyDog Drive harness onto your dog: https://youtu.be/zOnnnXxyiHU
Best Car Seat Hub's Final Verdict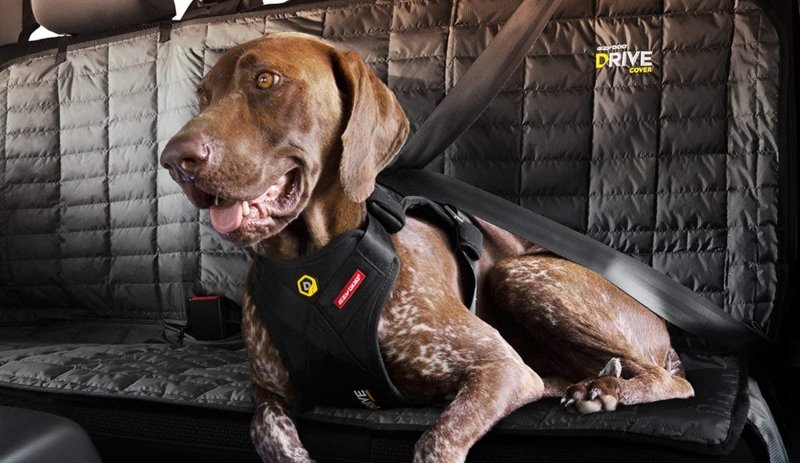 Of the many dog car harnesses on the market, we found the EzyDog Drive to be a sturdy and reliable option for most dogs. However, it may be too stiff and bulky for small and medium-sized dogs.
Getting the right measurement of your dog's girth will help a lot in knowing which harness to buy. But if you have a friend with one of these or can try one at a retail store, that might be wise before dropping $100 on this harness.
If you do find one that fits your dog well, we feel confident that your dog will be safe and secure in the car with the EzyDog Drive harness. The customer service at EzyDog seems to be really responsive if you do encounter any issues.

Crash tested & certified by a reliable facility
One-time adjustment for fitting
Can be used as a walking harness – particularly with large dogs
Strong fabric and stitching
Comes in three sizes
Moldable ergonomic chest plate

Expensive at around $100
Dogs that don't like tight restraints may not like it
May be too stiff and bulky for small dogs
Neck cuff may be too long for dogs with short necks
Dogs that chew may be able to chew the shoulder strap apart
May not work well as a walking harness for small dogs
Optional Accessories
EzyDog Drive Dog Car Seat Cover
EzyDog CUJO Shock Absorbing Leash