The best toddler booster seats are those that give your toddler the ability to be safe while still feeling comfortable. Your kid is going to be in a strange in between state where it might seem like they are too small to be in a seat, though they might fit into the parameters.
You have to go with your gut feeling on these seats – when and where should your child start using a toddler booster seat? No one can really know but you. Make sure to look at your local laws and read over the manufacturer's guide to see what the best options will be.
Backless booster car seats are toddler booster seats that do not offer back support.
Instead, they use the support provided by your vehicle, including a headrest if you have one.
You can either use the seatbelt with these systems or some will come with their own harness system, though that is becoming more and more rare.
There are a few different installation methods as well:
Some will strap onto your seat using a tether system.
Others will use the LATCH system that you should be familiar with from your car seat days, and others might use something completely different.
All of the above things will change how heavy your seat is. If you have a smaller car, you will want to get a booster seat that is compact. It could also you out if you have to move seats frequently, you have to fit more children into your car, or you just don't want to spend a lot of money.
---
Disney Store and Go​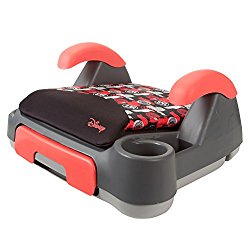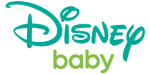 The Disney Store and Go is a backless car seat that has some of the most recognizable Disney characters. It keeps your child secure from 40 to 100 pounds (weigh limit) and 43 to 57 inches (height limit).​
Overall, the Disney Store and Go is a fantastic back-less booster that has a lot to offer everyone who uses it. Parents love the safety and kids are excited for the design.​
Advantages
This booster has a good contour and has actually be credited with helping to improve posture in some children. There is also a built in drawer which will keep your child happier and your car cleaner – store snacks or toys in there.​
If you do a lot of driving, this is one of the most comfortable seats you will find on the market today. Finally, the fabric used on the seat is really easy to clean, making it perfect for children who might be a little messier.​
Disadvantages
As your child gets older, he or she might feel like the seat is slightly babyish. The belt buckle is also finicky, but once you learn how to play with it, you should be fine.​
Compilation of customer opinions
Parents love this seat, kids love this seat, and everyone is extremely happy. The seat is not only comfortable and cute, it is extremely secure and safe. For those who do a lot of travelling, it has especially high customer appeal.​
Graco Affix Backless Booster​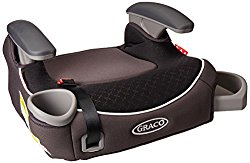 The Affix is one of the easiest boosters to use, making it perfect for new parents. It has a weight limit of 40 to 100 pounds and a height limit of up to 57" or when the top of the ears are level with the headrest of the seat.​
Overall, this is one of the "easier" seats on the market today. It is a fantastic option for a first car seat and the price point means it could even be kept as an extra seat.​
Advantages
Of all the seats reviewed, the Affix is one of the easiest backless booster seats reviewed. Everything is easy to set up, easy to adjust, and easy to move.​
The seat itself is extremely lightweight but still secure. Finally, the lower anchors mean that it stays in place in every type of car.​
Disadvantages
Unfortunately, while the seat is lightweight, it is a bit bulky. If you need to fit three children across the back, you will encounter many problems.​
Compilation of customer opinions
Overall, parents love how easy the Affix is to use. It works with a variety of children, those who are taller, those who weigh more, and those who move around a bit more. The trick is that you have to install it correctly, according to many parents.​
Graco Backless TurboBooster​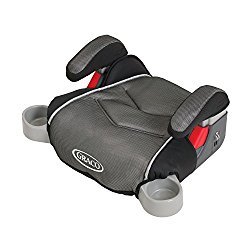 Just like the Affix, this is a truly versatile backless booster seat. It has a weight limit of 40 to 100 pounds and a height limit of up to 57".​
You should check the manufacturer's guide to see the proper seating guide as they are a bit different from many of the other seats.​
Overall, this is a fantastic seat that builds on the work done by the other Grace Backless booster seats. It is made even better with the addition of a LATCH system.​
Advantages
Extremely easy to use and one of the safest seats on the market, you'll love this backless booster. The materials used are quality and the fabric is extremely easy to spot clean.​
Finally, it is easy to move around because of how lightweight it is – you won't have to pull and grunt as you carry it.​
Disadvantages
If you have a child that is very, very short, you will have some trouble with this seat. It is for children who are average height or maybe even a little taller.​
Whilet he fabric is easy to clean, there are quite a few places for germs to lurk, so make sure you take your time cleaning the plastic.​
Compilation of customer opinions
Parents really do love this seat. They find that it is easier to work with, especially if you have a child that is neater. If your child is on the messy side, just make sure you take the time to clean.​
Disney Backless Booster​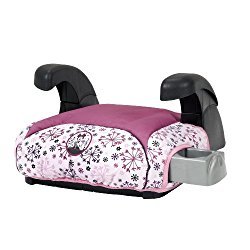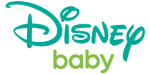 With some of the Disney characters that you've come to love, you will be impressed with this Disney Backless Booster. It is intended for a child that runs 40 to 100 pounds and from 43-57″ tall.​
Overall, the seat is a fantastic pick for parents who want something that is not only extremely user friendly, it is comfortable and a favorite of many children.​
Advantages
There is a slide out container that is perfect for snacks or beverages. This container is easy to clean. The belt situating supporter also means that setting up the seat in different cars is quite easy. Booster is extremely lightweight, coming in at about 6-pounds. Finally, it surpasses federal safety guidelines.​
Disadvantages
Some children don't like this seat because of the design. While they might like it initially, there are problems once they get a bit older.​
Compilation of customer opinions
Parents and children alike absolutely love this seat.
Clek Olli Backless​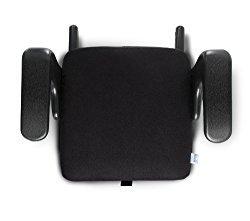 The Clek Olli Backless toddler booster seat is a backless booster seat that accommodates 40-120 pounds and between 40" and 57". It can be used for up to nine years, so it has a few lifetimes in it. It connects with rigid lower anchors and has a metal substructure, making it really safe.​
Overall, this is a favored toddler booster seat among both toddlers and parents. You have to make sure that it will work with your car before you buy it, so make sure to take a look at how your seats are designed. If you have curved seats, you will have to ensure that you have a latch system.​
Advantages
The Crypton fabrics are fantastic and prevent bacteria growth and limit staining. The seat itself is designed in a cube shape, making it a fantastic choice for rides that are going to be longer. There's a strap that allows toddlers to carry the booster itself.​
Disadvantages
The seat itself is a little bit on the wider side, making it difficult for smaller seats. There is a gap between the seat and the back of the car seat in some cars.​
Compilation of customer opinions
Overall, parents are in love with this backless toddler booster seat. They find it to be one of the easiest seats to work with and extremely comfortable. For parents who do a lot of driving and traveling, there is nothing better.​
Mifold Grab-and-Go​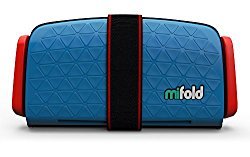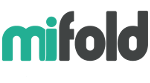 The Mitfold Grab-and-Go is a backless booster seat that holds a smaller weight range, but still works extremely well. It holds between 40-100 pounds and between 40-57 inches in height.
Children have to be at least four years old to use it and the vehicle head support must be up to the child's ears.
Overall, this is a good car seat for the value. It is lightweight and small enough to be handy.

Read Full Review of mifold Grab-and-Go
Advantages
If you are a family that travels a lot or needs to move the booster seat from car to car and carry the seat places, this is lightweight and portable. It is also on the smaller side so it can be stored.​
This also makes it a great option for smaller, compact cars. The seat itself is easy to use and the belts are very easy to line up with the seatbelts.​
Disadvantages
This one is definitely not easy to use if you want to put it in the middle. It is also smaller, so it will be difficult for larger children to really get situated.​
Some report problems with the comfort levels of this as well, so it won't be that great for long distance travelers.​
Compilation of customer opinions
Many parents love this seat because it is so portable and easy to move around. Still, there are some children who don't love the seating. They complain that it isn't the most comfortable thing that they have ever sat on and it doesn't help that it makes the seatbelts a little too tight.​