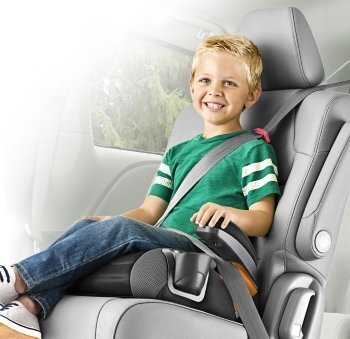 The best toddler booster seats are those that keep your toddler safe while still comfortable. Though age and size limits depend on the model, booster seats generally start at a minimum of 4 years old and at least 40 pounds.
Backless booster car seats depend on your vehicle's seat for head and back support and the vehicle seat belt for restraint. Their main function is to boost the child's height so the seat belt fits properly. Most have no other installation mechanisms, though some boosters have a LATCH connection system to provide extra stability.
Many of the high back booster seats come with a harness system, so they're a good option if you're on the fence about a backless booster. Plus, if you have a car with no headrests in the back seat, a high back booster is necessary. Feel free to browse our high back booster seat listings to see if one is right for you.
To determine if your child is ready for a backless booster:
Has your child outgrown the manufacturer's recommended size limits of his current car seat?
Is your child 4-8 years of age and at least 35 inches tall?
Are they 40-80 pounds and under 4 feet, 9 inches tall?
Can he NOT yet sit with his back straight against the vehicle seat while his knees bend completely over the edge?
Is it obvious that the vehicle seat belt alone doesn't fit where it would on an adult?
Does your back seat have headrests that are higher than your child's ears?
If you answered yes to all those questions, you're probably okay to go shopping for a backless car seat.
Backless Booster Rating of 2021
Graco Affix​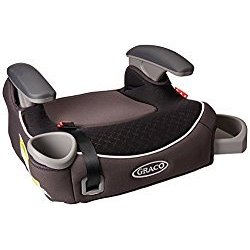 The Affix is one of the easiest boosters to use, making it perfect for busy families. It has a weight range of 40 to 100 pounds and a height range of 40 to 57 inches or when the top of the ears are level with the headrest of the back seat.​
It is a fantastic option for a first backless booster seat and is affordable enough that you can buy one or two extra for grandparents, babysitters, or your trunk.​ This seat comes in 2 colors: davenport (eggplant/black) and pierce (gray/black). Seat dimensions are 15.5"D x 16.5"W x 8.64"H. It weighs 5 pounds.​
Advantages
Of all the seats we reviewed, the Affix is one of the easiest backless booster seats for kids to buckle in. Everything is easy to set up, easy to adjust, and easy to move.​ It's only 5.6 pounds, so if you can lift a bag of sugar or a toddler, transferring it between vehicles isn't strenuous. Installation takes all of ten seconds, and with a one-handed LATCH strap you can even tighten it from the front of the seat.
An integrated cup holder keeps drinks close by and secure, while a sliding storage compartment holds extra snacks, earbuds, and handheld games. The seat pad is removable and machine washable, which is always a big plus.
Disadvantages
Several parents noted the cupholders were missing upon delivery. However, parents should note that the cupholders are usually stored in a slot under the seat itself, so be sure to check there.
Other parents had issues getting the straps equally tight on the car's LATCH anchors. Plus, the connectors are the older hook style rather than the easier push-on connectors so they can be hard to take on and off. The LATCH straps may also be too short in some vehicles with deeply recessed LATCH clips such as the Toyota Tundra.
Be sure to check all parts upon delivery, and if anything is missing or malfunctioning, call Graco for a replacement.
Compilation of customer opinions
Overall, parents and kids love how easy the Affix is to use. It's also light, affordable, and comfortable. Families find that the included LATCH system makes buckling easier by keeping the seat in place. An excellent choice for families taking their first foray into booster seat territory.
Chicco GoFit Plus​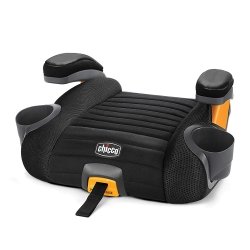 If there's any booster seat easier to install than the Graco Affix, the Chicco GoFit Plus is it. Designed for kids 4 years of age and up, this seat accommodates a weight range of 40 - 110 pounds and a height range of 38 - 57 inches.
It comes in 2 colors: iron (black) and stream (black/blue). Seat dimensions are 15"D x 17"W x 5"H, and it weighs 5.7 pounds.

Read Detailed Review of the Chicco GoFit Plus
Advantages
Easy install and uninstall is the name of the game here. Not only are there easy-to-attach push-on LATCH connectors and a one-handed tightening strap, but there's a quick-release design to remove the connectors in one pull of the handle.
Add to that the machine-washable seat and armrest covers, the built-in carry handle, and the shoulder belt clip that positions the seatbelt just right, and you've got one easy-to-use booster seat. Plus, 2 removable, dishwasher-safe cup holders fold in when you need some extra space.
Disadvantages
The GoFit Plus is about twice the price of average backless boosters. Though it does have a carry handle, it doesn't fold up or have its own carry bag for easier transport. It can feel a bit heavy and bulky if you have to carry it around very long, but it should fit into a suitcase, large backpack or stroller just fine.
The shoulder clip for positioning the shoulder belt can be a little tricky to use, so be sure to consult the manual and/or look for video tutorials.
Compilation of customer opinions
For families who need to switch cars and seating arrangements often or those who use cabs and Ubers, this is a good option. It does a good job keeping your child not only safe but also comfortable.
Peg Perego Viaggio Shuttle​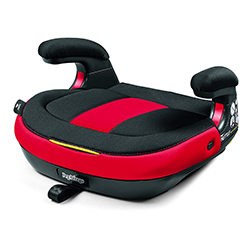 Peg Perego delivers premium baby products constructed from high quality materials and engineered to exacting standards. The Peg Perego Viaggio Shuttle is made in Italy and the craftsmanship results in a comfortable booster that is also incredibly durable. Parents like that keep kids cool on long rides in this seat as the soft microfiber fabric is breathable and moisture absorbent.
Child weighing up to 120 lbs and standing below 63" tall can safely use this booster.
Advantages
Most booster seats are not comfortable and only offer a layer of padding over foam. The Viaggio Shuttle uses a dual layer comfort system to make a seat children are happy riding in. The first layer is EPS (Expanded Poly Styrene) to absorb declaration force in a collision and the second layer is Expanded Polyurethane for a soft and ergonomically shaped seat. It is still a booster and not quite as comfortable as a regular car seat, but this makes it a solid choice for kids that are in the car a lot or are especially sensitive to sitting in a booster.
Installation is easy as this booster uses rigid latch so parents looking for an extremely tight and firm fit against the vehicle seat with little wiggle appreciate the secure hold.
Disadvantages
Parents find that the single, detachable cup holder often leaves kids holding a snack or toy instead of having a place to stow it. It is convenient that the cupholder can attach to either side and some enterprising parents order a second cup holder to give their kids dual storage space.
Compilation of customer opinions
The combination of a rigid LATCH system and comfortable microfiber fabrics means a lot to parents that want a safe and secure ride for their children without sacrificing comfort. Once installed, this booster does not move around in the back seat and that is what a lot of families value most about it. The quality construction and reasonable price make it a solid value that parents can count on for years.
Graco TurboBooster LX​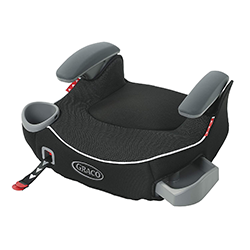 The Graco TurboBooster LX is one of the most popular models on the market. It's designed to be an extremely comfortable booster seat perfect on long rides. For kids 4 - 10 years old, this seat holds 40 - 100 pounds and has a height range of 43 - 57 inches.
The TurboBooster LX comes in three colors: gray/black, purple/black, and gray. Seat dimensions are 15.5" D x 17.5" W x 8.64" H. It weighs 5.51 pounds.
Advantages
The LX uses plush fabric that is more comfortable for children. The seat cushion padding is easily removable and machine washable. Two cup holders are available and one swivels in when you don't need it. Padded armrests are height-adjustable and act as seat belt positioning guides.
The LX has the AFFIX LATCH system, which securely connects it to your vehicle seat using a one-hand front-adjust system. This makes self-buckling easier for your child.
Disadvantages
Parents found the cup holders to be too small with parts that kids often removed and lost. A few thought the seat wasn't padded well enough for long rides. There are also some tabs on the back of the seat for adding an optional high back that are tricky to remove and prevent the seat from sitting totally flush against the vehicle seat back.
Compilation of customer opinions
The most annoying thing about this seat was the tabs for an optional highback. If Graco had simply included these in the package instead of having them already installed on the seat this booster would be pretty much perfect.
Alternative Models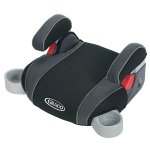 Graco TurboBooster
For about $10 less, the original TurboBooster backless booster is still available and quite popular. It does not have the same plush seat fabric or armrest padding as the LX and the cupholder are smaller. Also missing is the LATCH system to affix the booster seat to your vehicle and keep it in place.
Diono Solana 2​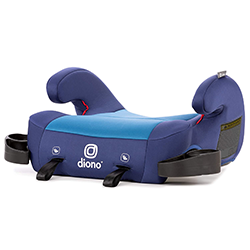 The entire Diono lineup is very fit focused and this booster has a wide XL design that lets kids use it safely up to 120 lbs. The seat is not only wider but also longer for better leg support, and it is contoured to let kids nestle in for a snug and comfortable fit. It measures 15.5" wide at the bottom where it meets the vehicle, but the arm rests extend up and a bit wider for overall dimensions of 16.1" L x 20.1" W x 9.4" H inches. Dual cup holders keep snacks and drinks in reach and extend the width to 22.5", but also conveniently retract into the base when not in use.
Weighing in at just 6.6 lbs makes the Diono Solano a lightweight booster seat option that parents can easily move between vehicles. Installation is easy with LATCH connectors in the back and adjusters in the front to tighten.
Advantages
The extra wide design of this XL booster seat gives big kids more room and allows them to sit comfortably even as they age. The seat is contoured for comfort and has an easy to remove fabric cover that can be machine washed. It was recently awarded an IIHS Best Bet Award.
This booster fits well into bucket seats because it tapers to be a bit narrower towards the bottom.
Disadvantages
With the armrests extending up and out quickly from the base, this booster might be a bit too wide for the third row of your SUV or minivan. Parents can probably fit two of these boosters with a narrower car seat in the middle but doing 3-across will be too tight. A lot of the negative reviews for this booster are parents who did not understand that it would be so wide. Similarly, since it is so wide there are some kids that have trouble buckling themselves in it.
Compilation of customer opinions
Parents with big kids who are not quite tall enough for the seat belt to fit correctly often find that the Diono Solano is the perfect solution for their child. If your child is complaining about cramped hips in their current seat then they will find that the extra room provided by the Solano makes for a considerably more comfortable ride. With it accommodating children up to 120 lbs, parents can be confident that investing in this booster seat will pay dividends for years and years.
mifold Grab-and-Go​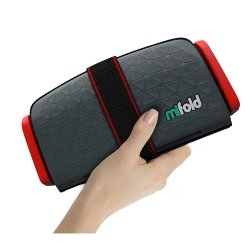 The Mifold Grab-and-Go is by far the most unique seat on this list. It's designed to fit its name - this seat folds up into a compact little package you can take anywhere. The MiFold is for kids 4 years and older who are 40-100 pounds and 40-57 inches tall. It comes in several colors and also in 2-packs of varying colors. Seat dimensions are 10" x 5" x 2", and it weighs 1.6 pounds.
From looking at it, it doesn't seem like it would do the job of a booster seat. It works not by boosting the child up, but by bringing the seatbelt down so it fits properly over the shoulder and lap. This flat little thing is fully safety tested and meets or exceeds all NHTSA safety standards.

Read Full Review of mifold Grab-and-Go
Advantages
If you're always on the go and switching vehicles, you should definitely consider this seat. You can fold it up and store it practically anywhere, like backpacks, purses, glove compartments, etc.
This seat is also a great option for smaller, compact cars that don't fit other booster seats well. Families traveling by cab and Uber find this to be an easy car seat to use on the go. There are side adjustments that widen the seat as the child grows (S, M, L), and also changes the positioning of the lap and shoulder belts.
Disadvantages
Kids find this seat comfortable enough but they need to stay seated and leaning back for it to work properly. Otherwise it is prone to not staying flat and sliding up behind the child's back.
Some parents said they could not figure out how to use it, while others said their children couldn't buckle it and couldn't release it without help. It can be a bit difficult to feed the straps. It has excellent portability for when you need to travel but it is probably too much of a hassle for ordinary, everyday use.
Compilation of customer opinions
Many parents love this seat because it is so portable and light. The questionable parts is the ease of use and comfort level for your child. The company does have several instructional videos that are helpful, and it is not overly difficult when you get the hang of it. Still, it seems better for short routes and carpooling not long road trips and everyday use.
Alternative Models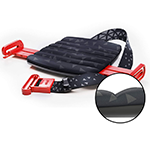 Mifold Comfort Grab-and-Go Booster
For a few dollars more parents can get a new 'Comfort' version of the Grab-and-Go. This version has an updated seat cushion with extra padding to make kids more comfortable. The Comfort also uses a new clamshell design that protects the components and removes the need for a carry bag.
Mifold Non-Folding Grab-and-Go Booster
This version eschews the traditional mifold design for a sturdier, non-folding experience that sits firmer underneath the child. It makes a lot of sense if you are using the mifold everyday and leaving it in your vehicle and not rolling it up into the travel bag and carrying it on the go. This version is less portable but is also a lot more comfortable for children to sit on.
Clek Ozzi​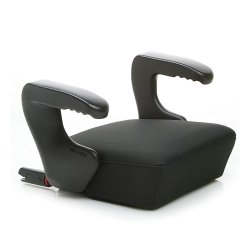 The Clek Ozzi Backless booster seat accommodates children 4 years old and up from 40-120 pounds and between 40 and 57 inches. It can be used for up to nine years, so it can easily be handed down to younger siblings.
It connects to your vehicle's LATCH anchors with rigid lower push-on connectors, which is pretty rare, and has a metal substructure, making it sturdy. It comes in one color: licorice (black).​ Seat dimensions are 13.25" x 12.75" x 5" and it weighs 5 pounds.
Advantages
The plush fabric is removable and hand-washable. Beneath the cover lies energy-absorbing foam plus a thicker foam cushion to prevent "numb bum." Fabric wraps around the underside of the seat to protect your vehicle upholstery from scratches and snags.
There are several accessories available for purchase separately, such as a carrying strap, drink holder, cleaning kit, travel bag and seat mat.
Disadvantages
Firstly, this booster seat is about twice the price of most of the seats on our list. Some parents said it was really hard to attach the seat to the lower anchors with the rigid-LATCH system. Plus, there's no strap on the front to release it, so switching the seat between vehicles can be a challenge.
The sleek design is nice for bigger kids who don't want the cutesy seats, but several parents hated the big warning sticker that's on the front of the seat, which is not shown in the product pictures. The biggest downside we found was the lack of accessories included. This one is barebones, and you have to special order all the extras from the company.
Compilation of customer opinions
Overall, this is a sturdy, safe and comfortable booster seat, especially for long drives. If you don't have to switch the seat between cars often and don't want a lot of accessories, it's a great investment.
Alternative Models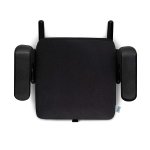 Clek Olli
At nearly 2X the price of the Ozzi, the Olli is an upgraded model with stain-resistant fabric, 3 color choices, and a quick-release LATCH strap. It includes a cup holder and carrying strap.
Hiccapop Uberboost​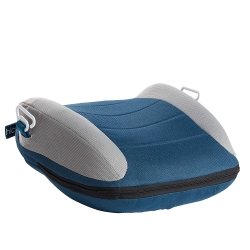 This affordable seat with a cool name is one of the best inflatable booster seats on our list. It takes parents less than 20 seconds to inflate it, and even kids can do it. Deflated, it is surprisingly compact and fits well into its own travel bag or any backpack, large purse or suitcase.
For kids 4 - 11 years old and 40 - 110 pounds, this seat comes in three colors (black/blue/pink). Seat dimensions are 14.5" x 14.5" x 4.5", and it weighs a little over 1 pound.
Advantages
Portability and lightweight design is the main pro for this seat. It won't take up much room in the back seat even when inflated, so it's good for compact cars or installing between full-size car seats. A non-skid base with silicon beads holds it in place so there's no sliding.
Belt positioning clips on the side position the lap belt in the right place over the child's lap. The air-filled cushion is comfy for long rides. Easy installation makes it ideal for UBER or LYFT rides.
Disadvantages
Some seats may have to be reinflated often, and with any inflatable object, you always have the risk of holes. For those with animals in the car or kids roughhousing, the risk is higher that this seat will spring a leak.
The seat belt clips are also pretty flimsy. While they're easy to use, a very wiggly child may dislodge the seat belt from the clips.
Compilation of customer opinions
This seat makes a perfect occasional travel seat, but not a good everyday seat because issues can develop with deflating and holes. It's inexpensive enough that you could buy one or more for a few road trip vacations, or keeping in the trunk for an emergency, but don't expect many years of use.
---
Not sure whether your child's ready for a booster seat?
Your kid may be in that in-between state where it's hard to determine if they're big enough for a booster seat. When to start using a booster seat will depend on local regulations and specific manufacturer's guides. Be sure to read up on the state laws regarding booster seats in your area.
However, vehicle belts are designed to fit 165 lb. males, therefore even with a booster seat, the vehicle seatbelt may not provide the safest fit. That's why experts recommend children remain in a harnessed seat for as long as possible. That 4 year old minimum age is probably best suited for those with larger builds who can be trusted to stay buckled and still.
Common myths about booster seats

If you ask two different caregivers about when a child is ready for a booster seat, you'll likely get two different answers. Some people don't think they're needed at all, whereas some think as soon as a child is 4 years old, they can use a booster. Let's dispel some of those misconceptions:
Myth: My child can use a booster as soon as they meet the minimum height and weight requirements.

FALSE. Children grow physically and mentally at different rates. While one child may be the minimum size at 4 years old, he or she may not be mature enough to sit still in a booster seat. Other children may be mature enough to sit still, but too short or light to be safe in a booster seat. Waiting until your child is at least 5 years old and is able to sit still for the duration of a trip is the safest bet.

Myth: State law says I can let my child ride without a booster when she's 8 years old, so I should trust that.

FALSE. Laws vary from state to state. Some state laws say children can go without a booster at 5 years old, while others say a child must ride in a child restraint until they're 10 years old. This can be a problem for interstate driving if you're pulled over. Best (and safest) practice is to use a booster until 10-12 years old and at least 4'9" tall. That will cover regulations for all 50 states and Canada.

Myth: A high back booster is safer than a backless booster.

FALSE. If you have a car with low seat backs or no headrests, you have to use a high back booster. No exception. Opt for a high back booster if the shoulder belt doesn't fit properly (diagonal across the chest, not the neck), if she slumps while sleeping, or can't sit safely still in a backless model.

Myth: Lower anchors can't be used with booster seats.

FALSE. As you can see in our list above, several backless boosters come with LATCH systems just like those in infant and high back boosters. They can help stabilize the seat to make it easier for the child to get in and out and buckle herself in.

Myth: You don't need to replace booster seats after a crash.

FALSE. Some booster manufacturers build seats that are compliant with NHTSA reuse guidelines. However, just like with other car seats, if you're involved in more than just a bumper tap, it's better to be safe than sorry and replace your booster seat.
Should you choose a high back or backless model?
High back booster seats tend to provide a better fit for the shoulder belt, since they have a built-in belt guide at the top of the seat. This is especially true for the younger toddlers. While a belt clip on a backless seat may properly hold the shoulder belt in place, if your child is wiggly, the clip could come loose and be useless.

Pros of high back booster seats
Headrests provide head and neck support for sleeping children, and another layer of protection in a crash.
Great (and necessary) for vehicle seats with no headrests or low seat backs.
Keeps a sleeping child positioned properly so they don't slump out of the seat belt.
Those with a 5-point harness provide more even protection across the child's torso, especially younger children whose skeletons are still growing and fragile.
Some crash tests have shown much better results with high back boosters for keeping the child more stable in a crash. This may depend largely on how well the backless booster positions the shoulder belt. If it's too high or too low, there's an increased risk of your child slipping out of it upon impact.
But, a backless booster is much better than no booster at all. Studies show that with any type of booster, the risk for injury to children 4 – 8 years of age is reduced by 45%.

Pros of backless booster seats
More affordable – often within the $15 – $30 range.
Lighter, which makes it easier for switching vehicles and traveling.
Tend to look less like a "baby seat" than a high back booster, so older kids are less likely to complain.
Come with shoulder belt clips and sometimes seat belt guides that function like a high back booster.
Some models include a LATCH system for greater stability.
If you think you're ready for a backless booster seat, consider starting with one that includes a LATCH system and a clip that helps position the shoulder belt properly. Those with cup holders that slide in and out or elastic cup holders won't take up extra space in the backset when you need a few more inches.
Other available options
If you just can't choose between a high back or backless booster, consider an all-in-one or a convertible car seat. These are often designed to last from birth through the booster seat stage. Some have removable backs, so that you can take advantage of the extra head support and shoulder belt guides until they're ready for a backless seat.
From all the options available on the market, you're sure to find the right one for your child and your lifestyle. Just keep these things in mind as you shop:
Is it safe? Check for any recent recalls.
Is it comfortable? Read reviews, ask friends for recommendations or examine the seat in a store for a firsthand opinion.
Is it affordable? Top of the line car seats aren't always the best, though often you get what you paid for, so try to invest in at least a mid-range priced seat.
Is there a LATCH system or other extras? Whether you feel safer with a LATCH system or really want cup holders, check out the extras (if any) that come with the seat.
This post is also available in: Español (Spanish)