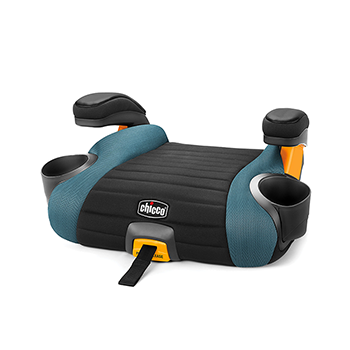 As kids get older and bigger they start yearning to get rid of their booster seat and even begin dreaming of sitting in the front seat of the car. It is important for parents to resist and keep their children buckled safely in a booster seat until they grow big enough to meet the mandated age and height requirements. These mandates are in place to keep children safe, and in most states it requires children to be at least 8 years old or 4'9" in height before riding without a booster in a vehicle.
Older children prefer a backless booster because it offers them the comfort and support of a booster without the bulky backing strapping them in. One of the best backless booster seats is the GoFit Plus Booster Car Seat by Graco. This booster seat keeps kids safe in the car while still being comfortable to sit in. The seat is contoured and supportive with double foam padding to keep kids happy. Parents like that it installs and uninstalls easily with push-on LATCH connectors and a one-handed tightening strap.
Key Features of the Chicco GoFit Plus Backless Booster Seat:
Weight Limit Range of 40-110 pounds
Height Limit Range of 35 to 57 inches
Push-On Latch Installation
Leatherette Cover
Removable and Machine-Washable Seat Cover
Integrated Dual Cup Holders
Belt-Positioning Clip
Carry Handle
Ergo Boost Padding
Non-Removable Armrests
Parents often choose between the GoFit and the GoFit Plus booster seats. The primary difference between the two models is that the Plus offers a quick-release LATCH system with an easy tightening strap in the front. We recommend the Plus because for just a few dollars more parents can get a booster that anchors to the carseat.
What makes the Chicco GoFit Plus Unique?
Parents like the Chicco GoFit Plus and find that there are a few things that help it stand out from the pack.
Latch Installation: Many boosters fulfill the role of acting as a belt positioner for your child, and they sit on the vehicle seat independently without attaching to anything. In comparison, the GoFit Plus uses easy push-on LATCH connectors to attach onto the seat. This keeps the booster in place and removes the risk it slides around during turns or becomes a projectile in a collision.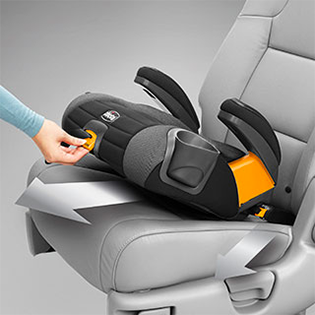 Carry Handle: States require the use of some form of child safety restraint in vehicles, so it is always necessary to bring one along when traveling. As your child gets older, so does their independence and the easily accessible carry handle on this booster allows children to carry their own booster seat to practice, carpool, or between vehicles.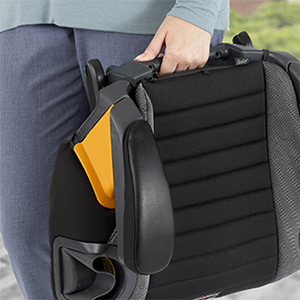 Ergo Boost Comfort: A child will only willingly use something without fuss if it is something that they enjoy. Having an uncomfortable car seat is not something that any child wants, especially when using one for an extended duration on a long road trip. The benefit of Ergo Boost by Graco is that the thick padding in the booster contours to the child's body. Having this additional padding allows your child to sit comfortably without complaint.
What is the Child Age and Size Limit for the Chicco GoFit Plus?
The Chicco GoFit Plus Backless Booster operates only as a backless booster seat. It is rated for use by kids between 40-110 pounds in weight and standing 38 – 57" inches tall. However, parents should be cautious and wait until their children have grown out of their five-point harness before transitioning them to a booster. Remember that the maturity level of kids is also important as some kids can wiggle a booster seat right out of position.
The width of the seat is about 11 inches, which increases to 12 inches towards the front where the knees sit. The exterior width of the booster, with the inclusion of the cupholders, is 17 inches.
How comfortable is the Chicco GoFit Plus Backless Booster Seat?
Chicco has specifically made this seat with Ergo Boost materials to provide comfort and a contouring shape to small passengers. The seat has double foam padding and is softer to the touch than others that can feel more like a 'foam brick.' The armrests on this booster also have good padding and are well positioned to support children.
Parents positively report that the Chicco GoFit Plus is more comfortable for children to sit in than other boosters on the market. Children should be able to ride in this booster seat for long car trips without complaint.
How safe is the Chicco GoFit Plus Backless Booster?
The Chicco GoFit Plus Backless Booster passes all necessary safety tests as required by the United States and Canada. This seat has also been ranked a "Best Bet Booster" by the Insurance Institute for Highway Safety (IIHS) and JPMA Certified.
The safest car seat is one that parents install and use correctly, so the GoFit Plus gets good marks for keeping big kids comfortable longer. This booster seat is comfortable enough that it helps parents delay the transition to kids driving without any booster at all, so from that perspective it earns high safety marks from us.
Additionally, parents appreciate the Latch installation for added safety and stability. It keeps the booster in place and installed snug and tight against the vehicle seat.
How big is the Chicco GoFit Plus Backless Booster?
This booster seat is average size and families have a good chance of successfully seating kids in three-across configurations with it. It does get a little wide at the base near the cupholders, but they are removable (for washing in the dishwasher) and can also fold out of the way when you need to squeeze in tight.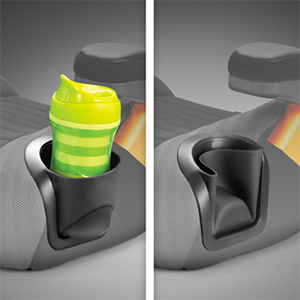 Product Weight: 5.5lbs / 2.5g
Product Dimensions: D 15 x W 17 x H 8.5 (in) / 38 x 43.2 x 21.6 (cm)
Weight Limits: 40-110lbs / 18-50kg
There are a few different Chicco booster models, and while they all have the same height and weight limits they do vary in size. A few Graco options have seatbacks, whereas others do not.
Additional Chicco Booster Seats:
Chicco GoFit: Although this model is very similar to the GoFit Plus, it does not come with the Latch installation option or the leatherette material.
Chicco KidFit 2in1: This Chicco booster option comes with a removable seat back as well as LATCH. However, it does not include the Leatherette material.
Chicco KidFit Zip: This booster is an upgrade from the 2in1 with quilted padding in the seat and back and included snack tray.
Chicco KidFit Zip Air Plus: The newest model of the KidFit family, this option has a removable leg rest as well as air mesh material in the seat. The air mesh allows children to stay cool even in the hottest weather.
Optional Accessories:
Car Seat Travel Bag Although the GoFit Plus has a carry handle and is small in size, a travel bag can be convenient when traveling. This one from Graco is a good option.
Parents should note that Chicco discourages the use of accessories with their car seats and has stated such in the product's instructions. They fear that accessories or add-ons can compromise the safety of the seat. Therefore, they do not have a large variety of add-ons or accessories available for purchase.
The booster seat does come in several attractive colors including Iron (black), Stream (teal accents), and Vivaci (purple accents).

BestCarSeatHub's Final Verdict
The Chicco GoFit Plus Backless Booster is an excellent option for families that want their children to ride in a safe, durable, and comfortable booster. It has many details that parents praise like contoured seating and push-on LATCH, but there are a few things that they do not care for as much. One of the main complaints is not being able to adjust or move the armrests that come with the seat and the other is that the shoulder clip can be difficult to install. Otherwise, families are extraordinarily satisfied with this booster and find that it provides a safe and reliable seating option for several years.

Washable Seat Cover!
Ergo Boost Padding!
Contoured Seat Shape!
Lightweight!
Dual Cupholders!
Carry Handle!
LATCH installation!
"Best Bet Booster" Rating!
Multiple Safety Tests!
Leatherette Material!

Armrests Do Not Adjust
No Seat Back
Premium Price
Shoulder Strap Can Be Tricky To Use
Final Thoughts
The Chicco GoFit Plus is unique in that it offers Latch installation, further lending itself to stability and decreasing the chances of movement while in motion. Parents rave about the comfy padding that the company utilizes and the machine washable cover. The cup holders are also dishwasher safe so clean up with this car seat is easy.
Booster seats, in general, tend to have longer expiration times due to the minimal amount of materials used to make the restraint. The Chicco GoFit Plus, in particular, has an eight-year expiration timeframe and is quite durable so siblings can likely use it down the line.
In the end, this seat is an excellent choice for parents who are looking for a comfortable booster option for their growing child. With the many premium features that it possesses, you will receive minimal complaints from your backseat passengers about the ride.