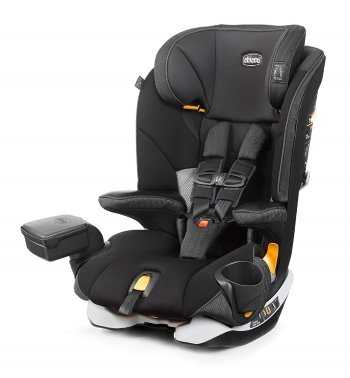 The Chicco MyFit LE Harness + Booster Car Seat is one of the newest members to the Chicco convertible car seat family. LE stands for Limited Edition, though as of this review, it's still on the market after it debuted back in January 2018.
It's sister seat, the MyFit, is a slightly less expensive version. Both are very similar in size and functionality. The LE adds a few nice features including SuperCinch LATCH, comfort waist belt pads, a kid console, and air mesh panels in the fabric. There's also an upgrade above the LE called the MyFit Zip Air. That one has all the LE features, plus extra zip-off cushions and a breathable mesh backrest. It's pretty expensive at about $50 more than the MyFit LE and $100 above the MyFit.
The MyFit seats all start life as a harnessed forward-facing seat then convert to a belt-positioning booster. They could serve as a good transitional seat for when your child graduates from a dedicated rear-facing infant car seat. But, for about $50 more than MyFit, are those extra features on the MyFit LE worth it for your big kid?
(more…)