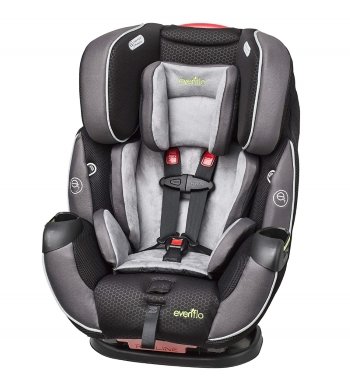 A top convertible car seat for parents to consider is the Chicco NextFit Sport. This car seat has a number of exclusive installation features and safety elements that set it apart from the competition. As a convertible car seat, the Chicco NextFit Sport easily switches from rear-facing to forward-facing so that it can accommodate your child from preschool all the way to middle school.
The NextFit Sport features quality components and construction from Chicco, a leading Italian manufacturer of quality baby products since 1958. The company focuses on building sturdy, premium products that parents can rely on. In addition to the base NextFit Sport model, they also offer a Zip model that makes cleaning the car seat easier, an Air model that uses more breathable fabrics, and a Max model for keeping children rear facing longer.
The most economical model is the NextFit sport and parents agree that it does a great job balancing costs and features. It does not have some of the extended feature set found in the other models, but it provides parents everything they need in a car seat at a reasonable price.
Key Features of the Chicco NextFit Sport Convertible

8 colors/patterns available – including black, graphite (grey), juniper (green) and sky (blue)
SuperCinch tightener to install LATCH snug
Push-on LATCH connectors with push button release
9 Position Leveling System
One-pull harness with padding and no necessary rethread
9 Position headrest for growing kids
Rigid shell with energy-absorbing foam
Machine-washable fabric
Dishwasher-safe cup holder
Steel reinforced frame for rigidity
1-year manufacturer warranty on defects
8-year expiration from date of manufacture
Focus on Safety
The Chicco brand places a big emphasis on safety and they deliver that in the NextFit Sport with a rigid, steel underframe. Mounted on the frame are two layers of protection with a rigid outer shell on top of energy-absorbing foam. The car seat offers good padding that is soft and also machine washable to help keep it clean. An important part of safety is getting the car seat installed correctly and the car seat also has good installation features.
Easy Installation Features
Parents that struggle at times to get a tight fit on their car seat installations will appreciate several key features on the NextFit Sport. The leveling system on the car seat has 9 positions on it so rear-facing and forward-facing adjusts easily to your rear car seat angle. The LATCH system on the carseat uses the push-on latch instead of the more cumbersome clip LATCH so parents can connect it easier. The system also has a unique tightening mechanism that Chicco calls the SuperCinch Tightener. This tightener routes the LATCH strap up through a buckle and then down so that parents can grab it and tighten the seat. The buckle on the SuperCinch Tightener acts as a force multiplier so that all parents feel strong when tightening the car seat LATCH.
The car seat has a top tether with a clip on it. The tether reduces movement on forward facing car seats and makes for a tight installation. The top tether strap can store in a compartment in the back of the car seat when not in use.
Comfortable for Growing Children
As a convertible car seat the NextFit Sport has to comfortably accommodate children of various sizes and this seat from Chicco does that well with a wide range of available adjustments. The headrest on the car seat moves up and down easily and has nine positions it can lock in to support your child's head and neck. The harness on this car seat is one pull but also important it is no-rethread meaning parents don't have to worry about uninstalling the car seat to adjust the buckles as their child grows.
Chicco has designed this car seat for children up to six years old. The car seat can safely secure toddlers from 12-40 lbs in the rear facing position. When converted to forward-facing, this car seat is recommended for children 22-65 lbs and up to 49" tall. The child must meet both of those conditions to use the car seat safely.
How big is the NextFit Convertible and will it fit in your vehicle?
No car seat is perfect and parents need to understand that convertible car seats especially will offer a lot of convenience and comfort but they do come in a large package. This is not a small car seat by any standard and with its rigid steel frame it is also not lightweight. The car seat weighs about 25 lbs, so parents will probably want to leave it installed in the car instead of moving it between vehicles.
This car seat measures about 21" x 19" x 26". As a convertible seat it is naturally a bit bulkier and you see that here with the 19 inches of total width. The car seat is also rather deep with a footprint of 21 in. In exchange your child gets a comfortable seating position both forward and rear facing with a deep 13.5 in seat and about 11 in of room for their hips and shoulders.
Seat weight: 25 pounds
Seat height: 26 inches
Seat depth: 21 inches
Width at interior shoulders: 11.5 inches
Width at interior hips: 11 inches
Height Adjust Positions: 9
Crotch positions: 2
Most vehicles can accommodate this car seat easily in rear or forward facing positions. In some smaller vehicles the NextFit might bump up against the front seat when rear facing. For parents that need to install three car seats across the back seat of their vehicle, the width on this car seat might make that challenging. If in doubt about whether it will fit in your car, try calling Chicco customer service at 877-424-4226
How safe is the NextFit Convertible?
As one of the top selling car seats in the country, parents can rely on real world experience for peace of mind that this car seat holds up well if unfortunately you find yourself in an accident.
Real life crash experiences: The seat protected a little girl in a 70 mph side impact on the driver's side of the car. The seat also protected a 3 year old in a multi-car crash.
The car has a sturdy steel frame underlying it and providing an exceptionally rigid body. An EPS energy absorbing foam sits on top of the frame to minimize energy transfer and a rigid outer shell sits over all of it to provide impact protection.
So much of safety is about using the car seat properly and making sure it is installed correctly with a tight fit. The LATCH tightener on this car seat is a big help in making sure that the NextFit connects securely to your vehicle. Too often car seats are installed loose with lots of wiggle and this feature helps eliminate that.
How easy to install and use is the NextFit Convertible?
As mentioned before when discussing safety, an important part of using a car seat correctly is a tight installation. The LATCH system helps ensure that the car seat attaches to your vehicle, but often parents don't or can't tighten the straps securely enough. Car seats that are loose and have a lot of wiggle are more dangerous in an accident and also a lot less comfortable for your child to ride around in. Kids will feel supported by the car seat padding if the seat is buckled in tight. SuperCinch is a latch tightening mechanism on this car seat that makes sure the LATCH strap is tight and the car seat doesn't wiggle. It is basically a buckle that routes the strap to give you a mechanical advantage and multiply the force pulling on the strap. Parents find it to be a big help.
Parents report successfully using this car seat in a Fiat 500 https://www.amazon.com/ask/questions/Tx1HW5FFE2O2YNM/ref=ask_ql_ql_al_hza and cars don't come much smaller. Parents report using it fine on airplane flights as well.
BestCarSeatHubs Final Verdict

SuperCinch Tightener for LATCH straps
Proven record of safety in real-life crashes
No-rethread harness
Easy-to-see belt paths for seat belt installation
Easy to adjust headrest with multiple positions
Machine washable and dryable seat covers
Multi-Position leveling system for easy installation
Detachable cup holder thats machine washable

Rear-facing might take leg room from front seat
Bulky and heavy – difficult to place three car seats side-by-side
Big for smaller cars
Kids tall for their age may outgrow it well before weight limit
Not great for traveling
Straps do not remove for cleaning
Final Thoughts
No perfect car seats exist because ultimately adding something will involve sacrificing something else. Chicco has made some brilliant decisions with the NextFit convertible to create a seat that works well for parents that can install it in their car and leave it there. If instead you travel a lot or need to frequently move the car seat between cars this might not be the car seat for you. The NextFit is heavy and bulky so moving it around is not easy.
In exchange for the weight and size, parents get a very safe car seat that offers good side impact protection and provides children with a deep, comfortable seat. The car seat is sturdy and parents can plan to use it for several years without concern. Parents can purchase this car seat for their newborn and use it all the way to six years old. Children get a good ride with lots of padding and a solid fit with multiple settings for the headrest and recline.
Chicco has built a strong reputation for reliable, quality car seats and the NextFit is no exception. This is not an inexpensive car seat, but investing it provides parents a long term solution for keeping kids safe in the car.