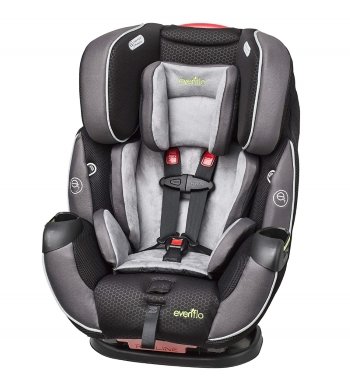 The Evenflo Symphony Convertible car seat debuted in 2008. Since then, it's gone through a few iterations, including the current Elite model, also known as the DLX model. It comes in a few other slightly different variations exclusive to specific retailers. Here, we'll focus on the Symphony Elite.
If you're looking for a seat that will last from birth until your child no longer needs a booster seat, the Elite is one you'll want to consider. It's loaded with features, is about as user-friendly as a convertible seat can get, but it's a little on the large side. So your choice may very well depend on your vehicle model and/or if you need to install alongside other car seats. You should also keep in mind that like other convertible seats, there is no portable infant carrier option, so this is an install it and leave it alone kind of seat.
As far as price goes, it averages around $200, but since you may not have to replace it as you would other single-function seats, it could save you money in the long run. But is this plush all-in-one seat really the only seat you'll need?
Let's break down the stats so you can decide for yourself.
(more…)