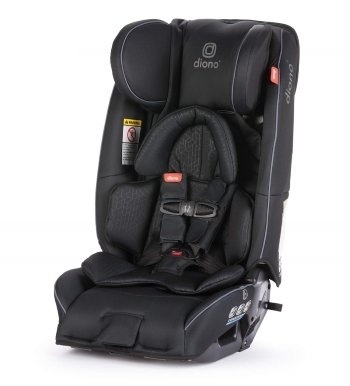 The Diono Radian 3RXT has been updated from previous models and is a solid all-in-one seat for parents to consider. A few things have changed from the older RXT model, including easier installation and more appealing aesthetic features.
Most convertible car seats on the market are good, but not usually great in all areas. They can be bulky, uncomfortable, or too big to provide a snug fit for a newborn. The 3RXT comes really close to hitting all the marks, though it's got some room for improvement, especially for newborn and booster fit.
Let's dive in so you can decide if this convertible seat is worth the investment for your family.
Key Features of the Diono Radian 3RXT All-in-One Convertible Car Seat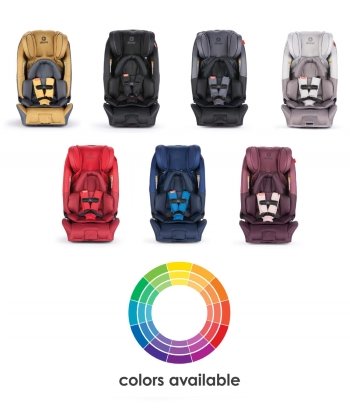 13 color choices
Narrow profile works well for 3 across (most midsize to large vehicles)
Steel frame
12-position adjustable headrest
Good for extended rear facing
Soft, plush fabric
Memory foam seat bottom
Includes infant cushion
Removable cup holder
Includes cloth cover for back side of car seat
Additional side impact protection
Low profile sides
10-year expiration
Folds flat for easy travel and storage
One of the most notable features is a new fabric cover for the back side of the car seat. It's an aesthetic improvement over rear-facing seats that have black plastic and all the ugly stickers showing.
While this is easier on the eyes, it does make some adjustments more challenging. It also conceals some important items, including an extra safety feature called the "safe stop" that is often overlooked in Diono seats. We'll talk more about that below.

Proven safety record
10-year expiration
Narrow profile great for 3-across
Easy SuperLATCH connectors
One-pull harness tightening
Low profile sides
13 colors with a cover for the back
Folds flat for easy storage & transport
Steel frame

Installation is not intuitive
Seat back cover obscures adjustments
Only one rear-facing recline angle
May limit front passenger legroom
Heavy
Harness straps must be rethreaded to change height
Not a good fit for newborns
Kids may outgrow forward or booster mode well before listed size limits
What are the child size limits of the Diono Radian 3RXT?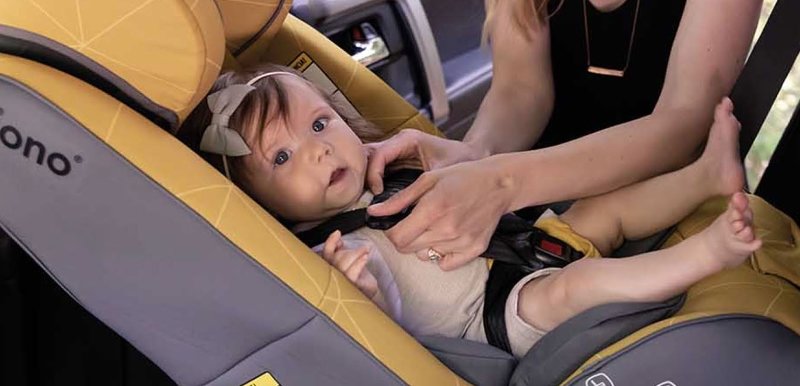 Rear-facing
Forward-facing
Booster
Lower anchor weight limits
weight range
height range
weight range
height range
weight range
height range
5 – 45 pounds
Up to 44 inches
20 – 65 pounds
Up to 57 inches
50 – 120 pounds
Child's shoulders should be at or above 4th harness strap slot
35 pounds (rear-facing) & 40 pounds (forward-facing)
This is one area that the 3RXT could improve upon. Forward-facing children may very well outgrow the height of the harness straps and headrest well before the stated height limit. Same goes with booster mode. Their shoulders may hit the bottom of the headrest well before they've outgrown the size limits for the booster seat.
Newborns, on the other hand, may not fit snugly enough, as the lowest harness straps may not fit at or just below their shoulders. If you have the harness covers on, the straps may look snug, but can be deceiving. The straps alone should fit at or below the shoulders in rear-facing mode. This seat does not have an adjustable recline, which means infants with little to no head control may slump unless you have car seats that are very flat and level.
The seat best fits babies who can sit up on their own and kids in forward-facing mode. The switch from forward to booster may be a toss-up depending on your child's size. Also, knowing when to stop using the lower anchors and other items can be difficult to remember, but thankfully, there is onboard storage for the manual so you can consult it when needed.
How big is the Diono Radian 3RXT and will it fit in your vehicle?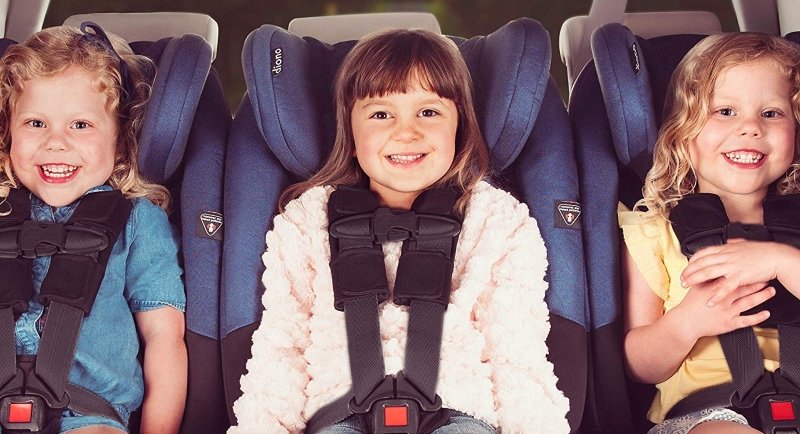 Seat weight: 24 pounds
Width at widest point (shoulders): 16.5 inches
Shell height: 24.5 inches
Seat pan width (hips): 12 inches
Lowest harness height (w/o insert): 8 inches
Highest harness height: 17 inches
Crotch buckle slots: 2.5, 5, and 7 inches
For families who need 3 car seats in a row, this is where the Radian 3RXT truly shines. It's got one the narrowest profiles on the market and will fit 3 across in most mid to large-sized vehicles. For compact cars, it'll be a toss up.
Tip: If you're having issues with getting 3 to fit across, some parents suggested using seat belt installations for all the seats, since the placement of the LATCH anchors could make the fit too snug.
You'll have the most issues with the car seat's front to back dimensions when installed rear-facing. Due to its height, it may lessen front passenger legroom considerably. Like we recommend with all car seats, measure your car interior dimensions before purchasing.
This is a HEAVY seat at 24 pounds, so it's best as an install it and leave it kind of seat. However, that's one thing many parents love about it. The seat lacks the "cheap" feel of other models.
How safe is the Diono Radian 3RXT?

We're happy to see fantastic reports of real crash experiences in which the Radian 3RXT performed well. One father reported that their family was in a serious roll ever crash. All 3 kids were in 3RXT seats, and none of them had a scratch. There are other testimonials as well from various crashes that show this seat protects kids in many types of accidents.
Diono doesn't skimp on safety features. However, using some of them might be confusing at first, so we recommend getting very familiar with each feature and when it can be used as soon as you get the seat. Read the manual thoroughly. Highlight or dogear important info, and watch as many videos as you can.
For instance, unlike other car seat manufacturers, Diono allows the top tether to be used rear-facing. It prevents rebound motion. BUT, you should first ensure your vehicle allows for that. Some manufacturers such as Chrysler/Jeep/Dodge don't allow it in any of their vehicles. You should be able to find this info in your car owner's manual.

Some of the adjustments to straps and the top tether must be done through the back cover, which can be a pain. This includes the Safe Stop (mentioned above). This is a strap that MUST be attached to the harness with all forward-facing kids who are under 40 pounds.
It is stored on the back of the seat under the back cover. To use it, the seat must be uninstalled. You then attach it between the harness straps and splitter plate. Many parents miss this in the manual and don't see the Safe Stop strap under the back cover.
Another safety adjustment that can be confusing is the adjustable bottom (forward-facing recline). It needs to be lowered for all kids 25 pounds and over who ride forward-facing. It should NOT be used for kids under 25 pounds.
NOTE: There was a recall in 2017 for models produced from April 2014 to March 2015. It was for forward-facing seats, for kids over 65 pounds using the 5-pt harness, and for seats installed with a lap belt only and without the top tether. Every seat since October 2017 has been fixed to resolve the problem. No recalled seats are being sold.
How easy is the Diono Radian 3RXT to install and use?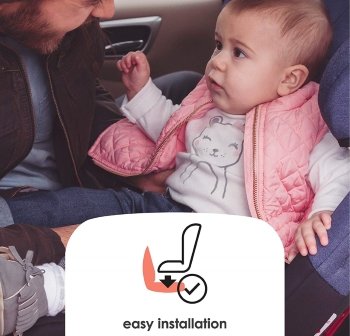 Installation and seat adjustments can be confusing with this seat. Once you've done it a few times, it'll get easier. Once it's installed properly, you'll have a super sturdy seat, but it's definitely not as intuitive as other car seats. Some info on the seat and accessory labels is vague or missing info, as are some sections of the manual.
One annoyance is that you must remove the seat & rethread the straps to adjust their height. However, one of the biggest issues parents had was getting the seat to the proper angle while rear-facing. There's only one fixed angle for rear-facing with this seat. This is particularly a problem on sloped vehicle seats in which the edge of the seat near the front of the car is higher than the edge near the rear. This can leave the seat too upright for small babies.
For cars with flatter vehicle seats or those that have a raised bight area (the crack between the seat back and bottom), the seat will have a better recline. Diono does sell an angle adjuster, BUT it is only to help the seat sit more upright for extended rear-facing with older children.
One GREAT improvement is that there is no longer a ratcheting system for harness tightening. Parents really struggled with this in previous models. Now, all you have to do is pull an adjustment strap. Easy peasy.
We also love the SuperLATCH system with push-on connectors that are much easier to use than the older ones. The low profile sides are also really nice for self-sufficient toddlers and preschoolers to climb in and out of the seat on their own. Parents have also loved the fold-flat feature for easier transport while traveling.
Optional Accessories

Diono Radian Carry Strap
Buy 2 of these in order to carry your folded up 3RXT like a backpack. Makes airport travel a lot easier.
Best Car Seat Hub's Final Verdict

For dependability and a proven safety record, the Diono Radian 3RXT is hard to beat. For the price, however, we wish installation and adjustments were a lot more intuitive.The harder installation is, the bigger the chances of missing something important in regards to safety.
If you have a mid to large-sized vehicle, and especially if you need 3 across car seats, this is one model you should highly consider. We'd recommend starting with a dedicated infant seat for the first few months, then switching to this one when the baby is sitting on his own.
We definitely recommend watching installation videos and reading the manual closely to become familiar with everything before you use the seat.