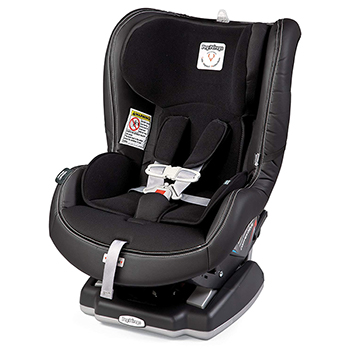 The Peg Perego Primo Viaggio Convertible Car Seat is a top-quality car seat designed by a leading brand with a heavy focus on safety. This high-end offering provides the latest technology in an attractive, comfortable car seat.

Made in Italy, the Peg Perego Primo Viaggio convertible car seat sports leading safety features like a contoured steel back plate that minimizes flexing and provides extra stability without sacrificing comfort.
High Quality European Design Emphasizing Safety
You tend to hear the same names over and over again when shopping for and researching baby gear. A name that you don't hear as often as the others is Peg Perego, even though it has been on the market for quite some time. How does it rank when compared to the other big companies out there? Should you consider it for your baby?
Manufactured in Italy, the great thing about this brand is their products are all designed and developed in one place. As a company, Peg Perego believes very strongly in this. Nothing is outsourced and no other company has a hand in the design or creation of the baby seats.
The Primo Viaggio Convertible is built on a strong concept of safety. There are many different elements that go into making this a very competent and secure device for your child, including:
(more…)