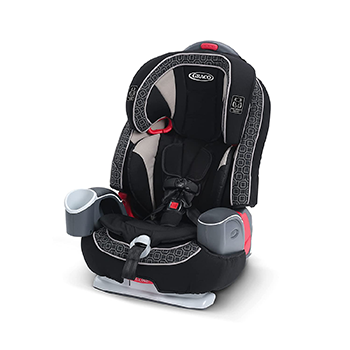 Graco has been manufacturing the Nautilus 65 LX car seat since 2007, with minor modifications and improvements along the way. The Nautilus 65 LX 3-in-1 provides parents with a 5-point harness car seat, highback booster seat, and backless booster seat all in one. If your child is over 22 lbs then you can invest in this car seat and use it all the way until children are grown.
Graco also makes available a similar Graco Nautilus 65 version that does not have the increased weight limit up to 120 lbs. This increased weight limit lets parents delay the transition to a regular seatbelt and instead leave children buckled safely into the car seat longer. Parents won't find much difference in the design of the two seats, and the difference in price is usually fairly negligible.
Child size limits for the Graco Nautilus LX 3-in-1
| | | | |
| --- | --- | --- | --- |
| | 5 Point Harness mode | High back booster | Backless booster |
| Weight range | 22 – 65 pounds | 30 – 120 pounds | 40 – 120 pounds |
| Height range | 27 – 49 inches | 38 – 57 inches | 40 – 57 inches |
3-in-1 Car Seat & Booster
In the first stage, parents use this car seat as a forward-facing harness. As a forward facing harness seat it can safely transport children from 22-65 lbs. As children grow, parents can move them on to the second stage of this car seat where it converts into a high-back belt positioning booster. Here the booster seat uses the car seat belt to buckle the child in safely and provides a backrest to help route the seat belt appropriately. In the third stage the Graco Nautilus is a backless booster seat that can support children from 40 – 100 lbs. At this age children are likely bucking themselves into the seat.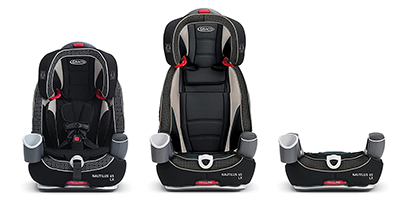 Note:
Children should use the built-in harness system when forward facing for as long as possible. Only once children reach the maximum height or weight should they move to the booster seat configuration. Children can stop using a booster seat once the seat belt fits them properly on the hips and shoulders. This is typically between the ages of 8 -12 years old when they reach the height of approximately 4 feet 9 inches tall (57 inches).
Parents looking for a booster seat that supports children over 100 lbs can purchase the Graco Nautilus XL with support up to 120 lbs.
Graco Nautilus Has Sturdy Construction
The Graco Nautilus has a strong steel-reinforced frame covered in energy absorbing EPS foam to absorb impact. Even though this seat is a convertible, the frame and construction are big and feel sturdy. The seat on the Nautilus reclines to three different positions, which is helpful in getting a comfortable fit and tight installation on some vehicles.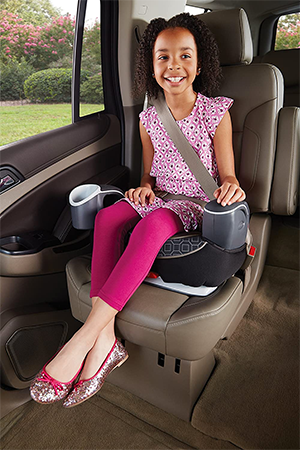 Graco released the Tranzitions car seat several years ago for parents that want a slimmer, narrower design than the Nautilus. Parents looking for a solid build seat will prefer the Nautilus over the Tranzitions.
Car Seat Depth: 18 inches
Car Seat Height: 28 inches
Car Seat Outside Width: 20 inches
Car Seat Weight: 20.92 lb
The Graco Nautilus is not a small car seat, so parents that are frequently moving the car seat between multiple cars might prefer a different model. Still, lots of parents prefer and appreciate the sturdy design of the Nautilus and how safe they feel putting their children into it.
Graco Nautilus LX Is A Comfortable Car Seat
Children find the car seat comfortable with good cushioning. The headrest is adjustable and parents can choose from 5-positions to find the right fit for growing kids. Adjusting the headrest on this car seat will also adjust the harness height due to the convenient No-Rethread Simply Safe Adjust Harness developed by Graco. Not forcing parents to rethread the harness helps reduce the risk of installation errors, which is the leading cause of car seats failing.
Note: Children in a forward facing harness seat should have the straps at or just above the child's shoulders and the top of the child's ears should be below the top of the headrest.
The armrests on this car seat are not adjustable, but they do have a cup holder included. There is also a storage compartment that hides away into the seat and can be used by children to stow snacks, sunglasses or small toys. Parents report that kids are happy in this car seat over long drives.
Installing the Graco Nautilus LX in Your Vehicle is Easy
The best location for installing the Graco Nautilus is in the rear, center seat of your vehicle. However, sometimes the center rear seat only has a lap belt so be sure to check your car owner's manual for vehicle specific installation specifications or restrictions. This car seat cannot be used in booster seat mode with a lap belt.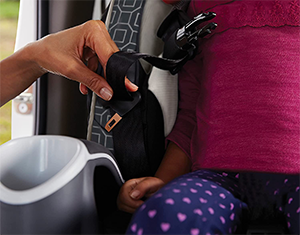 Installation of the Graco Nautilus is made easy by the LATCH system included. The lower anchors on this car seat are the hook type, which can be easier to connect but a bit trickier at times to disconnect. Remember that the chest clip should always be positioned on your child even with their armpits. Parents who want installation checked by a safety technician can visit www.seatcheck.org or www.safekids.org for additional resources.
The bottom of this car seat does have a hard plastic finish. This can wear on your car leather seats, so most parents who purchase this car seat also end up adding a seat protector. Graco recommends in the owner's manual that parents add a mat, towel, or thin blanket both under and behind the seat to protect the vehicle.
Is it easy to clean the Graco Nautilus LX?
Cleaning this car seat is easy as the pad, harness, and buckle covers are all machine washable. They should be washed on a gentle cycle with cold water and then allowed to drip dry. The metal and plastic parts on the car seat can be cleaned with water and mild soap.
As with all car seats, parents should be careful when cleaning to not immerse the harness straps in water as it can cause them to weaken and deteriorate. It is recommended however, that when cleaning the buckle parents place it (but not the strap) in a cup of warm water and press the red button several times.
The Graco Nautilus LX is Dependable
Graco is a dependable brand and this car seat does not expire until 10 years after the date of manufacture. The car seats are designed in America but manufactured in China. It does have a limited 1 year manufacturer's warranty. Remember that all car seat owners are advised against borrowing or loaning car seats unless you are aware of the complete history of the product and that it has never been in an accident.
BestCarSeatHub's Final Verdict

3-in-1 use as rear-facing, forward-facing and booster seat to fit a wide age and size range
Sturdy, steel construction
Affordable, reasonable price
Washable seat pad
Easily converts between different stages
Performed well in real-life crash scenarios
5-Position headrest adjustment
10-Year Expiration

Heavy and bulky
Hard, plastic bottom
Awkward crotch buckle
Doesn't fit well in some bucket seats
Harness may be difficult to tighten
Conclusion
The Graco Nautilus 65 3-in-1 and Nautilus 65 LX are time tested solutions that have been safely transporting children for years. While these models might not be as streamlined or lightweight as some more current designs, lots of parents find a feeling of safety and security in using a car seat with a bit more heft to it. The strong, steel underbody makes this a solid car seat that feels like a sturdy extension of the vehicle and will last a long time. Parents can trust that installed correctly this car seat provides a comfortable and safe seat for children from when they are toddlers are the way up to youth.
For families looking for a single car seat solution, this is one of the longest lasting car seats on the market.