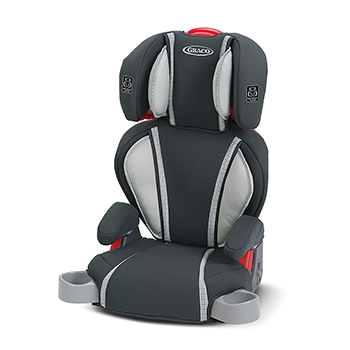 Parents shopping for an affordable high back booster seat often settle on the TurboBooster HighBack Booster Seat from Graco. This low price option provides a safe, high back booster seat for children over 40 lbs. As children grow larger this highback seat easily converts into a backless booster seat.
Booster seats elevate children higher up in the back seat of a vehicle so that their seat belt fits correctly. A safe booster seat should move the shoulder belt away from the child's neck and over towards the shoulder blade. Similarly, the lap belt should move off the soft abdomen area of your child and over onto the large bones of their legs and hips. Graco accomplishes this while still providing your child a comfortable ride with:
Head support that is height adjustable.
Padded armrests that adjust up and down.
Energy-absorbing, EPS foam.
Plush head and body inserts.
Open-loop belt guides to help buckling.
Graco fills the TurboBooster Highback Booster Seat with well thought out features that improve comfort and safety.
(more…)