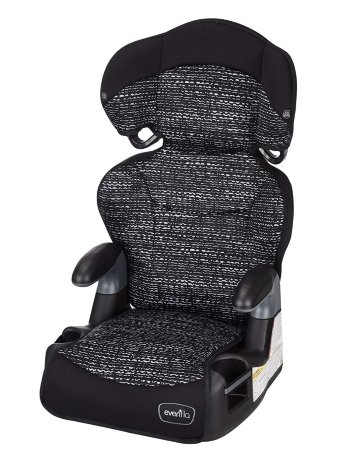 When many parents think of the brand Evenflo, they think of high quality products that they can trust – and the Evenflo Big Kid AMP is no different. As people who focus on the effectiveness of car seats, there have been very few that have this much hype around them and none that seem to live up to that hype: until now.
What makes the Evenflo Big Kid AMP so impressive? It starts with a high quality core model that is made out of strong, trusted materials and goes through to comfort for your child. At the same time, it is one of the most affordable models on the market today.
Once you get used to this seat, it is truly one that will grow with your child – it is quite easy to convert.
The Evenflo Big Kid AMP is one of the top car seats on the market today for many reasons. The high back belt positioning booster has a very large weight limit of 30-110 pounds while the backless booster can be used for kids between 40 and 110 pounds. The seat grows with your child through six different height positions that can ensure that you get the best possible fit. It has been side impact tested and federal crash tests to ensure that it meets (and surpasses) all of the safety requirements.
(more…)