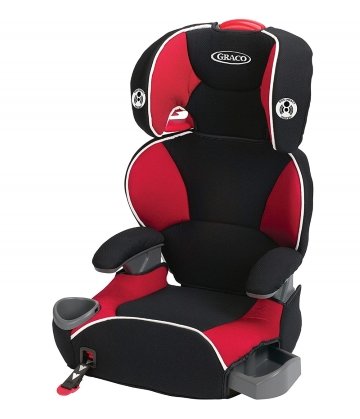 The Graco Affix is a highback booster car seat that comes with lower LATCH anchor straps to help keep the seat secure when no one is riding in it. It's been crash tested to meet or exceed US standard FMVSS 213.
A unique front-adjustment strap makes it easy to tighten the booster LATCH straps. This seat also converts into a backless booster. It's very similar to the TurboBooster LX, which we will also discuss in this review.
Key Features of the Graco Affix Booster Seat
Cup holder + pull-out drawer
LATCH connectors
10-year expiration
Converts to backless booster
Front LATCH tightening strap
6-position headrest
One important thing to note about the cup holder is that some customers thought it was missing. In fact, it comes stored away on the bottom of the seat. So be sure to turn it over and have a look there when you're assembling the booster.
The pull-out drawer is big enough to store small toys, sunglasses, etc. Some parents discovered that it's hard to pull out the drawer while the child is sitting in the seat, however.
What are the child size limits of the Graco Affix Booster Seat?
Highback weight range: 30-100 pounds
Backless weight range: 40-100 pounds
Highback height range: 38-57 inches
Backless height range: 43-57 inches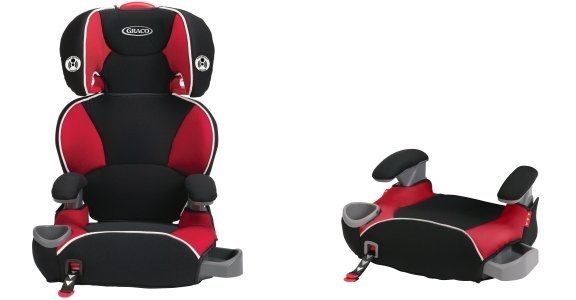 The 6-position headrest accommodates your growing child's height really well. The seat belt guide is wide and holds the seat belt to provide a proper fit (off the belly and diagonally across the collarbone).
Kids felt there was plenty of padding in the seat bottom and that it supported their legs rather than letting them dangle uncomfortably. Wide arm rests and smooth seat belt guide helped them easily buckle themselves in.
As far as ages go, kids should be at least 3 years old for the highback and 4 years old for the backless mode. Kids who are tall for their age may outgrow this seat before they pass the weight limit.
How big is the Graco Affix Booster Seat & will it fit in my vehicle?
Widest point: 18 inches in front
Headrest width: 16 inches
Seating width: 10 inches
Seating depth: 14 inches
Seat weight: 10 pounds
This seat is light enough to easily move and transfer from vehicle to vehicle. One important thing we noted was that it does NOT need a headrest in highback booster mode, unlike many other booster seats. When used as a backless booster, the child does need adequate head support, however.
Due to the width, it may not work well for 3-across seating unless you have a very roomy backseat. Also, the base cannot have any overhang, according to Graco. So if you have shallow-depth seats, such as plus one or jump seats, it may not work there.
Alternate versions:
The Graco TurboBooster LX

The Graco TurboBooster LX is VERY similar to the Affix, except that the fabric is more plush. Also, the Affix is slightly wider. But other than that, they're mostly identical.

Graco TurboBooster LX Featuring TrueShield Technology

Graco TurboBooster LX with TrueShield technology is also mostly identical, except it has wider head and torso wings and a 7-position headrest.
How safe is the Graco Affix Booster Seat?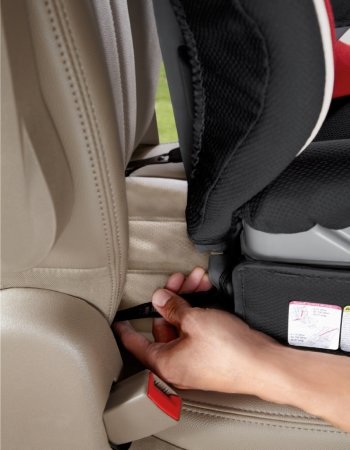 It's important to know that the LATCH straps on this seat are NOT a necessary safety feature for your child. Using them is optional for this seat. LATCH hasn't been shown to make booster seats any safer since they rely on the vehicle seat belt system to keep your child in place.
This isn't to say that the LATCH straps don't provide any extra safety. They actually serve to keep the booster in place when your child isn't riding in it so that it doesn't become a projectile in a crash. It can also keep the seat in place while your child is getting in and out of it so they're not covering the seat belt receptacles, etc.
One issue some parents had was finding that the lower anchors sometimes didn't secure the seat as firmly as they expected. This caused the seat to shift around while parents were driving without the child. You can be assured, however, that this booster seat has been thoroughly crash tested to meet and exceed federal crash test standards. The Affix is currently rated as a "Best Bet" booster at IIHS. There are currently no known recalls of this seat.
How easy is the Graco Affix Booster Seat to install and use?
One nice thing is that there is storage for the instruction manual under the seat so it's easy to refer to when needed. It's super simple to install. Set it in the backseat and hook in the LATCH straps. Pull the front strap on the base to tighten the LATCH straps. Then fasten the child in with the seat belt. And boom, you're done.
There are a few flaws in usage, however. Once you get the LATCH straps attached, they can be hard to remove. They aren't the push-on connectors, which we love, but the traditional hook-on connectors. But, please note that using LATCH on this seat is optional. If you have lower LATCH anchors (in your backseat) that are hard to reach, then just skip it and save yourself some trouble. Instead, use the seat belt to secure the booster when your child's not in it.
Other little nagging issues include the armrests. They're a little short and can't be adjusted for height or pulled out of the way for easier getting in and out. The cup holder is kind of small, so it won't support larger cups or bottles. The pull-out drawer is also pretty small, so it won't hold more than a very small snack or a small toy or sunglasses.
Optional Accessories
Booster Seat Footrest For the kid who's always complaining about their legs being uncomfortable while riding in their booster, a footrest might be just the thing. Its adjustable height and angle help to fit kids of all sizes up to 60 pounds.
4-pack Seatbelt Shoulder Pads For the kid (or adult) who complains about the seat belt rubbing against their shoulders. They come in gray or black and wrap around the seatbelt with a Velcro attachment.
BestCarSeatHub's Final Verdict
It's hard to go wrong with this booster seat. The problems are few and not serious. It's not expensive and not heavy.
The main thing to remember is that the LATCH is optional on this seat, unlike infant and other harnessed car seats. But using it will keep the seat in place when your child's not in it, thereby preventing the seat from being a projectile in a crash.

Optional LATCH keeps seat secure when child's not in car
Integrated cup holder
Pull-out drawer
Smooth, wide seat belt guide
Lightweight
Front LATCH tightener for easy installation
Well-padded seat
Converts to backless booster

Can be hard to uninstall LATCH
Cup holder & drawer not large enough for big cups/objects
Hard to pull out drawer with child in seat
LATCH can come loose so seat flops around
Armrests not adjustable and rather short
Too wide for easy 3-across configuration