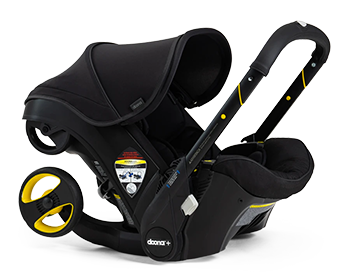 The Doona car seat and stroller is the first of its kind, a 2-in-1 hybrid design that revolutionizes travel for busy parents on the go. This multi-award-winning product has built up an A-list following, spotted with famous parents such as Khloe Kardashian, Natalie Portman, and James Cordon to name a few. With such upmarket clientele and a hefty price tag, parents are naturally curious if the Doona actually delivers the high quality experience that the brand boasts about.
What makes the Doona Infant Car seat unique is that in one swift motion parents can transition it easily from car seat to stroller all without disturbing your baby. Unlike other strollers or baby carriers that require fitting the car seat to the frame and snapping it in, the Doona integrates everything together. The additional handlebar and wheels, rather than adding bulk when stored, compactly fold away to contribute an extra layer of protection for your baby's car seat. The Doona really is the most innovative car seat currently on the market.
This Doona review will take a closer look at the features and benefits of this one-of-a-kind travel system to see whether it is worth the investment. A lot of families are on board with the amazing benefits of the Doona, but the system has some drawbacks too. For instance, with parents reporting that their babies can outgrow the Doona at just one year old, some families will want to consider longer-lasting car seats that grow with your baby. Other parents will argue that the additional cost is worth it for the extraordinary convenience of the Doona. To help families decide let's take a look together at why the Doona is proving to be so popular.
Key Features at a Glance:
Worlds only hybrid car seat with integrated wheels to quickly convert to a stroller
5 point harness with infant insert and head support
Adjustable handlebar that acts as an anti-rebound bar inside the car
3 layer anti-rebound and side-impact protection
Removable and washable, baby-safe, breathable fabrics
Range of stylish colors available
Suitable for infants from 4lbs to 35lbs
Rear-facing only
TUV and FAA aircraft approved for travel
Protective seat cover included
One-click latch base with safety lock indicator
2-year warranty against manufacturing and material defects
Doona has Great Details and Aesthetics
The Doona is available in a range of 6 stylish colors; Racing Green, Nitro Black, Blush Pink, Grey Hound, Royal Blue, and Flame Red. Whatever color you choose will boldly stand out against the crisp all-black inner seat cover and charcoal aluminum frame. The design is sleek, modern, and easy to keep clean with high-quality washable fabrics. The handlebar and rear wheels on this stroller have a splash of yellow no matter what color you choose.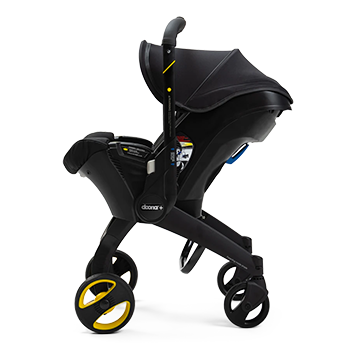 New for 2021 on the Doona is a Midnight Edition colorway that has a black on black design complimented by subtle yellow accents.
Functionality Is Key On This Car Seat
Designed to take the stress out of traveling, the Doona provides a practical solution for busy on-the-go parents. Doubling as a car seat and a stroller, with the click of one button you have a complete travel system. The Doona claims to save time with the innovative simplicity of its design, and parents are agreeing!
The Doone car seat is easy to use. Simply strap the baby into the seat with the 5 point harness, the car seat then clips straight into the latch base within the car. If purchased without the base the seat can still be secured using a seatbelt and the protective seat covers prevent any mess from being made within your vehicle.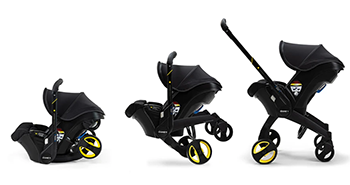 Once you arrive at your destination there is no need to go in the trunk for a stroller or disturb a sleeping baby. Instead, gently lift the seat out of the car and push the button to release down the fold-away wheels. The handlebar extends easily to your desired height and your stroller is ready to go.
Although the built-in wheels make the car seat heavier than the average, at 16.5lbs, most parents do not see this as an issue and instead heap praise on its compact design. This travel system is perfect for navigating through cities and tight aisles in stores with ease.
Parents Provide Mostly Positive Feedback About the Doona
One downside that parents have reported about the Doona, especially those on the taller side, is that the handlebars do not extend high enough for everyone to push it comfortably. This is due to the entire handlebar stowing away into the travel system so tall parents should be a little wary.
With the integrated stroller design, the Doona stroller lacks the storage space routinely found on the back and underside of other travel systems. Doona does have accessories available to combat this but they add to the cost of an already expensive system.
A small number of parents have reported difficulties in being able to attach their Doona to the base, however, any manufacturing issues causing this would be covered under the 2-year product warranty.
Finally, the car seat covers a weight range from 4lb to 35lb, however, most parents report their children grow out of it around the age of 1 year. The Doona is a bit compromised on overall size since it is trying to tightly store the wheels and car seat together. Although this car seat does not cover as wide of an age range as other brands, it is clear from the reviews that for most parents the Doona's convenience outweighs any negative issues.
Customers Are Happy With The Materials and Build Quality
All the materials used in this car seat are safe for children and tested to the highest standards (USA and European standards and must pass testing under the REACH regulation). The materials used in this car seat are completely free of hazardous chemicals so parents can be confident it is baby safe.
To ensure long-lasting safety all the textiles are also tested for sturdiness over time. The Doona has also been manufactured to the highest quality following US safety standards, and many parents have happily reported how well it lives up to its high-quality claims.
Will the Doona car seat fit in your car?
Most parents are wary about fitting the Doona in their vehicle because of the integrated stroller. However, when considering the size of the car seat it is comparable to other car seats in the market.
Doona Car Seat Folded
weight
height
length
width
Dimensions
16.5 pounds
23.6 in
26 in
17.3 in
Unfolding the legs on the Doona changes the dimensions.
Doona Car Seat Unfolded
weight
height
length
width
Dimensions
16.5 pounds
39 in
32.2 in
17.3 in
Consider the dimensions of the car seat LATCH base when trying to plan for three car seats across the back seat or other similar arrangements.
Doona Base Dimensions
weight
height
length
width
Dimensions
10 pounds
9.6 in
20.9 in
15.7 in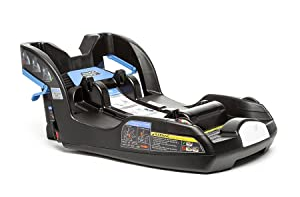 Many parents who have purchased the Doona praise how compact the design is. Even with the attached wheels, this car seat fits neatly in most cars with ease. The LATCH base adds additional simplicity to the process. The Doona is also certified for air travel, as long as you buy a ticket to take it on board, or you can check it in with your luggage. Since this car seat has an integrated stroller, it is an excellent choice for vacations. Families can easily travel with this stroller.
Installation and Assembly of this Car Seat is Easy
The Doona is delivered fully assembled. Parents simply need to take it out of the box and it is ready to use. The LATCH base can be clicked into place in any vehicle built with a LATCH system and the base is easily leveled with the turn of a knob. This enables you to set the car seat on an even and secure surface without fighting with the seatbelt. Of course, if you are traveling without the base, the Doona can be secured with either vehicle or aircraft seatbelts, with full instructions and compatibility listed in the user guide.
Cleaning and Maintenance of the Infant Carrier
All the fabrics, seat pad, and shoulder straps on the Doona car seat are completely removable and machine washable. Parents should clean these items in the washing machine on a cool temperature, using a mind detergent. The plastic can be wiped clean using a combination of water and a mild soap such as dish soap. The harness straps must never be taken apart and if cleaning is necessary you must only use either a damp cloth or warm water. Never soak these parts in water or you can risk undermining their durability.
Doona does make replacement parts available for this stroller. Parents can purchase items if wear and tear occurs or otherwise the 2-year warranty covers any manufacturing and material defects.
Popular Accessories for the Doona Car Seat
Snap-on Storage – As parents have noted the Doona does not have built-in storage, fortunately, there is a range of snap and strap-on storage bags available to purchase.
360° Protection – An additional protective cover that snaps onto the Doona to provide UV protection (SPF 50) and shield your baby from insects. It is easy to wash and comes with a tidy storage bag.
Wheel Covers – If traveling on muddy terrain you can add extra protection to your car seats by purchasing the Doona wheel covers, they can also attach to the seat cover and wipe clean.
Cold Weather Protection – Footmuffs and rain covers are also available to protect your baby from cold and wet weather.
BestCarSeatHub's Final Verdict

Easily converts from car seat to stroller
Manufactured to a high-quality standard
Triple-layer anti-rebound protection for increased safety
Travel certified and suitable for aircraft use
LATCH base allows for safe and easy car use
Easy to remove, machine washable covers
Can be used without the base for easy transition from one car to another
5 point harness to strap baby in safely with ease
Compact stroller design perfect for busy city life

Expensive
Weighs more than other car seats
No built-in storage
On average babies outgrow just after 1 year
The wheels can soil the seats of your car if protection is not used
Short handlebars make it uncomfortable for taller people to push the stroller
Final Thoughts
The Doona does cost more than most other car seats on the market, but it has the advantage of delivering parents one complete travel system in a convenient package. It could be worth the expense for parents with busy lifestyles. Families will also want to factor in the additional cost of accessories, as there is no built-in storage, which is one of the biggest downsides of the Doona.
However, parents do get peace of mind from the additional safety aspects on this car seat, such as impact-absorbing layers of plastic and the secure 5 point harness. Overall, this clever 2-in-1 design is a game-changer for traveling with ease during your baby's first year and if you are on the go it is definitely the car seat to consider.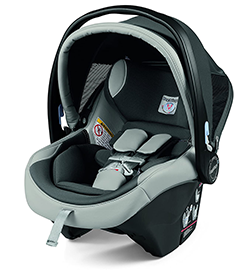 The Peg Perego Primo Viaggio 4/35 Nido is an ultra high-end infant car seat boasting market leading safety features such as an anti-rebound bar, a load leg, and one of the largest canopy hoods we've seen on a car seat. Parents that spare no expense for their baby's comfort and safety should consider this car seat for their newborn.
Is this premium car seat with its swoon worthy Italian textile and tailoring worth the hefty price tag? Let's jump right into our detailed review of the Peg Perego Primo Viaggio 4/35 Nido to see how parents who spent big bucks on the Nido feel about this infant car seat.
Key Features at a Glance:
Made in Italy with European Safety Features
Built in Anti-rebound Bar
Load Leg adjustable to 10 different positions
Extra-large extendable hood with UPF 50+ protection
Energy absorbent foam construction
Two stage cushions made of soft, breathable fabrics
Easy installation with or without the base
6 positions Headrest with no re-threading required
For babies 4-35 lbs. and 32" tall
What makes the Nido car seat unique? Quality
Peg Perego car seats are made in Italy and are known for their superior quality material, design, and finishing. Many parents are smitten with the fine stitching and quality of the Nido. Purchasers almost uniformly agree that the quality construction makes for an extremely durable car seat that cleans easy and stays looking new.
Parents also like the protection that the Nido offers. The entire shell and head panel of the car seat is covered with a thick layer of energy absorbing foam to ease the amount of force exerted on your child in an impact. This helps protect the baby's torso and head. While the shell is lined with rigid EPS foam, the headrest is made of high elasticity EPP to help protect your child.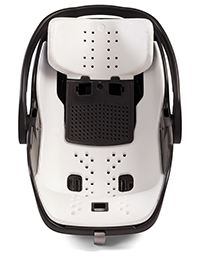 The Nido also boasts a dual cushion system made from soft, breathable fabric that is meant to grow with your baby. Stage 1 of the cushioning system caters to newborns and is designed to support a baby's neck and bottom, with many parents finding that their preemie fits snugly in the stage 1 cushion. Stage 2 supports growing babies up to the weight of 35 lbs.
Perhaps the most raved about feature of the Nido is the extendable Pagoda Hood which is ginormous! It can extend all the way forward to completely cover the baby. The canopy hood is made from fabric that is UPF 50+ thereby protecting the baby from harmful ultraviolet rays, especially on long strolls or car rides. The canopy has an easy to use zipper and side mesh netting for increased ventilation.
Why do parents spend big money on the Nido? Mainly for Safety
The Peg Perego Nido has performed very well in crash tests. Two of the most stand out safety features of this car seat are the anti-rebound bar and the load leg. While these safety features are common in Europe, they are not often seen in North American models.
What exactly is an anti-rebound bar and why is it such an important feature in a car seat? In simple terms, it is a steel bar at the foot of the car seat which helps rear facing car seats manage rebounding during and after a collision; it helps minimize risk of injuries to your rear facing child in the event of a crash. The anti-rebound bar in the Nido helps reduce rotation caused by a collision by up to an estimated 50%.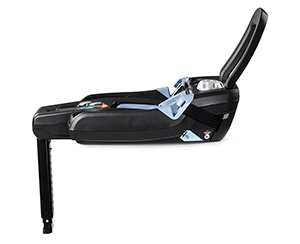 Since safety is the number one thing parents look for when getting a car seat, this is definitely a feature that makes it stand out from the crowd. It's worth mentioning that anti rebound bars are not required on car seats in the US and are an added, extra safety measure to protect your little ones.
The other feature that stands out in the Nido is the load leg. The load leg helps stop the car seat from moving back and forth in the case of a collision. When a crash happens, the Energy Management System crumples under loading and it absorbs the energy, moving the force away from your baby and into the floor of the vehicle.
Note: the main difference between the Peg Perego Primo Viaggio 4/35 and the Peg Perego Nido is that the latter comes with the load leg feature.
These two European safety features combined – the anti-rebound bar and the load leg – work to make the Nido car seat highly rated in the safety department.
Is the Nido Car Seat Easy To Install In A Vehicle?
The Nido can be easily installed in 3 different ways – the LATCH system, using the Nido base with the vehicle's strap, and installation without the base.
With regards to the LATCH method, some parents do complain of difficulty tightening. Attaching the connectors to the anchor is simple enough but releasing the connectors and tightening the strap is relatively hard. Trying to get the straps installed tight enough is a universal complaint of any car seat owners, not just Nido owners.
According to some Nido owners, using the car seat base and the vehicle's strap is easier than using the LATCH method. To install, you simply thread the strap through the color coded sides on the car seat and the belt lockoff located at the center of the base.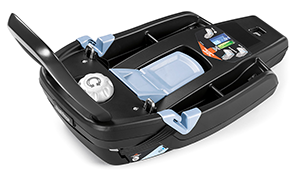 The consensus seems to be that the easiest method of installation is without the base, using the American or European belt path. Still, most parents are going to be a lot happier with a base installed because it makes it easier to get their baby in and out of the car without disturbing them during a nap.
Do Parents Think The Nido Is Easy to Use?
The Nido comes with a 5 point harness that has a good amount of padding on both the shoulder and crotch strap. Tightening and loosening the harness is simple and using the buckle on the harness is easy. However, parents do complain that the chest clip is rather stiff and in some instances that can make it difficult to use.
The Nido headrest features a non-rethread height adjustment system with 6 different positions to choose from. Changing the height is straightforward with just a squeeze from the back of the car seat. Having the no rethread feature helps reduce the chance of user error during installation or adjustment.
Attaching the car seat to the base is super simple; red and green indicators let you know when the car seat is correctly attached. Removing the carrier from the base is also very easy with a squeeze button at the back of the carrier. Napping children should be able to stay asleep through parents moving the car seat in and out of the car.
What is the Weight and Size of the Nido Infant Car Seat?
The Nido infant car seat weighs 10 pounds, which is on the heavy side compared to competitors. All of those safety features, padding, and foam layers add to the weight of the car seat. If you won't be using the carrier for long distances then the weight may not be such an issue for you. However, if you plan to carry the baby in the carrier for longer distances than parents should consider the weight carefully.
Nido Car Seat
weight
height
length
width
Dimensions
10 pounds
28.5 in
26.5 in
17.25 in
Consider the dimensions of the base when trying to plan three car seats across the back seat or other similar arrangements.
Nido Base Dimensions
weight
height
length
width
Dimensions
11 pounds
7 in
21 in
14.75 in
Compatibility with Strollers
Since it is a bit heavy, thankfully the Nido is compatible with most Peg Perego strollers without using an adapter. Parents can click the car seat into the stroller and get on the move. This is a very useful feature for parents as it makes transporting the baby from the car to the stroller a breeze. Also, parents have one less thing to worry about losing while out for a stroll with their little ones.
For compatibility with other stroller brands, an adapter is needed.
BestCarSeatHub's Final Verdict

Superior Italian textile and tailoring
Anti rebound bar on carrier and base
Load leg feature with energy management system to absorb impact
Extendable UPF 50+ canopy hood
Made from energy absorbent foam for maximum protection
Easy to install with or without the base
Two stage cushioning to cater to a growing baby
Made from soft breathable fabric
Compatible with most Peg Perego strollers to form a travel system

Pricier than other car seats
Heavy than other models
Not compatible with many strollers of other brands
Final Thoughts
If you're looking for a high quality car seat with your main priority being safety, then the Peg Perego Primo Viaggio 4-35 Nido will not disappoint you. The fabric, design and safety features are at an exceptionally high standard and shoppers who buy the car seat rave about its quality construction.
The feature parents love the most is the canopy hood, which provides the baby with complete coverage.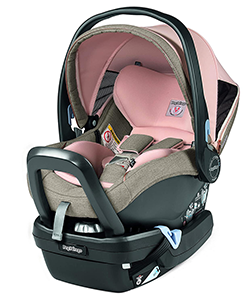 Parents also like how easy it is to install the car seat without a base, but again most of the highest shopper feedback remarks go to the high end Italian tailoring and upholstery.
A key consideration for parents is going to be the price on the Peg Perego Nido, which is on the higher end compared to other car seats. Another thing that gives some shoppers pause is the weight as it is on the heavier and bulkier side.
Our overall verdict for this car seat is that it is a high quality product and worth the amount you pay for it. Its safety features are truly market leading, way ahead of the game compared to other car seats and neither style nor functionality are compromised. The Peg Perego Primo Viaggio 4/35 Nido is a great buy for those shopping for a premium car seat with the best safety features.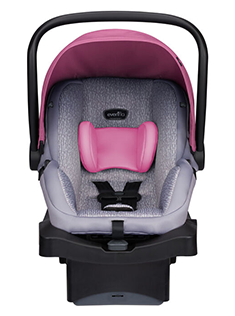 The Evenflo LiteMax 35 is the most affordable car seat in the Evenflo infant car seat lineup, but don't let that fool you into thinking it's anything less than a top tier car seat option for parents. The Litemax infant car seat holds children up to 35 lbs, so it is often listed at stores as the Litemax or as the Litemax 35. It offers a full suite of safety and convenience features, making it an excellent choice for families shopping for a newborn.
Parents love how lightweight this car seat is, and how the low weight and ergonomic handle combine to make it exceptionally easy to carry. They also like easy installation with the two-step vehicle belt lock-off system, and that Evenflo is an industry leader in Rollover Test Standards with this car seat exceeding Federal Side Impact safety standards. If you're a parent who shops savvy without wanting to compromise on safety, keep reading.
Key Features at a Glance:
Rear-Facing Infant Seat
Weight Range: 4 – 35 lbs. / 1.8 – 15.8 kg
Height Range: 17 – 32 in. / 43-81 cm
Easy Installation
2-Step, Built-in Belt Lock-off
Extremely Light and Easy to Carry
Ergonomic Handle
Seat Belt Buckle Pockets
Stay-in-Car Base with Level Indicator
4 Recline Options
Full Coverage Canopy
Removable Pillows
Machine Washable Pads
Limited Warranty
10-Year Expiration
What makes the Evenflo LiteMax 35 Unique From Other Infant Seats?
The Evenflo LiteMax 35 is exceptionally lightweight. Parenting is tough and can be exhausting, so anything that makes the job easier should not be taken lightly—pun intended. Amongst its peers, this car seat ranks as one of the lightest in its class. That means there are a few less pounds for you to lug around. New parents might not think that this is such a big deal, but when you have a newborn that quickly grows to 20 lbs it will matter! With multitasking parents in mind, Evenflo has added an ergonomically friendly handle that makes it very easy to carry the seat. The handle also makes it easier to transfer the seat in and out of the car and the infant car seat base.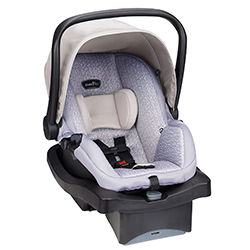 The handle aligns so that there is nothing unwieldy or awkward about clicking the car seat in and out of the base. It's quick and secure.
Will the Evenflo LiteMax 35 be the Right Size for Your Family?
The Evenflo LiteMax is designed to be a newborn car seat that parents can use to bring their baby home from the hospital. The weight range is for babies from 4 – 35 lbs, so parents can expect to get a couple years of use out of this car seat. However, some parents have reported that their babies grow out of the Litemax before they are 35 pounds because of how narrow it is.
This infant car seat is a bit narrow, and that's part of the reason that it is so lightweight. Parents who are worried about fitting an infant car seat into their vehicle due to a small back seat or a back seat crowded with siblings should take a good look at the LiteMax 35 dimensions.
Car Seat Dimensions
Evenflo Car Seat
weight
height
length
width
Dimensions
16 pounds
30 in
18.3 in
17.8 in
Parents that are driving a compact car or those trying to fit kids 3-across can get a few more inches of space by using this car seat.
Installing the Evenflo LiteMax 35 is Easy
Installing a car seat can be difficult, and new parents often dread the prospect of getting the seat installed tight enough. The LifeMax works to make it easy with extensive guidance in the user manual for each of the different methods for installing the base. Parents who have purchased this seat report it easy to install, with several users specifically appreciating the metal carabiner-style clips used to install this seat as simple and easy.
The base on the LiteMax has a convenient belt lock off feature that works in conjunction with the LATCH connectors or seat belt to secure the base tightly in the back seat. Parents still have to remove all of the slack that they can from the belt, but the lock off mechanism can help pickup some additional slack to secure the base in tighter. The lock-off is especially useful when using a seat belt installation to secure the base.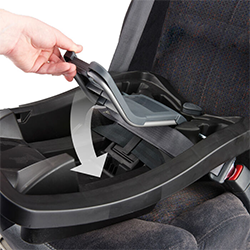 Evenflo also has a convenient level indicator standard on their bases to help parents install the infant car seat with a safe level of recline.
Evenflo LiteMax 35 has Appealing Color Choices For Boys and Girls
In addition to being lightweight and narrow, the LiteMax 35 is good looking with a number of attractive color options. The Color options clearly aren't and shouldn't be as much of a concern as safety features, but if you're starting and planning to grow your family, the LifeMax 35 offers a way to be cost-conscious.
Instead of a selection that is limited to gender-specific choices—or blah choices—Evenflo offers gorgeous gender-neutral colors like Bamboo Leaf Green, which is a nice pale shade of green that would go with most interior colors. So if you're planning another child in a few years, you can use the same seat without worrying that you may have to put your son in a pink seat or your daughter in a blue seat. Not that that really matters, of course, but it could be an issue for some.
Some of our favorite color options are:
Azalea (pink)
River Stone (grey)
Bamboo Leaf (green)
Regardless of the color you choose, the fabric is breathable and washable. The seat pad on the LiteMax can be removed for cleaning and is machine washable.
Cleaning & Maintenance of the Car Seat
Keeping the LiteMax clean is important but your child will not make it easy. These infant car seats can get dirty with crumbs fast, so if you want it to last over 24 months it is important to take good care of it.
Use mild soap and water to wipe down the harness and any plastic and metal parts. Don't use any abrasive cleaners. Dry the material with a soft cloth.
The seat can be machine washed separately in cold water in the delicate cycle, then tumbled dry on low heat for 10 to 15 minutes.
To clean the crotch buckle, place it in a cup of warm water and agitate it. While the buckle is immersed press the red button several times.
Never submerge in water the harness strap on any infant car seat.
Keeping your car seat clean can help extend the life of it.
BestCarSeatHub's Final Verdict

Lightweight carrier that only weighs 8 lbs.
Ergonomic handle improves maneuverability
Machine washable seat cover
10-year expiration date
Carrier can be safely installed without the base
Extra bases available for multi-car families
Fits a good selection of strollers

May not be as comfortable for bigger babies
Lacks bells and whistles
Final Thoughts
The Evenflo LiteMax 35 is the most affordable choice of the Evenflo LiteMax lineup. Parents with a keen eye for quality and an emphasis on safety make this one of the top selling car seats on the market.
This is a car seat that will more than do the job it's supposed to do, but it does lack some of the bells and whistles of more expensive models. Which is fine, because not everyone wants or needs all the extras— especially when they come at an extra cost of hundreds of dollars. Still, parents rest easy knowing that Evenflo did not compromise on safety.
Meets & Exceeds Safety Standards:
The Evenflo LiteMax 35 has been side impact tested to meet proprietary standards set by the company.
It's been designed, engineered, and tested for structural integrity to the point where it not only meets the energy level of federal crash test standards, it exceeds it times 2. Simply put, this car seat is twice as safe as federal standards require it to be.
For those looking for a car seat to use in air travel, the Evenflo LiteMax 35 meets FAA requirements and has been certified for use in an aircraft without the base.
Evenflo surpasses industry standards by going beyond Side Impact testing. All of their car seats are also rollover tested.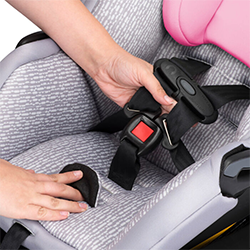 For an inexpensive car seat, there is no question the Evenflo LiteMax 35 is a winner. In thousands of customer reviews there are just a few negatives, and the only one that shows up with any consistency is that the narrow seats can become problematic for bigger babies.
Evenflo is a trusted brand with a solid reputation for now close to a century. The LiteMax 35 carries on a tradition of user-friendly car seats that are safe and convenient. Parents can buy the LiteMax 35 with confidence that they are making a smart choice for their child.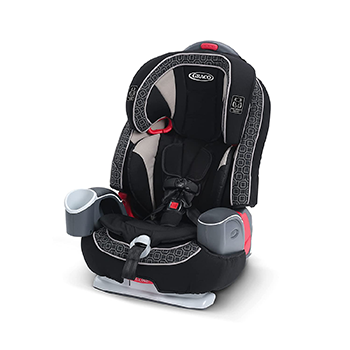 Graco has been manufacturing the Nautilus 65 LX car seat since 2007, with minor modifications and improvements along the way. The Nautilus 65 LX 3-in-1 provides parents with a 5-point harness car seat, highback booster seat, and backless booster seat all in one. If your child is over 22 lbs then you can invest in this car seat and use it all the way until children are grown.
Graco also makes available a similar Graco Nautilus 65 version that does not have the increased weight limit up to 120 lbs. This increased weight limit lets parents delay the transition to a regular seatbelt and instead leave children buckled safely into the car seat longer. Parents won't find much difference in the design of the two seats, and the difference in price is usually fairly negligible.
Child size limits for the Graco Nautilus LX 3-in-1
| | | | |
| --- | --- | --- | --- |
| | 5 Point Harness mode | High back booster | Backless booster |
| Weight range | 22 – 65 pounds | 30 – 120 pounds | 40 – 120 pounds |
| Height range | 27 – 49 inches | 38 – 57 inches | 40 – 57 inches |
(more…)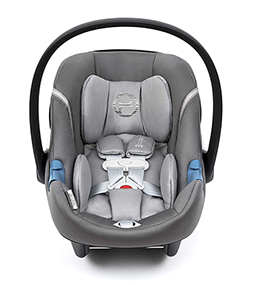 Parents love the convenience of moving their newborn baby around in an infant carrier, but often the awkward size and heavy weight of the car seat can make that difficult. Cybex has built a reputation for providing parents a solution to this with streamlined, lightweight infant carriers that are easy to carry. One of our favorite Cybex car seats is the Aton M.
The Cybex Aton M is a solid step up from another good seat we liked from Cybex, the Aton 2. The Cybex Aton M weights a little bit more at 10.9 lbs, but it boasts a robust safety feature set and is still one of the lightest weight car seats available to parents. The Cybex Aton M is also a bit narrower than other car seats, so it gives parents some more room to work with in the back seat.
Here are some of the key features of the Cybex Aton M:
Energy-absorbing shell
Integrated XXL sun canopy
Adjustable headrest (11 positions)
Load Leg for extra stability and safety
Linear Side-Impact Protection for optimal lateral protection
Extra-wide 3-point belt with soft pads
Removable and washable cover
Easy installation in a car or taxi without a car seat base
Travel system ready with CYBEX and other strollers using a car seat adapter
Included SafeLock Base features anti-rebound design and LATCH system
Available in multiple color combinations including black, grey, blue, and red
How safe is the Cybex Aton M Infant Car Seat?
Cybex is a market leader in safety features and the Aton M is one of the few car seats that has a standard load leg included on the base. Cybex packages this feature into their SafeLock base alongside a unique anti-rebound design.
Load legs are safety features more commonly found in Europe. They are designed to spread the energy from an impact away from the car seat and down into the floor of the vehicle. Load legs also help prevent car seats from rotating forward in the event of a crash. Some parents worry that load legs might be difficult to install, but Cybex makes it easy with good instructions. The car seat has highly visible indicators that change from red to green when the baby carrier is installed properly.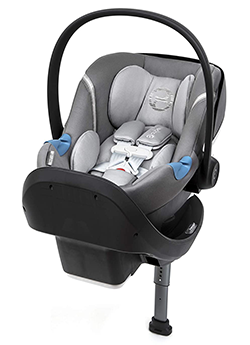 The infant carrier is equipped with an energy-absorbing shell and uniquely boasts a Linear Side-Impact Protection system that reduces impact forces (up to 25%) and offers your child optimal lateral protection in the event of a side-impact collision. The LSP is an actual piece of plastic that extends up from the car seat and lodges against the vehicle door to better secure the carrier. In the event of a side impact, the LSP blocker arm takes the initial brunt of the force.
Is the Cybex Aton M comfortable?
Some baby car seats with a heavy focus on safety are too stiff and provide an uncomfortable ride, but that is not the case with the Cybex Aton M. The car seat has a very firm shell but also ample padding to provide children with a cozy seat. It also has a height-adjustable headrest to grow with your child and help ensure a proper fit in the seat. No rethreading is necessary when moving the headrest, which helps improve safety by eliminating the chance of user error.
The belts on this infant carrier are extra-wide, Y-shaped belts with soft pads on them. Children can get buckled tightly into this car seat and still feel comfortable over long drives. Also, the recline on the car seat is easy to operate with just one hand and a leveling ball ensures safe positioning.
It also comes with a UPF 50+ protection XXL sun canopy that folds out to cover almost the entire seat and protect your child from any bright sunshine.
How big is the Cybex Aton M Infant Car Seat?
Car Seat
weight
height
length
width
Dimensions
10.9 pounds
22.25 in
26 in
17.3 in
Compared to other top car seats, the Cybex Aton M is a rather compact car seat that is a bit narrower. The seat is also not as long as other car seats that offer similar safety features. Drivers with cars that have limited legroom and small back seat space could get a few more inches of room by using this car seat instead of other models.
What are the child-size limits of the Cybex Aton M Infant Car Seat?
The Cybex Aton M Infant Car Seat is only to be used in the rear-facing position so your child will outgrow it in their first few years.
Rear-Facing Harness
Weight range
4 – 35 pounds
1.8 – 15.8 kg
Height range
Max of 30 inches
43 – 76.2 cm
Note: The top of the child's head must be a minimum of 1" below the top of the car seat.
The Cybex Aton M also includes an Infant Insert and a Newborn Inlay. The newborn inlay is a specially-designed foam piece that parents place beneath the seat cover at the bottom of the carrier. It properly positions newborns for their first few months. The manual recommends using the inlay until your baby is 11 lbs, which is around 3 months old.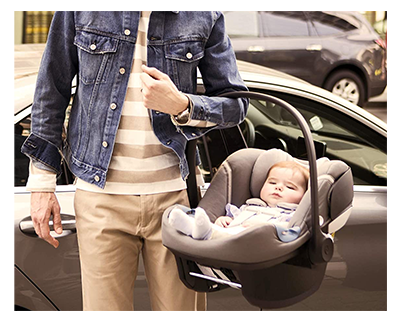 The Infant Insert provides more stability for a young infant's head and torso, and it also gives a better harness fit for smaller babies. The manual recommends using the Infant Insert until your baby is 22 lbs, or until your infant needs more room. Once the insert is pushing your baby's head forward, then you can remove it.
Is the Cybex Aton M easy to install in vehicles?
Parents can use the Cybex Aton M with or without a base. If the car seat is installed without the base, it's easy to thread a lap belt across the car seat. Blue guides on either side of the car seat hold the lap belt in place, and you simply click the belt into your vehicle's buckle. The shoulder belt threads behind the car seat where it is held in place by another guide.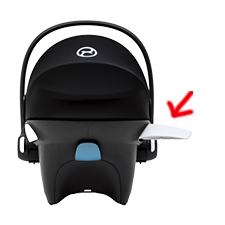 Installing the Cybex Aton M car seat with its base is slightly more complicated. This is due to the Load Leg that must be installed, the leveling foot that must be engaged, and the belt positioning plate that must be opened. The base does have LATCH anchors which makes installation faster.
Installing the Linear Side Impact LSP protection is another easy installation step. The blocker arm on the LSP extends out to the vehicle door or side panel and has an audible click when opened.
The Cybex Aton M website has an installation video that can help you understand the manual's directions when installing this car seat. We recommend watching the video, especially if you're unfamiliar with a Load Leg.
SensorSafe Technology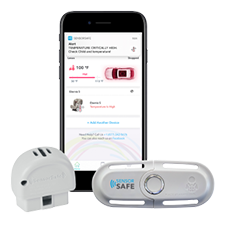 The Cybex Aton M car seat is available with or without integrated SensorSafe safety technology. The SensorSafe system is an electronic clip that attaches to the harness and provides notice to parents when children unbuckle their clip. The system also has an alarm to help prevent parents leaving children in the car seat too long or in too hot of a vehicle.
The alarm or notice comes to an app on the parents phone. Some parents like the added peace of mind from SensorSafe but it is an expensive accessory that can add +$100 to the cost of the infant carrier.
What do parents think about the Cybex Aton M?
Parents agree that this car seat has a slew of innovative safety features that make the ride safer when installed properly. Like any car seat, some parents are going to struggle with installation and extra steps or features like the load leg and side protection do make it a bit harder. Still, many parents found installation was easy and that the visual 'green' click in place signals are a great feature.
Common complaints are that this is a newborn focused baby carrier and kids will outgrow it quickly. It definitely does not have as much useful life as a convertible car seat, but it is ideal for newborns. Parents also complain that removing this car seat from the base can be tricky since it clicks in so tight.
Parents love the oversized canopy and how it lets little ones snuggle into the car seat to sleep. Care and cleaning of the Aton M is also easy with a removable seat cover that can be machine washed on COLD, delicate cycle with mild detergent. To avoid shrinking do not tumble dry or iron. Note that washing this type of car seat in temperatures above 85 degree F can cause discoloration. Also always wash separately.
BestCarSeatHub's Final Verdict

Optimal side protection
Engineered in Germany
Adjustable headrest in 11 positions
No Rethread Harness
Load Leg
Integrated XXL sun canopy
Linear Side-Impact Protection for optimal lateral protection
Fits in smaller cars
Lightweight

Pricier than other seats
Multiple safety features to install
Releasing infant carrier from base can be tricky
Final Thoughts
With the Aton M, Cybex has built an outstanding infant carrier that provides best in class safety and comfort to newborns. Parents will be hard pressed to find another car seat that offers an integrated load leg, linear side impact protection, and strong energy absorbing shell all as standard features. It just speaks to the quality of the Cybex offering and the company's commitment to importing European style safety standards into the USA market.
This car seat caters to newborns and provides them a quality, comfortable ride. As children age this seat fits more snug and it won't be long until parents are shopping again for a new car seat. That frustrates some parents who expect a car seat that lasts longer when spending this type of money.
Overall the Cybex Aton M is not an inexpensive car seat, but parents that are looking for extended safety features and a comfortable ride for newborns are often happy with this choice.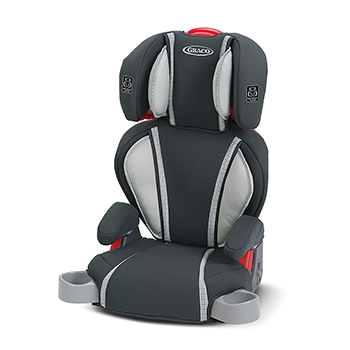 Parents shopping for an affordable high back booster seat often settle on the TurboBooster HighBack Booster Seat from Graco. This low price option provides a safe, high back booster seat for children over 40 lbs. As children grow larger this highback seat easily converts into a backless booster seat.
Booster seats elevate children higher up in the back seat of a vehicle so that their seat belt fits correctly. A safe booster seat should move the shoulder belt away from the child's neck and over towards the shoulder blade. Similarly, the lap belt should move off the soft abdomen area of your child and over onto the large bones of their legs and hips. Graco accomplishes this while still providing your child a comfortable ride with:
Head support that is height adjustable.
Padded armrests that adjust up and down.
Energy-absorbing, EPS foam.
Plush head and body inserts.
Open-loop belt guides to help buckling.
Graco fills the TurboBooster Highback Booster Seat with well thought out features that improve comfort and safety.
(more…)