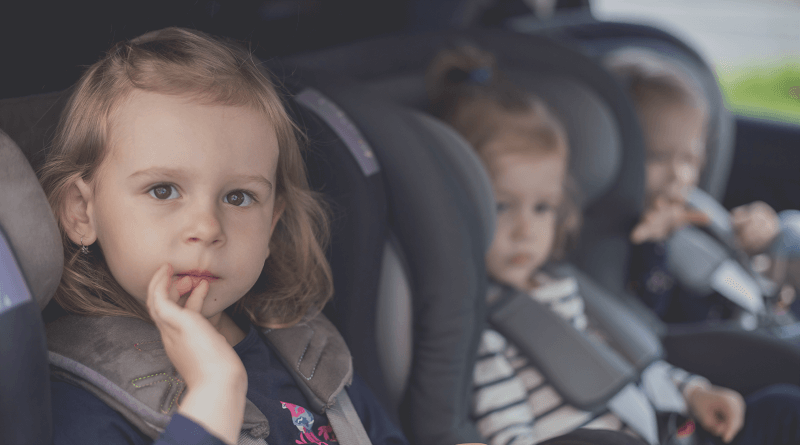 In the United States, as in many other countries, car seat safety laws vary, but many safety experts recommend keeping a child in a car seat until age 12, depending on their height and weight. For families with more than two young children, this can pose a challenge, which is why car seat manufacturers have designed narrow car seats to help parents fit three car seats of varying types across the back seat of their vehicles.
Narrow car seats are slimmer in width and overall dimensions than traditional car seats.
This four-section 3 Across Car Seat Guide is designed to help you choose the best 3 across installations for infant, rear-facing, convertible, forward-facing, booster and all in one car seats so you can make an educated buying decision.
It covers topics you need to consider, including:
Your vehicle type;
Compatibility among car seats;
Narrow car seat options;
Safe car seat installation.
Although you might just be shopping for one car seat now, you can save money by thinking about the future and choosing the best car seat to match your family planning situation. The last thing you want to face is having to replace new car seats in order to fit three across in your vehicle.
With the help of this guide, you can make a wise investment today while planning for the future.
Section I: What Kind of Vehicle Do You Have?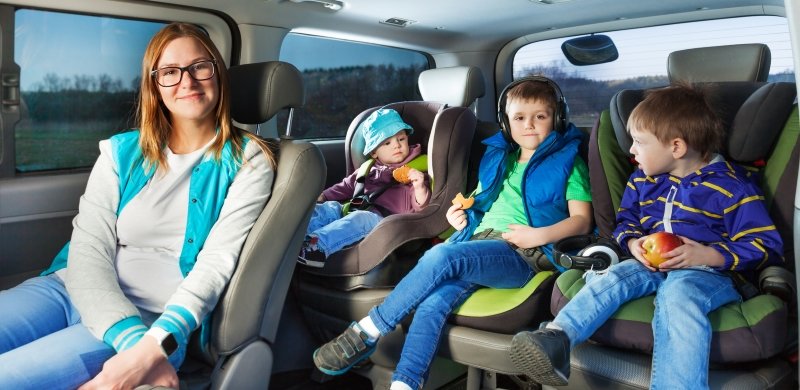 Vehicle type matters with car seats. Roomy vehicles will make the fit a breeze, while with more compact vehicles, fitting three child seats across the back seat will be more of a challenge. The optimum vehicles for installing more than two car seats are those with a third row seat.
Vehicle models that work best with three car seats in the rear seat are: Minivans; full-size and midsize SUVs; and full-size cars.
Vehicles where it' a tight squeeze to fit three car seats: Compact SUVs; compact and midsize sedans; and CRVs.
Vehicles that won't work with three car seats: Four passenger vehicles; sports cars or performance cars; two-door vehicles; and subcompacts.
Another important consideration is the style of your rear seat. Back seats that are flat instead of contoured offer a better fit for three car seats.
Safety Restraint System
The type of safety restraint system in your vehicle is another component that needs to be taken into consideration with 3 across seats. Along with a shoulder and lap seat belt system, many vehicles have a LATCH system, which stands for lower anchors and tethers for children.
Your vehicle's restraint system(s) work in tandem with the car seat's five-point harness system to ensure your child is safely restrained in the event of an accident.
The best option that promotes the ultimate fit and flexibility for three across car seats is a LATCH system in all three positions in the rear seat (both sides and the center).
Three factors that make a difference:
The spacing of your vehicle's LATCH system: If the lower anchor overlaps or has narrow spacing, it might be difficult, if not impossible, to install three child safety seats.
If your vehicle does not have lower anchors for the center rear seat, you will not be able to install three seats using the LATCH system.
If your rear seat is only designed to seat two people, then you will not be able to install car seats three across because there are only enough seat belts to secure two of them.
Take Measurements and Compare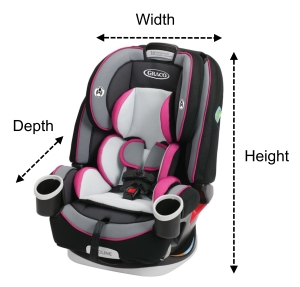 It will take some effort on your part to measure your vehicle's rear seat and compare it to the width sizes of the different makes and models of child restraint seats to get the best three across fit for your vehicle.
When measuring, keep in mind to:
Factor in the car seat's design and point of reference in the measurement. For example, some car seat manufacturer's will provide the width of the base, but not the widest part of the car seat, such as the wide handles or shoulder and head supports.
Allow for some spacing between the car seats' width measurements so you can buckle your children in.
Check your vehicle's manual for back seat side air bag clearance and start measuring from there.
Measure at the width of the car seat, including the back and side panels.
Try different narrow seats or a combination of different brands to get the measurement you're looking for.
Vehicle Tip: If you have more than one vehicle in which you will be using all three car seats at once, you need to take measurements and check the fit in all applicable vehicles.
Section II: Compatibility Among Car Seats
There are seven different types of car seats:
Infant car bed for premature babies;
Infant car seat;
Rear-facing car seat;
Forward-facing car seat;
Convertible car seats that transition from infant to toddler;
All in one car seats that transition from rear-facing to forward-facing to booster;
Booster seat.
Not all car seats are compatible with each other when trying to fit three across in a row. At their widest point (which might not necessarily be the base) they typically range in width from 17 inches to 21 inches. So, you might already have an all in one car seat for your first child, but adding two more seats of the same type might not fit in your back seat.
When it comes to car seat compatibility, the key is a secure fit. That means the car seats cannot be too tight or too loose. It's not an easy feat to accomplish.
Some compatibility issues you might encounter between the same brand or different car seat types include:
The width makes it impossible for them to fit side by side;
The shape of the car seat or its armrests may interfere with the others;
One or more seats have too much movement in them;
The seats fit, but there's little spacing between them to maneuver the LATCH system or attach the seat belts.
Even with all narrow car seats, you might need to do some juggling around depending on your vehicle type to get them to fit. This often occurs when children are in different seat types. For example, you might need to put a booster in the middle of the seat, a rear-facing seat on one side and a forward-facing seat on the other side.
As long as the widths of the car seats fit your back seat's measurement, you might need to try different configurations to get the car seats to fit securely.
Buying Tip: Whether buying online or at a brick and mortar store, take the time to test the seats in your vehicle to be sure they fit before purchasing. Most retail stores have floor models for this very purpose, so don't be afraid to ask.
Section III: What Are Your Narrow Car Seats Options?
When it comes to narrow car seats, two key factors to keep in mind are the fit with your vehicle's rear seat and flexibility.
There are numerous narrow car seat options that meet these two factors and are highly rated by parents who have purchased and used them in a three across car seat configuration.
This section of the guide provides some narrow car seat options for each type of car seat. Be sure to click on the product's name to read reviews based on usage to help you with making your choice.
Infant car seats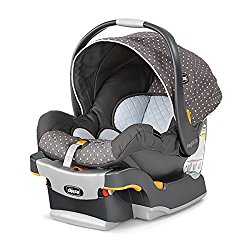 Infant car seats are designed for babies and toddlers. Their types include rear-facing and rear-facing convertible.
Among the better narrow car seats for infants are:
Convertible car seats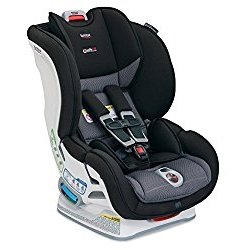 Convertible car seats are for toddlers and preschoolers. They convert from rear-facing to forward-facing.
Among the better options for use as three across seats are:
Britax Marathon ClickTight – At its widest point, the seat is 18.5 inches. It's built with strong construction, including a steel frame, an energy absorbing base and impact absorbing tether.
Britax Roundabout G4.1 – It's 18.5 inches wide, yet it's one of the lightest convertible seats at 17.6 pounds. It finishes among the best in crash test results.
Graco Size4Me 65 – Its overall width is 19 inches at its widest point and is designed to fit premature babies without the use of an infant insert.
All in one car seats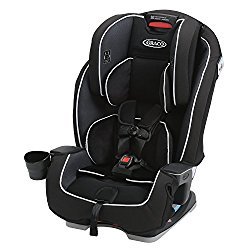 All in one car seats, also known as 3 in 1 seats, start out as rear-facing, then transition to a forward-facing seat and then to a booster seat to accommodate the child's growth. Some are 4 in 1 seats, with an additional booster seat with a back.
Among the recommended narrow options are:
Graco Milestone– At its widest point, it is 19 inches wide. Pillow inserts are provided to accommodate small infants.
Graco 4Ever – It has a width of 19 inches at its widest part, not including the removable cup holders. It's one of the better ones for functionality, with four configurations that include both a booster seat with and without a back.
Diono Rainier – Its widest width is 18.5 inches and is one of the few all in one seats that handles up to 50 pounds in the rear-facing configuration.
Toddler booster combination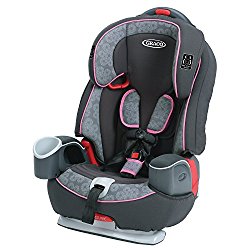 Toddler booster combination car seats start out as forward-facing seats then covert to a belt-positioning booster seat and finally to a backless booster seat.
Those that were well rated include:
Graco Nautilus – The car seat's width without the base is 20.92 pounds. Designed for durability, the car seat is steel-reinforced.
Britax Frontier – The outer width is 19 inches and the inner width is 15.5 inches. It has click tight technology for easy installation.
Evenflo SecureKid LX – This lightweight seat has a width of 19.5 inches.
Booster seats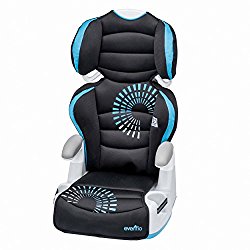 Booster seats are for elementary school-aged children who have exceeded the height and weight requirements of a forward-facing car seat.
Among those highly recommended are:
Evenflo Big Kid – Both a backless and high back booster, it has an overall width of 16 inches.
Graco Affix – Its overall width is 16.75 inches and can be used with the back for children between 30 and 100 pounds and over 38 inches tall or backless for children between 40 and 100 pounds and over 40 inches tall.
Narrow Car Seat Buying Tip: Some things that will affect the fit of your narrow car seat are cup holders and the outer shell design. Remember to look at the width of the car seat at its widest point.
Section IV: How to Safely Install Your Car Seats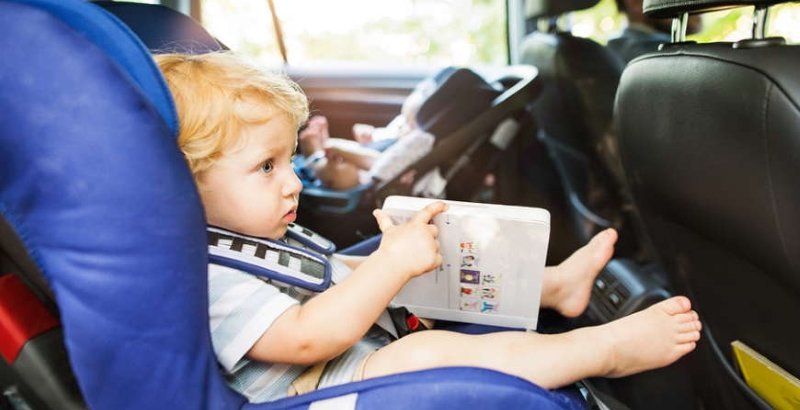 Three car seats in a row in the back seat of your vehicle requires careful installation to ensure your children ride securely and safely. When doing 3 across installations, you must remember these critical safety points provided by HealthyChildren.org:
If any of the car seats are loose, meaning they can be easily rocked back and forth or sideways, then they are not installed correctly. This also applies if you remove a car seat and the remaining ones are loose.
Unless specified otherwise in your vehicle's manual, use only one safety restraint system, either LATCH or shoulder/lap seat belts, not both together at the same time.
Make sure the LATCH strap or seat belt are routed through the right path on the car seat.
Be sure the car seat's harness straps are snug against your child's body and the chest clip fits securely on your child's shoulders.
After you install the car seats, have them inspected by a certified technician. The technician also can provide assistance if you need help installing the seats or using them. Contact your local police department for the car seat inspection station near you.
Installation Tip: Install the car seat going in the middle of the seat first.