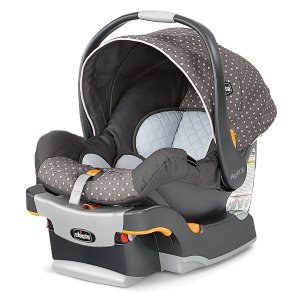 In 1958, Pietro Catelli, an Italian inventor of medical devices, founded Chicco after his first son was born. Chicco has grown since then to 120 countries and offers quality gear for all things baby, including toys, nursing products, clothes, shoes, and more.

Chicco still honors their Italian heritage with an emphasis on quality and style. Their headquarters aren't far from Milan, which of course is the world's fashion capital. Chicco's fashion experts travel far and wide to search for all the new trends in baby products, with a focus on safety, comfort, and style trends. They believe chic and functional go hand in hand.
The Chicco Keyfit Infant Car Seat with Base fits the bill with both style and function. We've compared it to other products on the market, and while it has a few flaws, we think it's a great choice for your newborn baby. If you're getting ready to welcome a little one into the world, or if you're simply looking for an extra car seat, here's why you should consider this car seat.
Why choose an infant seat and not a convertible (all-in-one) seat?
With all the combo car seats out there, you may wonder why you should bother with a separate infant seat. The convertible seats can switch from forward to rear-facing until the child is about 40-80 pounds. An all-in-one seat can carry a child from infant until she no longer needs a booster. And they're not terrible products by any means, but an infant seat is designed for just that – carrying infants.
Safety experts believe that newborns 20 pounds and under are safest in a rear-facing infant seat. With a convertible seat, the harness straps can be so long that it's impossible to get them tight enough for a small baby. The harness slots might be positioned too high as well – if they're not at or slightly below her shoulders, they may not offer as much protection as with an infants seat.
Most importantly, don't forget the convenience factor. Infant seats tend to be lighter and smaller than all-in-one or convertible seats. They fit snugly in a base in your car, and can usually snap on a stroller so you won't disturb her if she's sleeping. Infant seats also often offer extended side impact protection and put your newborn into a more protective and less exposed environment.
What makes the Chicco Keyfit different?
As one of the most popular infant car seats in the USA, the Chicco Keyfit has several things going for it.
Key Features
5-point harness
EPS foam to absorb impact in case of an accident
Easy-to-use buckle
Carrier shell lined with EPS energy absorbing foam
Easy-to-attach LATCH connections
Easy-to-adjust SuperCinch Tightener LATCH strap
Bubble level on the base to ensure proper angle when installing
Can leave handle up while in vehicle
Machine-washable covers
Works with compatible strollers
Good fit for premature infants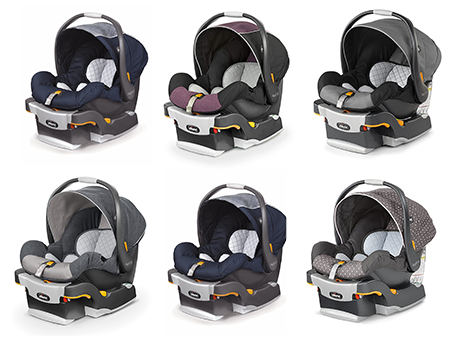 The Chicco Keyfit is quite stylish and attractive with eight color combinations available for parents to choose from. The fabric patterns for each color look great and primarily influence the canopy and the infant insert. A few of the patterns also add a splash of color to the baby's footrest area. The handle, base, and underside of the car seat are the same on each color.
Cleaning the fabric is easy and parents can remove it for machine washing (cold/delicate cycle) as necessary. The rest of the car seat is easy to keep clean with a sponge, mild soap, and warm water.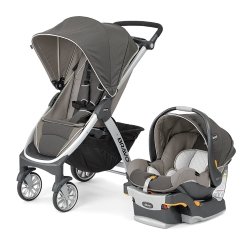 Note the Chicco Keyfit can also be bought as a part of the Chicco Bravo stroller as a travel system. We rated it 9.6 out of 10 in our travel system reviews.
What are the size limits for the Chicco Keyfit?
The car seat can safely accommodate infants that are up to 30 in in height. The weight limit varies based on if the newborn insert is installed or not.
4-11 pounds with the newborn insert (included)
11 – 22 pounds without the newborn insert
Note that there are also modified models like the KeyFit 40 and the KeyFit 30, which has a higher weight limit (30 pounds) than the original (20 pounds). Be aware when ordering online that some colors are exclusive to the KeyFit 30 and vice versa.
How big is this seat, and will it work with your vehicle?
If you're looking for a light, easy to transfer seat, you're probably in good shape with this one. It won't take up a ton of space in the backseat at only 17 inches wide, but for smaller cars it could be a little big, especially if you need more than two car seats in the back.
Weight – 9.6 pounds – mid-range compared to others on the market
Dimensions – 17 x 27.5 x 24 inches
Harness slots with newborn insert: 7, 9, and 11 inches
Harness slots without newborn insert: 8, 10, and 12 inches.
Helpful tip: Purchase an extra base to store in a second vehicle for quick click and go transfers when you need to switch vehicles.
How safe is the Chicco Keyfit?
Crash test results have been excellent for this car seat. It ranked in the top 5 for crash testing compared to other top brands, and for head injuries, tested higher than federal safety standards. Energy absorbing foam and plenty of head and body support help protect even very small babies in case of a crash.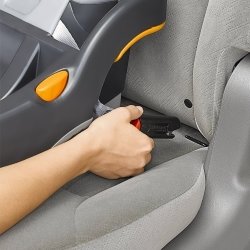 In fact, NICU nurses recommend the Keyfit because of the infant insert which provides an extra layer of protection for premature or small infants. The seat is also FAA compliant, so you can easily switch from ground to air and back again.
Several design features work toward the overall safety of the Keyfit. No two models of cars are the same, but the spring-loaded ReclineSure leveling system helps you adjust the fit in the varied back seat designs for a lot of different vehicles. Bubble levels on each side of the base help remove any concerns you may have that the seat is at an improper angle. The SuperCinch LATCH tightener ensures a secure, tight fit in just a single pull.
Possible flaws:
Some reviewers have had trouble getting the shoulder straps tight enough. Also, one reported that just hearing one click may not mean the car seat is securely in the base. This user had to press down harder until a louder click was heard. So be aware that you can't depend on a click alone. We recommend you always pull up on the seat to make sure it's nice and snug in the base before driving.
Other reviewers have found the fabric on the seat interior doesn't breathe well enough, contributing to excess sweating. A new version of the KeyFit replaces the standard fabric with 3D AirMesh for improved ventilation. They've also found the canopy didn't cover well, leaving the baby somewhat exposed to the sun. Be sure not to dress your child too warmly when riding and use car window shades and/or thin blankets to keep the sun off and avoid overheating. Parents report that the Keyfit 30 has an improved canopy so it may not be an issue with other models.
How hard is it to install?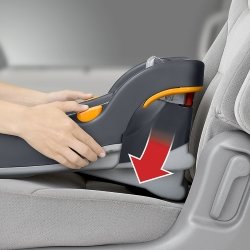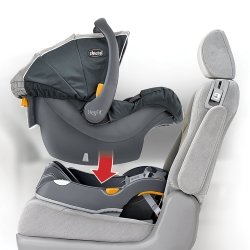 For parents of newborns, especially first-time parents, making sure the car seat is just right can be an added stress in an already stressful time of life. The overall design of the Chicco Keyfit is intended to help parents correctly install the car seat the first time, every time.
Chicco has added the SuperCinch Tightener to this car seat to help parents get a tight installation that sits snug against the rear seat of the vehicle. The SuperCinch Tightener is a single strap that emerges from the middle of the car seat base. The strap has a loop on the end so that parents can grab it tightly. Pulling on the strap tightens the LATCH strap connection and cinches the seat in closer using force-multiplying leverage. In the old days parents would sweat trying to slam their seat into the base hard enough to create slack and tighten the straps. This new system works a lot better.
To easily level the car seat base a spring-loaded leveling foot is included. Pushing down on the orange buttons on the base will deploy the ReclineSure leveling foot down so that it touches your vehicle seat. Bubble levels are integrated and easy-to-read so that parents be sure to get the angle just right.
Attaching the car seat to the base is easy and smooth enough to not risk waking your baby. When you hear a definite click, you know the seat is attached firmly to the base. If you use the bubble levels and ReclineSure system, you can rest assured that your baby's seat is safe and secure, even if you've never installed a car seat before. Be sure to always refer to your owner's manual for complete instructions on how to install. Baby product models are constantly changing, so the manual should be your first stop when installing.
If you have a pre-2000's vehicle with no LATCH system, you can use the seat belt to secure the base.
Possible flaw:
While the KeyFit can be used without a base, installing it to the correct angle and tightness without the base has proved difficult for some users. You'll need to use the red line on the sticker/label to help you find the right angle. Rolled-up towels may be used to help level it out.
The car seat has a smooth underside that is unlikely to mar your back seats but some parents will add a car seat cover as an accessory.
Optional accessories
Like most baby travel products, a number of accessories can be used with the KeyFit to make baby's trip (and yours) a little better. Here are a few you might want to try, a couple of which we've mentioned already:
Best Car Seat Hub's Final Verdict
Let's review a few praises and criticisms for the Chicco Keyfit Infant car seat and see what makes it one of our highest rated car seats overall.

Quality – A top-rated infant seat from a well-known company
Secure fit – Good fit for preemies and very small babies that otherwise might not fit well in other models of car seats
Easy installation – Several features designed specifically for "right the first time" installation – bubble levels, adjustable recline angles and one-pull latch tightener
Compact – Sized for smaller vehicles, no SUV or minivan needed
Easy cleaning – Removable, machine washable covers.
Travel-friendly – Conforms to FAA regulations; clicks on compatible strollers; relatively lightweight

Made in China – Most things are these days, but be aware of recalls, inspect all parts before use in case of damage or poor construction, and know the return policy of the seller
Not breathable – Fabric on interior may not be breathable enough; watch for overheating and excessive sweating, especially in hotter months.
Less sun protection – Canopy may not stretch far enough to cover baby for complete sun protection
Strap tightness – Some reports of difficulty tightening the straps
Weight – All car seats are heavy. At 9.6 pounds, it may be challenging to carry a bigger baby around in it without the help of a stroller or baby carrier.
Not as secure without the base – Can be used without the base, but some users had a hard time getting it adjusted just right
---
While this seat isn't perfect (none are), it makes a lot of smart trade offs and has a lot of things going for it. For families with preemies that have a hard time finding the right-sized products, this car seat is your friend. From 4 – 20 lbs., it'll keep baby snug and secure until she's ready for an upgrade. The sister model, the Chicco Keyfit 30 will hold up to 30 lbs. It's performed very well in crash tests and has plenty of head support and side impact foam for protection in case of a crash. The best thing about it is probably the easy installation, which would be great for new parents or caregivers that aren't familiar with car seats. Having a second base is highly recommended if you'll be switching vehicles often.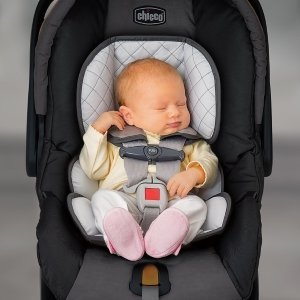 Before you buy, there are a few issues to take into consideration. It's made in China, and while that doesn't necessarily affect quality, shipping long distances can increase the likelihood of damage. Always inspect your car seat parts before use, and that goes for any car seat. If you're worried about your baby overheating, or live in a hot climate, take note that the fabric may not breathe as well as other models and dress your baby accordingly. Parents in those areas might want to spend a little more to get the 3D AirMesh fabric for improved ventilation. Plan for extra sun protection too with car window sun shades or thin blankets since the canopy may not extend fully enough.
Overall, the Chicco Keyfit seems like a great starter car seat, especially if you have a preemie or newborn. Buying an extra base or as part of a travel system with a stroller will ensure more convenient travels for families always on the go. If you're getting ready to have a baby, put this seat on your registry list.
Appendix: The bright minds over at Chicco deliver a number of helpful and innovative safety features. Their propensity for naming all of them can sometimes confuse parents who are shopping the brand. Here is a quick rundown of the Chicco features you see in their reviews:
Newborn Positioner – A removable pillow that supports the head and body of newborns and small infants.
ReclineSure – This is a part of the base that angles down from the bottom so that you can level it against your vehicle seat during installation. It has a helpful spring mechanism that moves it lower.
RidgeRight – The two bubble-level indicators that are found on the car seat base to help you install the car seat at the proper angle.
SuperCinch Tightener – This innovative strap mechanism applies force multiplying effect to help parents cinch the LATCH connections belt in tighter.
3D Air Mesh – High ventilation fabric available on the KeyFit 30