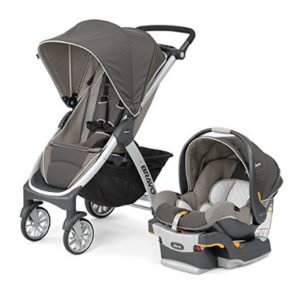 One of the most popular and recent car seat stroller combo is the Chicco Bravo Trio Travel System. It is a promising combination like hasn't been seen before. Chicco has always been successful in creating travel gear that parents who are always on the go love, but this one definitely changes it up quite a bit.
At first glance it is perfect, but after some inspection there are a few problems. There are some great things about it, some not so great things about it. In this review, we will break it down into the good, the bad, and the in between.
Features
The Chicco Bravo Trio comes with some industry-leading features. It comes with the Chicco Key Fit 30 car seat that can then be transformed into the stroller by placing it in the frame. The stroller is easy to fold with one hand and stands up so that you can store it easily. When folded, it is 16 inches by 22 inches by 28 inches.
This system grows with you thanks to a height adjustable handle. The stroller holds up to 50 pounds and weighs 23 pounds.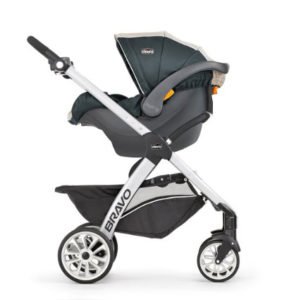 Why This Travel System Stands Out
Since the infant car seat is the part of your travel system, let's start there. If you use the LATCH system to install, it is extremely easy to use. The system does most of the work for you, aligning everything with most cars. That system transfers easily to the stroller. There is a satisfying "click" that alerts you that everything is how it is supposed to be.

You just have to use the little handle that resides under the seating pad. Pull on the handle and the stroller will fold automatically. You can then use that same handle to safely carry it without putting stress on any parts of the stroller.
When you use the stroller, you can remove the seat and the padding so that it is lighter. For parents who have messy children, it is definitely a way to keep your stroller clean and ready for the next road trip. The frame of the stroller itself is extremely sturdy but lightweight. It takes up very little space in your trunk.
The next part of the Trio is the stroller itself, which is the simplest part of the system. You don't have to add or take anything away from it this way.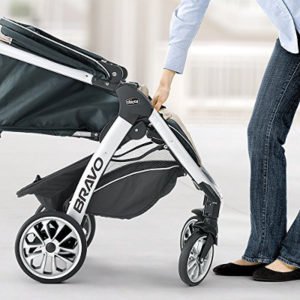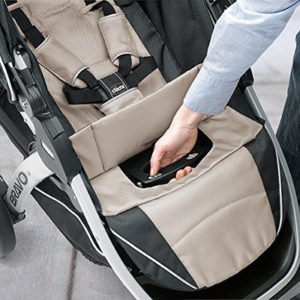 You'll get a few good years out of this car seat and stroller combination. It is extremely adjustable and personalized, perfect for parents who are going to use this system with different children or for different parents who use the system.
Another reason this system is great is because it has a ton of storage. You get a great console in the handlebar where you can keep sunglasses, a drink, or a camera. It is great for a handsfree travel experience. The basket is extremely large as well so you can store a few things in there.
The canopy overtop is great for parents who take their children out in the sun because it will completely cover them, giving them protection and privacy.
There are eight different color combination choices, from colors that are neutral and will go with any other system to bolder colors, pinks, and blues.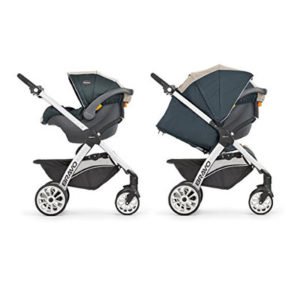 ---
Some Negatives About the Travel System
While the weight isn't too much, it is on the heavier side at 23 pounds, which could make it difficult for people who travel on planes or for those who have weight restrictions. The seat itself is a little bulkier than most infant car seats.
Another sticking point is the brake, which is a little awkward and can get stuck. It takes some getting used to and doesn't brake extremely quickly.
For older children, there is a lack of tray for snacks, food, or toys.
Overall, the Chicco Bravo Trio is one of the best travel systems that you can buy. It straddles the line extremely well between price, quality, ease of use, and consistency. It improves upon what most travel systems get wrong and is made up of high quality materials so that it will last a long time.