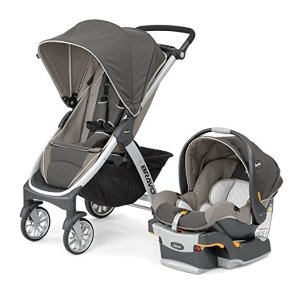 One of the most popular car seat stroller combo is the Chicco Bravo Trio Travel System. This recent model has taken advantage of the technology of the last few years, melding it into the high quality design that Chicco™ is known for – especially amongst parents.

It is a promising combination like hasn't been seen before, but you don't have to be afraid of the "newness" of it. Chicco has always been successful in creating travel gear that parents who are always on the go love, but this one definitely changes it up quite a bit.
At first glance it is perfect, but after some inspection there are a few problems. There are some great things about it, some not so great things about it. In this review, we will break it down into the good, the bad, and the in between.
Features
The Chicco Bravo Trio comes with some industry-leading features. It comes with the Chicco Key Fit 30 Infant Car Seat that can then be transformed into the stroller by placing it in the frame. The stroller is easy to fold with one hand and stands up so that you can store it easily.
When folded, it is 16 inches by 22 inches by 28 inches. The seat itself reclines and molds into a few different positions, so your child will be comfortable. Positions include fully flat, fully seated, and everywhere in between.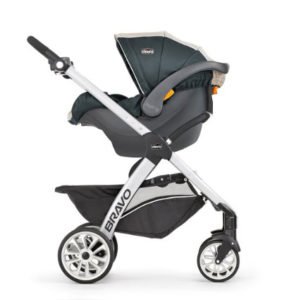 The fabric is a great bonus for many parents – super easy to clean and fashion forward, it certainly fits in with all types of interiors and designs. Actually, everything about this stroller is quite sleek and well designed for parents who don't want the standard make or model.
Many parents love that it looks sleek, but still has some of the best features from strollers over the decade: including a large basket on the bottom for storage, fantastic wheels that allow for movement on all different surfaces. What makes the basket so different? You are able to access it from any part of the stroller, which means you can store almost anything under it.
This system grows with you thanks to a height adjustable handle. The stroller holds up to 50 pounds and weighs 23 pounds. Still, for all of that, you have a fairly compact system that will store easily both on the go and in your home.
The Seat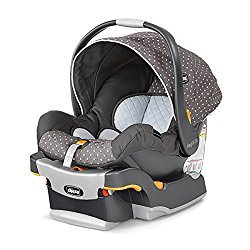 Fitting children between 4 pounds to 30 pounds and coming in at under 30 inches, the seat by itself is a great investment, especially if you are the type of family that likes to travel longer distances. Your child will stay comfortable and safe the entire time he or she is in the seat.
The LATCH connections and harness tension adjustment work to make it safer and comfortable at the same time. There are some features that make it easier to set the seat up as well, like a bubble level and base recline level indicator.
With so much adjustability in the seat, it continues even more into the base, with a few different options to get that just right fit. The crotch strap doesn't adjust, but you don't feel that too much with all of the other options.
The carrier weight is 9 pounds and the seat and base weight 17 pounds together. The base is 15 inches wide, 17 inches with carrier, and 27 inches long, which is still small enough for most compact cars.
---
Why Chicco Bravo Trio Travel System Stands Out
Since the infant car seat is the part of your travel system, let's start there. If you use the LATCH system to install, it is extremely easy to use. The system does most of the work for you, aligning everything with most cars. That system transfers easily to the stroller. There is a satisfying "click" that alerts you that everything is how it is supposed to be.

You just have to use the little handle that resides under the seating pad. Pull on the handle and the stroller will fold automatically. You can then use that same handle to safely carry it without putting stress on any parts of the stroller. Even better, the wheels completely lock in this mode, so you can stand the stroller for storage and it won't fall over.
When you use the stroller, you can remove the seat and the padding so that it is lighter. For parents who have messy children, it is definitely a way to keep your stroller clean and ready for the next road trip. The frame of the stroller itself is extremely sturdy but lightweight. It takes up very little space in your trunk.
The next part of the Trio is the stroller itself, which is the simplest part of the system. You don't have to add or take anything away from it this way. However, for parents who do quite a bit of walking, you will be able to get a lot out of the stroller.
You can navigate it with one hand, and fit it through many tight spaces. You get all of the padding and safety, but it is still narrower than many strollers within the same bracket. This is because it doesn't have the wide base, but it doesn't lack stability either. This is where some of that technology comes into play.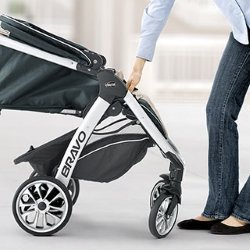 It is also a great stroller for parents that take turns pushing. You don't have to worry about the height of the handle, because it is really easy to adjust. It takes just a few seconds and you will be able to adjust down to a few different settings per inch. When steering, take into account that the front tires are about 7 inches in diameter, about two inches smaller than the back ones.
They are plastic, which some people do not like either, but they won't puncture easily either. If you are the type to hike or walk down cobblestone streets or routes where you cannot be sure of what will be on the ground, plastic may be the better options anyhow. They do lack some tread – but parents haven't complained about any slipping.
You'll get a few good years out of this car seat and stroller combination. It is extremely adjustable and personalized, perfect for parents who are going to use this system with different children or for different parents who use the system.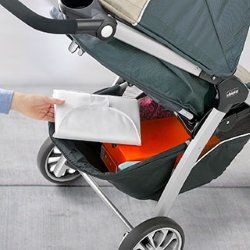 Another reason this system is great is because it has a ton of storage. You get a great console in the handlebar where you can keep sunglasses, a drink, or a camera. It is great for a hands free travel experience. The basket is extremely large as well so you can store a few things in there.
The canopy overtop is great for parents who take their children out in the sun because it will completely cover them, giving them protection and privacy. Though there are a few things to keep in many about the canopy, as you'll read below.
There are eight different color combination choices, from colors that are neutral and will go with any other system to bolder colors, pinks, and blues.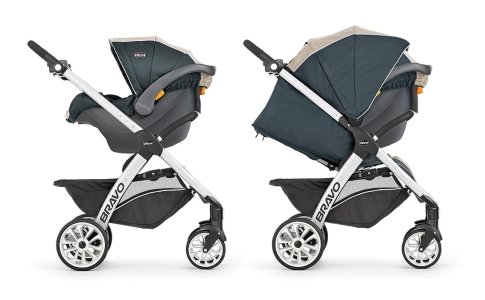 ---
Some Negatives About the Travel System
While the weight isn't too much, it is on the heavier side at 23 pounds, which could make it difficult for people who travel on planes or for those who have weight restrictions. The seat itself is a little bulkier than most infant car seats.
Another sticking point is the brake, which is a little awkward and can get stuck. It takes some getting used to and doesn't break extremely quickly. For older children, there is a lack of tray for snacks, food, or toys.
---
Overall Review
Overall, the Chicco Bravo Trio is one of the best travel systems that you can buy. It straddles the line extremely well between price, quality, ease of use, and consistency. It improves upon what most travel systems get wrong and is made up of high quality materials so that it will last a long time.

Whether you are a first time parent or this isn't your first time at the rodeo, you will find something to enjoy about this system over any others. You may note that you don't have all of the accessories that you have with others strollers, but you aren't paying nearly as much either.

Of course, you can buy this system in separate pieces (which is why we reviewed them separately above), however, it will be best to buy it as a complete travel system.
---

Incredibly easy to assemble
Doesn't take a lot of tim to open and close
Lightweight in all modes
Easy to steer, even on rocky terrain
Nice size basket on the bottom
Ergonomic design

No snack tray
Canopy made out of cheaper material
No flap over the mesh to keep out debris or sunlight