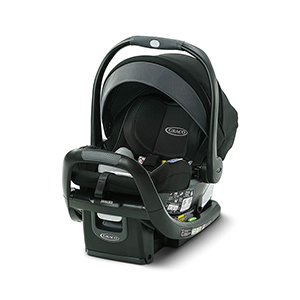 Graco has been iterating the SnugRide lineup for several years and the SnugRide SnugLock 35 DLX is one of our all time favorites. The Graco SnugRide 35 is a proven commodity that parents have reviewed highly for years and it frequently appears on our updated lists of top infant car seats. The DLX version perfectly balances price and features.
Every parent is looking for a car seat that's safe, reliable, durable, and suitable for their newborn baby. After all, you are investing a lot of money in the first car seat your child will ride in. Graco brands have been a solution for new parents for over 60 years, and the SnugRide 35 DLX Infant Car Seat can be a great solution for you.
The Graco SnugRide 35 DLX Infant Car Seat is a great choice for any newborn baby. Our ratings and reviews have compared it extensively to other products on the market, and while it has a few drawbacks it is overall one of our highest rated infant car seats. If you are getting ready to leave the hospital with a newborn or if you are just looking to add an extra car seat to your other car, here are some key reasons to consider this car seat.
(more…)