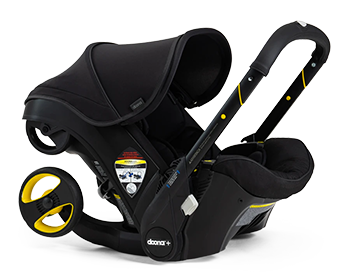 The Doona car seat and stroller is the first of its kind, a 2-in-1 hybrid design that revolutionizes travel for busy parents on the go. This multi-award-winning product has built up an A-list following, spotted with famous parents such as Khloe Kardashian, Natalie Portman, and James Cordon to name a few. With such upmarket clientele and a hefty price tag, parents are naturally curious if the Doona actually delivers the high quality experience that the brand boasts about.
What makes the Doona Infant Car seat unique is that in one swift motion parents can transition it easily from car seat to stroller all without disturbing your baby. Unlike other strollers or baby carriers that require fitting the car seat to the frame and snapping it in, the Doona integrates everything together. The additional handlebar and wheels, rather than adding bulk when stored, compactly fold away to contribute an extra layer of protection for your baby's car seat. The Doona really is the most innovative car seat currently on the market.
This Doona review will take a closer look at the features and benefits of this one-of-a-kind travel system to see whether it is worth the investment. A lot of families are on board with the amazing benefits of the Doona, but the system has some drawbacks too. For instance, with parents reporting that their babies can outgrow the Doona at just one year old, some families will want to consider longer-lasting car seats that grow with your baby. Other parents will argue that the additional cost is worth it for the extraordinary convenience of the Doona. To help families decide let's take a look together at why the Doona is proving to be so popular.
Key Features at a Glance:
Worlds only hybrid car seat with integrated wheels to quickly convert to a stroller
5 point harness with infant insert and head support
Adjustable handlebar that acts as an anti-rebound bar inside the car
3 layer anti-rebound and side-impact protection
Removable and washable, baby-safe, breathable fabrics
Range of stylish colors available
Suitable for infants from 4lbs to 35lbs
Rear-facing only
TUV and FAA aircraft approved for travel
Protective seat cover included
One-click latch base with safety lock indicator
2-year warranty against manufacturing and material defects
Doona has Great Details and Aesthetics
The Doona is available in a range of 6 stylish colors; Racing Green, Nitro Black, Blush Pink, Grey Hound, Royal Blue, and Flame Red. Whatever color you choose will boldly stand out against the crisp all-black inner seat cover and charcoal aluminum frame. The design is sleek, modern, and easy to keep clean with high-quality washable fabrics. The handlebar and rear wheels on this stroller have a splash of yellow no matter what color you choose.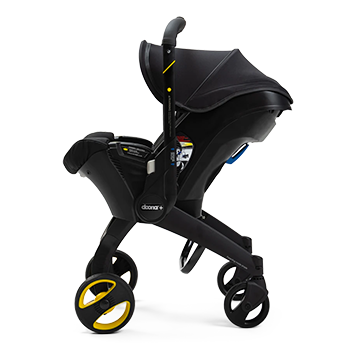 New for 2021 on the Doona is a Midnight Edition colorway that has a black on black design complimented by subtle yellow accents.
Functionality Is Key On This Car Seat
Designed to take the stress out of traveling, the Doona provides a practical solution for busy on-the-go parents. Doubling as a car seat and a stroller, with the click of one button you have a complete travel system. The Doona claims to save time with the innovative simplicity of its design, and parents are agreeing!
The Doone car seat is easy to use. Simply strap the baby into the seat with the 5 point harness, the car seat then clips straight into the latch base within the car. If purchased without the base the seat can still be secured using a seatbelt and the protective seat covers prevent any mess from being made within your vehicle.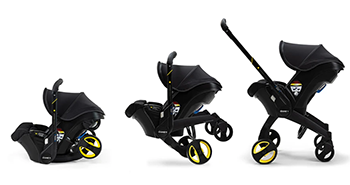 Once you arrive at your destination there is no need to go in the trunk for a stroller or disturb a sleeping baby. Instead, gently lift the seat out of the car and push the button to release down the fold-away wheels. The handlebar extends easily to your desired height and your stroller is ready to go.
Although the built-in wheels make the car seat heavier than the average, at 16.5lbs, most parents do not see this as an issue and instead heap praise on its compact design. This travel system is perfect for navigating through cities and tight aisles in stores with ease.
Parents Provide Mostly Positive Feedback About the Doona
One downside that parents have reported about the Doona, especially those on the taller side, is that the handlebars do not extend high enough for everyone to push it comfortably. This is due to the entire handlebar stowing away into the travel system so tall parents should be a little wary.
With the integrated stroller design, the Doona stroller lacks the storage space routinely found on the back and underside of other travel systems. Doona does have accessories available to combat this but they add to the cost of an already expensive system.
A small number of parents have reported difficulties in being able to attach their Doona to the base, however, any manufacturing issues causing this would be covered under the 2-year product warranty.
Finally, the car seat covers a weight range from 4lb to 35lb, however, most parents report their children grow out of it around the age of 1 year. The Doona is a bit compromised on overall size since it is trying to tightly store the wheels and car seat together. Although this car seat does not cover as wide of an age range as other brands, it is clear from the reviews that for most parents the Doona's convenience outweighs any negative issues.
Customers Are Happy With The Materials and Build Quality
All the materials used in this car seat are safe for children and tested to the highest standards (USA and European standards and must pass testing under the REACH regulation). The materials used in this car seat are completely free of hazardous chemicals so parents can be confident it is baby safe.
To ensure long-lasting safety all the textiles are also tested for sturdiness over time. The Doona has also been manufactured to the highest quality following US safety standards, and many parents have happily reported how well it lives up to its high-quality claims.
Will the Doona car seat fit in your car?
Most parents are wary about fitting the Doona in their vehicle because of the integrated stroller. However, when considering the size of the car seat it is comparable to other car seats in the market.
Doona Car Seat Folded
weight
height
length
width
Dimensions
16.5 pounds
23.6 in
26 in
17.3 in
Unfolding the legs on the Doona changes the dimensions.
Doona Car Seat Unfolded
weight
height
length
width
Dimensions
16.5 pounds
39 in
32.2 in
17.3 in
Consider the dimensions of the car seat LATCH base when trying to plan for three car seats across the back seat or other similar arrangements.
Doona Base Dimensions
weight
height
length
width
Dimensions
10 pounds
9.6 in
20.9 in
15.7 in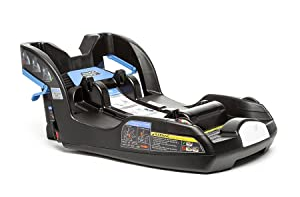 Many parents who have purchased the Doona praise how compact the design is. Even with the attached wheels, this car seat fits neatly in most cars with ease. The LATCH base adds additional simplicity to the process. The Doona is also certified for air travel, as long as you buy a ticket to take it on board, or you can check it in with your luggage. Since this car seat has an integrated stroller, it is an excellent choice for vacations. Families can easily travel with this stroller.
Installation and Assembly of this Car Seat is Easy
The Doona is delivered fully assembled. Parents simply need to take it out of the box and it is ready to use. The LATCH base can be clicked into place in any vehicle built with a LATCH system and the base is easily leveled with the turn of a knob. This enables you to set the car seat on an even and secure surface without fighting with the seatbelt. Of course, if you are traveling without the base, the Doona can be secured with either vehicle or aircraft seatbelts, with full instructions and compatibility listed in the user guide.
Cleaning and Maintenance of the Infant Carrier
All the fabrics, seat pad, and shoulder straps on the Doona car seat are completely removable and machine washable. Parents should clean these items in the washing machine on a cool temperature, using a mind detergent. The plastic can be wiped clean using a combination of water and a mild soap such as dish soap. The harness straps must never be taken apart and if cleaning is necessary you must only use either a damp cloth or warm water. Never soak these parts in water or you can risk undermining their durability.
Doona does make replacement parts available for this stroller. Parents can purchase items if wear and tear occurs or otherwise the 2-year warranty covers any manufacturing and material defects.
Popular Accessories for the Doona Car Seat
Snap-on Storage – As parents have noted the Doona does not have built-in storage, fortunately, there is a range of snap and strap-on storage bags available to purchase.
360° Protection – An additional protective cover that snaps onto the Doona to provide UV protection (SPF 50) and shield your baby from insects. It is easy to wash and comes with a tidy storage bag.
Wheel Covers – If traveling on muddy terrain you can add extra protection to your car seats by purchasing the Doona wheel covers, they can also attach to the seat cover and wipe clean.
Cold Weather Protection – Footmuffs and rain covers are also available to protect your baby from cold and wet weather.
BestCarSeatHub's Final Verdict

Easily converts from car seat to stroller
Manufactured to a high-quality standard
Triple-layer anti-rebound protection for increased safety
Travel certified and suitable for aircraft use
LATCH base allows for safe and easy car use
Easy to remove, machine washable covers
Can be used without the base for easy transition from one car to another
5 point harness to strap baby in safely with ease
Compact stroller design perfect for busy city life

Expensive
Weighs more than other car seats
No built-in storage
On average babies outgrow just after 1 year
The wheels can soil the seats of your car if protection is not used
Short handlebars make it uncomfortable for taller people to push the stroller
Final Thoughts
The Doona does cost more than most other car seats on the market, but it has the advantage of delivering parents one complete travel system in a convenient package. It could be worth the expense for parents with busy lifestyles. Families will also want to factor in the additional cost of accessories, as there is no built-in storage, which is one of the biggest downsides of the Doona.
However, parents do get peace of mind from the additional safety aspects on this car seat, such as impact-absorbing layers of plastic and the secure 5 point harness. Overall, this clever 2-in-1 design is a game-changer for traveling with ease during your baby's first year and if you are on the go it is definitely the car seat to consider.