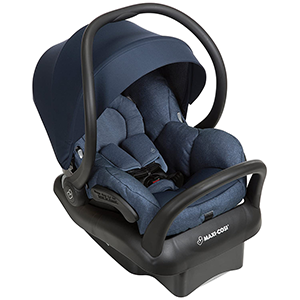 Maxi Cosi is a popular car seat brand that has built a big fan base with their parenting focused approach. The company designs baby products that deliver stylish designs, strong feature sets, and premium quality construction.
Their line of car seats are all highly dependable and built to last a decade, so families can purchase one knowing that it will last. One of their most impressive seats is the lightweight Mico Max 30 infant car seat. It is one of the lightest infant seats available and it is easy to carry with a comfortable, ergonomic handle.
The Maxi-Cosi Mico Max 30 is one of our top rated car seats and parents are overall exceedingly happy in their reviews of it. We've compiled all the information available about this leading infant car seat and added it to this review.
Key Features of the Chicco NextFit Sport Convertible
Lightweight (8.9 pounds)
Ergonomic handle contoured for comfort
Rear facing (weight range 4-30 pounds and 32″ tall)
Expandable canopy with flip out visor
Anti-rebound bar on the car seat base
One click LATCH system for easy installation in base
Premium, moisture wicking fabric keep baby cozy
Machine washable and dryer safe seat fabric
Easily installs without base in UBER or taxi
Removable pillow insert to support smaller babies
Compatible with 50+ premium strollers to form a travel system. (adaptors provided)
What are the child size limits for the Maxi Cosi Mico Max 30?
The Mico 30 from Maxi-Cosi is an infant car seat, meaning that the design is focused on providing parents and baby with an optimal experience in the first year of life. Subsequently, this car seat only fits children up to 30 pounds in weight and 32 inches in height.
A 30 pound weight restriction and 32 inch height limit on an infant car seat is not bad, but it does limit how long you can use this infant carrier. Typically a one year old child will weigh about 20 pounds and a two year old child will weigh about 28 pounds. Probably the height restriction will impact many families first, with girls and boys both likely to exceed 32 inches tall within their first twenty four months.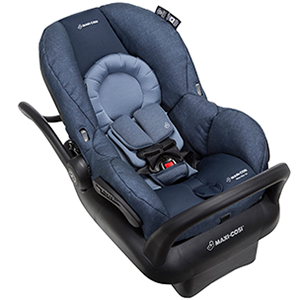 Regardless of your baby's size against the growth chart, it is likely that families who purchase this seat are shopping for a convertible car seat within a few years. The focus of this seat is keeping your infant as safe and comfortable as possible in their first year of life.
Is the Maxi Cosi Mico Max 30 safe?
Even though it is shockingly lightweight, the Mico Max 30 is an exceptionally safe car seat for your child to travel in. Maxi Cosi has a strong reputation for safety and this car seat is no different with an array of best in class safety features. The side impact protection on this car seat is substantial with an air protect system that extends up around the sides.
The base on the Maxi Cosi Mico Max 30 has an anti-rebound bar. The car seat base stays in your vehicle at all times and the anti-rebound bar provides good protection in case of an accident. In a collision the car seat will drive forward toward the front of the car but then rebound back towards the back seat. The anti-rebound bar is there so that when this rebound occurs the car seat cannot pitch over towards the rear of the car. In other countries like Canada the anti-rebound bar is a standard safety accessory.
To be safe a car seat needs to support a baby but smaller babies in their first few months of life are undersized for a lot of car seats Maxi-Cosi mitigates this with a great Cozi-Dozi infant insert that supports the head and neck of your baby. The insert is reversible and also easy to clean. For even smaller babies a tiny newborn insert is included.
Is the Mico Max 30 easy to install?
Some parents see extended safety features like an anti-rebound bar and get concerned that this car seat might be cumbersome and difficult to install. Maxi-Cosi works hard to make sure that the Mico Max 30 is exceptionally easy to install in your vehicle and they do a great job. Parents find that the Mico Max 30 can be quickly and easily installed in your vehicle with or without the stay-in-car base.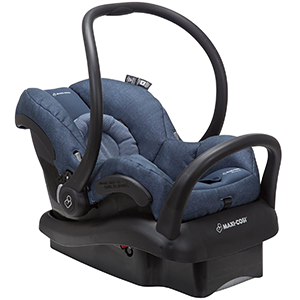 The easiest way to install the Mico Max 30 is with the base. The stay-in-car vehicle base has a one click LATCH system which makes installation a breeze. The base is adjustable and also features an anti-rebound bar for added safety.
The Mico Max 30 can also be installed without a base. It has a standard American belt path, which means the seat belt doesn't have to wrap all the way around the car seat but rather attaches at only two points. This allows for an easy, quick install without the base. This is a very helpful feature for people who travel a lot and frequently use Ubers and taxis.
Will the Mico Max 30 Fit in My Car?
This car seat is fantastically lightweight but it is rather bulky when installing it in your vehicle. The safety features on this car seat make it a bit of a space hog and not as compact as other car seats. With the anti-rebound bar and strong platform, the base extends forward off the seat and can take some room away from the front seat passenger. For exceptionally small cars this should be a consideration.
Depth: 31 inches
Width: 18 inches
Height: 16 inches
Weight (without base): 8.9 pounds
However the fact that the car seat is super light and can be installed without the base makes up for this with a lot of buyers. Buyers have used the Mico Max 30 in taxis, Ubers, Lyfts and airplanes without any issues so it's a perfect option for those who frequently travel.
Does the Mico Max 30 Work as a Travel System?
The Mico 30 comes included with adapters that can be used to form a travel system with compatible Maxi Cosi strollers.
The good news is that the adapters make it compatible with many other popular stroller brands. These include: Austlen, Peg Perego, Mutsy, Baby Jogger, Baby home, Stokke, Cybex, Babyzen, Nuna, Bugaboo, Contours, Quinny, Bumble ride, Joovy, Jané, Valco Baby, iCandy, Mountain Buggy, Mamas & Papas, Micralite, Phil & Teds and UPPAbaby.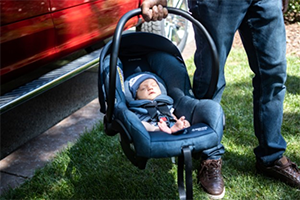 Since it is an adapter attachment, some of the stroller connections are not as tight a fit as parents might see on a travel system that is designed to be sold as a compatible set.
What Features Make the Mico Max 30 Stand Out?
Parents consistently rave about the build quality of Maxi-Cosi products. The company delivers strong and sturdy car seats that are built to last. Some of the features that separate them from the competitors are the light weight, streamlined design, and the ergonomic handle that combine to make it exceptionally comfortable to carry.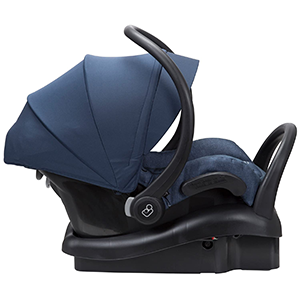 Parents also like that the Mico Max 30 is made from premium self-wicking fabric; it helps draw liquids away from the baby's skin and keep the baby dry throughout the car ride. To keep your baby cool the seat also features a multi position sun canopy with a flip out visor. However some buyers have called it "flimsy", saggy and not as impressive as canopies on other car seats.
The safety features on this car seat like the side impact protection and the anti-rebound bar on the base also separate it from the competitors. This is an exceptionally safe car seat for your baby to use in the first year of their life.
BestCarSeatHubs Final Verdict

Lightweight
Easy to clean
Reasonably priced
Easy installation with or without base
Premium fabric
Compatible with 50+ strollers to form complete travel system
Contoured handle for easy carrying

Flimsy canopy
Limited color choices and styles
Final Thoughts
Shopping for a car seat often involves making some trade offs between price, quality and feature sets. The Maxi-Cosi Mico Max 30 does a wonderful job balancing parents priorities for safety and convenience while still providing a comfortable ride for the child. The car seat boasts a lightweight design to make carrying it easy but also strong safety features like side impact protection and an anti-rebound bar on the base.
If ease of use is your priority when buying a car seat then the Mico Max 30 will not disappoint you. This car seat is easy to clean, easy to use and one of the lightest car seats in its class. Buyers also love that the installation is straightforward and that it is compatible with many other premium strollers to form a travel system.
Families that are looking for a reliable infant car seat to use for the first year of their child's life find that the Mico Max 30 is a great buy.