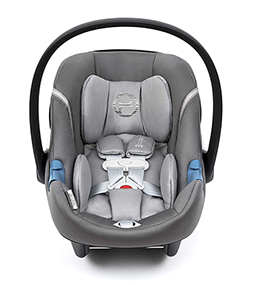 Parents love the convenience of moving their newborn baby around in an infant carrier, but often the awkward size and heavy weight of the car seat can make that difficult. Cybex has built a reputation for providing parents a solution to this with streamlined, lightweight infant carriers that are easy to carry. One of our favorite Cybex car seats is the Aton M.
The Cybex Aton M is a solid step up from another good seat we liked from Cybex, the Aton 2. The Cybex Aton M weights a little bit more at 10.9 lbs, but it boasts a robust safety feature set and is still one of the lightest weight car seats available to parents. The Cybex Aton M is also a bit narrower than other car seats, so it gives parents some more room to work with in the back seat.
Here are some of the key features of the Cybex Aton M:
Energy-absorbing shell
Integrated XXL sun canopy
Adjustable headrest (11 positions)
Load Leg for extra stability and safety
Linear Side-Impact Protection for optimal lateral protection
Extra-wide 3-point belt with soft pads
Removable and washable cover
Easy installation in a car or taxi without a car seat base
Travel system ready with CYBEX and other strollers using a car seat adapter
Included SafeLock Base features anti-rebound design and LATCH system
Available in multiple color combinations including black, grey, blue, and red
How safe is the Cybex Aton M Infant Car Seat?
Cybex is a market leader in safety features and the Aton M is one of the few car seats that has a standard load leg included on the base. Cybex packages this feature into their SafeLock base alongside a unique anti-rebound design.
Load legs are safety features more commonly found in Europe. They are designed to spread the energy from an impact away from the car seat and down into the floor of the vehicle. Load legs also help prevent car seats from rotating forward in the event of a crash. Some parents worry that load legs might be difficult to install, but Cybex makes it easy with good instructions. The car seat has highly visible indicators that change from red to green when the baby carrier is installed properly.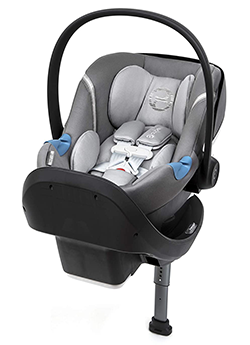 The infant carrier is equipped with an energy-absorbing shell and uniquely boasts a Linear Side-Impact Protection system that reduces impact forces (up to 25%) and offers your child optimal lateral protection in the event of a side-impact collision. The LSP is an actual piece of plastic that extends up from the car seat and lodges against the vehicle door to better secure the carrier. In the event of a side impact, the LSP blocker arm takes the initial brunt of the force.
Is the Cybex Aton M comfortable?
Some baby car seats with a heavy focus on safety are too stiff and provide an uncomfortable ride, but that is not the case with the Cybex Aton M. The car seat has a very firm shell but also ample padding to provide children with a cozy seat. It also has a height-adjustable headrest to grow with your child and help ensure a proper fit in the seat. No rethreading is necessary when moving the headrest, which helps improve safety by eliminating the chance of user error.
The belts on this infant carrier are extra-wide, Y-shaped belts with soft pads on them. Children can get buckled tightly into this car seat and still feel comfortable over long drives. Also, the recline on the car seat is easy to operate with just one hand and a leveling ball ensures safe positioning.
It also comes with a UPF 50+ protection XXL sun canopy that folds out to cover almost the entire seat and protect your child from any bright sunshine.
How big is the Cybex Aton M Infant Car Seat?
Car Seat
weight
height
length
width
Dimensions
10.9 pounds
22.25 in
26 in
17.3 in
Compared to other top car seats, the Cybex Aton M is a rather compact car seat that is a bit narrower. The seat is also not as long as other car seats that offer similar safety features. Drivers with cars that have limited legroom and small back seat space could get a few more inches of room by using this car seat instead of other models.
What are the child-size limits of the Cybex Aton M Infant Car Seat?
The Cybex Aton M Infant Car Seat is only to be used in the rear-facing position so your child will outgrow it in their first few years.
Rear-Facing Harness
Weight range
4 – 35 pounds
1.8 – 15.8 kg
Height range
Max of 30 inches
43 – 76.2 cm
Note: The top of the child's head must be a minimum of 1" below the top of the car seat.
The Cybex Aton M also includes an Infant Insert and a Newborn Inlay. The newborn inlay is a specially-designed foam piece that parents place beneath the seat cover at the bottom of the carrier. It properly positions newborns for their first few months. The manual recommends using the inlay until your baby is 11 lbs, which is around 3 months old.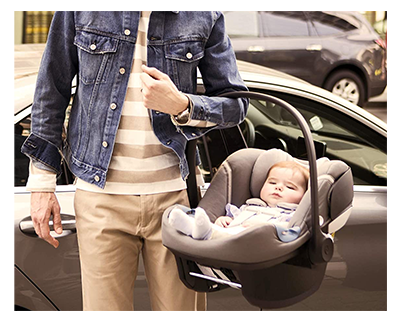 The Infant Insert provides more stability for a young infant's head and torso, and it also gives a better harness fit for smaller babies. The manual recommends using the Infant Insert until your baby is 22 lbs, or until your infant needs more room. Once the insert is pushing your baby's head forward, then you can remove it.
Is the Cybex Aton M easy to install in vehicles?
Parents can use the Cybex Aton M with or without a base. If the car seat is installed without the base, it's easy to thread a lap belt across the car seat. Blue guides on either side of the car seat hold the lap belt in place, and you simply click the belt into your vehicle's buckle. The shoulder belt threads behind the car seat where it is held in place by another guide.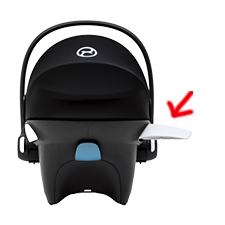 Installing the Cybex Aton M car seat with its base is slightly more complicated. This is due to the Load Leg that must be installed, the leveling foot that must be engaged, and the belt positioning plate that must be opened. The base does have LATCH anchors which makes installation faster.
Installing the Linear Side Impact LSP protection is another easy installation step. The blocker arm on the LSP extends out to the vehicle door or side panel and has an audible click when opened.
The Cybex Aton M website has an installation video that can help you understand the manual's directions when installing this car seat. We recommend watching the video, especially if you're unfamiliar with a Load Leg.
SensorSafe Technology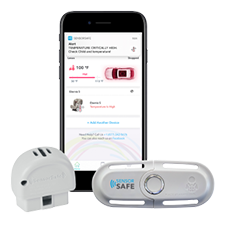 The Cybex Aton M car seat is available with or without integrated SensorSafe safety technology. The SensorSafe system is an electronic clip that attaches to the harness and provides notice to parents when children unbuckle their clip. The system also has an alarm to help prevent parents leaving children in the car seat too long or in too hot of a vehicle.
The alarm or notice comes to an app on the parents phone. Some parents like the added peace of mind from SensorSafe but it is an expensive accessory that can add +$100 to the cost of the infant carrier.
What do parents think about the Cybex Aton M?
Parents agree that this car seat has a slew of innovative safety features that make the ride safer when installed properly. Like any car seat, some parents are going to struggle with installation and extra steps or features like the load leg and side protection do make it a bit harder. Still, many parents found installation was easy and that the visual 'green' click in place signals are a great feature.
Common complaints are that this is a newborn focused baby carrier and kids will outgrow it quickly. It definitely does not have as much useful life as a convertible car seat, but it is ideal for newborns. Parents also complain that removing this car seat from the base can be tricky since it clicks in so tight.
Parents love the oversized canopy and how it lets little ones snuggle into the car seat to sleep. Care and cleaning of the Aton M is also easy with a removable seat cover that can be machine washed on COLD, delicate cycle with mild detergent. To avoid shrinking do not tumble dry or iron. Note that washing this type of car seat in temperatures above 85 degree F can cause discoloration. Also always wash separately.
BestCarSeatHub's Final Verdict

Optimal side protection
Engineered in Germany
Adjustable headrest in 11 positions
No Rethread Harness
Load Leg
Integrated XXL sun canopy
Linear Side-Impact Protection for optimal lateral protection
Fits in smaller cars
Lightweight

Pricier than other seats
Multiple safety features to install
Releasing infant carrier from base can be tricky
Final Thoughts
With the Aton M, Cybex has built an outstanding infant carrier that provides best in class safety and comfort to newborns. Parents will be hard pressed to find another car seat that offers an integrated load leg, linear side impact protection, and strong energy absorbing shell all as standard features. It just speaks to the quality of the Cybex offering and the company's commitment to importing European style safety standards into the USA market.
This car seat caters to newborns and provides them a quality, comfortable ride. As children age this seat fits more snug and it won't be long until parents are shopping again for a new car seat. That frustrates some parents who expect a car seat that lasts longer when spending this type of money.
Overall the Cybex Aton M is not an inexpensive car seat, but parents that are looking for extended safety features and a comfortable ride for newborns are often happy with this choice.