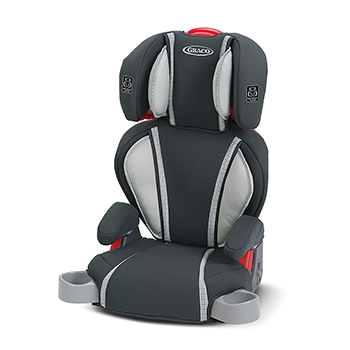 Parents shopping for an affordable high back booster seat often settle on the TurboBooster HighBack Booster Seat from Graco. This low price option provides a safe, high back booster seat for children over 40 lbs. As children grow larger this highback seat easily converts into a backless booster seat.
Booster seats elevate children higher up in the back seat of a vehicle so that their seat belt fits correctly. A safe booster seat should move the shoulder belt away from the child's neck and over towards the shoulder blade. Similarly, the lap belt should move off the soft abdomen area of your child and over onto the large bones of their legs and hips. Graco accomplishes this while still providing your child a comfortable ride with:
Head support that is height adjustable.
Padded armrests that adjust up and down.
Energy-absorbing, EPS foam.
Plush head and body inserts.
Open-loop belt guides to help buckling.
Graco fills the TurboBooster Highback Booster Seat with well thought out features that improve comfort and safety.
TurboBooster Keeps Children Comfortable in Car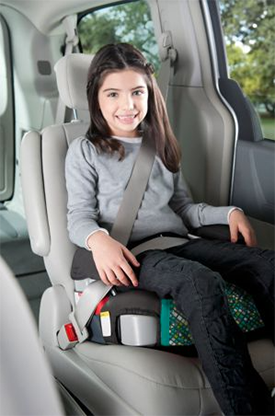 Graco has designed the TurboBooster Highback Booster Seat for children that weigh 40 – 100 pounds and are 43 – 57 inches tall.This booster seat was previously sold with guidance for safe usage on children as little as 30 lbs, but to meet industry standards Graco has increased the weight minimum to 40 lbs.
Children this size will find the booster seat provides a comfortable ride with firm foam for support and soft cushioning for comfort. The adjustable headrest and armrests helps children find a relaxed riding position. It has 6 different headrest positions and adjusts easily with one hand. The booster has 15 inches of depth on the seat so children have room to sit.
The TurboBooster can be used as a highback booster seat by children that are at least four years old and weigh 40 – 100 lbs. Current guidance is to leave children in a car seat with a built-in harness for as long as possible. Only transition children to a belt-positioning booster seat once they reach the maximum forward-facing height or weight for their current car seat. Children should use the booster seat from the ages of 8-12 or until they reach 4 feet 9 inches of height. Note during installation that your child's head should always be below the top of the car seat or vehicle seat.
Check your local and state laws as well as recommendations and guidelines from the AAP (American Academy of Pediatrics) and NHTSA (National Highway Traffic Safety Administration) Car Seat Guidelines.
Designed To Fit Your Vehicle
Parents will enjoy the ease of installing and transporting a booster seat compared to a bulky car seat. This booster seat only weighs 9 lbs so even children can easily move it around or carry it inside as needed.
Graco understands that parents of children this age often need to fit more than one car seat in the back row of the vehicle. The Turboback booster seat is 16.5 inches wide, so parents can fit several of them in the back or easily install one next to a forward or rear facing car seat.
Height: 26.5 inches
Outside Width: 16.5 inches
Depth: 15 inches
Weight: 9 pounds
The seat is 26.5 inches tall when the highback is installed. Taking the highback on and off of this booster seat is also easy. The backrest has hooks on the bottom that attach onto the booster seat and parents simply have to attach those hooks and then lift up. The backrest will snap into place and the Graco TurboBooster will be ready to use as a highback.
Installing the TurboBooster
Install the booster seat with the lap belt under the armrest and lying low across the hips and thighs. Shoulder belt should rest between the neck and edge of the shoulders. This booster doesn't clip into the car and instead simply sits on the seat.
Crash statistics show that the safest place for your child in the vehicle is the back seat. The center of the back seat can be safest during a possible side impact.
This seat must be installed with a lap/shoulder belt so if the center seat only uses a lap belt it cannot be used with this car seat. This booster seat is not intended for use with LATCH systems and has no LATCH connectors. Parents biggest complaint about this booster is probably the lack of LATCH hooks. Also review your vehicle manual for any special vehicle specific instructions.
Open-loop belt guides on the booster are helpful in positioning the seatbelt appropriately. The guides help kids buckle themselves in safely. This highback does a great job holding the seat belt in the proper place. The highback also provides soft head and body support to keep children comfortable.
After removing the highback, an optional, available belt positioning clip attaches to the base and runs up behind the child to attach with the seat belt. Using the highback eliminates the need to run a separate booster positioning clip.
This booster seat does have some assembly required. It ships with the arm rests loose and parents have to attach them to the booster seat. Assembly is as easy as sliding the arm rests into the hole until it clicks. Adjusting the arm rests up and down for child comfort is a little more tedious as a height adjustment screw locks the armrests in place and it has to be removed each time the armrests are adjusted. Graco offers good website support at gracobaby.com and an easy telephone line for parents at 1-800-345-4109.
Easy Traveling With the TurboBooster Highback
This seat is one of the lightest and narrowest boosters on the market today. It makes traveling easy for parents that are bringing a booster seat along with them. Kids find the booster seat comfortable on long road trips as well. Note that this booster seat is not FAA approved and should not be used on an aircraft.
Cupholders on this booster hide away into the seat, which makes them easy to stow away. The dual cupholders are well positioned and keep drinks and snacks within easy reach. Remember these aren't just for holding food and kids can stow toys, crayons, and other items in them. Kids also just find them fun to pull in and out. The space-saving feature of having the cup holders high away in the seat is especially helpful in 3-across the rear back seat configurations with multiple children. The cupholders are not removable for cleaning.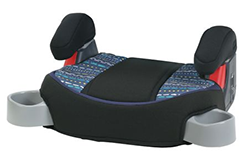 Graco TurboBooster Highback is Easy To Clean
Giving this booster seat a good cleaning is easy with its removable seat cover. The seat cover is held in place by elastic straps that reach around to the back of the booster seat and clip onto hooks. Removing these elastic loops from the hooks releasing the cover so that you can wash it in the laundry machine – machine wash cold on a delicate cycle and then drip-dry on a line.
A damp sponge with mild soap and water can be used to wipe down the other parts of the booster seat.
The TurboBooster Highback is available in three common colors: Go Green (pea green color), Mosaic (teal green pattern), and Glacier (grey and black plain). Nearly a dozen other colors are available for specific retailers so parents that shop around can discover different patterns.
BestCarSeatHub's Final Verdict

Quick and easy install
6-position headrest
Converts from highback to backless booster
Adjustable, padded armrests
Dual cupholders that conveniently hide away
Open-loop belt guides
Lightweight booster seat
Reasonable price

Cupholders are Not Removable.
No LATCH Connectors
Lightweight can make it appear flimsy
Doesn't fit well in some bucket seats
Highback can rattle a bit when the seat is empty.
Conclusion: Affordable Booster Seat
Parents shopping for a light, narrow booster seat at a reasonable price point should consider the Graco TurboBooster Highback booster seat. It is only 16 inches wide, so it works for 3 across seat configurations even in smaller cars. The booster seat is extremely simple to adjust and move around, with families finding this seat easy to switch between multiple cars.
Children are comfortable in this booster seat due to height adjustable arm rests and headrest. In the highback mode, this booster seat provides back support and a multi-layer headrest that make it even more comfortable. Drinks, snacks, or small toys can store easily in the dual cup holders that store away conveniently in the booster seat.
Complaints from parents about this booster seat are limited, with most focusing on the light weight of the booster seat making it appear flimsy. Others are unsatisfied with the depth of the cup holders, finding them too shallow for holding larger cups. Parents that want to buckle in the booster seat permanently complained about the lack of LATCH connectors.
Overall, Graco provides a safe, comfortable booster seat at a very affordable price with the TurboBooster.