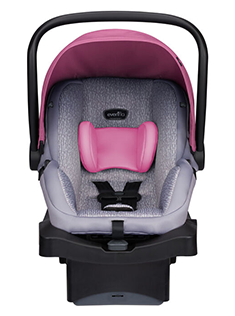 The Evenflo LiteMax 35 is the most affordable car seat in the Evenflo infant car seat lineup, but don't let that fool you into thinking it's anything less than a top tier car seat option for parents. The Litemax infant car seat holds children up to 35 lbs, so it is often listed at stores as the Litemax or as the Litemax 35. It offers a full suite of safety and convenience features, making it an excellent choice for families shopping for a newborn.
Parents love how lightweight this car seat is, and how the low weight and ergonomic handle combine to make it exceptionally easy to carry. They also like easy installation with the two-step vehicle belt lock-off system, and that Evenflo is an industry leader in Rollover Test Standards with this car seat exceeding Federal Side Impact safety standards. If you're a parent who shops savvy without wanting to compromise on safety, keep reading.
Key Features at a Glance:
Rear-Facing Infant Seat
Weight Range: 4 – 35 lbs. / 1.8 – 15.8 kg
Height Range: 17 – 32 in. / 43-81 cm
Easy Installation
2-Step, Built-in Belt Lock-off
Extremely Light and Easy to Carry
Ergonomic Handle
Seat Belt Buckle Pockets
Stay-in-Car Base with Level Indicator
4 Recline Options
Full Coverage Canopy
Removable Pillows
Machine Washable Pads
Limited Warranty
10-Year Expiration
What makes the Evenflo LiteMax 35 Unique From Other Infant Seats?
The Evenflo LiteMax 35 is exceptionally lightweight. Parenting is tough and can be exhausting, so anything that makes the job easier should not be taken lightly—pun intended. Amongst its peers, this car seat ranks as one of the lightest in its class. That means there are a few less pounds for you to lug around. New parents might not think that this is such a big deal, but when you have a newborn that quickly grows to 20 lbs it will matter! With multitasking parents in mind, Evenflo has added an ergonomically friendly handle that makes it very easy to carry the seat. The handle also makes it easier to transfer the seat in and out of the car and the infant car seat base.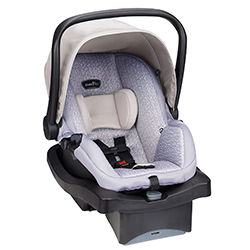 The handle aligns so that there is nothing unwieldy or awkward about clicking the car seat in and out of the base. It's quick and secure.
Will the Evenflo LiteMax 35 be the Right Size for Your Family?
The Evenflo LiteMax is designed to be a newborn car seat that parents can use to bring their baby home from the hospital. The weight range is for babies from 4 – 35 lbs, so parents can expect to get a couple years of use out of this car seat. However, some parents have reported that their babies grow out of the Litemax before they are 35 pounds because of how narrow it is.
This infant car seat is a bit narrow, and that's part of the reason that it is so lightweight. Parents who are worried about fitting an infant car seat into their vehicle due to a small back seat or a back seat crowded with siblings should take a good look at the LiteMax 35 dimensions.
Car Seat Dimensions
Evenflo Car Seat
weight
height
length
width
Dimensions
16 pounds
30 in
18.3 in
17.8 in
Parents that are driving a compact car or those trying to fit kids 3-across can get a few more inches of space by using this car seat.
Installing the Evenflo LiteMax 35 is Easy
Installing a car seat can be difficult, and new parents often dread the prospect of getting the seat installed tight enough. The LifeMax works to make it easy with extensive guidance in the user manual for each of the different methods for installing the base. Parents who have purchased this seat report it easy to install, with several users specifically appreciating the metal carabiner-style clips used to install this seat as simple and easy.
The base on the LiteMax has a convenient belt lock off feature that works in conjunction with the LATCH connectors or seat belt to secure the base tightly in the back seat. Parents still have to remove all of the slack that they can from the belt, but the lock off mechanism can help pickup some additional slack to secure the base in tighter. The lock-off is especially useful when using a seat belt installation to secure the base.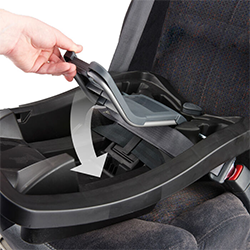 Evenflo also has a convenient level indicator standard on their bases to help parents install the infant car seat with a safe level of recline.
Evenflo LiteMax 35 has Appealing Color Choices For Boys and Girls
In addition to being lightweight and narrow, the LiteMax 35 is good looking with a number of attractive color options. The Color options clearly aren't and shouldn't be as much of a concern as safety features, but if you're starting and planning to grow your family, the LifeMax 35 offers a way to be cost-conscious.
Instead of a selection that is limited to gender-specific choices—or blah choices—Evenflo offers gorgeous gender-neutral colors like Bamboo Leaf Green, which is a nice pale shade of green that would go with most interior colors. So if you're planning another child in a few years, you can use the same seat without worrying that you may have to put your son in a pink seat or your daughter in a blue seat. Not that that really matters, of course, but it could be an issue for some.
Some of our favorite color options are:
Azalea (pink)
River Stone (grey)
Bamboo Leaf (green)
Regardless of the color you choose, the fabric is breathable and washable. The seat pad on the LiteMax can be removed for cleaning and is machine washable.
Cleaning & Maintenance of the Car Seat
Keeping the LiteMax clean is important but your child will not make it easy. These infant car seats can get dirty with crumbs fast, so if you want it to last over 24 months it is important to take good care of it.
Use mild soap and water to wipe down the harness and any plastic and metal parts. Don't use any abrasive cleaners. Dry the material with a soft cloth.
The seat can be machine washed separately in cold water in the delicate cycle, then tumbled dry on low heat for 10 to 15 minutes.
To clean the crotch buckle, place it in a cup of warm water and agitate it. While the buckle is immersed press the red button several times.
Never submerge in water the harness strap on any infant car seat.
Keeping your car seat clean can help extend the life of it.
BestCarSeatHub's Final Verdict

Lightweight carrier that only weighs 8 lbs.
Ergonomic handle improves maneuverability
Machine washable seat cover
10-year expiration date
Carrier can be safely installed without the base
Extra bases available for multi-car families
Fits a good selection of strollers

May not be as comfortable for bigger babies
Lacks bells and whistles
Final Thoughts
The Evenflo LiteMax 35 is the most affordable choice of the Evenflo LiteMax lineup. Parents with a keen eye for quality and an emphasis on safety make this one of the top selling car seats on the market.
This is a car seat that will more than do the job it's supposed to do, but it does lack some of the bells and whistles of more expensive models. Which is fine, because not everyone wants or needs all the extras— especially when they come at an extra cost of hundreds of dollars. Still, parents rest easy knowing that Evenflo did not compromise on safety.
Meets & Exceeds Safety Standards:
The Evenflo LiteMax 35 has been side impact tested to meet proprietary standards set by the company.
It's been designed, engineered, and tested for structural integrity to the point where it not only meets the energy level of federal crash test standards, it exceeds it times 2. Simply put, this car seat is twice as safe as federal standards require it to be.
For those looking for a car seat to use in air travel, the Evenflo LiteMax 35 meets FAA requirements and has been certified for use in an aircraft without the base.
Evenflo surpasses industry standards by going beyond Side Impact testing. All of their car seats are also rollover tested.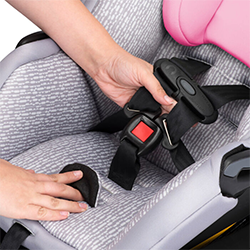 For an inexpensive car seat, there is no question the Evenflo LiteMax 35 is a winner. In thousands of customer reviews there are just a few negatives, and the only one that shows up with any consistency is that the narrow seats can become problematic for bigger babies.
Evenflo is a trusted brand with a solid reputation for now close to a century. The LiteMax 35 carries on a tradition of user-friendly car seats that are safe and convenient. Parents can buy the LiteMax 35 with confidence that they are making a smart choice for their child.