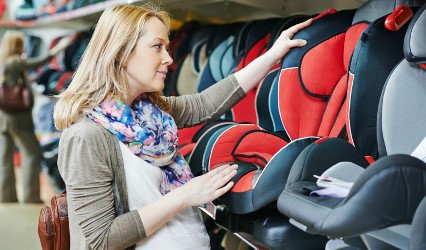 Let's be honest: talking about child safety car seats with other parents can end up looking like the comments section on a cooking video. People agree that you have to use it, but how you get there and what you do once it happens are completely different things.

Still, car seats have to cause an argument among parents – there should be think pieces and YouTube videos and disagreement.

When we start to argue about things like LATCH systems or the amount of padding that we put into our seats, only then can we start to create safer, more effective baby seats.
The infant and convertible car seats on this page are among the safest and most secure on the market today. They have been carefully vetted and tested to ensure that they will protect your child in accidents.
In order for a car seat to pass through to the market, they have to be explored by different organizations, including:
Road safety teams
Scientists
Parenting groups
Individual parents
We have combined all of their research together into condensed reviews that thoroughly explore the advantages and disadvantages.
In order to get the most out of whatever car seat you buy, you will need to ensure that your child is properly sitting in the seat, the seat was installed correctly, your child meets the weight and height limits, and everything is in proper working order.
All of these convertible and infant seats come with extensive manuals that will help you get the safest possible usage.
---
The Safest Convertible Car Seats
Convertible car seats are probably the easiest option for many parents, especially if they are sure they won't have a child that is too small to meet the initial height and weight limits.

They start out as rear facing that will hold your child up to around 20-25 pounds. From there, you can convert it to a forward-facing seat. The weight limits and height limits there are slightly different, so it is a place you will want to pay attention.

Some seats will then transition from a forward facing car seat to a booster seat.
Some convertible baby seats will allow you to throughout your child's entire life. Others will require you to get a separate booster seat or an infant car seat if your child does not meet the guidelines.
The seats below are not only some of the most comfortable and easy to use convertible seats, they are also some of the safest convertible car seats on the market. Each stage has been tested and vetted in the most extreme situations.
Peg Perego Primo Viaggio Convertible​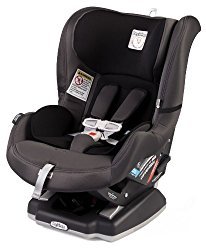 Price:
High

Peg Perego Primo Viaggio Convertible is one the safest convertible car seats on the market today. It has been a brainchild of many different technicians and designers, combing the safety and the luxuriousness that one comes to expect with Peg Perego.
The Peg Perego Primo Viaggio Convertible works rear facing for 5-45 pounds, converts to forward-facing for 22-65 pounds, and also comes with an infant cushion and harness covers.
It also has a seven-year expiration, so you may be able to use it more than once.
Advantages
This is one of the seats that have some of the widest weight and height limits – it will fit your child for a long time.
The harness and crotch positions are comfortable through each and every stage, allowing for a more personalized fit. There is also a customized tilt and an adjustable headrest.
Finally, the materials are some of the finest quality you will find in convertible car seats. Everything also works well together, ensuring a tight and comfortable fit that will keep your child safe.
Disadvantages
The manual seems to have quite a few spelling errors and grammar issues that really make it less enjoyable to use. There is an updated version online.
The rear-facing belt path is extremely tight, making it difficult to move in and out of a lot of cars.
Compilation of customer opinions
Customers love this convertible car seat. They are continually impressed by how well the seat stands up to time – the seat itself doesn't show the wear and tear that a convertible car seat can go through on a daily basis.
They are also impressed by the amount of customer service one can get.
Graco Size4Me 65​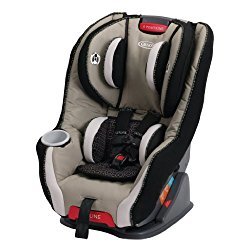 The Graco Size4Me 65 is probably one of the safest car seats for parents who need to remain on a tight budget. It has all of the safety features that parents look for and all of the comfort that children need.
For rear-facing, your child can go from 5-40 pounds. This is a smaller weight limit. Forward-facing allows for 20-65 pounds, which is the average size. The seat itself has a 7-year life.
Advantages
Convertible car seats are notorious for not being easy to adjust and transfer from car to car. This one is different – it is easier to adjust and doesn't slip and slide.
It also does a great job on protecting smaller children and it grows in its protection. The level of the seat makes it so that it is easy to adjust the recline of the seat, something that is extremely difficult to adjust. There is a ball-level indicator that allows you to easily gauge your child's comfort level.
Of course, the biggest advantage is the price. Still, the biggest advantage is the height limit. If you are going to have a taller or longer child, you won't have to worry about your child approaching the limit before you are ready to switch.
Disadvantages
The seat is a little harder to use with preemies, though it is possible with the right infant cushion. It too is a little on the heavy side, especially the carrier. The weight limits are also a bit on the smaller size.
Compilation of customer opinions
On a whole, parents enjoy their use of the Graco seat. They commend the ease of use of the seat as well as the accessories that you can buy that switch in and out of the seat.
Maxi-Cosi Vello 65​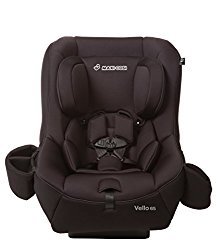 Maxi-Cosi has been one of the best car seat manufacturer models on the market for the last few years.
Now, they design some of the safest, most modern, and most comfortable car seats on the market. They have improved their customer service as well.
In the rear facing mode, your child can be 9-40 pounds. For the forward facing mode, the limits are 22 to 65 pounds.
Advantages
You do get a lot of "extras" with this seat, including storage pockets, cup holders, body pillows, and an easy to remove cover. It will also go the distance – your child will be able to stay in this seat for a long time.
The weight limits also make it possible for your child to stay rear-facing for a longer amount of time.
Disadvantages
There are significantly fewer adjustments that you can make to the fit of the seat, eliminating that customized feel. The higher starting weight limit does not make it a great option for preemies or smaller babies.
Compilation of customer opinions
Overall, the users of this car seat are extremely impressed with its use. They do not like the higher weight limit at first, which makes it extremely difficult to use for parents who have extremely small babies. They also said that customer service is a bit on the tough side.
Britax USA Boulevard ClickTight​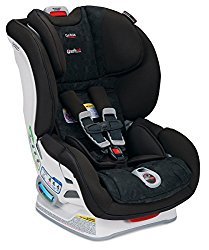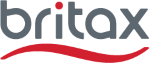 Another extremely safe convertible car seat, the Britax USA Boulevard ClickTight has a wide range of weight and height limits so that your child will be safe from birth on up.
Rear facing allows 5-40 pounds, one of the widest weight limits on the market, and forward facing fits 20-65 pounds. If you have a taller or longer child, this will also be a great match.
The seat itself is approved for use in an aircraft by the FAA and everything is made in the United States.
Advantages
The ClickTight installation system makes this one extremely safe. Inside of the seat, steel makes it extremely tough and strong. If you are in an accident, the impact goes to that core.
The base itself acts as an anchor, taking in the impact as well, making it less likely that your child will be jerked around. Coupled with the complete side impact protection plus program, your child is protected at all angles.
Not only that, but the headrest, harness, and crotch straps all have multiple positions so that your child can get the most customized fit.
Disadvantages
Installation of this one can be a really big challenge, making it one that you want to keep in one car. The seat is also heavy and bulky, making it a better option for larger cars.
Compilation of customer opinions
Many parents were impressed that the seat itself didn't seem to do any damage to the car seats – something rare in today's market. They also loves the sturdiness of the seat, saying that they felt more comfortable taking longer trips.
Evenflo Triumph LX​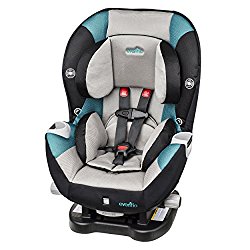 A safe convertible car seat with all of the accessories available and a well-known name, the Evenflo Triumph LX is a popular option amongst parents.
In its rear-facing mode, you can keep your child there from 5-40 pounds, a good range of weights. The front-facing option can last for 22-65 pounds, another healthy range.
Advantages
The Evenflo Triumph LX is well-known for its rear-facing car seat and forward-facing car seat safety. They have been thoroughly tested so that your child stays safe. The core of the seat is strong and it is surrounded by energy-absorbing foam that will take any of the impact if you are in an accident.
There are a lot of reclining options so that your child will have a comfortable ride. If you lose your manual, there are instant downloads online.
Disadvantages
The biggest problem with this seat is that it doesn't go down quite as low on the height scale. If you have a child that is shorter or on the small side, you might have to buy a seat for a few weeks. It also doesn't match up with a stroller system. The warranty is on the short side.
Compilation of customer opinions
Customers have been impressed with the ease and quickness of the Evenflo support team. They are willing to work with you on any issues and give you advice that is great.
---
Safest Infant (Rear-Facing) Car Seats to Bring Your Baby Home In
Infant car seats are increasingly important as more and more parents need to be on the go from the moment they have a child. This is why many companies have put all of their effort into making some of the safest infant car seats ever available.
These seats are designed to be used by children up through a certain weight limit, usually somewhere in the 20-30 pound range.
The seats in this category are designed to be used by parents for their infants. They have been tested thoroughly for safety and ease-of-use. Even more, they have thoroughly passed the parent test.
Maxi-Cosi Mico Max 30 Rachel Zoe Jet Set Special Edition​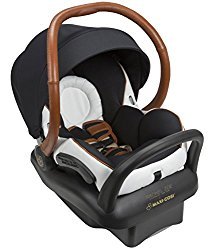 Designed for parents who want the safest infant car seats on the market as well as the best looking ones, the Maxi-Cosi Mico Max 30 Rachel Zoe Jet Set Special Edition is a superior choice.
It was designed by Rachel Zoe, one of the most well-known fashion designers in Hollywood. It seats children between 4-30 pounds, making it a wider option for parents.
Advantages
The five-point harness makes the fit feel more secure and comfortable. It is also secured on the sides so that every ride is safer. The LATCH system too helps with safety.
Really, the star here is the design: the cognac leather wrapped handle is luxurious, the gold tone harnesses are safe and secure, and the leather detailing makes it easy to clean.
Still, it is extremely light and the adjustable base gives you a secure foundation for the seat. For parents who live in sunny environments, the UV protection cannot be beat.
Disadvantages
There are very few problems with the seat, save for the somewhat short manufacturer's warranty.
Compilation of customer opinions
Parents absolutely love the luxurious feel of this seat. They have said that they didn't want to overlook safety but they didn't want to have just a regular car seat – and that is what this model has given them.
CYBEX Aton​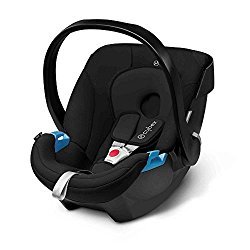 If the bar for safety is at one peg, the CYBEX Aton has completely surpassed it.
With a wide weight range of 4-35 pounds and some of the most user-friendly manuals and features, it is one of the best infant car seats on the market.
There are multiple installation methods that make it great for any size car, a Perfect Positioner insert that increased comfort, and energy absorbing foam that absolutely keeps your child safe.
Advantages
The biggest appeal of this seat is the broad weight range. The compact shell also means that it fits into cars of all sizes. You can really adjust the fit of the seat, making it extremely customized.
Everything is very neatly explained in a manual that is so user friendly it has become the gold standard for other manuals.
Disadvantages
The smaller your child, the less customized the fit will be, especially once you get down into preemie sizes. The carrier too is a little on the heavy side. Really, these are all extremely small inconveniences.
Compilation of customer opinions
The reviews for this seat have been overwhelmingly positive. Parents love the ease of use, the fabrics and materials used, and the extremely friendly support team.
Baby Trend Inertia​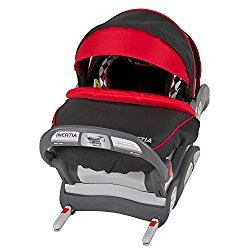 If you do get into a crash with your infant, the Baby Trend Intertia is spring-loaded so that it will distribute the force if there is ever a crash.
Simply put, it is one of the safest seats around. With a weight limit of 32 pounds, it is one of the longest-lasting infant car seats.
Advantages
The higher weight limit makes this one extremely long-lasting. Everything within the base it easy to use, even the LATCH system.
The seat is designed so that if there is a crash, the force is well distributed throughout the base, meaning that your child will barely feel anything. If you are looking at accessories as well, there are quite a few that work alongside this model.
Disadvantages
All of the safety is located within the base of the unit. This means that your child will be without a lot of the safety if you only use the seat or when you are carrying him or her. Finally, buckling in your child is difficult and takes a lot of practice.
Compilation of customer opinions
Parents have been frustrated with quite a few of the elements. However, since the safety is there, many have chosen to overlook it. Parents also lamented some of the design choices.
---
Which organization seals should I look for when picking the safest car seat?
Look for either a seal or a certificate within the paperwork from different agencies. These are the agencies who have a track record of choosing the best seats that will protect your child in case of an accident. While there are many firms out there to evaluate car seat safety, these are the ones that are tried and true:
The National Highway Traffic Safety Administration (NHTSA) reports on the technology and tools behind a car seat system. Using this resource is particularly important for parents who will be driving on high-speed roads. Their system is easy to understand and helps many parents discover whether or not the equipment they chose is easy to use, using a star-based system. All of the seats that they rank do meet their standards, they are simply pointing out the safest car seats among them.
As for all things that you purchase, you can also check with Consumer Reports, which will monitor all of the latest comings and goings of car seats. While the main focus is on the child and safety, you will also get the skinny on whether or not this seat is great to use. If the best safety features aren't easy to use, few people are going to take advantage of them, and you need to know that.
Tips for safety use of child car seats
To safely use a car seat, there are many things you need to take into consideration first. The most important thing is that you thoroughly read through the user guide before actually putting your car seat to use. Always ensure that your car seat is brand new. Make sure you understand what is being said and how to do everything – this will take some research from you before your baby even arrives.
There are different sizes available to you, so make sure that you are always using the one that matches your child:
Infant only: Up to 35 pounds in some cases
Convertible: Each mode has a different weight limit. Make sure to keep your child rear facing for as long as possible.
Toddler: Can hold up to 70 pounds in some cases
When installing your car seat, make sure to have all of the connections secured and the seat properly adjusted. Most hospitals will help you, but once your baby is home you are on your own. Take advantage of the nurse that tries to help you – ask questions.
The center rear seat is the best place for your child to be, though most parents won't put their child in the middle. It is easier for you if the seat is behind the driver, but remember to think about safety. If you have more than one child, consider putting the most vulnerable (typically the youngest, but not always) in the middle seat.
If you are purchasing a new car so that you can accommodate a car seat, look for one that allows LATCH connections in the middle. Note that some parents can't put the baby in the middle because moms who have C-sections aren't allowed to lean for some time.
You can get individualized tips for each of those seats on our other pages.
Avoid the ten most common car seat safety mistakes
Car seat safety is one of the things that will keep you up at night as a parent. Are you installing everything correctly? Do you really know what you're doing? Many parents make the same common mistakes:
They buy a used car seat. If you don't know the history of a safety seat, don't use it. There is no way for you to tell whether the seat has missing parts, it has been damaged, it has been recalled, or it has expired. You can check the model number, but that doesn't tell you the whole story.
They make the seat too loose. Sure, you want your baby to be comfortable. However, you also want your baby to be safe. Don't make it too tight, obviously, but you want the hold to be firm.
They dress their children in too much clothing. Even if it is cold outside, consider using thinner outerwear and keeping your car warm. Once you have your baby buckled up, then you can layer a blanket. Bulky outerwear will reduce the efficiency of your seat.
They put the car seat in the wrong place. Always put your car seat in the middle rear seat if possible. Keep them away from air bags. If you only have one row of seats, ensure that all air bags are deactivated – but it is really better to have another car.
They put the recline at the wrong angle. Instructions come with your car seat, use them. If your baby is between angles, consider using a rolled towel or blanket to find that perfect fit. Do not use additional products within the seat itself unless they come directly from the same company.
They keep their baby in the car seat when he/she's napping. This is incredibly dangerous! The strap in the seat can cut off oxygen, obstructing breathing and doing serious damage. You shouldn't even allow your child to sit in a car seat for too long. This is double true if you have a colicky baby or one that has gastroesophageal reflux disease.
They move them to a forward-facing carseat too early. Parents are always tempted to move their children to a forward-facing seat because they can see them better. However, most people will agree that sitting rear is important until at least two years of age. If your child can go longer, keep them backwards.
They go booster way too early. Kids can be demanding, but don't let yours win this one. A booster seat should only be used when your child has passed the height and weight requirements. Keep your child in a harness for as long as possible.
They use the booster seat ineffectively. The booster seat helps to adjust the lap belt so that it fits properly. Seat belts should be low and against the upper thighs with the shoulder belt crossing the middle of the chest and shoulders.
They transition to no seats too quickly. By right, children shouldn't be out of their safety systems until about 12 years old. Make sure that your child is 4'9", can sit against the back of the seat for an entire trip, and can wear the safety belt properly.
Remember that it is always important to lean on the side of caution – and that you are the parent!