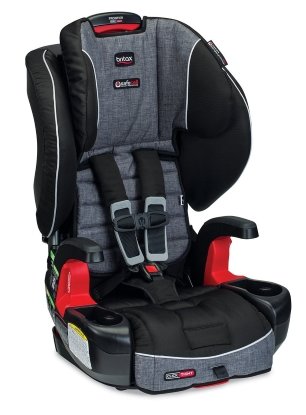 Formerly only in Europe, Britax USA arrived in America in 1996. Over its 70+ year history, this brand has provided stylish, innovative travel products for children with a focus on safety. They're sticklers for testing and work with car companies, government transportation agencies, and experts in child safety to ensure every new product is reliable.

Britax stands by its mission that families should be able to live life without limits. Their USA-made travel products are designed with that in mind, so you can travel anywhere and at anytime with your young children while knowing they will be safe and secure.

The Britax G1.1 Frontier Booster Seat is no exception. We've compared it to others on the market and found it to be top notch. So, if your child is ready to transition from car seat to booster seat, you'll want to consider this product.
When is your child ready for a booster seat?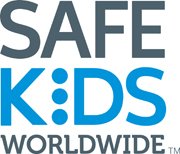 General guidelines state that your child is ready for the transition if she is at least 4 years old and at least 40 pounds, or if she's grown taller than her car seat (meaning her shoulders are higher than the top harness slots on the back of the car seat). Some car seat laws vary from state to state, so be sure to check your local laws on the National Safe Kids Campaign website. It's also important to check the product specs and owner's manual on every car or booster seat to make sure it's designed to fit your child and your travel needs.
A surprisingly large percentage (94%, in fact) of parents skip the booster seat stage and use seat belts alone for their children. Boosters are designed to correctly position the lap and shoulder belts on your child so they won't be too high. Without a booster, the belts go across the neck and belly, which can severely injure a child in a crash.
With so many booster seats on the market, however, it's hard to find your best option. That's why we're dedicated to bringing you detailed reviews of child restraint systems like the Britax G1.1 Frontier ClickTight Combination Harness – 2 – Booster Seat.
What makes the Britax G1.1 Frontier different?

As a top-selling combo harness and booster seat, it has some unique qualities, not to mention Britax is a top brand in safety technology.
Key features:
It's a combination harness and booster seat, so there's no need to buy a separate booster when your child is ready for one
ClickTight technology takes the guesswork out of seat installation
SafeCell impact protection for better side-impact safety
Higher top harness height (20.5″) than any seat in the US and with 9 position options so it grows with your child
Made in the USA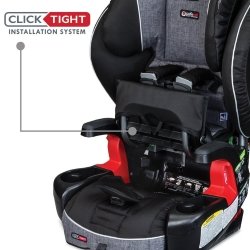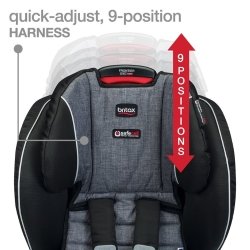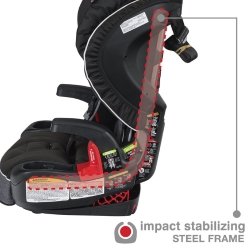 What are the size limits for Britax G1.1 Frontier?
Like all models of child car restraints, this seat is made for specific weights and heights.
20 – 90-pound weight limit as a forward-facing seat
30 – 58-inch height limit as a as a forward-facing seat
40 – 120-pound weight limit as a booster seat
45 – 62-inch height limit as a booster seat
20-inch harness height limit
How big is this seat, and will it fit in your vehicle?
If you're looking for small, light and compact, or if you frequently transfer seats from one vehicle to another, this one is probably not the best for you. However, the steel frame and side impact protection makes up a big portion of its size, so if the seat will stay in one vehicle most of the time, this is a great option.
Weight: 24.9 pounds – one of the heaviest models on the market.
Outer width: 19 inches – ideal for midsized vehicles
Inner width: About 15.5 inches at shoulder height and about 12 inches wide in the seat area.
Two crotch buckle positions at 6.5″ and 9″ from the back of the seat.
Reviewers have reported that the seat can fit a child over 4 feet tall and can fit in an economy airplane seat with some overlap and with the airplane seat armrests raised.
How safe is the Britax G1.1 Frontier?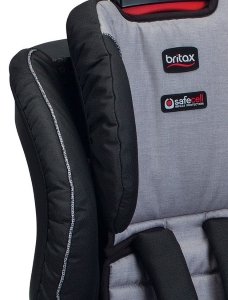 Britax is a leader in safe child restraints, winning awards for ease of use, safe chemical composition and overall safety from expert safety organizations like the NHTSA, The Ecology Center, and the IIHS (Insurance Institute for Highway Safety).
Consumer websites and publications have ranked the G1.1 Frontier (and many other Britax models) among the top safest car seats available. Independent crash tests have shown superior side impact protection. It's designed with a steel frame that reduces flexing during the forward momentum of a crash. Two layers of EPP (Expanded Polyproplyene) foam provide a thick barrier around the child's head and body to absorb the energy from side impact crashes. The impact-absorbing base adds a stable foundation so the seat provides a protective barrier from the bottom to the top.
Real life crash experience:

Reviewers have reported results from real crashes, including one mother who was involved in two crashes with the child seated in a Britax G1.1 Frontier. Both times, the child was unharmed.
Is it easy to install?
If anything, this question is the bane of all parents when it comes to car seats. Sometimes it's hard to tell if you've installed it properly, even when you follow the user manual. Most seats require a lot of stretching, bending and inhuman strength to firmly attach all the belts and latches.
The ClickTight system makes it simpler to align and secure the vehicle belt, and allows you to use the vehicle belt for both the harness and booster mode and works well with LATCH anchors. Color-coded belt guides help you position the belt properly according to the size of your child. Plus, the premium lower latch connectors are super easy to attach to your car's LATCH system.
Possible flaw:

Some reviewers have reported the seatbelt doesn't slide smoothly in the red belt guide slot and gets stuck in the belt path for booster mode. Also, some have indicated a design flaw in the harness which can have too much friction on the back of your car seat, which in turn makes it very hard to tighten when installing.

Reviewers suggested inserting a very thin piece of MDF (medium density fiberboard) or a plastic cutting behind the seat. Just to be safe, we recommend you purchase from a retailer with a good return policy.
Optional accessories
Everyone likes a few extras. With car seats, you may be concerned with protecting the surface of your car's seat, keeping the car seat clean, and providing storage for snacks and drinks. Here are a few accessories you could try:
Britax Vehicle Seat Protector – It's rubber and gray, so not the prettiest accessory, but you won't see much of it anyway. The non-slip material performed well in crash tests. Besides protecting your vehicle seat from permanent markings and scratches, it catches spills, dirt and crumbs.
Britax Seat Saver Waterproof Liner – Another option that protects your seat from stains and markings, this one is made of a wicking fabric that soaks up spills from leaky diapers and sippy cups. Tall sides contain crumbs so they don't roll out and get stuck underneath and ground into the vehicle seat.
Britax Travel Cart – For families who travel a lot, especially through airports, this cart is super handy for transporting that heavy seat. Just use the LATCH connectors to attach it to the cart and away you go to catch that flight. It folds up and fits into airplane overhead bins. It's steel frame makes it nice and sturdy.
Britax Cup Holder – while the G1.1 Frontier comes with built-in cup holders, they aren't removable, so you could opt for a portable one like this. It's top-rack dishwasher safe and can hold sippy cups and juice boxes.
Britax Kick Mats – If you've ever taken a longer trip with your child, chances are she's gotten grumpy, which means a lot of crying and kicking the back of the seat in front of her. This kick mat will protect your seat back from scuffs and dirty shoes. It's big at 175 x 225 inches, so it will fit most vehicle seats. It's washable, water resistant, and comes with deep pockets for extra storage so your child can take along crayons and a coloring book or extra snacks for the journey.
Don't go overboard:

While accessories are fun and keep life interesting, safety experts warn against putting extra items inside the car seat itself. Avoid extra padding, even bulky winter coats, because it's impossible to fully tighten the harness and seat belt with those items in place. Same goes for toys that attach to the seat. They can cause injuries to a child's head and neck during a crash.
Best Car Seat Hub's final verdict
Let's review some of the praises and criticisms of the Britax G1.1 Frontier Clicktight Combination Harness-2-Booster Car Seat.

Quality – Undoubtedly a high-quality seat, manufactured by a well-renowned company; top-rated in several consumer publications and organizations like the NTHSA
Comfortable – Front-facing recline setting supports a child's head when sleeping; 9-position harness that grows with your child
Easy to use – Easier installation than many other seats on the market; ClickTight technology makes it easy to get your child in and out
Top-rated safety – Earned several awards for safety from major consumer publications and transportation organizations; steel frame prevents flexing during a crash; 2-layer EPP foam for side-impact protection
Easy to clean – Cover is removable and washable; can wipe clean; replacement covers available
Convertible – Converts from forward facing car seat to booster; no need to buy a new booster seat
High harness height – 9-level adjustment accommodates taller children
Made in the USA

Weight – Heavy weight makes it difficult for families who frequently switch car seats from vehicle to vehicle
Expensive – Usually priced higher than many brands on the market, but you get what you pay for
Possible flaw – Some reports of difficulty in tightening harness; may need a replacement
Comfort – Some reviewers found the headrest and seat to be harder than other brands, but this is subjective
Head support – Not as good in the booster setting for supporting a sleeping child's head
Cup holders – Not removable for easy cleaning
Not machine washable – Though it is removable, the manufacturer recommends hand washing for the seat cover, so cleaning isn't as convenient as it could be.
---
There are many things to like about this car seat. If quality and safety are your key concerns, if you're not on a tight budget, and if you don't need to transfer the seat between different vehicles, the Britax G1.1 Frontier is a great choice. The ClickTight technology and simple installation make it parent and caregiver-friendly, so you won't strain your back. It's convertible from a forward-facing to a booster, so it will save you money when it's time to make that transition. Safety has been proven in both crash testing and real-life crashes. Built in cup holders keep your child's sippy cup or juice box within easy reach.

There were a few issues that you may want to consider when you're trying to make that purchase decision. If your child is used to soft seats, it may be harder to acclimate to the firmness of this one. We really wish the cup holder was removable so it could be cleaned easily, and we didn't like the hand-washing recommendation for the seat cover.
But those were relatively minor issues. The harness flaws some reviewers reported could impact the safety performance. But contact the company first and ask if this has been addressed, as it may have been by the time this review is posted.
All in all, the Britax G1.1 Frontier convertible harness to booster seat seems to be a reliable product that has been proven to protect children during a crash. It may not be for everyone, but that goes for each car seat on the market. For comfort, ease, and durability, try this seat, and rest assured that you'll be making a wise investment.