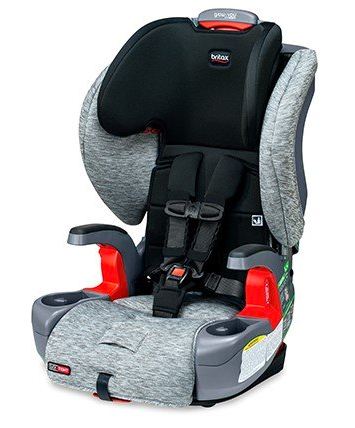 The Britax Grow with You ClickTight provides parents with a harness-2-booster car seat option that keeps their child safe and in the same car seat as they grow. A premium product with a premium price, this seat provides leading safety features at a cost. The seat does help parents save money in the long run by transitioning from a forward facing harness to a booster.
The car seat can be used forward facing from 25-65 lbs (11.3 kg to 29.4 kg). It also offers a harness height up to 20" to help accommodate growing boys and girls. Once children are ready for a booster the seat transforms into a high-back booster seat with a 22" belt path height. The booster seat is safe for children up to 120 lbs (54.4 kgs), so Britax is working hard to provide parents with a long term solution.
The Britax Grow with You is packed with safety features like side impact protection and ClickTight installation. A quick adjust harness and buckle along with a multiple-position recline add to your child's comfort.
(more…)