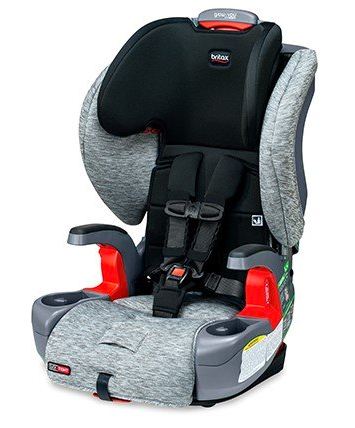 The Britax Grow with You ClickTight provides parents with a harness-2-booster car seat option that keeps their child safe and in the same car seat as they grow. A premium product with a premium price, this seat provides leading safety features at a cost. The seat does help parents save money in the long run by transitioning from a forward facing harness to a booster.
The car seat can be used forward facing from 25-65 lbs (11.3 kg to 29.4 kg). It also offers a harness height up to 20" to help accommodate growing boys and girls. Once children are ready for a booster the seat transforms into a high-back booster seat with a 22" belt path height. The booster seat is safe for children up to 120 lbs (54.4 kgs), so Britax is working hard to provide parents with a long term solution.
The Britax Grow with You is packed with safety features like side impact protection and ClickTight installation. A quick adjust harness and buckle along with a multiple-position recline add to your child's comfort.
Key Features of the Britax Grow with You
Base with Safe Cell Technology
True Side Impact Protection
Easy ClickTight Installation
Energy Absorbing Versa Tether Anchors
Integrated Cup Holders and Storage
No Rethread Harness Positioning
Multiple Recline Positions
Integrated Steel Bars
Maximum Harness Height of 20"
Booster Weight Range of 40-120 lbs
Booster Belt Path Height of 22"
9 Year Expiration
Limited One Year Warranty
Made in the USA
One of the biggest things parents like about this car seat is that they can switch the seat from harness to booster mode without taking out the harness. The straps can tuck into a pocket within the seat so that you can quickly switch back to the harnessed mode if desired. This is beneficial especially when you have more than one child using the seat. Additionally, parents love that you do not have to uninstall the seat to take off the cover. You can easily slip it off, wash it and put it back on without having to remove your seat from the car.
How big is the Britax Grow with You and will it fit in your vehicle?
The Grow with You Harness-2-Booster is not a small car seat. It measures 21″ length x 19″ width x 25″ height, and weighs about 25 lbs. Every car seat will not fit in every car and parents should be mindful of the vehicle that they will use this in. This car seat sports dual cup holders with the seat extending on each side to accommodate. That can make it challenging to install this car seat three across in some vehicles. The headrest has a fully extended height of 35.5 inches which can make some installations challenging.
How comfortable is the Britax Grow with You car seat?
The seat itself is sturdy and the multiple-position recline helps parents easily adjust the seat to the child's comfort. Britax also offers ample cushioning throughout the seat, making it feel luxurious instead of just a safety device. Many children are able to easily fall asleep in their Britax seats due to the head wings at the top of the seat. The extra side impact protection offers a pillow like feel for children, and allows them a place to rest their head. The harness straps have a separate padding that adds to a child's comfort.
What are the child size limits for the Britax Grow with You ClickTight Harness-2-Booster car seat?
Forward-facing
Booster
weight range
height range
weight range
height range
25 – 65 lbs
34 – 49 inches
40 lbs – 120 lbs
44 to 63 inches
How safe are children in the Britax Grow with You car seat?
The seat has leading safety features including a steel frame and energy-absorbing base. It also has 2 layers of side protection. The ClickTight installation system helps ensure that no mistakes were made installing the seat and that it has a tight fit. It is easy to use and just requires parents to open the ClickTight compartment, thread the seat belt and buckle it, then click the compartment closed.
As a company, Britax has won several safety awards for the performance of their car seats. Their seats are also frequently found on many of the "best of" lists. They have had some minor recalls throughout the years, those primarily have involved their strollers. However, many of these recalls only required a kit (to be shipped to the consumers home) to fix the problem. None of the recalls have specifically named this model as the focus of a recall. This affords a peace of mind in the safety capabilities that this model and brand offers.
---
PROS and CONS:

Multiple Safety Features
High Weight Limit
Integrated Cup Holders and Storage
Easy Harness to Booster Switch
ClickTight Installation

Heavier than Other Models
Difficult to Tighten Straps at Times
Bulky So Not Easily Compatible For Three Seats Across
Final Thoughts
This seat gives parents the peace of mind that they won't have to be out car seat shopping again anytime soon. It does a great job eliminating the need to purchase a forward facing harness seat and then a booster seat a few years later. Families with multiple children also benefit from the Grow with You's ability to easily switch between harness mode and booster seat mode.
Car seat installation is critical and the ClickTight technology helps make it easy. This car seat also has impressive safety features that help keep your child safe. A steel frame underlies a crumple zone to absorb energy in case of a crash. The side impact protection keeps the head, neck, and torso secure.
This seat is a great option for installing permanently into a vehicle but it is less ideal as a drag along car seat you move between vehicles. It is a bit heavy and bulky when handling. The seat is attractive and comes in 9 different colors.
Parents who make the investment in a Britax Grow with You will be placing their kids in a safe, premium car seat for the years ahead.