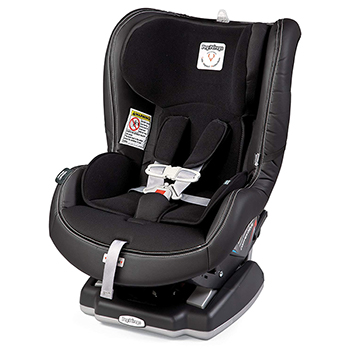 The Peg Perego Primo Viaggio Convertible Car Seat is a top-quality car seat designed by a leading brand with a heavy focus on safety. This high-end offering provides the latest technology in an attractive, comfortable car seat.

Made in Italy, the Peg Perego Primo Viaggio convertible car seat sports leading safety features like a contoured steel back plate that minimizes flexing and provides extra stability without sacrificing comfort.
High Quality European Design Emphasizing Safety
You tend to hear the same names over and over again when shopping for and researching baby gear. A name that you don't hear as often as the others is Peg Perego, even though it has been on the market for quite some time. How does it rank when compared to the other big companies out there? Should you consider it for your baby?
Manufactured in Italy, the great thing about this brand is their products are all designed and developed in one place. As a company, Peg Perego believes very strongly in this. Nothing is outsourced and no other company has a hand in the design or creation of the baby seats.
The Primo Viaggio Convertible is built on a strong concept of safety. There are many different elements that go into making this a very competent and secure device for your child, including:
Side Impact Protection (SIP) Created to further support your young child's head, neck and spine.
Side Impact Protection (SIP) is molded to adjust to 10 different positions that are most vulnerable during the time of a crash. This allows for your child's maximum comfort and safety during potential dangerous times.
Expanded Poly Styrene (EPS) Special type of foam that absorbs energy during a vehicle crash.
In the event of an accident, it helps to absorb the impact and will target the safety of your child's head and torso through the use of the foam within the head panel and shell. Your child will feel a reduced amount of movement during a collision with the addition of Expanded Poly Styrene (EPS).
Shock Absorbing Foam Element (SAFE) This device fits externally on the shell of your child's restraint.
In the event that you experience a crash, the device crumples and allows for your child to have reduced stress on their neck and shoulders, some of the most affected areas during a collision.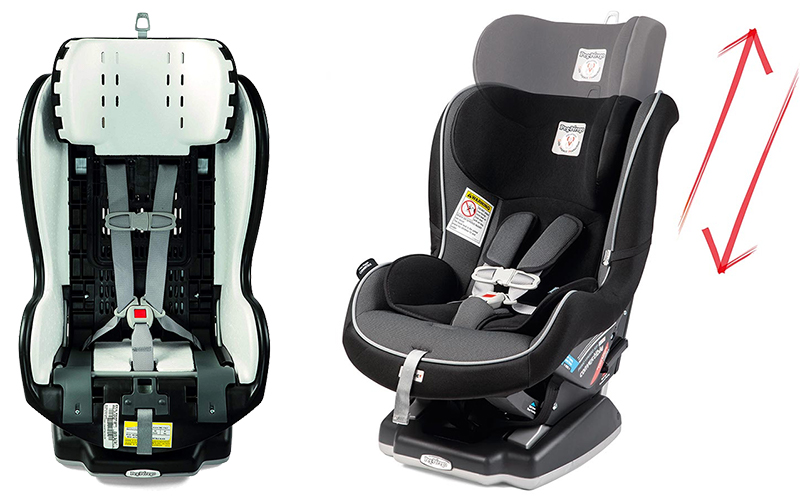 The Peg Perego Primo Viaggio Convertible is both a rear and forward facing child safety restraint, meaning that it can be used from the infant stage through toddler age. For younger children, it can be utilized in a rear-facing fashion up to 20 kg (45 lbs) in weight. As the child grows, it can be installed in a forward-facing position until 30 kg (65 lbs) or 1.2 meters (48 inches). An infant can utilize this restraint with the provided upper body insert starting at just 2.3 kg (5 lbs) in the rear-facing position and at 10 kg (22 lbs) in the forward-facing position.
Key Features of the Peg Perego Primo Viaggio Convertible:
Weight Limit Range of 2.3-30kg
Minimum Harness Height of 19 centimeters and Maximum Harness Height of 43 centimeters
2 Position Crotch Strap Buckle and 10 Harness Heights with a No Rethread Harness
Removable and Hand-Washable Seat Cover
Removable Infant Insert
UAS and FAA Certified
Contoured Steel Back Plate
7 Year Seat Expiration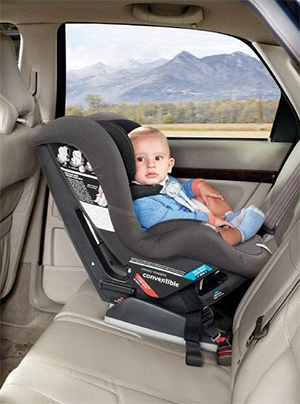 Parents report that the Peg Perego Primo Viaggio Convertible harness straps are very easy to adjust. It also has a no rethread harness which makes the process much simpler when it comes to raising the straps. Ease of use is always a huge benefit as children grow, as it allows for quicker transition times getting in and out of the car. Positive product reviews also state that the seat sits up higher in the car than other child safety restraints, allowing your child a clear view of the sights around them during travel. Parents also report being happy that the seat is aircraft certified, making it all the easier to travel with their children via airplane.
How safe is this convertible car seat?
The Peg Perego Primo Viaggio Convertible passes all necessary safety tests as required by the United States and Canada, as well as those required by European laws. It is also Federal Aviation Administration (FAA) certified for use on commercial airplanes and Universal Anchorage System (UAS) certified for utilizing automobile anchors. As a company, Peg Perego has won several awards for their child restraint products and accompanying safety ratings. The company places a heavy emphasis on safety.
How comfortable is the Peg Perego Primo Viaggio Convertible car seat?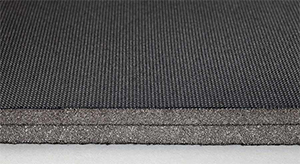 Being that the Peg Perego Primo Viaggio Convertible is a safety-conscious seat, it has copious amounts of protective padding. In the event of a collision, the different sources and forms of safety cushioning foam provide a lessened impact to the child. Sometimes safety seats have a stiff, uncomfortable ride from all of the padding but this seat uses an absorption, performance fabric that kids find comfortable. This allows for longer drives, positive travel experiences and a higher level of safety.
Drawbacks of this Convertible Car Seat
Along with all the great benefits stated above the Peg Perego Primo Viaggio Convertible does have a few downfalls. Parents report that the harness straps are easily twisted and they have to devote a large amount of time to straightening them out so that they are safe to use. Additionally, some families have stated that the interior foam in the seat can start to disintegrate within just a few years of purchase. This convertible car seat also has a low weight and height limit compared to some other seats within their price point. This means that parents will have to watch for when their children outgrow the Peg Perego Primo Viaggio Convertible and it might limit extended rear facing or force a move to a booster seat earlier than originally intended.
How big is the Peg Perego Primo Viaggio Convertible and will it fit in your vehicle?
Unfortunately every car seat is not a perfect fit for the backseat of every car. Parents have to be mindful about the cars they will be driving in and make sure the child and seat fit comfortably. This seat is of average size and weight:
Product Weight: 21 lbs (10.9 kgs)
Product Dimensions: 26" x 21.17" x 18.66" (65.4 cm x 64.15 cm x 45.4 cm)
What are the child size limits of the Peg Perego Primo Viaggio Convertible car seat?
Rear-facing
Forward-facing
weight range
height range
weight range
height range
5 – 45 pounds
Up to 40 inches
22 – 65 pounds
29 – 48 inches
Optional Car Seat Accessories:
Car Seat Cup Holder: A great addition to any car seat, this allows your child to have storage for their drink during the car drive. Perfect for avoiding spills and stains, adding this to your child's seat will be beneficial in more ways than one. Unfortunately a cup holder does not come included as a standard accessory.
Convertible Clima Cover: Having an extra cover for your child's car seat is always a great idea. The best part about the specific cover made by Peg Perego is that it helps keep your child warm in the winter and cool in the summer. It also slides on the seat effortlessly, making it easy for times of an immediate clean up.
Car Seat Travel Bag: With the Peg Perego Primo Viaggio Convertible being certified for air travel, it's a good idea to have a travel bag for the trips you take it on. This helps minimize any damage that can occur during the journey, and you can also use it to pack additional travel necessities that you will need during your trip.
---
PROS and CONS:

Multiple Safety Features
7 Year Expiration
USA & FAA Certified
Washable Seat Cover
No Rethread Harness

Lower harness heights than other seats
Harness straps can easily be twisted
Internal foam can start to disintegrate early
Final Thoughts
The Peg Perego Primo Viaggio Convertible provides piece of mind for parents through high-quality construction and the multiple safety features that they offer, such as the Side Impact Protection (SIP), Expanded Poly Styrene (EPS) and Shock Absorbing Foam Element (SAFE). In exchange, the price point is a bit on the higher side.
The seat is not able to be utilized through higher age brackets like that of the Diono or Britax seats, so parents are forced to either purchase a higher harnessed convertible or switch to a belt positioning booster after the child outgrows the Peg Perego.
Also concerning are the reports that the internal foam, created to protect children in the event of a collision, has at times been known to begin disintegrating within just a few years of the seats purchase.
Still, the Peg Perego Primo Viaggio Convertible is a great option for those who are looking for a premium, highly rated restraint for their young children. Even with the downfalls listed above, the Peg Perego Primo Viaggio Convertible has many included features that will help to protect your child in the event of a car accident.