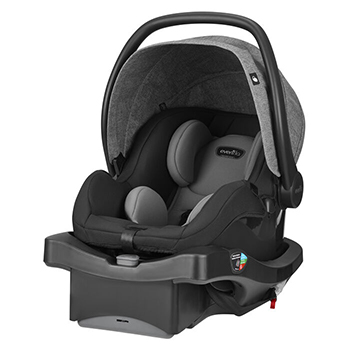 The Evenflo LiteMax DLX is an infant-only, rear-facing child seat with a heavy emphasis on safety. The seat has a SafeZone Load Leg that extends to the floor and helps secure the seat tight. The stabilization leg keeps the car seat steady in the event of a crash.
When you purchase the seat, it comes packaged with an infant insert, ergonomic handle, recline indicator and one base. The seat is a great value for parents looking for an extra safe and reliable car seat that skips expensive bells and whistles that can unnecessarily raise the price.
Key Features of the Evenflo LiteMax DLX
2 Position Crotch Strap Buckle
No Rethread Harness
Adjustable Headrest
Removable and Machine Washable Seat Cover
Removable Infant Insert
Push Button Harness Retainer
4 Harness Slot Heights
Weight Limit Range of 4-35 pounds (1.8-15.8kg)
Minimum Harness Height of 17 inches (43cm)
Maximum Harness Height of 32 inches (81cm)
6 Year Seat Expiration
Made in the USA
What makes the Evenflo LiteMax DLX Unique From Other Infant Seats?
The LiteMax DLX takes a serious approach to safety with several integrated, market leading features.
SafeZone Load Leg: This is a special bar that extends vertically from the base of the infant seat to the floor of your car. It helps with seat stabilization and also reduces crash forces during an accident. In the event of a collision, the SafeZone Load Leg can decrease seat rotation by 50%, keeping it steadier during extreme movement.
SureSafe Installation System: This allows for up to 2x more secure seat installation by providing additional latch guides and push-on connectors. The technology provided with SureSafe allows you to both hear and feel when the seat is appropriately installed into your vehicle instead of alternate methods.
What are the child size limits for the Evenflo LiteMax DLX car seat?

Rear-Facing Harness
Weight range
4 – 35 pounds
1.8 – 15.8 kg
Height range
17 – 32 inches
43 – 81 cm
How safe is the Evenflo LiteMax DLX car seat?
The Evenflo LiteMax DLX passes all necessary safety tests as required by the United States and has a very high purchase review rating. In addition, the LiteMax DLX has a National Highway Traffic Safety Administration (NHTSA) ease of use rating score of 4 out of 5 stars. Evenflo as a company has also won many awards for their products throughout the years.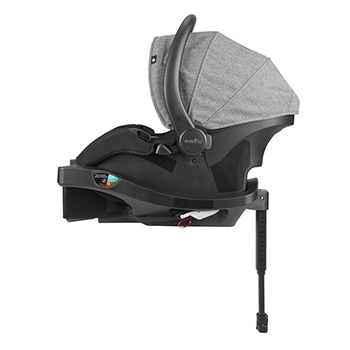 The infant seat features a telescoping support leg that keeps the seat base stable. It also has a LATCH guide that makes securing the car seat easy. A car seat is only effective when it has been installed properly so the straightforward installation process is great. The adjustable headrest and no-rethread harness also help parents accommodate growing babies quickly and easily without the risk of making any mistakes with the harness straps.
How comfortable is the Evenflo LiteMax DLX car seat?
The Evenflo LiteMax DLX has many different forms of padding, foam and cushioning that aid in increasing both its safety features and comfort level. Due to this, many children are able to sit snugly and easily relax for extended periods of time in this seat during travel. The seat also benefits from an easily adjustable headrest that lets your child grow tall and still fit comfortably. The seat has a plush head and body pillow that helps children fall asleep.
How big is the Evenflo LiteMax DLX and will it fit in your vehicle?
Car Seat
weight
height
depth
width
Dimensions
19.2 lbs
26.5 in
28 in
17.5 in
The Litemax DLX is a bit lighter than typical infant seats. It is not a narrow seat and parents might struggle to buckle another car seat in next to the base. One nice thing is that you can use the base from the Evenflo LiteMax with the LiteMax DLX infant seat so if you are in need of an extra base you can purchase from either product line.
Optional accessories
Parents really don't need much besides a properly-installed, quality car seat and a diaper bag of essentials. However, a few extras can always help make longer trips a little more comfortable for you and your baby.
Arm Cushion For Infant Car Seat Handles: When a parent is carrying their child around in an infant seat, it can cause wear on the muscles in their arms and pain in their elbows. This special cushion affixes to the handle of the car seat and provides much needed padding for those utilizing the seat on a daily basis.
Backseat Baby Mirror: This shatter-proof mirror is perfect to install on your backseat headrest. Allowing a full view of your baby, you will be able to see whether they are sleeping, crying or just alert. It allows for peace of mind during travel time with you and your baby.
What do parents think about this infant car seat?
Parents positively report that the Evenflo LiteMax DLX Infant Seat is lightweight, making it very easy to transport. It is also beneficial that Evenflo as a company offers free video installation assistance, which you can schedule through their website. Another benefit is that the Evenflo LiteMax DLX is able to be utilized starting at just four pounds, whereas many infant seats start at five pounds. When you have a premature or lower weight baby, every pound and ounce counts to be able to bring your baby home safely from the hospital. Finding a seat with a lower weight limit helps you to be able to do that sooner.
Evenflo LiteMax DLX has many attributes that are praised by parents, but there are a few things that aren't as desirable. Some users state that installation of the seat can be difficult to do correctly, and that the SafeZone Load Leg sometimes takes several tries to align in the right direction. Additionally, even though it is not as heavy as other infant seats on the market, some feel that it is not as lightweight as what it is advertised as and is still bulky to maneuver.
BestCarSeatHub's Final Verdict

SafeZone Load Leg!
SureSafe Installation System!
6 Year Expiration!
Washable Seat Cover!
No Rethread Harness!
Online Installation Support!
Interchangeable With LiteMax Bases!
Made In The USA!

Installation can be difficult
Not as lightweight as hoped
Wide through the base
Final Thoughts
The Evenflo LiteMax DLX has many high-end attributes that make it a great and safe option for your baby's first car seat. With the addition of the SafeZone Load Leg, SureSafe Installation System, no rethread harness, multiple harness heights and high weight limit, you can find comfort in knowing that your child is safe and secure when being transported in the car.
There has been concern among some consumers that installation can be a bit tricky, and that the seat isn't as lightweight as they would like. Although there isn't much that can be done with the weight of the seat due to the heaviness of the additional safety features that the restraint possesses, Evenflo does provide a personal online installation video service. You are able to schedule this online through their website for no additional cost.
Parents enjoy how easy it is to use the no rethread harness, and the fact that the cover of the seat is machine washable. The addition of the ergonomic handle is a wonderful asset when carrying around a baby and carseat frequently.
The Evenflo LiteMax DLX is full of safety features that will provide for your child's well being right from the start. With the higher weight and height limits, you will have the ability to utilize this child restraint for the better part of a year or more during your child's smallest and youngest years while feeling comfort in their safety.
Parents looking for a smart car seat that is heavy on safety features but light on price should consider this great offering from Evenflo.