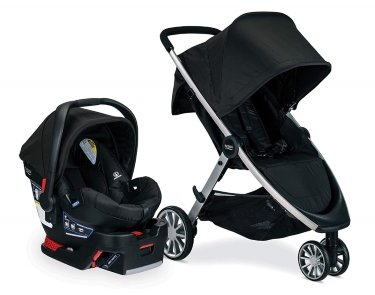 Travel systems are designed for families who love to get out and about. They're more convenient to purchase and are sometimes cheaper than buying a car seat and stroller separately. It's hard to find a travel system that meets every need, but Britax has your back.
The B-Lively & Be Safe travel system was released in late 2019. It features the B-Safe 35 car seat, which we reviewed earlier. The B-Lively stroller is a strong member of the Britax family. It's a 3-wheeled stroller with several nice features.
The system comes in 3 colors: cardinal (red), dove (gray), and raven (black). At around $400, it's moderately expensive. Purchasing each piece separately is approximately the same cost, depending on sales and discounts.
Key Features of the B-Lively & Be Safe travel system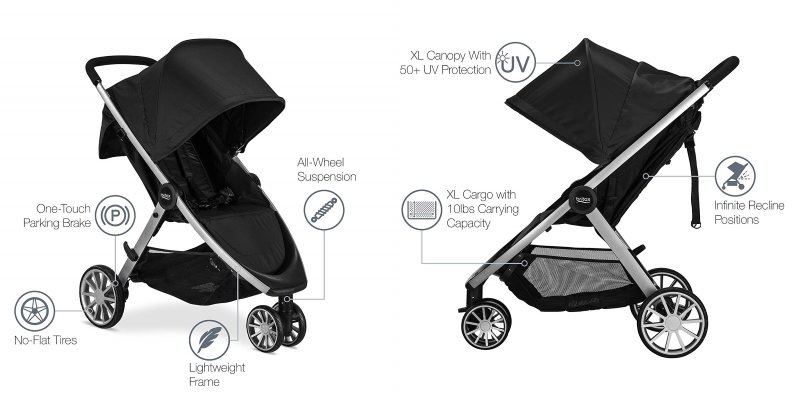 Includes the B-Safe 35 Infant Car Seat with base & car seat adapters
One hand quick-fold design for stroller
Large storage basket w/ front access panel
Zippered storage pocket in back of canopy
Ventilated, UV 50+ "peekaboo" canopy
Comes in 3 colors
Car seat with steel frame, impact-absorbing base, and side impact protection
Car seat can be installed with either LATCH or seat belt
All wheel suspension
Swivel locking front wheel
Infinite recline so baby lies nearly flat
Car seat has a 1-year warranty
Stroller has a 2-year warranty
What are the child size limits of the B-Lively & Be Safe travel system?
Newborns must ride in the car seat on the stroller. Once she's sitting up by herself, she can ride in the stroller without the car seat. The 55 pound weight limit is pretty generous compared to the 50 pound limit many strollers have, so this should last you quite a while.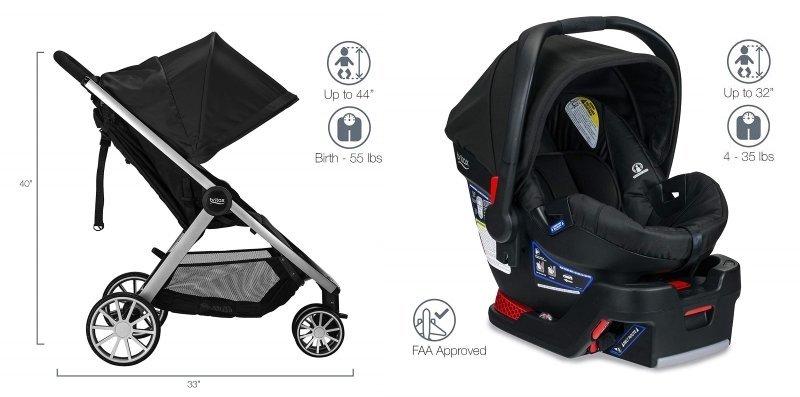 Car seat weight range: 4 – 35 pounds
Car seat height limit: Under 32 inches
Car seat harness slots: 5.5″ / 6.5″ / 8″ / 8.75″ / 10″ / 11″
Car seat buckle strap slots: 4″ / 6″
Stroller max weight: 55 pounds
Stroller height limit: 44"
Stroller harness slot heights: 9.5″ / 12.5″ / 15″
Stroller buckle strap slot: 4"
Some parents reported that their kids grew out of the car seat height limit well before they reached the weight limit. Chubby babies were sometimes too cramped in the deep-well of the seat cradle. Britax has advised some parents to remove the head and shoulder comfort pads, which are optional when your baby has head control.
How big is the B-Lively & Be Safe travel system & will it fit in your car?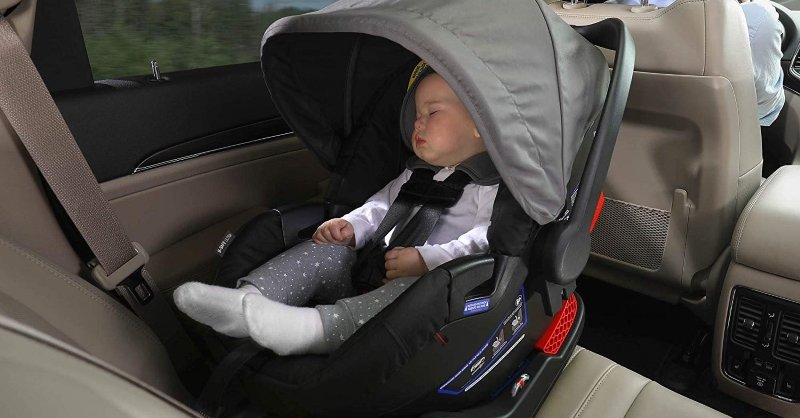 This system is designed to be as compact as possible. Parents have reported that the stroller fits in small trunks with room left for groceries. Grandparents have noted how easy the stroller is to fold/unfold and lift into and out of the trunk. Compared to similar strollers, this one is pretty light at only 20 pounds.
A few parents reported that the car seat, however, felt really heavy with 7+ pound babies when used as an infant carrier.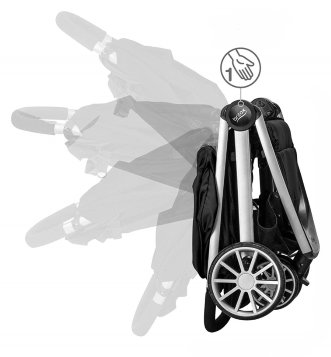 Car seat weight: 10 pounds
Car seat base: 9 pounds
Car seat w/ base dimensions: 17.75" W x 25" H x 30.62" D
Seat shell: 8.75" W x 13" D
Stroller weight: 20 pounds
Unfolded dimensions: 33″L x 23″W x 40″H
Folded dimensions: 29″L x 23″W x 12″H
Inner stroller seat width: 11"
Note: Most parents had no issues fitting the car seat in their vehicles. However, some who had back seats that are shallower in depth such as Jeep Wrangler 4-doors reported the base was too big and hung over the seat edge by 5-6 inches. The manual states the base cannot overhang beyond 3 inches.
If you want to use a car seat with other strollers, the B-Safe 35 car seat is compatible with all Britax single strollers when using the built-in adapters. It's also compatible with BOB single and Duallie strollers with adapters you can buy separately.
How safe is the B-Lively & Be Safe travel system?
Britax seats are all fully crash-tested and have several safety features built into them such as:
Impact absorbing base
Deep (SafeCell) side impact protection
An extra-padded 5 point harness
SafeCenter latch that makes it easy to tighten the base so it's secure
Built-in lockoffs for easy seat belt installation
We found at least three testimonials such as this one from parents with the B-Safe 35 who were in accidents that totaled the cars. Each time, their babies were totally unharmed. This is a great indication that the seat does what it's supposed to do.
A few parents felt that the connection between the car seat and base was too loose. However, Britax says it is designed that way so that the base and seat absorb the impact in a crash instead of the baby's head. If in doubt, your local sheriff, fire department or car seat tech can check it for you.
Some parents noted that the material is not breathable, and their babies tended to get sweaty in the seat, even in winter. Once again, Britax advised parents to remove the optional head and shoulder comfort pads. This could help, but keep an eye out for overheating.
Note: We found one current recall for the B-Safe 35 car seat on the NHTSA website. It involved seats with production dates of November 1, 2015 – May 31, 2017. The recalled part was a chest clip marked "ABS" with a center tab that can break and cause a choking hazard. The recall began June 21, 2017. All of those seats should be off the market now, but if concerned, call Britax at 1-833-474-7016 and ask about it.
There are no known recalls for the B-Lively stroller.
How easy is it to install and use the B-Lively & Be Safe travel system?
Easy installation is one of the major factors when it comes to safety. Difficult installations mean a greater chance of improper use. Push-on LATCH connectors are a BIG plus in our opinion. This is one thing that has made Britax popular. They make installing and uninstalling the B-Safe 35 base super quick and easy. The no-rethread harness is also a plus for easy adjusting of the headrest as baby grows.
The Click & Go system makes it easy to connect this and other seats to the B-Lively stroller or other strollers so you can have a custom combo if you want. Parents loved the one-hand fold and how easy the stroller was to maneuver, thanks to easy swiveling front wheels and 4-wheel suspension. The front-access storage basket under the stroller was very handy for several parents.
On the downside, the braking system was awkward to some parents when wearing sandals. You press it down with your foot to engage, but have to lift it up to disengage. One parent thought the wheels were a bit too small for uneven terrain. There's also no built-in cupholder or snack tray, which was a sore point for some parents. Although, others noted that the zippered pouch will hold closed drink bottles, keys, snacks, etc. Cup holders, snack trays and other accessories are available for purchase separately.
The main installation challenge involved getting the lower connector straps and harness straps equally tight. You have to make sure to press on the base and pull each connector strap until the base moves no more than one inch when pushed from side to side.
Make sure to feed the excess strap length back into the slots until the straps lie flush with the base. Same thing with the straps – they'll tend to get uneven when getting baby in and out, so you probably will have to tighten one more than the other.
Optional accessories
Several handy gadgets are available for this system. Here are a few: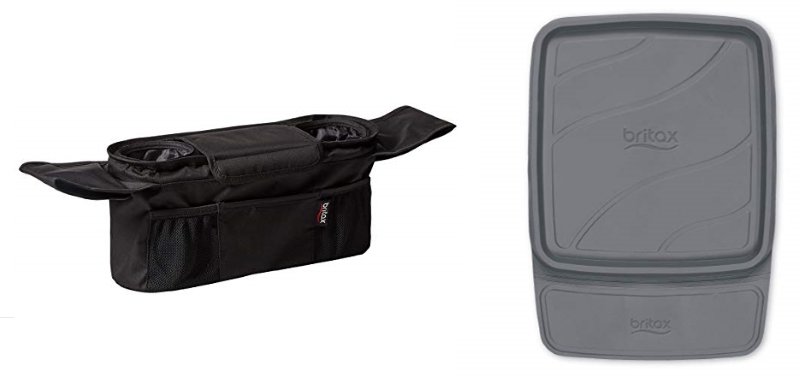 This handy organizer fits all Britax strollers and several other brands as well. It's insulated to keep drinks warm or cold. A magnetic closure compartment stores snacks, diapers, and other essentials. Outer pockets can hold phones, keys, etc.
This heavy duty, waterproof, rubber pad fully covers your vehicle seat base to prevent indentations, scuffs, and scratches. Raised sides catch spills and crumbs. A front shield protects the seat from dirty shoes.
Best Car Seat Hub's Final Verdict

Lightweight stroller w/ one handed fold
Click & Go system for easy car seat/stroller connection
All wheel suspension
Infinite recline in stroller
Big, ventilated, UV 50+ canopy w/ peek-a-boo window
Push-on LATCH connectors
Front access storage basket
Compact storage

Heavy car seat
Car seat may be too cramped for some larger babies
Babies can outgrow height limit well before weight in seat
No parent or child tray on stroller
Base and harness straps may tighten unevenly
Seat fabric isn't very breathable
Braking system awkward if wearing sandals
Final Thoughts
The Britax B-Lively & B-Safe 35 travel system is a good choice for most families who aren't on a tight budget. However, the stroller is probably a better investment than the car seat, due to the car seat's design flaws.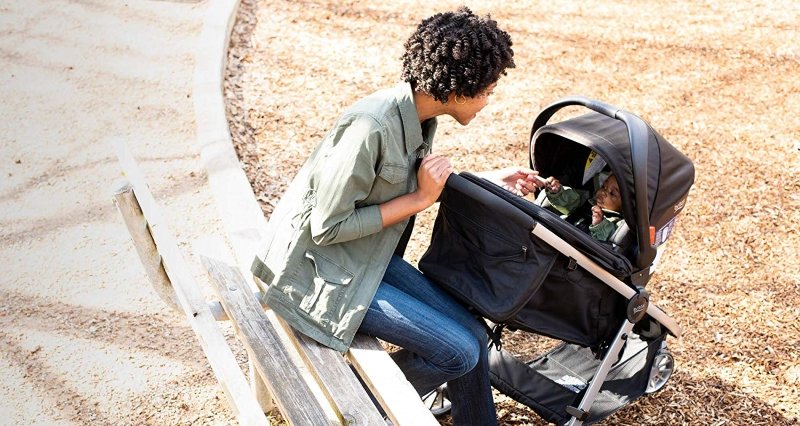 Since some babies tend to grow out of the car seat too soon, one option would be to get this combo and also another Britax seat that's roomier. Then you'll have a spare car seat on hand.
The lack of parent and child trays is annoying, but there are many great features about the B-Lively stroller. It's compact enough to fit in small trunks, easy to operate and maneuver and has plenty of underneath storage and a generous zippered pocket. It's definitely an improvement upon the B-Agile stroller and well worth the investment.