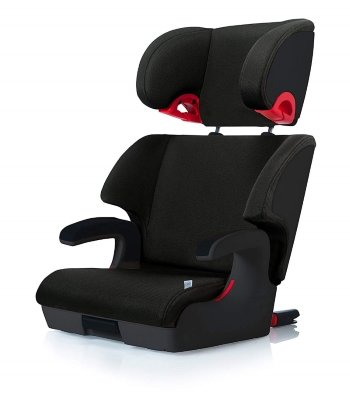 With even a quick glance, it's pretty obvious there's something different about the Clek Oobr High Back Booster Car Seat compared to other boosters. Clek has taken a smart design approach focused on safety with a booster that mimics features of a regular seat in a vehicle. It also added some valuable features to ensure your child enjoys not only a safe but also a comfortable ride.
In designing this convertible booster seat, Clek gave a lot of thought to what parents want in a booster seat and what would keep kids comfortable, especially on long rides. Here are some things that stand out:
A headrest that adjusts like those in your own vehicle. That makes it easier for parents to use.
A wide seat that provides comfort as your child grows.
The seat back reclines, which is always a plus on long rides.
A removable back, so it goes from high back to backless. This means parents save money because it accommodate their child longer.
These well-thought-out features complement the overall design of the seat. Parents also like that Oobr booster seat is made in the USA.
A Sturdy Metal Structure Not Often Found in Booster Seats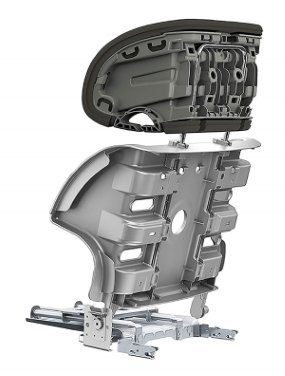 The Oobr has a metal substructure, not usually seen in booster seats. Clek is the first car seat manufacturer to completely build a booster on a metal substructure and in this instance delivers a strong magnesium seat frame.
In high back mode, the booster seat accommodates youngsters ages 4 and older who are between 38 and 57 inches tall and 33 to 100 pounds in weight.
In backless mode, the booster seat accommodates children ages 4 and older who are between 40 and 57 inches tall and 40 to 100 pounds in weight.
The structural features of the booster seat are: the seat base; the seat back and a seat back release strap for converting to backless mode; the seat cushion; armrests; headrest and headrest adjuster; LATCH connectors; lap belt and shoulder belt guides; recline handle; and cup holder (Clek calls it a drink-thingy).
Oobr Safety Is Clearly Evident
For parents, safety is the driving factor when choosing a booster car seat. And rightly so. The premium safety features found in the Clek Oobr high back booster car seat with recline and rigid latch will put parents' minds at ease.
Clek has devised what it calls an elemental safety system to secure and protect your child from the front, rear and side. This system is comprised of: energy absorbing foam, a structural headrest, a rigid latch, a magnesium back frame, and belt guides.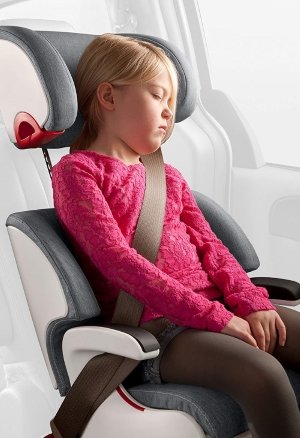 Here's a look at each one:
Layers of Energy-Absorbing Foam

Because it has layers of foam, the Oobr booster does a better job absorbing the energy produced in a crash and keeping it away from your child.

Structural Headrest

Provides maximum safety protection that reduces twisting movements. Your child's head and neck will remain stable in the event of a crash. Additionally, the headrest is designed with deep, padded side wings that offer maximum side impact protection. The headrest can be adjusted as your child grows.

Rigid Latch

This rigid-Latch works with your vehicle's LATCH system. It locks the booster into place to give it even more stability in the event of a collision. Parents like that it gives an audible click when installed.

Magnesium Back Frame

Made from magnesium alloy, its strength gives the seat's back even more security and stability. It protects your child's torso if a side impact collision occurs. Additionally, the steel rods along the back keep the headrest in place.

Belt Guides

These attach to the headrest and ensure the safety belt is properly positioned on your child's shoulders and hips.
All components of the safety system work in unison to provide a secure ride when the vehicle is in motion. This booster seat raises your child 4 inches / 10cm to better position the shoulder belt and seat belt thus improving safety.
The Car Seat's Components Make Installation and Usage Quick and Easy
While the seat is designed to install in most vehicles, it is a larger car seat so there may be a few makes and models where the fit is tight. It might also not be ideal for parents trying to fit three car seats in the back. The product's overall dimensions in high back mode are 16 x 17 x 28 inches and 20 pounds.
These specific dimensions from the manufacturer should help in determining whether the car seat can be installed in your vehicle.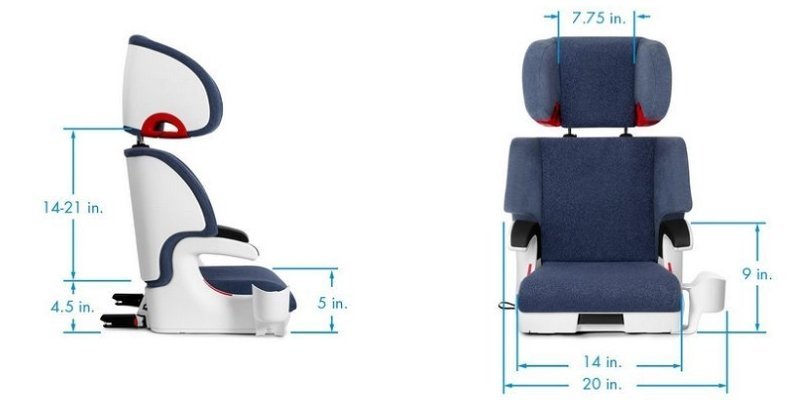 In High Back Mode
Width of Base (including armrests and cup holder): 20 inches
Width of Seating Area: 15.5 inches
Height Range (depending on position of headrest): 14 to 21 inches
Depth: 13 inches
Weight: 20 pounds
In Backless Mode
Width of Base (including armrests and cup holder): 20 inches
Width of Seating Area: 14 inches
Height of the Rear of the Seat: 4.5 inches
Height of the Front of the Seat: 5 inches
Depth: 15 inches
Weight: 10 pounds
Installing the High Back Booster Seat
Once you open the box, you'll need to attach the headrest to the seat back and then attach that assembly to the seat base. Your booster is now in high back mode. The cup holder, which by the way is dishwasher-safe, can be installed on either side.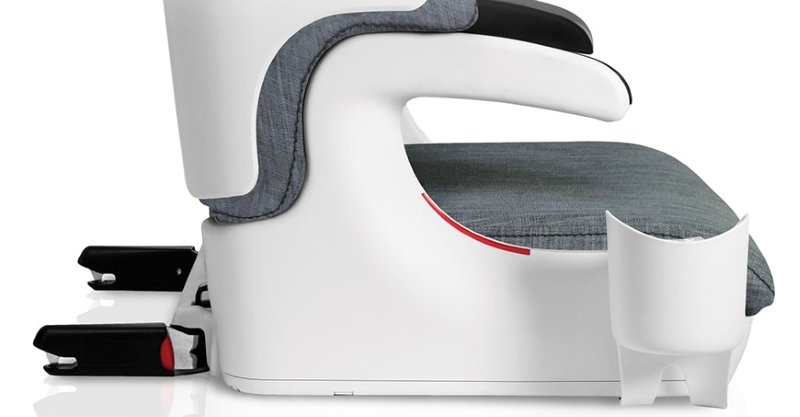 The booster seat can be installed using either your vehicle's LATCH system or seat belt system. The Clek installation guide offers concise instructions and illustrations on how to install using either method.
However, the seat's rigid latch only works when installing using your vehicle's LATCH system. Likewise, the recline feature is only available when the seat is in high back mode and installed using the LATCH system. The seat can be reclined up to 12 degrees by sliding the seat forward using the rigid latch.
If your vehicle is equipped with lower anchors, Oobr has rigid lower anchor connectors to attach to it. This secures the seat in your vehicle when it is not in use, preventing it from becoming a flying projectile in the event of a crash.
Once installed, place your child in the seat to adjust the headrest. Simply press the headrest adjuster button and slide the headrest up until the belt guide indicator is at or above your child's shoulder. Next, use the shoulder belt guide to slide the seat belt through.
Switching to Backless Booster
When your child is ready to transition to a backless booster, simply pull the seat back release strap and remove each side of the seat back.
Oobr Offers Good Range of Color and Fabric Selection, Plus Accessories
The Clek Oobr comes in various colors and fabrics. All the fabrics are stain and spill resistant, except the luxury automotive fabric used on the Oobr Drift model. The company is proud to offer products that are UL Greenguard Gold certified meaning they pass rigorous health based standards that reduce the risk of chemical exposure.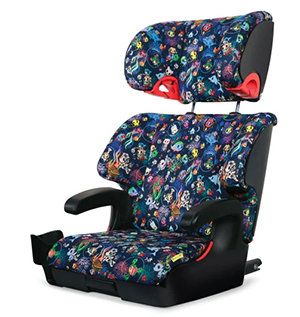 Typically the company provided only plain, classic colors but lately they have added more colorful prints. Among the fabric options are:
Jersey Knit Collection, which is a lightweight polyester-spandex blend that feels like a pair of comfy pajamas. Three colors available.
C-Zero Plus, which is the standard fabric and has a plush and soft feel like terry cloth. Lots of colors available.
Premium C-Zero Plus, which is a more premium fabric with either a smooth feel to it for a tailored look or a linen fabric for a more casual approach.
Merino Wool, which is luxuriously soft feel using 100% Australian Merino wool fabric that is naturally flame retardant so no additional fire proofing chemicals are added. Two colors available.
All the Crypton fabrics resist stains, moisture and odor-causing bacteria. More importantly, they do not contain brominated and chlorinated flame retardants.
You can remove the seat cushion's cover and wash it by hand. The fabric on the high back, headrest and side wings is not removable, but can be spot cleaned.
Clek also offers add-on accessories that can be purchased separately. They include:
The drink-thingy cup holder in case you want a second one for the other side. Or, if you purchased the Oobr Drift model, the cup holder is not included.
A fabric cleaning kit, which includes eco-friendly fabric cleaning and stain remover solutions and a scrub brush.
The Weelee travel bag, which is a portable car seat travel bag that folds flat when not in use.
The mat-thingy car seat protector mat that protects the booster seat from messes.
More Reasons to Consider Buying the Clek Oobr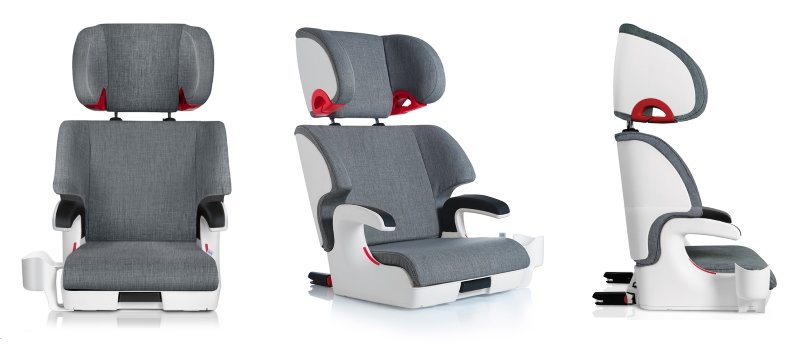 Besides its premium design and rich safety and comfort features, there are a few more reasons why you should seriously consider this seat.
First, the Insurance Institute for Highway Safety rated the Clek Oobr high back booster car seat a "Best Bet" for nine consecutive years. To earn this designation, the booster seat must provide exceptional lap and shoulder belt fit for ages 4 to 8 in almost any model of car, minivan, or SUV.
It also complies with all federal motor vehicle safety standards for booster car seats.
Since it grows with your child by going from high back to backless, the seat has a 9 year expiration date, longer than other boosters.
With a strong emphasis on safety, a sturdy metal frame, and Made in the USA construction, this booster seat gives parents a lot of peace of mind. Clek also provides that with a 1+2 year warranty that takes a standard one year warranty and extends it an additional 2 years when you register your car seat with Clek.
Conclusion
The Clek Oobr high back booster car seat with recline and rigid latch is chock full of premium comfort and safety features. It's a step above other booster seats in terms of its unique design and features.
Although it's on the high-end of booster seats price wise, it's built to last and grow with your child.
There's a lot of value built into this car seat, which is something also worth weighing against price. All in all, the Clek Oobr is one of the best booster seats on the market.

Quick and easy install
Good for vehicles without head restraints
Converts from high back booster to backless booster as child grows
Solid and sturdy construction
Numerous comfort and safety design features
Easy to clean removable seat cushion and cover
Comfortable during long rides
The seatbelt threads through easily
Smaller, compact profile so it fits in most small vehicles
Made in the USA

May be too wide for some vehicle types, making it difficult to access the vehicle's seat belt connector
Latching mechanism is a pull/pull design, which might be hard to do in small vehicles where space is tight
The armrests could make it a bit difficult to get your child in and out of the seat
Recline feature can be used only with vehicle's LATCH system
Price is high
Seat is a bit heavy in high back mode