The Diono Rainier is a newly updated version of the high quality brand that is known for excellent safety ratings. It's one of the few convertible seats (only 8 in the US) that allow for rear-facing children up to 50 pounds. This model is no longer available in stores and their current model is the excellent Radian.

An impressive seat in and of itself, the Diono Rainier has a narrow profile and wide weight range, but it can be a considerable financial investment. Whether or not it's worth its weight in terms of price is up to you. But we've broken down the details so you can quickly determine if it will be the best option for your family.
Why the big deal about how long children are in a rear-facing seat?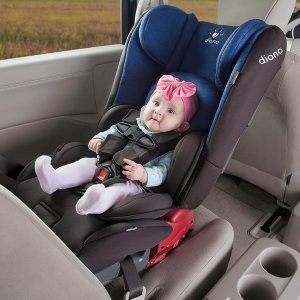 Compared to European countries such as Sweden, parents in the US turn their children forward-facing at a much younger age (often 1 year), though car seat experts recommend leaving them rear -facing until at least 2 years of age.
Research has shown that children should remain rear-facing even longer than that. In Sweden, the average age of switching to forward-facing is 4 years old. Sweden also has the lowest child fatality rate in the world.
The advantage of rear-facing lies in the composition of a child's body. They may look like little adults, but they're far from it. A child's head, neck and spine are still growing and more delicate than an adult's.
In a wreck, a forward-facing child will experience more violent force on the head, neck and spine. In the rear-facing position, the impact is absorbed over the child's entire back. The head and neck are well-protected while being pushed back against the seat.
With car seats like the Diono Rainier, it's possible to keep your child in a rear-facing position until their skeletal system is strong enough to handle impacts in a forward-facing seat.
Key features of the Diono Rainier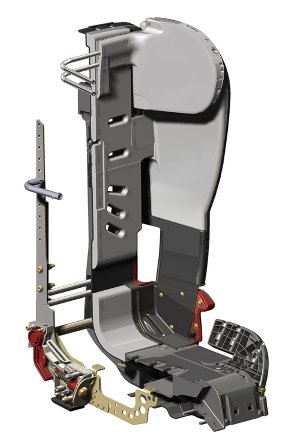 As one of the most premium brands on the market, the Diono Rainier delivers in terms of quality features. As a convertible seat, it will last a long time, so investing a bit more could actually save you money in the long run as you won't have to buy additional seats as your child grows.
Some of the key features:
Extended rear-facing up to 50 pounds
Booster mode up to 120 pounds
Machine washable cover
Infant insert with memory foam
Low profile for easy in and out
Aluminum reinforced, deep sidewalls
Folds flat
Steel frame
12-height positions on head support
SuperLatch system
Rear-facing top tether
10-year lifespan
Cup holder included
What are the child size limits for the Diono Rainier?
While the minimum weight of this seat is listed as 5 pounds, some parents thought it felt way too big for their small babies. Though the booster mode has a 120 pound weight limit according to the manufacturer, that may be an overestimation.
Depending on the build and comfort preferences of the child, he may feel as though his shoulders are cramped from the deep sidewalls. Since it's so narrow, it's also not as padded as it could be, so long car trips could quickly become uncomfortable for your child.
5 – 50 pounds rear-facing weight range
44 inches rear-facing height max
20 – 90 pounds forward-facing weight range
57 inches forward-facing height range
50 – 120 pounds booster seat weight range
40 – 57 inches booster seat height range
Note: Other comparable Diono seats such as the Diono Radian RXT, Radian R120, and the Radian R100 all have similar weight ranges (5 – 120 pounds), with the exception of the Radian R100 with a max weight of 100. In the order listed, each seat also gets less expensive.
How big is the Diono Rainier and will it fit in my vehicle?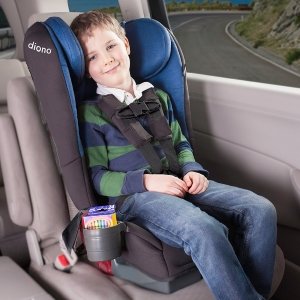 This is one of the most narrow profile seats on the market and will usually fit well if you need more than one car seat. But because of its tall profile, it doesn't leave a lot of room for a front seat passenger when in the rear-facing position. It's also a hefty seat right at 30 pounds, and though it can be folded and carried like a backpack when traveling, that's a pretty big load.
For travelers, the narrowness and foldability make it easy to transport, whether driving, using a taxi, Uber or flying.
Seat weight – 29.79 pounds
Width (widest point) – 18.5 inches
Depth (top of seat) – 9.5 inches
Height – 24.5 inches
Harness positions – from 8 to 16.5 inches
Note: For comparable Diono seats such as the Diono Radian RXT, Radian R120, and the Radian R100, each is about a pound lighter than the others (in the order listed).
How safe is the Diono Rainier?
The Rainier's steel frame, though heavy, is sturdy and strong. There's a SafeStop feature which is attached to the upper part of the car seat. It's meant to allow crash force energy to dissipate through the harness when the seat is in forward-facing mode. The rear-facing tether reduces rebound energy in a crash as well.
Deep, aluminum-reinforced sidewalls lined with energy absorbing (EPS) foam protect against side impact forces. Unlike other Diono seats, the Rainier has deep side walls, also lined with EPS foam, which provides an additional layer of side impact protection.
The LATCH connectors must be disconnected when your child reaches 35 pounds, which is pretty common to all car seats. But you should have no trouble with seat belt installation alone. The seat also can be installed with the new inflatable seat belts found in some Lincoln and Ford vehicles.
It's also been proven safe in this account of a real-life crash. Bottom line, if installed properly, you can be fairly certain the seat will be very safe.
How easy is the Diono Rainier to install?
If this seat has one major flaw, it's installation. Several people had difficulty installing this seat. The instruction manual is vague in some areas, plus there are a lot of steps, which means more chance of bad installation. The SuperLatch system does hold well once installed correctly and has an audible click and visual indicator so you know when it's locked in place. But getting it installed properly is the hard part.
Besides being heavy, the belt path for rear-facing installation is very narrow and closed so threading the seat belt or LATCH belt through it can be difficult. It's much easier to access when forward-facing.
The seat tends to slip forward in forward-facing mode, which means you'll have to lower the adjustable bottom and reinstall. There is no built-in lock-off device for seat belt installation. So you need to know how your vehicle belts work as far as locking goes.
As a booster seat, the padding and seat fabric can grab the seat belt if your child leans forward and thus prevent it from fitting tightly enough on your child. Other issues parents had involved crotch straps that were difficult to move, and having to depend on an angle adjuster (sold separately) to correct the rear-facing angle.
Optional accessories
These items can make using this car seat easier and more comfortable on the road.
The name suggests that this only works for the Radian model, when in fact it works for all Diono car seats. It helps adjust the rear-facing angle, which improves both backseat space and front seat legroom.
Every car seat (and back seat) can benefit from a seat protector to prevent stains from spills and other debris. It also prevents scratches and indentations in your back seat fabric.
For toting the seat through an airport or elsewhere, this will come in very handy. It even has a backpack option, is waterproof and has a zippered pocket to store stuff.
Best Car Seat Hub's Final Verdict

Allows extended rear-facing
Good weight limits in each mode
Narrow profile fits well with other car seats
Deep head wings
Good leg room
Folds flat
Rear-facing tether
12-position headrest

Heavy
Narrow, hard to adjust belt path
Crotch positions hard to move
Hard to install in some vehicles
Seat belt can some loose in booster mode when it catches on the belt positioner
No built-in lock-off
Pricey
Made in China
Vague directions with too many installation steps
---
Final thoughts
For a safe convertible car seat, the Diono Rainier is hard to beat. Sturdy design and solid safety features, plus the extended rear-facing weight range provides more protection, longer than most car seats. It is a significant investment price-wise, but will last a long while with its 3 modes.

If you need to move seats around a lot from car to car, this is not the best option for you. Sure, the fold flat feature is nice for transporting. But the heavy weight, size and difficult installation may lead to more frustration than its worth. It is a good seat if you need multiple car seats in the back seat with its narrow profile, but in some vehicles, your front seat passenger will have very little legroom with this seat in rear-facing mode.

Keep in mind that the upper size limit of 120 pounds may be an exaggeration, depending on your child's size and comfort levels. Plus, the seat may be a bit too large for very small babies.

All in all, the Diono Rainier is a hefty but solid investment if you don't need to move the seat around a lot.
This post is also available in: Español (Spanish)