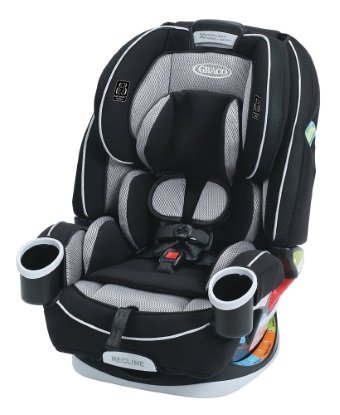 The Graco 4ever All-in-One convertible car seat is meant to last from birth to when your child no longer needs a safety seat. Many of these seats are dependable in this regard, but most lack some versatility. Either they lack enough recline in rear-facing mode or children grow out of them way before the listed maximum weight, among other things.
We've reviewed lots of convertible seats, and like most multi-function equipment, they perform each job decently, while single-function seats often perform their one job better than any convertible can. While this one isn't perfect, the Graco 4ever All-in-One is about the closest it comes in the realm of convertible seats.
The newest versions of this seat include more fabric options and a lower price than the originals. While not super expensive, it still costs enough that families will want to research all the pros and cons before making the investment. We'll break them down for you here in our review.
Key Features of the Graco 4Ever All-in-One Convertible Car Seat
All-in-One in this case means a 4-in-one car seat, with four different configurations.
A rear-facing seat that allows for extended rear-facing to 40 pounds
A forward-facing seat
A high-back booster seat
A backless booster seat (often lacking in convertibles)
In addition, you'll find these features:
No-rethread 5-point safety harness
10 position headrest
6 recline positions (3 rear-facing, 3 forward-facing)
Bubble-level indicator
Steel reinforced frame
Push on lower LATCH connectors
Two built in cup holders
10 year expiration date
Washable cover
Up to 10 color options
Storage compartment for harness when in belt-positioning booster mode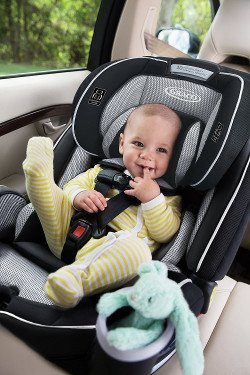 All the color/pattern options, quality fabric and adjustability make it a nice-looking, versatile seat that easily adapts to each stage of your child's life and your lifestyle.
The two cup holders have solid bottoms so kids can have their snacks and drinks close by while on the go – something that will come in handy as you child gets older and you hear, "Mom, I'm hungry!" more often. They're roomy enough for storing crayons and small toys too. Plus, they're easy to remove for cleaning.
Most parents think the cover is easy to take off. It's machine washable and drip dry. It's not one solid cover (3 separate parts), so you can remove just the part that needs cleaning most. There's also a removable body/head support cushion for newborns. It's washable too. Metal and plastic parts can be cleaned with soap and water while the buckle should be cleaned with a damp cloth.
Like other convertibles, it will not serve as a portable infant carrier, nor will it fit on strollers. It's meant to stay in the car at all times. The good thing is you don't have to remove the harness when switching to booster mode. You just tuck the harness in the built in cubby, although the compartment is a bit small. Converting to a backless booster is really easy too.
What are the child size limits of the Graco 4ever All-in-One Convertible Car Seat?
We were pretty impressed with the 40 pound weight limit to allow for extended rear-facing. Most other convertible seats top out at 30 to 35. The size limits can get a little confusing, so keep your manual in the car for quick consultation.
Rear Facing: Ideal for children between 4 and 40 pounds; height limit is when the child's head is one inch below the headrest adjustment button when the headrest is fully extended.
Front Facing: Ideal for children between 22 and 65 pounds, height should be less than 49"; child should be at least one year (12 months) old, preferably 2 years old or more.
High-Back Booster: Ideal for children weighing between 30 and 100 pounds, height should be 38 to 57"; children should be able to hold themselves up in the seat and at least four years of age.
Backless Booster: Ideal for children 40 to 120 pounds; recommended height is between 40 to 57"; and the child should be at least four years old.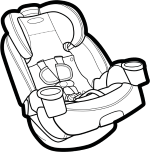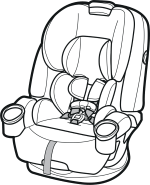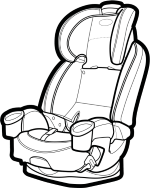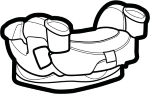 How big is the Graco 4Ever All-in-One convertible car seat, and will it fit in your vehicle?
Convertible seats are often bulky, since they have so many jobs to do. If you have a larger vehicle like an SUV or hybrid, the seat will likely fit just fine unless you need to stick 3 car seats in the backseat. Then, you'll want to measure your interior and compare it with the below measurements.
Width: 19.5 inches at the widest part (at cup holders)
Width of base (widest point): 15 inches
Seat weight: 22.75 pounds
Seating depth: 12.5 inches deep
Width of seat area at narrowest point: 13 inches
Shell height: 24 inches, extends to 34 inches
Lowest harness height (with infant pillow): 7 inches
Highest harness height: 18 inches
For sedans and compact cars, definitely take measurements first. Some parents noted that there wasn't much legroom left for the front passengers when this seat was in rear-facing mode, even on the minimal recline setting.
How safe is the Graco 4Ever All-in-One convertible car seat?
This seat has held up in real-life crash situations. One such experience occurred with an 11-month old baby involved in a terrible rollover accident. The baby was completely unharmed. This seat was crash tested only in the US, so if you're outside the US, check with your country's specific safety standards. Or call Graco to see if there is a specific model sold in your country.
For overall safety, the 4Ever is a great option, including the ability to use LATCH in booster mode (up to 42 pounds). But there are a few things to note. When extended to full height, the seat can block some rear visibility depending on your vehicle, but it shouldn't be enough to pose a safety risk. If you have a particularly small vehicle, make sure to get measurements so you can better determine if visibility will be a problem.
Some smaller issues were noted that may affect comfort and peace of mind more than safety. A few parents thought the seat felt too loose in rear-facing mode and flopped side to side too much. Once the infant insert was removed, other parents felt the seat was too uncomfortable for their child. Some parents also noted that the fabric didn't seem breathable enough, so their child was very sweaty after riding in the seat for a while.
Useful tip: One complaint involved not being able to get the harness straps to remain tight enough, which seems to be a recurring issue in Graco convertibles. But here's a useful method some parents use to overcome that. Make sure to pull up all the slack in the harness in the hip area first, then pull out the slack in the harness behind the car seat BEFORE pulling the adjuster strap to tighten the harness. Also, tighten the harness BEFORE you buckle the chest clip.
Note: The manufacturer states that the cup holders must remain in the car seat when in use. This is because the seat was not crash tested without the cup holders in place. Previously, we noted that some parents removed theirs to gain a couple extra inches of space in the backseat. Please follow all current manufacturer guidelines.
---
How easy is the Graco 4Ever All-in-One convertible to install and use?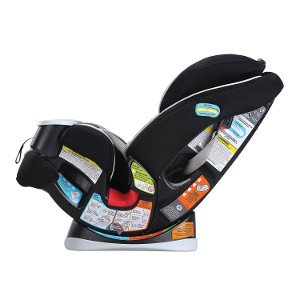 The Graco 4Ever All-in-One is an easy seat to install in almost all modes. You may have a little more trouble fitting this one into a sporty car with bucket seats due to the width of the base. However, the belt paths are all clearly labeled and color coded so that you can figure things out without having to consult the manual every time.
Unlike some Graco convertibles, the 4Ever All-in-One has only one set of LATCH straps for both rear and forward-facing, so you will need to switch the straps manually when converting. There is no lockoff device for seat belt installations, so you'll need to know how your seatbelts lock, particularly if you have an older vehicle. To be on the safe side, consult your vehicle owner's manual to see if there are specific instructions for car seat installations.
For a lot of the conversion steps, it'll be necessary to take the seat completely out of your car. This isn't a complicated process, but it can be a bit of a pain. Make sure you're not in a hurry when converting the seat from one mode to the next.
In rear facing mode, there are three recline positions (1-3) so that your baby can have the utmost comfort. The same goes for the front facing position (4-6), but position 4 must be used for children under 40 pounds.
There is a bubble indicator on the seat that allows for easier leveling when installing rear-facing.
The 4Ever CAN be installed with inflatable seat belts in certain models of Ford vehicles, but not all. If you have a Ford with inflatable seat belts, be sure to consult your vehicle manual and Graco to confirm if your model is compatible.
There were a few notable usability issues. While the seat cover is removable in 3 parts, the harness straps are NOT removable, so some parents had issues with keeping the straps clean, especially after spit-ups and other smelly messes.
Possible design flaw: One of the biggest complaints, which isn't so much ease of use, but more a case of sanity, involves the headrest. According to several parents, it rattles. A lot. It doesn't seem to pose any safety issue, however. The rattling seems to be worse the higher up the headrest is moved and when the car seat is empty. If this happens, Graco may be able to exchange your seat, but there's no guarantee it will not rattle.
Graco does offer a one year warranty on all of their products so parents can have peace of mind that any trouble they encounter will get fixed or replaced.
---
Best Car Seat Hub's Final Verdict

Easy installation
Easy converting between modes
Wide weight range
Allows extended rear-facing
2 removable (solid bottom) cup holders
No-rethread harness that doesn't need to be removed in booster mode
LATCH available for booster mode (up to 42 pounds)
Simple seat belt installation
Proven crash safety record
3-part cover for easy removal and washing

Headrest rattles
Bulky, especially in rear-facing mode
Fabric not very breathable
Harness can be tricky to tighten
Harness not removable for easy cleaning
At full height, can block rear visibility somewhat
No lockoff device for seat belt install
Only one set of LATCH straps for both rear and forward-facing
---
Take a Look At These Extended Specialized Editions:
Graco 4Ever DLX 4-in-1 Car Seat​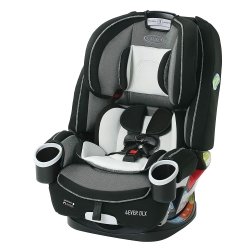 The design of this seat is very similar to the 4Ever, but the DLX has a few extra features including a RapidRemove cover that you can remove in less than a minute. It also has integrated seat belt lock-off and is designed with Graco ProtectPlus Engineering that protects in front, side, rear, and rollover crashes. The DLX also has fuss-free harness storage for when it's time to convert to a belt-positioning booster.
Weight ranges for booster modes are slightly different, with the DLX high back booster minimum weight of 40 pounds compared to 30 pounds in the 4Ever. Height range is a little different too, with a minimum height of 43 inches in the DLX, compared to 38 inches in the 4Ever.
The DLX is offered in 6 colors, compared to 2 for the 4Ever. Both seats are very similar in price.
Key Features that stand out from the 4Ever:
RapidRemove cover
Seat belt lock-offs
6 color choices
Rear-facing 4 - 40 pounds
Fuss-free harness storage
Graco ProtectPlus Engineered
Pros:
RapidRemove cover
Seat belt lockoffs
More color options
Cons:
May be too big for preemies or newborns
LATCH straps can be hard to tighten
Seat cover is air dry only
Graco 4Ever Extend2Fit All-in-One Car Seat​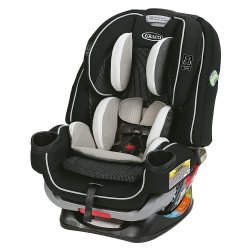 This seat is a mix of the 4Ever and the Graco Extend2Fit. A few nice features this one has compared to the 4Ever are a forward-facing seat belt lockoff, easily accessible belt paths, recline handles on front and back of the base, and an integrated harness storage compartment.
The 4Ever Extend2Fit better supports extended rear-facing with a 50-pound weight limit compared to the 4Ever's 40-pound limit. Plus, parents who are worried about their toddlers getting cramped legs rear-facing will love the leg extension panel that offers 5 inches of extra legroom. All other weight and height ranges are the same as the 4Ever DLX, with a 40-pound minimum weight for booster mode and 43-inch minimum height.
The 4Ever Extend2Fit is slightly smaller but about 3 pounds heavier than the 4Ever. The 4Ever Extend2Fit comes in 5 colors compared to the 2 colors offered with the 4Ever, but it costs about $45 more.
Key Features that stand out from the 4Ever:
50-pound weight limit rear-facing
Leg extension panel with 5" extra leg room
Harness storage
Seat belt lock-offs
Recline handles on front and back of base
5 color choices
Pros:
Extended rear-facing with 50-pound weight limit
2 recline handles on front and back of seat base
4-position leg extension panel
Cons:
Uncomfortable for long rides in backless booster mode
Inner buckle slot could be too tight-fitting for some children
Takes up a lot of room front to back in rear-facing mode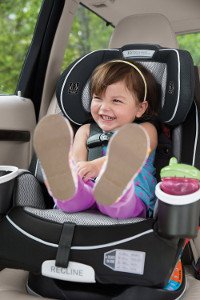 Optional accessories
There are a couple accessories that might provide a more comfortable and cleaner experience when using the Graco 4Ever:
This slip-proof, extra large seat cover is made with PVC leather. It's water-resistant and will protect your vehicle seat from spills, keep crumbs out of the cracks and prevent markings on the upholstery. There's also a 3-pocket compartment in the front for extra snack or toy storage.
Keep the backs of your front seats clean and scuff free with these kick mats. Designed to provide a barrier against dirty shoes, they're also a handy storage area with stretchy pockets to hold books, crayons, snacks, and mobile devices.
Final Thoughts
Overall, the Graco 4ever All-in-One is a great choice for those who want a convertible car seat. Because it's bulky and not portable and not the most comfortable seat on the market, we recommend this one for your everyday drives. For longer car trips, your child would likely be more comfortable in a one-tasker seat that delivers more in terms of cushioning and portability.
In the end, the Graco 4ever All-in-One is an affordable option that delivers on all values: safety, ease of use, functionality, price, and comfort. Yeah, it's got a few issues here and there, but nothing that should compromise safety. As a convertible seat, it's probably the closest to perfect we've seen yet.
Read Graco 4ever All-in-One Manual
This post is also available in: Español (Spanish)