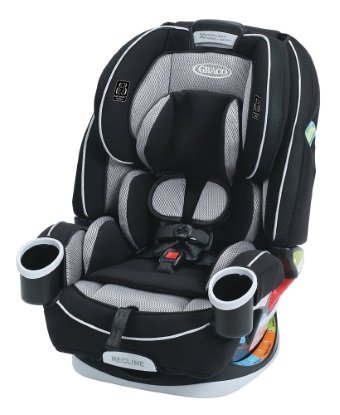 It is one of the most well-known car seat brands of all time – so many of us grew up riding around in one of them. Graco is a name that has been synonymous with safety and functionality for parents and for children – so do they still stand in as one of the best brands?

With the Graco 4ever All-in-One car seat, they have certainly made news as being one of the best car seats to come along in some time, but do they live up to the hype?
Within the realm of car seats, there are so many different options out there to choose from that it is difficult to stand out, yet this one has.
What makes it so unique?
This is a 4-in-one car seat, which means that you can choose from any of the four different configurations that it offers:
A rear-facing seat that it suitable for larger newborns and infants
A forward-facing seat that is best for toddlers
A booster seat with a back
A backless booster seat for the child as he or she grows
This is the type of car seat that you purchase once and then continue to use until your child is out of the car seat. That means that is has to have some fantastic design elements and be handy to use. You are making an investment in your child's safety, comfort, and your low stress levels.
Graco 4ever All in One Car Seat Design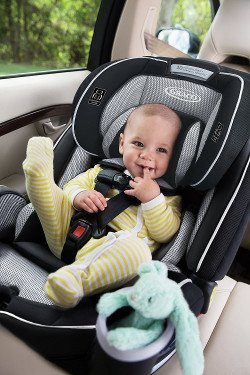 Elegant, stylish, and simplistic, the Graco 4ever All-in-One is a great choice for all types of parents and children. The seat it built to be pretty plain, though it easily adapts to each stage of your child's life and the way you use it. This means that you can use it for trips, quick car rides, and when you switch cards.
Everything is easily adjustable and is removable. Even better, the seat comes with two cup holders so that you can feed and water your child while on the go – something that will come in handy as you child gets older and starts to ask for food regularly.
Of course, those easily come off if you are really squeezing children into your car.
Maneuvering is made easy here as well – you will easily be able to change up the seating and the comfort of your child with a few movements of your hands. Every change keeps your child safe as well – you won't put your child at risk by making them more comfortable.
The cushions are easily removable, so if you have a child that is larger, smaller, or even has a medical need, you won't have to look for something new.
---
Graco 4ever All in One Car Seat Weight Limits
As with every car seat, there are some weight and height limits for this one. They are as follows:
Rear Facing: Ideal for children between 4 and 40 pounds; height should be 18 to 43" or when the child's head is below the headrest adjustment handle.
Front Facing: Ideal for children between 22 and 65 pounds, height should be 27 to 49"; child should be at least one year (12 months) old.
Backed Booster: Ideal for children weighing between 40 and 100 pounds, height should be 40 to 57"; children should be able to hold themselves up in the seat and at least four years of age.
Backless Booster: Ideal for children up to 120 pounds; recommended height is between 43 to 57"; and the child should be at least four years old.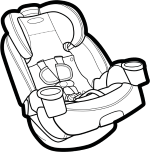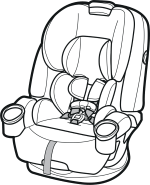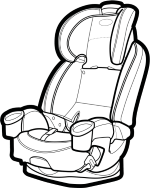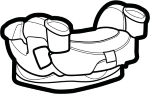 Measurements
Since every car is different and you need to ensure that the seat actually fits in with your car, make sure that you can fit these measurements:
Width: 19″ at the widest part of the shell.
Seat pan: 12.5″ deep.
Seat pan interior: 15″ across, with 14″ of interior hip room.
Base width: 14″ at the front of the base, 20″ at the cup holders, 13″ at the back of the base.
Note that the removable cup holders do add or take away some inches when you use them, so you may want to leave a little bit of wiggle room if you can. However, since they are removable it isn't 100% necessary.
---
Graco 4ever Installation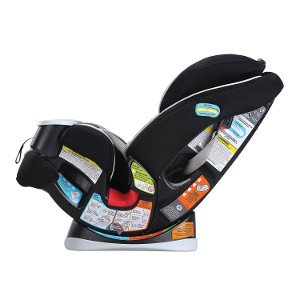 This is certainly an easy seat to install in almost all modes, which is a good thing of course. You may have a little more trouble fitting this one into a sporty car that doesn't have as much bucket space, however. Still, for most family cars, the belt paths are all clearly labeled and color coded so that you can figure things out without having to consult the manual every time – though make sure to do it for the first time. There are hook options and LATCH connectors, so you can choose which one is right for your car.
Note that the connections will change as your child moves from seat version to seat version, so make sure to take the seat completely out of your car if you are changing from one version to the other. This isn't a complicated process, but some people do not like having to go through all of the trouble.
In rear facing mode, there are three recline positions so that your baby can have the utmost comfort. The same goes for the front facing position.
There is a bubble indicator on the seat that allows you to set it up evenly so that you can have the maximum safety.
No matter how you recline, there should be plenty of room between the baby seat and any seats in front of it, especially if you position your baby in the middle of the back seat.
Even better, for tall parents who need more legroom to drive or sit comfortably, this doesn't take up that much space so you can feel free to move your seat back even more. The seat is designed so that the baby's weight won't cause it to lean back any more than necessary.
Note that when the seat is up at its highest point, there is some blockage to visibility. For most parents it will not be too much of an issue, but for shorter parents, it might pose a problem and cause you to move the seat away from directly behind the driver.
Comfort for Baby
When you have a child in your car, ensuring that that child is comfortable is going to be key to having a safe and stress free drive. That is where the Graco 4ever All-in-One seems to have some problems.
While the seat isn't uncomfortable, it also isn't the most comfortable seat on the market today.
The place where you lose quite a bit of comfort is in the rear facing mode. While babies cannot tell you verbally that they aren't comfortable, you will notice that your child is a little grumpy in the car compared to other seats. Though there are three recline options, you don't get the most personalized fit as some newborn and infant car seats offer up to ten recline positions for optimum comfort. For the most part, this isn't a problem if you don't take extremely long commutes. However, if you do, you may want to find something a little more comfortable for at least the few months.

Another problem with comfort seems to be once the padding moves or shifts, which it can do. While the looping functionality makes the seat easier to install, it also means that the padding moves and can make the ride uncomfortable.

However, the biggest problem that seemed to be overarching is the material used to make up the lining of the seat. For people who live in humid areas, this one will make your baby sweat. Going on a longer car ride could result in a sweaty baby. However, the other side of that is that for people who live in colder or cooler climates, your baby will be warm. You have to weigh the good with the bad. Certainly, some air conditioning and the windows down will go a long way.
Mostly, children probably won't complain when using this car seat. It is just something to keep in mind when you dress your child to go out into the elements.
---
Safety of the Graco Seat
The most well-known features of the Graco 4ever seat are the comfort and safety built into it. There are quite a few safety features that the company can boast about, but the three most important are:
EPS energy absorbing foam that provides maximum impact protection
The seat is engineered and crashed tested to meet US standards, in particular FMVSS 213
Side impact protection is built into the seat thanks to 5-point harnessing
Of course, there are some other well known safety features built into the seat or usable with the seat, including the LATCH system that anchors the car eat to your car. This is a popular system that some cars use – with the Graco seat, it doesn't take all that long.
---
Ease of Use
For the most part, the 4ever is an extremely easy seat to use! There isn't a lot here to complicate the seat, nor are there any problems with moving parts or bells and whistles that actually make it difficult to use.
There are a few things that make this particularly user friendly, including the harness that does not have to be removed to use other modes. There is a small indentation in the shell of the seat that hides it away perfectly. This is great for parents who use the seat with more than one child or those that want to keep the seat for future usage. It also ensures that your child is synced to the seat properly.

The cover itself also comes off very easily, which is something that very, very few car seats have. For many parents, it is a constant battle against wanting to be hygienic and cleaning the seat regularly and just allowing the "funk" to build up because the cover was so difficult to remove. Thankfully, there are elastic loops that hook onto the seat, making it easy to remove them and put them back on. As for the actual cleaning part, they are machine washable in cold water but they do have to hang dried. For people with children that are a little neater, it is quite easy to just hang dry these.

One of the biggest problems with convertible car seats has also been that it is so difficult to actually make them convert. Still, the Graco 4ever stands to be as easy to convert as almost everything else on the market today. It isn't much easier than other models, but it certainly isn't worse. Even better, the Graco website offers videos and tutorials on how to do everything so you can see it in real time.

One of the biggest complaints about this car seat is that the harness can be difficult to use, especially in the rear facing mode. It gets more and more difficult to tighten as time goes, especially if you are moving them around quite a bit. Rear facing causes the harness to get tangled because your child is so small and there is just so much of the harness left over. Make sure to tighten the harness to fit before you buckle your child in, because this will make a huge difference. The buckle design is difficult to work with as well, so if you get the harness straps tucked in there and around it, make sure to take a deep breath and work with deliberate movements to remove it.
---

Easy to use
Extremely safe
Comfortable
Maneuverable
Wide weight range

Few accessories
Bulky in rear mode
Not the prettiest
Some tangling
---
Extras and Options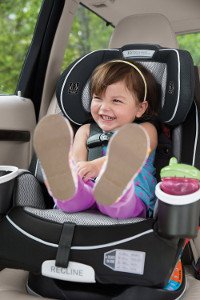 There are quite a few cool extras and options that you may want to add to your Graco 4ever All-in-One. The biggest thing is that the whole of the padding on the car seat is machine washable, as mentioned. It air dries very, very quickly and has the type of material that will smell fresh for a long time. Everything is easy to put on and it can even dry the last 10% on the seat itself. Just make sure it is dry enough before you put your baby in it.
While the cup holders come with the model, it is something that many consider extra. One cup holder is somewhat standard, but having two is somewhat strange. Having two means that you can use one for a drink and one for a snack or you can use them for a child in a car seat that doesn't have a cup holder. Many moms will use this as a place to put toys for older children, especially for those on longer rides.
Of course, since Graco is such a well known brand, there are plenty of other accessories on the market today that work well with this car seat. You can get clip on attachments, movable pieces, new covers, and pretty much anything else you may need for the lifetime of your seat. Graco even offers replacement parts if you have a harness that goes haywire or a buckle that can't hold up to the stress of the car seats.
Of course, all of their safety and usage materials are available online, so you can go ahead and lose that manual like so many of us have done over the years.
---
Final Thoughts – Overall, how does the Graco 4ever rank amongst other car seats?
While the market is crammed with cheaper seats that everyone can afford, it is hard to determine if this one will provide everything you need. However, in this seat, safety is the most important thing, which is where it should be.
In the end, the Graco 4ever All-in-One is an affordable option that delivers on all values: convenience, ease of use, functionality, price, and comfort. Most importantly, it is one of the safest models on the market today in its price range.