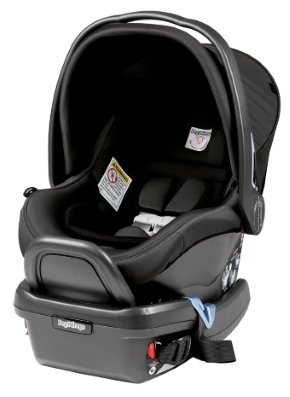 An updated version of the original, the Peg Perego Viaggio 4/35 now has a more modern look and a new base design. It's pretty, but has a pretty hefty price tag. Other Peg Perego seats are consistently highly rated and popular with parents.
You can understand why, considering this Italian manufacturer is well known for combining both style and function to create some of the safest and most stylish car seats on the market. It has a lot going for it, but will it stand up to our vigorous analysis?
What makes the Peg Perego Viaggio 4/35 stand out from the crowd?
One unique feature of this seat is an anti-rebound bar in BOTH carrier and base. In the carrier, the seat handle itself acts as the anti-rebound bar.
In the case of an impact, the anti-rebound bar acts sort of like a rollover cage in a race car, preventing rebound force. What is rebound force? Think of it as a secondary force after an initial impact. If you're in a front impact, for instance, the rebound force will force your body or a car seat backwards.
Without an anti-rebound bar a baby's car seat could be violently pushed against the back of the vehicle seat, increasing risks of head, neck and spine injury. Anti-rebound bars are not common or required in most car seats sold in the US, so Peg Perego is ahead of the game with this feature.
---
Key Features of the Peg Perego Primo Viaggio 4/35
Often the term "you get what you pay for" isn't always the case, but with this seat, there's a lot of value for the investment. Neither safety, style nor functionality are sacrificed in this seat's design.
As an infant car seat, it's ONLY for rear-facing installation, but the 35 pound weight limit is higher than a lot of similar models, allowing extended rear-facing riding, as recommended by the AAP (American Academy of Pediatrics).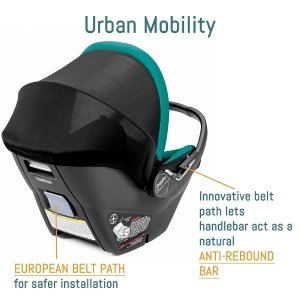 Made in Italy
Anti-rebound bars
14 color choices
Lightweight carrier (9.5 pounds)
4-35 pound weight range
"Right Tight" seatbelt lock-off
No-rethread harness
6 harness positions
Compatible with Peg Perego strollers without an adapter
Can be installed without the base
Color-coded belt paths for easier installation when not using the base
Two stage cushion system to support newborns and older babies
Adjustable side impact protection
Breathable Fresco Jersey fabric
Recline knob with level indicator
7 year lifespan
UPF 50+ canopy
---
What are the child size limits for the Peg Perego Primo Viaggio 4/35?
Parents have reported that their preemies fit very well in this seat, whereas many similar seats (especially combination ones) feel overly big for preemies. The dual-cushion system supports their tiny frames well, and when they're bigger, it can be removed to accommodate their growing bodies.
4 – 35 pounds weight range
32 inches height max
Note: Compared to other seats, the UPPAbaby Mesa infant car seat has the same weight range (4 – 35 pounds) and price range. The Maxi-CosiMico Max 30 is slightly cheaper and has a weight range of 4 – 30 pounds. The Chicco KeyFit 30 is quite a lot cheaper with a weight range of 4 – 30 pounds.
How big is the Peg Perego Primo Viaggio 4/35 and will it fit in my vehicle?
The scalloped shape of the base is designed for a better vehicle seat fit and to be gentle on the upholstery. Some parents had no trouble fitting it in the backseat with two other car seats. Others felt it took up too much leg room for the front seat passenger.
The option to install without the base also proved to be a helpful feature when parents needed to switch the seat between cars with different sized seats.
Carrier weight – 9 pounds
Carrier max width – 17 inches
Base weight – 7.5 pounds
Base length – 19 inches
Base width – 14.5 inches
Harness heights – 5 to 11.5 inches
Width of interior – 12 to 13 inches
Crotch strap – 6.5 inches (without the infant cushion)
How safe is the Peg Perego Primo Viaggio 4/35?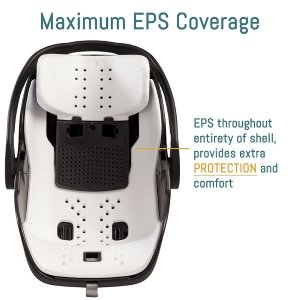 This seat has performed well in crash tests. Not only that, but one mother reported that this seat saved her 3 month old daughter's life in a bad crash. She attributed that partly to the side impact protection in the headrest. Most other seats don't have a lot of EPS foam in that area.
Most parents felt that the seat seemed very sturdy and felt more like a premium priced seat than others which felt flimsy. They also thought the fabric was great quality.
Some parents did experience some quality control issues that were a bit concerning. A few of them said they noticed cracks in both the foam shell (when the cover was removed for cleaning) and the plastic shell where the harness straps are tightened. Another parent reported that the chest clip broke after nearly a year of use.
Other parents noted that the seat was difficult to get locked into the base. Make sure you hear an audible click, then give it a good tug and pull up on it just to be sure before you drive. One mother said the liner on the hood deteriorated after 5 months and dropped pieces onto her baby's face. Sadly, Peg Perego customer service wasn't much help in these situations.
As always, we recommend you inspect the car seat thoroughly before use and re-check it often for any cracks or defects. Call the seller or Peg Perego ASAP if you notice anything amiss. If you wait more than 2 years, they will likely not replace or refund your money.
How easy is the Peg Perego Primo Viaggio 4/35 to use and install?
If there's one thing the majority of parents can agree on, it's that this seat is one of the easiest to install. The Right Tight base is an improved design from the original with a push-button LATCH system which makes it quick and easy to secure it to the vehicle seat. It's also compatible with more vehicles than before.
Installing without the base is also fairly simple. The integrated anti-rebound handle and optional European shoulder belt routing works very well for a quick and painless install. There are labels with red level lines on each side of the carrier to help you get it at the right angle without the base.
Parents liked the easy-to-adjust harness system, which can be moved to any one of six positions with a simple push-button mechanism.
One ease-of-use problem several parents reported was that when carrying the seat with the canopy fully up, there was very little room between the handle and the canopy. You may find that the canopy rubs your hand too much, especially if you have larger hands.
Travel system option
The Peg Perego Primo Viaggio 4/35 is compatible with most Peg Perego strollers to form a travel system. The Peg Perego Booklet travel system is one such set. With the Booklet stroller, you'll get a sleek, stylish system for children up to 50 pounds. Wheels with 360 degree agility, and good suspension with ball bearings make the stroller easy to push and maneuver.
Read our mini-review of the Booklet Travel System
Note: The only strollers the Peg Perego Primo Viaggio 4/35 DOESN'T work with are the Pliko Mini and Skate strollers. You'll need an adapter for it to fit on those.
Primo Viaggio 4/35 Colors Available
This stroller is very fashionable with well fitted upholstery available in a wide range of colors like Tulip, Paloma, and Onyx. This car seat is made in Italy and features high quality Italian textiles and tailoring.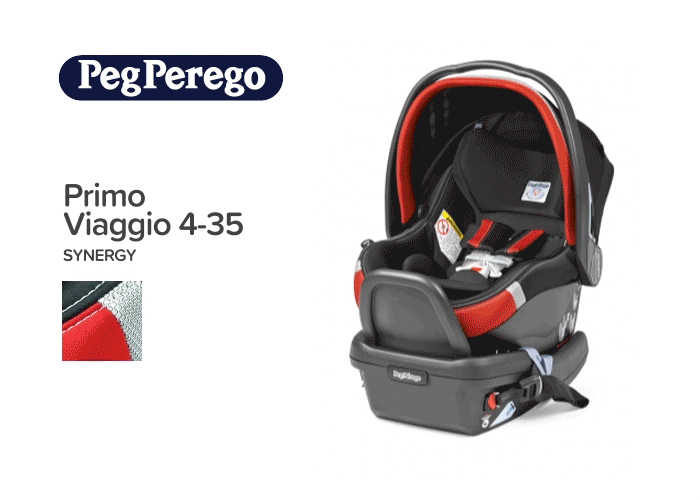 Best Car Seat Hub's final verdict

Easy to install base and carrier
Two cushions to fit preemies and older babies
Easy installation without the base
No re-thread, push-button harness adjustment
Anti-rebound features on base and carrier
Wide variety of colors to choose from
Made in Italy, not China
Base is gentle on vehicle seat upholstery
Car seat fits well in most vehicles & with multiple car seats
Compatible with most Peg Perego strollers
Breathable fabric with vented seat shell underneath

Expensive
Not compatible with most strollers of other brands
Canopy too close to handle when carrying
Customer service may be lacking if there are problems
Doesn't leave a lot of leg room for front seat passengers
Final thoughts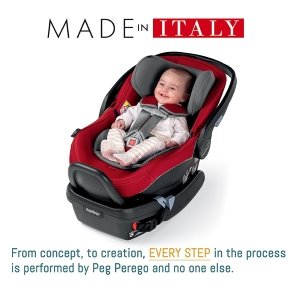 For the price, you're getting what you pay for with the Peg Perego Primo Viaggio 4/35. We were impressed with this updated version for its style, ease-of-use, and added safety features, including the anti-rebound bars.
It's also lightweight at 9.5 pounds as a carrier, so it won't wear you out taking it in and out of the car. Installation with or without the base is a big plus, and the easy adjustments, level lines audible click features, etc. will be great for first time parents, grandparents and other caregivers.
This seat will most likely fit in your vehicle, even with multiple car seats, so it's good for your growing family. Don't expect the front seat passengers to have a whole lot of legroom left, however, especially if they are tall or your car is small.
Potential quality control issues, while few and far between, were a bit worrisome for us, but the great safety record of these seats can put your mind at ease. We recommend (as with all seats) to thoroughly check the seat for any cracks or other defects that might affect performance. If you find a problem, however, you may not have a lot of luck with Peg Perego customer service, so contacting the seller is probably the best route.
Overall, we can safely say that the Peg Perego Primo Viaggio 4/35 is a great investment if you want a high-quality, premium infant car seat.