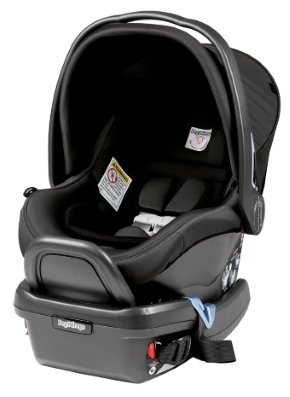 An updated version of the original, the Peg Perego Viaggio 4/35 now has a more modern look and a new base design. It's pretty, but has a pretty hefty price tag. Other Peg Perego seats are consistently highly rated and popular with parents.
You can understand why, considering this Italian manufacturer is well known for combining both style and function to create some of the safest and most stylish car seats on the market. It has a lot going for it, but will it stand up to our vigorous analysis?
What makes the Peg Perego Viaggio 4/35 stand out from the crowd?
One unique feature of this seat is an anti-rebound bar in BOTH carrier and base. In the carrier, the seat handle itself acts as the anti-rebound bar.
In the case of an impact, the anti-rebound bar acts sort of like a rollover cage in a race car, preventing rebound force. What is rebound force? Think of it as a secondary force after an initial impact. If you're in a front impact, for instance, the rebound force will force your body or a car seat backwards.
(more…)