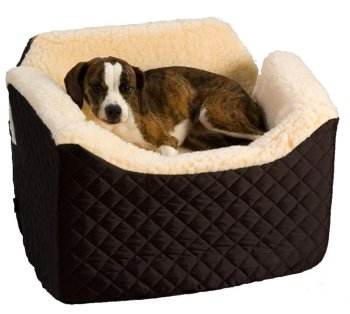 As far as dog car seats go, the Snoozer Lookout 1 certainly looks like a comfy ride with soft sherpa lining and quilted exterior. There are two sizes, designed for small and medium sized dogs up to 25 pounds.
Of the many dog car seats on the market, the Snoozer Lookout 1 has received one of the highest numbers of customer ratings, most of which are positive. We've broken down the features, pros and cons so you can decide for yourself if it's the right care seat for your dog.
Why use a dog car seat in the first place?
Two words: distracted driving. According to the NHTSA, nearly 10% of fatal crashes and 18% of injury crashes involve a driver being distracted. Pets are one of the top three driver distractions that accounted for accidents or near-misses, according to a recent driver survey.
Holding a pet still while applying brakes or trying to keep your pet from climbing into the front seat or your lap while driving means one or both of your hands are not on the wheel and your eyes may not be on the road. It takes only a couple of seconds to drift into oncoming traffic or drive off the road or to rear-end a vehicle in front of you.
So like texting, being distracted by an excited pet can be a dangerous situation. Dog car seats can help prevent accidents that could hurt or kill both you and your pet.
Not only are they safer for you and your dog, but they offer a cozy spot for nervous pets to rest and boost small dogs high enough to look out the windows.
Snoozer Lookout 1 Features: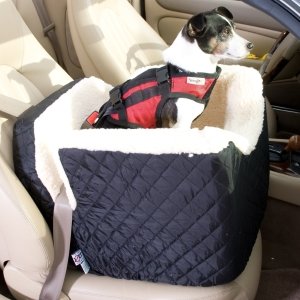 Soft foam frame
Faux wool interior
8 exterior color/pattern options
Removable cover – machine washable and dryable
Quilted nylon exterior repels pet hair
Connection strap for seat belt to hook onto pet harness
Lookout Travel Rack for food and water
One big issue we noticed was that the product description states there is a Lookout Travel Rack included for food and water, which is not accurate. This product is sold separately. Alternately, the Snoozer Lookout II has a plastic slide out drawer that could be used to store a small amount of food or treats.
What we do like is the machine washable/dryable seat cover. That alone scores big points in our assessment. No one wants a permanent "dog smell" in the car.
A few customers thought the faux wool lining shed too much and left lint all over the car. This could certainly be more noticeable with a dark-colored car interior.
Snoozer Lookout I dimensions: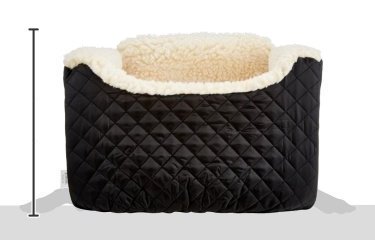 Small LWH: 19″x17″x15″
Small Product Weight: 4.2 pounds
Medium LWH: 19″x22″x17″
Medium Product Weight: 5.4 pounds
The Lookout I can be used in the front or back seats of a vehicle. Most people had no issues getting the small size to fit in their front seats, but for small cars, it will completely fill the seat. The medium size likely will be too bulky for the front seat of a small vehicle, especially if you have bucket seats.
Safety tip: If you want your dog to ride in the front seat, you should disengage the passenger air bag. Pets, like children under 13, can be hurt or killed by an airbag.
Will the Snoozer Lookout I fit my dog?
The small size is recommended for pets up to 18 pounds. The medium is for pets up to 25 pounds. However, customers noted using both sizes for various weights. It seems to depend on the build of your dog more than the weight.
For short, petite dogs 20 pounds or less, the small will likely be enough. For dogs over 20 pounds that are longer and taller, the medium will give them better room to stretch out.
For dogs that don't like to be in crates or other confined spaces, you might want to opt for the bigger size.
How safe is the Snoozer Lookout I?

The seat boosts your dog up 7 inches so he can see out the window. Some customers noted that they'd rather it not sit so high since they felt the front side was too low to secure their dogs.
Several customers have noted their previously carsick dogs were no longer carsick when riding in this seat. This could be because the seat allows small dogs to see out the window or that the seat kept the dog from wobbling all over during the ride.
Some reported, however, that the seat wasn't secured tightly enough with the seatbelt, so the movement increased carsickness.
A few people didn't like that the tether was able to slide freely along the seatbelt, so their dog was able to jump out of the seat. One solution another customer found for this was to use a headrest restraint to tether their dog instead of the one built into the Lookout.
Note that it is not waterproof, so any spills can seep through both the cover and the foam.
Safety tip: Never use a collar alone to strap your dog in the seat. Always use a sturdy dog harness. Otherwise, you risk strangulation and severe neck injuries to your dog if you're in an accident.
Installation Guide

Pull seat belt tight and make sure it is locked in place.
Loop containment strap to lap belt.
Attached the containment strap to your pet's HARNESS.
Best Car Seat Hub's Final Verdict
Overall, we found the Snoozer Lookout I to be a very comfortable seat for smaller dogs who benefit from being able to look out the window. It is also a good option to try if you have a pet that often gets carsick.
This pet seat can also be good for cats who enjoy riding and don't mind wearing a harness. It can even make a good cat or dog bed if you find it doesn't work in the car.
Those with small cars or bucket seats will probably find the medium size Lookout too big, while those who have longer or taller dogs less than 20 pounds may find the small size too cramped.
So long as you are able to firmly secure the Lookout with the seat belt and keep your pet latched in and unable to jump out, this pet seat should be a very safe option.

Allows pet to look out the window
May alleviate carsickness
Removable, washable cover
Soft faux wool lining
Outer lining repels pet hair
Lightweight
Can be used as a pet bed as well

May be difficult to firmly secure the seat with the seatbelt
Safety tether may allow pet to jump out easily
Front side may be too low for some pets
Not waterproof
Does not come with travel food/water rack as advertised
Faux wool may shed onto car interior
Optional Accessories
NOBER Car Headrest Restraint Leash
PetSafe Solvit Deluxe Car Safety Dog Harness
Snoozer Pet Car Seat Lookout Travel Rack