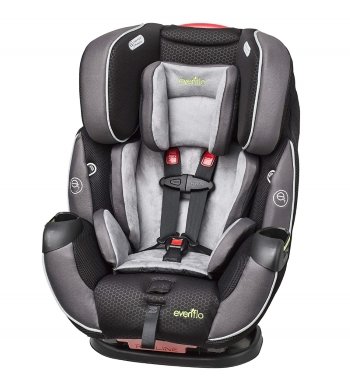 A top convertible car seat for parents to consider is the Chicco NextFit Sport. This car seat has a number of exclusive installation features and safety elements that set it apart from the competition. As a convertible car seat, the Chicco NextFit Sport easily switches from rear-facing to forward-facing so that it can accommodate your child from preschool all the way to middle school.
The NextFit Sport features quality components and construction from Chicco, a leading Italian manufacturer of quality baby products since 1958. The company focuses on building sturdy, premium products that parents can rely on. In addition to the base NextFit Sport model, they also offer a Zip model that makes cleaning the car seat easier, an Air model that uses more breathable fabrics, and a Max model for keeping children rear facing longer.
The most economical model is the NextFit sport and parents agree that it does a great job balancing costs and features. It does not have some of the extended feature set found in the other models, but it provides parents everything they need in a car seat at a reasonable price.
(more…)