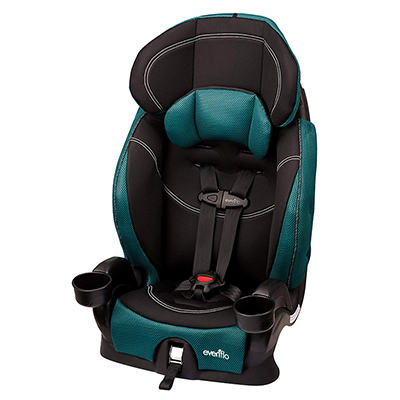 The Evenflo Chase Harness-to-Booster is a 2-in-1 seat that can convert from a forward-facing harness seat to a belt-positioning booster. It is a lightweight 5-point harness seat that parents find easy to install, adjust, and position.
This budget car seat has the features you need while saving costs by avoiding any frills. The seat does offer leading safety features like side impact protection and an auto adjusting belt path. It has been designed and crash tested at energy levels twice the federal standard.
The Evenflo Chase Harness-to-Booster can be utilized as a forward-facing harnessed seat for children of at least one year and 22 pounds (10 kilograms). It can also transition into a belt positioning booster for toddlers and preschoolers who are at least four years of age and 40 pounds (18 kilograms).
Key Features of the Evenflo Chase booster
Weight Limit Range of 22-110 pounds (10-50kg)
6 Year Seat Expiration
2 Position Crotch Strap Buckle
Removable Headrest
Removable and Machine Washable Seat Cover
Integrated Cup Holders
4 Harness Slot Heights
Aircraft Certified in Harnessed Mode
Made in the USA
Online Installation Support
Extended Safety and Temperature Testing
Though the minimum age listed in the product description for use as a harnessed seat is 2 years old and 22 pounds, the AAP now recommends children ride rear-facing for as long as possible. Therefore, we recommend waiting until your child has fully outgrown either the height or weight of their rear-facing seat before you switch to this one.
What are the child size limits of the Evenflo Chase?
The Evenflo Chase Harness-to-Booster starts at 22 pounds (10 kilograms) for the forward-facing harnessed option, which can be utilized up to 40 pounds (18 kilograms). Height-wise, the forward-facing harness is an option for children between 28-50 inches (71cm-1.3m). Once ready to use a belt-positioning booster seat (meaning that the child is at least four years old, 40 pounds/18kg and 43.3 inches/1 meter minimum), the harness can be removed from the seat and the booster can be put into place until 110 pounds/50 kg or 57 inches/1.4 meters).
The harness weight limit on this seat is low but parents do like that the seat has top end size ranges that allow a child to stay in a belt positioning booster seat for longer. The Evenflo Chase Harness-to-Booster allows for use of up to 57 inches (1.4 meters) and 110 pounds (50 kilograms) in the belt-positioning booster position.
Forward-facing
Booster
weight range
height range
weight range
height range
22 – 40 lbs
28 – 50 inches
40 lbs – 110 lbs
43 to 57 inches
How safe is the Evenflo Chase Booster-to-Harness car seat?
The Evenflo Chase Booster-to-Harness passes all necessary safety tests as required by the United States and Canada. Evenflo has provided further, more extensive testing for this seat by putting it through structural integrity trials at twice the federal energy levels. Furthermore, Evenflo has implemented temperature control testing to insure the integrity of their seats at extreme temperatures. This seat has also been ranked a "Best Bet Booster" by the Insurance Institute for Highway Safety (IIHS) and is FAA aircraft certified while in harness mode.
One mother stated in her review of the Evenflo Chase Booster-to-Harness seat that her young daughter was in the beginning stages of dozing off when they found themselves part of a car accident. Her daughter was so unaffected by the accident due to her harness and safety restraint that she wasn't jostled from her sleepy demeanor and ended up being fully asleep just a few minutes after the accident took place.
How comfortable is the Evenflo Chase Harness-to-Booster car seat?
All car seats have strengths and weaknesses and unfortunately, this is one of the downfalls to this model of Evenflo seat. Although it possesses many safety features, the seat is very lightweight and does not have a high level of padding. There have been complaints from parents on this topic. Some parents also complain about the low level of recline available. Due to this, children have fallen asleep with their necks at odd angles. Furthermore, it has been noticed that the crotch harnesses have at times been known to scratch the legs of children. The crotch buckle has two settings so that parents can make more room as their child grows.
The car seat is very easy to clean. The seat pad is machine washable for quick cleanup of messes. Parents should use cold water and a delicate cycle then tumble dry on low heat for ten minutes. The harness can be wiped with mild soap and water.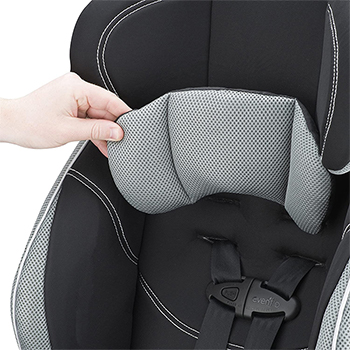 How do parents like the Evenflo Chase booster?
Parents positively report that the Evenflo Chase Harness-to-Booster is lighter in weight than other harnessed car seats. They also greatly appreciate the cup holders that attach to the sides of the seat, making it easy to store snacks and sippy cups for toddlers and children. Furthermore, it is praised that the seat is able to be used in two different capacities (forward-facing harnessed and belt-positioning booster), saving money in the long-term for parents. An added bonus is that Evenflo provides (for free!) video installation assistance for families in need of help in that area.
Evenflo Chase Harness-to-Booster has many details that parents praise, but there are a few things that they do not care for as much. Primarily parents find it frustrating that the harnessed weight limit is so low. With many seats on the market having the ability to harness until 65 pounds, it's upsetting that the Chase Harness-to-Booster only goes up to 40 pounds. Additionally, there have been complaints that the cup holders do not remain attached and often come off of the seat itself. This is frustrating for parents to have to continually re-install. Lastly, parents have stated that the comfort level of the restraint is not optimal. With minimal padding and very little recline, children often fall asleep with their necks in uncomfortable positions. Some have also experienced leg bruising due to the positions of the crotch straps on their legs.
How easy is the car seat to install?
The car seat installs easily with latch and includes a tether. Parents can also use a seat belt for installation when necessary. If you are looking for a car seat to move between vehicles this is a great option as it is lightweight. It also adjusts quickly using an upfront strap. The seat has 4 harness positions that parents can fit to children as they grow.
Evenflo now offers Live Video installation assistance from a certified safety technician so that you can be confident that you car seat is installed correctly. Schedule an appointment online here.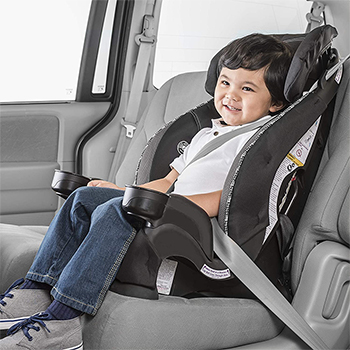 Optional Accessories:
Car Seat Accessory Kit: This kit includes four different items to help protect your car, seats and seat backs in good shape during the years of using a safety restraint. As a combination package, you will receive a window cling, organizing caddy, kick mat and undermat seat protector. All are easy to install and use.
Car Seat Travel Bag: A key item for keeping your child restraint safe during air travel. This bag perfectly fits all Evenflo seats and provides a barrier between the seat and the hustle and bustle that comes with airline travel and baggage transport. This is airline approved, has a shoulder strap for easy transport and additional storage pockets.
Deluxe Car Backseat Organizer: This is another option for those looking to keep the area around their child's seat organized. In attaching to the headrest of the driver or passenger seat, this organizer features six different pockets that can hold a variety of items, making it easier for your child to access toys and snacks during long rides.
PLEASE REMEMBER: Having extra items in the vehicle is not recommended due to injury they can cause during the force of an accident! Use caution when bringing anything into your vehicle.
BestCarSeatHub's Final Verdict

Lightweight!
Multiple Safety Tests!
6 Year Expiration!
Washable Seat Cover!
Harnessed Seat and Booster!
Online Installation Support!
"Best Bet Booster" Rating!
Airline Certified!
Made In The USA!

Minimal Padding
Limited Recline
Crotch Straps Uncomfortable
Cup Holders Fall Off
Limited Warranty just 90 days
Final Thoughts
The Evenflo Chase Harness-to-Booster has the ability to see your child through two different car seat stages. With it's high weight limit and ability to be both a harnessed seat and a belt-positioning booster, your child can utilize it for upwards of six years. This helps reduce cost for families who need to have more than one seat, either for necessity or convenience.
Although the seat is built to last past 100 pounds and has an expiration of six years, the harness straps have been known to cause irritation in some children. These cases have primarily been with the crotch strap, but have caused bruising in some due to the tight fit. Additionally, there is limited padding. This leads to child complaints of being uncomfortable during long rides in the car. Lastly, there is very limited recline with this seat. Parents have reported that they often find their children's necks at odd angles when they fall asleep in the car due to this. We also wish that the cup holders remained installed at all times, as they currently fall off and have to be reattached.
There are many perks with this seat, such as the extended safety testing and the awards that it has won. However, many parents find themselves choosing between this seat and others that are at a higher price point but that provide more comfort during car rides.
The Evenflo Chase Harness-to-Booster is a cost-effective way to provide for your child's safety through two separate periods. During the time that your child can be forward-facing but still requires a harness, this can provide for that need. Later on, when your child is able to go without a harness but still requires a safety restraint, you can convert the seat to a high-back booster to take them to the end of their car seat days. This is a good option for families that need more than one seat and have limited funds. However, if a family spends a lot of time in the car commuting or for travel, it may be worth it to invest in a combination seat with some additional padding to provide more comfort for the child.
Parents looking for a long term car seat solution that is heavy on safety features but light on price should consider this great offering from Evenflo.