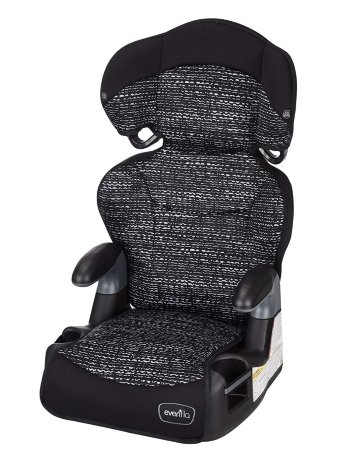 When many parents think of the brand Evenflo, they think of high quality products that they can trust – and the Evenflo Big Kid AMP is no different. As people who focus on the effectiveness of car seats, there have been very few that have this much hype around them and none that seem to live up to that hype: until now.
What makes the Evenflo Big Kid AMP so impressive? It starts with a high quality core model that is made out of strong, trusted materials and goes through to comfort for your child. At the same time, it is one of the most affordable models on the market today.
Once you get used to this seat, it is truly one that will grow with your child – it is quite easy to convert.
The Evenflo Big Kid AMP is one of the top car seats on the market today for many reasons. The high back belt positioning booster has a very large weight limit of 30-110 pounds while the backless booster can be used for kids between 40 and 110 pounds. The seat grows with your child through six different height positions that can ensure that you get the best possible fit. It has been side impact tested and federal crash tests to ensure that it meets (and surpasses) all of the safety requirements.
The Features: What Makes This Seat Stand Out?

The Evenflo Big Kid Amp Booster Car Seat is quite a luxurious seat at a smaller price. It has six (6) different height positions, allows for child growth, keeps your child's head supported, and transitions easily into a no-back booster.
Let's break down some of the main features of this car seat: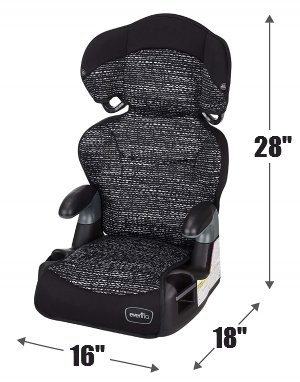 Weight – 8.2 pounds
Shipping Weight – 8.5 pounds
Weight Recommendation – 40-110 pounds
Dimensions – 16.5″ x 19″ x 33″
Orientation– Forward-facing
The EvenFlo AMP comes in a variety of colors, four total. You can choose the one that matches your personal style and still get one of the best seats on the market. The design of this model is modern without being too difficult to use. At the same time, it works with many of the accessories sold by EvenFlo that can help make traveling much easier.
The seat has an energy-absorbing liner that is made out of high quality foam – not only does this make the seat safer, it helps to ensure that your child is comfortable, no matter how long the ride is. For those who have children that make a mess or tend to spill things, the seating pad is easy to detach and wash in your traditional washing machine.
There are even two cup holders in this seat. Perfect for longer trips or even short ones when your child will need a drink and a snack. It is also great for those who have two children and need an extra cup holder. Plus, since the seat is so easy to clean, you do not have to worry about spills. Another reason this seat is a great choice if you have more than one child? This is one of the narrowest seats on the market today – meaning you will be able to sit your children comfortably.
One of the best parts about this seat is that the manual has the perfect storage space: right under the seat. This means that you will always have help on your side.
Just How Long Will Conversion Take?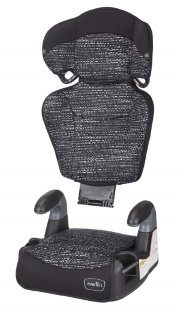 This is a convertible car seat, which means that it will change slightly so that it can grow with your child. In particular, this model can be a high-back booster and a booster seat. This helps to extend the lifetime of your seat so that you do not have to purchase another one.
There is a simple handle on the back that allows you to disconnect the top from the bottom. It's that simple!
In general, your child should use the seat until his or her shoulders reach over the belt guard: you will be able to identify that if you have to pull up to put the seat belt on your child OR if the top of your child's ears reach over the headrest.. You should also check the height and weight limits. One thing that makes this conversion easier? There is a seatbelt adjuster (included!) which will help you to get the best and safest fit for your child.
At a Glance: What Makes The Evenflo Big Kid So Great – And What May Be A Problem?
As with every booster seat, there are going to be some pros and some cons that might impact your appreciation of this seat.

Inexpensive: This one is super affordable.
There are SIX different headrest options to give your child the best possible fit.
You can convert it from backed to backless with one hand.
Extremely easy to clean.
Comes with the support of Evenflo – one of the most trusted names in car seats.
Fits into tight spaces and smaller cars with ease.
Has amazing accessory options included: two cup holders and seat belt positioner.
You can get universal accessories from Evenflo.

There aren't any lower anchors.
Some complain of not enough head or torso support for younger children.
Not approved for use in airplane.
Has a smell when first comes out of the box. (Airing it out for a day should remove the smell – or simply wash the pad.)
Final Opinion on The Evenflo Big Kid AMP

The Evenflo Big Kid AMP is one of the most popular booster seats on the market, and with good reason. Many parents who choose this seat are extremely satisfied. They report years of usage as children are comfortable sitting for extended periods of time. At the same time, it is easy to assemble and install – and move from car to car, if necessary. Many customers have spoken of the sturdiness of the seat, which is great because we all know that children aren't the gentlest on things. Most parents are able to use only this booster seat until they do not need it anymore and transition their child to sitting in the car without support.